Discovery to shuttle up equipment for space station
BY WILLIAM HARWOOD
STORY WRITTEN FOR CBS NEWS "SPACE PLACE" & USED WITH PERMISSION
Posted: August 22, 2009


KENNEDY SPACE CENTER, Fla. -- After last-minute debate over external tank insulation, the shuttle Discovery is poised for launch early Tuesday on a three-spacewalk mission to deliver more than seven tons of supplies, experiment hardware and life-support gear to the International Space Station.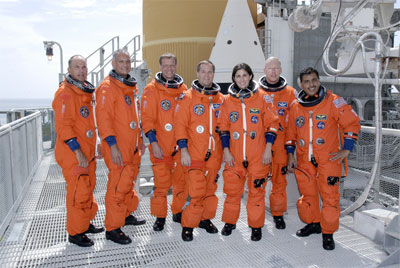 Credit: NASA-KSC



Along with replacing a 1,800-pound ammonia coolant tank in the station's main power truss during their first two spacewalks, the astronauts will deliver two sophisticated science racks, one devoted to fluid physics and the other to materials science, an experiment sample freezer, a new air revitalization rack, a crew sleep station and a treadmill named after comedian Stephen Colbert.

The "Combined Operational Load Bearing External Resistance Treadmill," or COLBERT, received its name after the comedian launched a successful tongue-in-cheek write-in campaign to name a final station module in his honor. NASA managers declined, naming the new module Tranquility instead, but renamed the treadmill after Colbert.

Astronaut Nicole Stott, a former shuttle engineer at the Kennedy Space Center who joined the astronaut corps in 2000, is hitching a ride to the space station aboard Discovery to replace flight engineer Timothy Kopra, launched to the lab complex in July and returning to Earth in Stott's place.

Remaining behind when Discovery departs, Stott will join Expedition 20 commander Gennady Padalka, NASA flight engineer Michael Barratt, cosmonaut Roman Romanenko, Canadian Robert Thirsk and European Space Agency astronaut Frank De Winne as a member of the station's full-time crew.

Discovery's flight is the last shuttle mission that will rotate space station crew members. While Stott will ride a shuttle home in November, future station crew members will travel up and down aboard Russian Soyuz capsules. NASA is paying the Russian space agency roughly $50 million per seat while the U.S. agency closes out shuttle operations and works to develop a replacement spacecraft not expected to fly until 2015 at the earliest.

Only six shuttle flights are planned after Discovery's mission, all of them devoted to finishing the space station and loading it with supplies, spare parts and other equipment to protect against failures after the shuttle fleet is retired.

Launching enough supplies and equipment to support a full-time crew of six is a major challenge and one that Stott will face right away. She will be responsible for operating the station's robot arm to capture and attach an unmanned Japanese supply ship being prepared for its maiden launch Sept. 10. If all goes well, Stott will pluck the HTV craft out of orbit Sept. 17 and dock it to the Harmony module's Earth-facing port.

Discovery's flight is equally critical to maintaining a permanent presence in space. Along with delivering science hardware and life support equipment, the shuttle crew also will bring up 1,600 pounds of food and other supplies, including carbon dioxide-absorbing lithium hydroxide canisters, used to supplement the station's U.S. and Russian CO2 scrubbers.

"We're bringing up seven racks that will be transferred to the space station," said European Space Agency astronaut Christer Fuglesang, making his second shuttle flight. "Three of them are really to keep the station's six crew members well and alive. There's a crew quarters, a treadmill - you have to exercise twice a day if you stay in space up to six months - and then there's a system to keep the air clean. Then we're bringing up three racks dedicated to science. And of course, there's a lot of food and other things."

Fuglesang, Stott and their shuttle crewmates - commander Rick Sturckow, pilot Kevin Ford, Jose Hernandez, John "Danny" Olivas and Patrick Forrester - are scheduled for liftoff at 1:36:05 a.m. on Aug. 25. Ford, Hernandez and Stott are space rookies making their first flight. Sturckow is a three-flight veteran, Forrester has two previous missions to his credit while Olivas and Fuglesang each have one.

Hernandez, a father of five, became an astronaut after a childhood of migrant farm work and support from hard-working parents who believed in the value of education.

"I come from a traditional migrant farm working family," he told CBS News. "Every year, my dad in central Mexico used to pile up the kids and my mom in the car and we'd take a two-day trip up to southern California, this is in the March timeframe, and then we would go to about three or four different places all the way up to northern California, Stockton was our last point where we'd spend the bulk of our time and we'd work on whatever crops were in season.

"We'd work on picking the cucumbers, cherries, tomatoes, spring tomatoes for market, peaches, grapes, hard work. The difference between my parents and the typical migrant farm working families is they gave importance, in spite of their third grade education, to give more importance to education. So Monday through Friday we would be in school, unlike some other kids who would be working seven days a week. Saturday and Sunday, we were always working out in the fields. We hated summer vacation because we knew what that meant. That meant seven days a week in the fields!"

"Then November would roll around, he would ask us to get two or three months of homework and we would head back to Mexico and the process repeated itself," Hernandez said. "It wasn't until I was in the second grade - I'm the youngest in the family - I told my second grade teacher I needed my homework, she rolled her eyes and said 'tell your parents I'm going to pay them a visit.'

"So she came and in her broken Spanish and my parent's broken English, basically told my parents 'look, I've had all four of your kids, they're all bright, they have a good future in school. Stay in one place so they have a good chance of getting a good education.' And my dad, again, in spite of a third grade education, gave that a lot of importance coming from a teacher. So we started making Stockton our home and the rest is history."

Hernandez will serve as flight engineer during Discovery's launch and landing, operate the shuttle's robot arm for heat shield inspections the day after launch and at the end of the mission before re-entry, set up the shuttle's laptop computer network and oversee critical instrument readings during rendezvous and docking with the space station. He also will help spacewalkers Olivas, Fuglesang and Stott suit up for three planned excursions.

Hernandez' wife, children, siblings and parents planned to attend Discovery's launch at the Kennedy Space Center.

"They were happy if we finished high school" Hernandez said of his parents, "because that means we weren't going to work in the fields. They were ecstatic all four of us got a college education. Now I tell everybody that the minute I blast off into space, they're going to be in a higher orbit than I am, as happy as they're going to be."

Assuming an on-time liftoff, Sturckow will guide Discovery to a link up with the space station around 10:30 p.m. on Aug. 26. As with all station-shuttle dockings, Sturckow will briefly stop the approach 600 feet directly below the lab complex, piloting the shuttle through a 360-degree back flip maneuver while Padalka and Barratt, using cameras with 400-mm and 800-mm telephoto lenses, document the condition of the ship's heat shield.

Those photos, along with ascent imagery and laser-scan data collected by Hernandez and Forrester the day after launch, will be examined by engineers at the Johnson Space Center in Houston to make sure Discovery's critical reinforced carbon carbon nose cap, wing leading edge panels and belly tiles are in good condition for re-entry.

A potential source of debris for ascent impact damage is foam insulation from the shuttle's external tank. A major question mark going into Discovery's launch campaign was the integrity of that foam after an unusual amount of insulation fell away from the shuttle Endeavour's tank during launch July 15.

Most of the lost foam fell from ET-131's central intertank region, along with a small piece from a so-called ice-frost ramp that helps secure a pressurization line to the upper liquid oxygen section of the tank.

Some of the debris struck Endeavour's heat shield, but the impacts occurred after the shuttle was out of the denser lower atmosphere, which can result in higher impact velocities, and damage was minimal. Impact modeling is not an exact science, however, and engineers were concerned about possible problems with the adhesion of the foam to the tank's underlying structure.

As a result, Discovery's tank was subjected to nearly 200 plug-pull tests in which small cores cut in the intertank foam were pulled on with a known force to make sure the insulation was held in place with the required strength. In all cases, the adhesion was at or above specification.

The ice-frost ramp foam loss was more troublesome because Endeavour's flight was the second in a row in which insulation fell away from a specific IFR. Engineers believe the insulation popped off when air trapped in voids in the foam expanded due to atmospheric heating during ascent. But with two foam shedding incidents in a row, engineers worried a generic processing problem might be resulting in bigger voids and more shedding than usual.

The IFR in question on Discovery's tank was examined with a non-destructive terahertz scanner and found to be free of any major voids. But three other IFRs, none of them with a history of foam shedding, were not inspected. Some elements of the shuttle engineering community later recommended rolling Discovery back to the Vehicle Assembly Building for additional inspections, work that would have delayed launch to mid October.

Instead, NASA managers ordered additional terahertz scans of the IFRs on the next tank in the launch sequence to make sure there was not a generic problem. No major problems were found and senior managers at an executive-level flight readiness review cleared Discovery for launch as is.

"On Columbia, we had a 2.2-pound piece of foam come off and damage the wing," said shuttle Program Manager John Shannon, referring to the shuttle Columbia's destruction in 2003. "The loss we had on the last flight that generated all of this discussion over the last two weeks was 0.044 pounds, which is one-fiftieth the size of the Columbia foam.

"That's how close we're looking, that's how sensitive we are. It generated four days of flight readiness review discussion, and a whole lot of work and additional testing. And that's exactly what we want the team to do, to look at it that closely. I feel extremely good about the results of the meeting. I think we have done absolute due diligence on the foam piece of it."

While Discovery's tank will separate from the shuttle in orbital darkness following the climb to space, a robotic camera mounted in the belly of the spaceplane will use a flash to capture photos giving engineers a chance to assess the condition of the tank's insulation.

Close-up photos of the shuttle shot by the station astronauts during Discovery's pitch-around maneuver on docking day also will be transmitted to the Johnson Space Center for detailed analysis. If any problems are seen, the astronauts will carry out a "focused" inspection later in the mission to collect additional data.

Following the rotational pitch maneuver, Sturckow plans to guide Discovery in an arc up to a point about 450 feet directly in front of the space station, with the shuttle's nose pointed toward space, it's tail to Earth and its open payload bay facing a docking port on the front end of the Harmony module. From there, Sturckow will manually guide the 270,000 pound shuttle to a docking with the 700,000-pound space station as both spacecraft streak through space at five miles per second.

With Discovery's arrival, the space station will once again be home to an international crew of 13, a record set during Endeavour's July mission, putting an increased strain on the lab's life support systems. During the July flight, the station's U.S. carbon dioxide removal system broke down, but the astronauts were able to repair it a few days after the shuttle's departure.

More recently, a U.S. oxygen generator had to be shut down to resolve an internal pressurization problem. While it wasn't required for DIscovery's flight, the station astronauts completed repairs Friday, easing a potential downstream headache.

The first item on the agenda after Discovery's docking will be the transfer of Stott's custom-fitted Soyuz seat liner, which will enable her to use one of the station's Russian life boats. From that point on, Stott will be considered a member of the station crew while Kopra will join Sturckow and company.

The day after docking, Ford and Barratt, operating the space station's robot arm, will lock onto the Leonardo multi-purpose logistics module, or MPLM, mounted in the back of Discovery's cargo bay. Loaded with 7.5 tons of equipment and supplies, Leonardo will be attached to Harmony's Earth-facing port.

"As we transition to six-person crew, there's a big step up in terms of consumables," said Kirk Shireman, deputy manager of the space station program at the Johnson Space Center. "And this flight will really get us in a robust configuration for keeping six-person crew and to fully utilize the ISS.

"We're launching about 1,590 pounds of crew supplies, that's food and other things to keep the crew alive and happy, we're launching 6,190 pounds of what I call vehicle hardware, and this is things in preparation for assembly, spares, those kinds of things. And we're launching over 6,050 pounds of utilization hardware. That's several racks and payloads themselves. So it's a big flight to fully utilize the International Space Station."

Fuglesang is the "load master" responsible for overseeing the logistics transfers to and from the MPLM, assisted by Sturckow and other crew members. Along with the new science racks, major items of interest include a new crew sleep station and the COLBERT treadmill.

The space station currently is equipped with four small crew cabins, two in the Russian Zvezda command module, used by Padalka and Romanenko, and two U.S.-built cabins on the port and starboard side of the Harmony module, used by Barratt and Kopra. De Winne uses a temporary sleep station, or TeSS, in the U.S. Destiny laboratory module while Thirsk bunks in a similar makeshift cabin in the Japanese Kibo module.

Stott will take over Kopra's cabin in Harmony while Thirsk will enjoy the new NASA crew cabin, which will be temporarily mounted in Kibo and eventually moved to Harmony. A fourth U.S. sleep station will be launched next year and installed in Harmony as well.

The U.S. sleep stations have a volume of 54 cubic feet, about the same as a large refrigerator. They are sound-proofed and feature their own lighting, air ducts, computer ports, communications gear and alarm systems. Arranged in a ring around Harmony, plastic sheathing at the back of each cabin also provides radiation shielding.

"They are very cool," Stott said. "I think it's going to be nice. You show some people the space that's available and they're like, oh my gosh, how could you possibly do that? You think about it, though, it's like this volume that's available to you, it's the whole volume, you're not relying on sticking to a wall somewhere or anything like that. Just like the station in general, you have this whole volume to use."

The new sleep station delivered by Discovery's crew eventually will be mounted in the new Tranquility module, along with the COLBERT treadmill, the second built for the space station. A half-dozen other exercise devices are available as well to facilitate daily exercise by all six crew members to help counteract the long-term effects of weightlessness.

Because of the connection with Stephen Colbert, the new treadmill, also known as T2, has generated more publicity than usual.

"We're always thankful for another outlet for positive exposure of the station, the hardware and the good things that are going on up there," Stott said. "We will be spending, I think, roughly 30 to 40 hours putting this treadmill together, between Mike Barratt and I.

"I think the highlight will be the first time we actually get to run on it. That will be a really good day, because we have the opportunity then to continue to sustain six people on station and have healthy crew members up there. So I think it's a very positive thing."

After the MPLM is attached to the station, Stott and Olivas will spend the night in the space station's Quest airlock module to prepare for the mission's first spacewalk the next day. The primary goals of the excursion are to remove a depleted ammonia tank assembly, or ATA, and attach it to the space station's robot arm for temporary storage. The astronauts also will retrieve two experiment packages mounted on the European Space Agency's Columbus lab module.

Tipping the scales at some 1,800 pounds on Earth, the ATA is the most massive space station component ever handled by spacewalking astronauts.

"In zero G (gravity), we sort of think of everything as being weightless and being easy to move around," said Zeb Scoville, the lead spacewalk officer at JSC. "The thing to remember is that although those things have no weight, they still have mass. ... They're going to have to try to manipulate that mass so it doesn't try to pull them out of their foot restraints. Keeping control of this is certainly a challenge, again because of the mass, the inertia and the fact that it sometimes wants to resist being turned or re-oriented."

Another issue is potential ammonia contamination.

"Several days before the first spacewalk, the fluid lines that run internal to the ammonia tank and also run from that ammonia tank along the truss structure into the fluid system, a section of that line will be vented so there will only be residual bits of ammonia inside, there won't be the large pressurization volume of ammonia in those lines when they are demated," Scoville said. "So the amount of ammonia that could potentially leak is limited in that regard.

"If a crew member does get sprayed, we'll have time outside, exposed to the sun, the warm external environment, to bake off any ammonia ice that may be stuck on the suit. Beyond that bake-out scenario, we have some testing hardware once the crew ingresses the airlock. They can do a test at 5 psi that will detect any ammonia that may be off gassing from the suit. So, we'll be able to verify the crew is in a clean configuration before they come inside."

Stott and Olivas will disconnect the old ammonia tank from the port-1 truss segment and pull it out. Holding it in their gloved hands, the astronauts will orient the tank so Ford, operating the station's robot arm, can lock on. The tank will remain on the end of the station arm until after the new ammonia tank is installed during the crew's second spacewalk. After that, the old tank will be mounted on a cargo carrier in the shuttle's payload bay for return to Earth, refurbishment and relaunch next year.

"Nicole and Danny have a lot of work to do to disconnect the plumbing and electrical and all that stuff and make sure the (old) tank's vented and everything," Ford said. "It's going to be interesting, they're going to actually hold that tank out there and position it in their hands while I grapple it with the big arm. Then I'll take that away from them and I'll hold onto that until almost the end of EVA-2."

With the old ammonia tank safely locked to the station's robot arm, Stott and Olivas will move to the outboard end of the Columbia module and retrieve two experiment packages, mounting them in Discovery's cargo bay for return to Earth.

The next day, the shuttle astronauts will focus on logistics transfers from the MPLM, moving the fluid physics, materials science and freezer racks to the space station. Olivas and Fuglesang will end the day retiring to the Quest airlock to gear up for spacewalk No. 2 on Aug. 30.

The goal of the second EVA is to finish the ammonia tank swap out. With the old ATA still attached to the station's robot arm, Olivas and Fuglesang will work in the back of the shuttle's cargo bay to unbolt the new tank from an external storage platform.

With his feet anchored to a foot restraint on the end of the arm, Fuglesang will hand carry the fully charged ATA from the shuttle's cargo bay up to the P1 truss segment.

"It has motivated me a little extra to go to the gym quite often," he joked before launch.

He and Olivas then will slide the new tank into place and make the necessary structural and electrical connections, along with hooking up a nitrogen pressurization line and an ammonia coolant line.

With the new tank installed and connected, the robot arm will release the old tank and Olivas will hold it in place for a handoff to Fuglesang. The Swedish astronaut, riding the robot arm, will carry the old tank back to Discovery's cargo bay where it will be bolted down on the same carrier used by the new tank for the ride to orbit.

The next day, the shuttle crew will enjoy a half-day off amid work to continue logistics transfers from the MPLM The day after that, Olivas and Fuglesang will stage a third and final spacewalk to deploy an external cargo mounting mechanism, swap out a rate gyro assembly and make preparations for the attachment next year of the new Tranquility module.

Tranquility, also known as node 3, is the third multi-hatch connecting module built for the space station. It will be mounted on the central Unity module's left port directly across from the Quest airlock. The new Air Revitalization System rack and the COLBERT treadmill ultimately will be installed in Tranquility.

To pave the way for Tranquility's attachment, Olivas and Fuglesang plan to run two 60-foot-long electrical cables from the station's central power truss to the port side of the Unity module, unrolling the cables and tying them down as they go.

"These cables are about an inch-and-a-half to two inches in diameter and they're really stiff," Scoville said. "If you bend them, they'll hold that shape pretty well. And so we'll definitely be aware of any sort of memory, or stiffness, that these cables may have or if they want to retain the shape they initially had."

The spacewalkers will carry the cables from the Quest airlock rolled up in loops about two feet across.

"With each coil, we've taken one of these copper wire ties ... and we twist each loop with one of these wire ties," Scoville said. "As they pull off one loop, they can release that one wire tie, pull off maybe just five or so feet, secure that down to structure while they hold onto the rest of it. They can move down the truss structure a little bit, undo one twist tie, get the second loop off and start working on that.

"As controlled as that may sound, cables have always presented a challenge in the past just because they do have a lot of memory and sort of a mind of their own," he said. "We've done our best to try to control that."

Said Olivas: "Just think about when you're hanging up Christmas lights. The Christmas before you end up just kind of sticking them in the box and then when it's time for Christmas, you pull them out, you think to yourself, oh, what did I do?"

The cable coils "are big and they're bulky, but when we pull them out of the bag it seems like every time we pull them out it's just like pulling out one of those big strands of lights," he said. "You don't have a ladder you can use up in space, you're floating around there. So it is a bit of a challenge. But we've trained it, we've had an opportunity to work with the engineering community to make sure we understand all the aspects of that EVA. So we're well prepared for it."

With the third spacewalk behind them, the Discovery astronauts will enjoy another half-day off after spending the morning on final MPLM transfers. The next day - Sept. 3, assuming an on-time launch - the crew will close up the Leonardo module and Ford will use the station's robot arm to move it back to its mounting point in Discovery's cargo bay.

With Leonardo safely locked down for the trip home, the astronauts will hold a traditional farewell ceremony in the Harmony module before Sturckow, Ford, Hernandez, Olivas, Forrester, Fuglesang and Kopra float back into the shuttle and hatches between the two spacecraft are closed and leak tested.

Undocking is scheduled the following day, around 4:50 p.m. on Sept. 4. With Ford at the controls, Discovery will pull out in front of the station before initiating a 360-degree photo-documentation fly around at a distance of about 600 feet. A rocket firing at the end of the maneuver will cause the shuttle to slowly leave the area.

At that point, Hernandez and Forrester will carry out a final inspection of Discovery's nose cap and wing leading edge panels to look for signs of micrometeoroid or space debris impact damage that might have occurred since the inspection they carried out the day after launch.

Assuming no problems are found, the astronauts will test the shuttle's re-entry systems the next day and pack up for landing Sept. 6 back at the Kennedy Space Center.

"We're really happy to have this mission," Sturckow said in an interview. "It's great to fly on the shuttle, we've had a great flow together as a crew with our training. We're excited and looking forward to the mission."


Additional coverage for subscribers:


VIDEO: NARRATED MISSION OVERVIEW MOVIE PLAY


VIDEO: MEET SHUTTLE DISCOVERY'S ASTRONAUTS PLAY


VIDEO: DISCOVERY'S LAUNCH COUNTDOWN UNDERWAY PLAY


VIDEO: ASTRONAUTS ARRIVE AT THE CAPE FOR LAUNCH PLAY | HI-DEF


VIDEO: FLIGHT READINESS REVIEW SETS LAUNCH DATE PLAY



VIDEO: SHUTTLE AND STATION PROGRAM UPDATE PLAY


VIDEO: THE STS-128 MISSION OVERVIEW BRIEFING PLAY


VIDEO: PREVIEW BRIEFING ON MISSION'S SPACEWALKS PLAY


VIDEO: THE ASTRONAUTS' PRE-FLIGHT NEWS BRIEFING PLAY



VIDEO: SHUTTLE PROGRAM MANAGER EXPLAINS FOAM ISSUES PLAY



VIDEO: PAYLOAD BAY DOORS CLOSED FOR FLIGHT PLAY | HI-DEF


VIDEO: MISSION CARGO LOADED ABOARD DISCOVERY PLAY | HI-DEF



VIDEO: CREW TOURS PAD'S CLEANROOM PLAY | HI-DEF


VIDEO: SHUTTLE EVACUATION PRACTICE PLAY | HI-DEF


VIDEO: ASTRONAUTS BOARD DISCOVERY PLAY | HI-DEF


VIDEO: THE LAUNCH DAY SIMULATION BEGINS PLAY | HI-DEF


VIDEO: PAD BUNKER TRAINING FOR THE CREW PLAY | HI-DEF


VIDEO: CREW BRIEFED ON EMERGENCY PROCEDURES PLAY | HI-DEF


VIDEO: NIGHTTIME APPROACHES IN TRAINING AIRCRAFT PLAY | HI-DEF


VIDEO: TEST-DRIVING EMERGENCY ARMORED TANK PLAY | HI-DEF


VIDEO: INFORMAL CREW NEWS CONFERENCE AT LAUNCH PAD PLAY


VIDEO: ASTRONAUTS ARRIVE FOR PRACTICE COUNTDOWN PLAY



VIDEO: SHUTTLE DISCOVERY ROLLS OUT PAD 39A PLAY | HI-DEF


VIDEO: ORBITER HOISTED FOR MATING TO TANK PLAY | HI-DEF


VIDEO: DISCOVERY MOVED TO ASSEMBLY BUILDING PLAY | HI-DEF


VIDEO: TIME-LAPSE OF DISCOVERY ARRIVING IN VAB PLAY



VIDEO: PAYLOADS DELIVERED TO LAUNCH PAD PLAY | HI-DEF


VIDEO: LEONARDO PUT INTO TRANSPORTER PLAY | HI-DEF


VIDEO: STATION'S NEW AMMONIA TANK PLAY | HI-DEF


VIDEO: MPLM HATCH CLOSED FOR FLIGHT PLAY | HI-DEF


VIDEO: INSIDE SHUTTLE MAIN ENGINE SHOP PLAY | HI-DEF


VIDEO: CREW EQUIPMENT INTERFACE TEST PLAY | HI-DEF


SUBSCRIBE NOW