Tick tock: Counting down to shuttle Discovery's blastoff
BY WILLIAM HARWOOD
STORY WRITTEN FOR CBS NEWS "SPACE PLACE" & USED WITH PERMISSION
Posted: August 22, 2009


The shuttle Discovery's countdown is proceeding smoothly through its initial hours with no technical problems of any significance, officials said Saturday. The weather remains unchanged, with forecasters calling for a 70 percent chance of acceptable conditions at launch time Tuesday.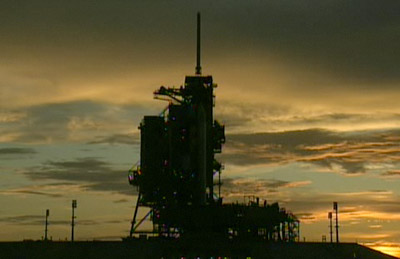 The sun sets Saturday night at pad 39A Credit: NASA TV



"All of our vehicle systems are in good shape," said NASA Test Director Charlie Blackwell-Thompson. "Our countdown work is progressing well, the STS-128 flight crew, Discovery and the launch team are ready to go."

With the moon setting to the west at 10:28 p.m. EDT Monday, Discovery's planned launch at 1:36:05 a.m. Tuesday will take place in a fully dark sky, giving area residents and tourists an early morning sky show.

"You know, in this business there are few sights as beautiful as a nighttime launch and I expect this to be a spectacular sight as Discovery roars to life early Tuesday morning and lights up the night sky," said Blackwell-Thompson.

Working by remote control, engineers plan to pump liquid oxygen and hydrogen into tanks supplying Discovery's fuel cells overnight Saturday, allowing NASA to make four launch attempts in five days if necessary.


The official crew patch for Discovery's flight to deliver and research gear to the space station
is available in the Spaceflight Now Store.


U.S. SHOPPERS | WORLDWIDE




NASA's Mission Management Team will meet Sunday to review launch processing and the results of an analysis focused on recent problems with electrical switching controllers used aboard the shuttle and in ground test rigs.
A controller aboard Discovery was replaced after a recent malfunction and while the new unit is operating normally, engineers are reviewing past incidents to make sure work-arounds are available in case of additional problems in orbit.
Assuming no major issues are found, NASA will press ahead with the countdown and engineers will roll a protective gantry away from Discovery at 5 a.m. Monday, exposing the shuttle to view and setting the stage for fueling. Engineers plan to pump a half-million gallons of liquid oxygen and hydrogen rocket fuel into Discovery's external tank starting at 4:11 p.m. Monday.
Discovery's crew - commander Frederick Sturckow, pilot Kevin Ford, flight engineer Jose Hernandez, Patrick Forrester, John "Danny" Olivas, European Space Agency astronaut Christer Fuglesang and space station flight engineer Nicole Stott - will begin strapping in around 10:16 p.m.
Shuttle weather officer Kathy Winters said she expects a 70 percent chance of good weather for Discovery's fueling Monday afternoon and launch early Tuesday.
"Our primary concern on launch day is going to be right around the tanking time, that may be an issue if we do have some lightning in the area, and then when we get to launch," she said. "A nice dark sky for a beautiful launch, just a slight concern for showers in the area."
The forecast remains 70 percent "go" if launch slips to Wednesday, dropping to 60 percent Thursday.


Additional coverage for subscribers:


VIDEO: ASTRONAUTS ARRIVE AT THE CAPE FOR LAUNCH PLAY | HI-DEF


VIDEO: FLIGHT READINESS REVIEW SETS LAUNCH DATE PLAY



VIDEO: SHUTTLE AND STATION PROGRAM UPDATE PLAY


VIDEO: THE STS-128 MISSION OVERVIEW BRIEFING PLAY


VIDEO: PREVIEW BRIEFING ON MISSION'S SPACEWALKS PLAY


VIDEO: THE ASTRONAUTS' PRE-FLIGHT NEWS BRIEFING PLAY



VIDEO: SHUTTLE PROGRAM MANAGER EXPLAINS FOAM ISSUES PLAY



VIDEO: PAYLOAD BAY DOORS CLOSED FOR FLIGHT PLAY | HI-DEF


VIDEO: MISSION CARGO LOADED ABOARD DISCOVERY PLAY | HI-DEF



VIDEO: CREW TOURS PAD'S CLEANROOM PLAY | HI-DEF


VIDEO: SHUTTLE EVACUATION PRACTICE PLAY | HI-DEF


VIDEO: ASTRONAUTS BOARD DISCOVERY PLAY | HI-DEF


VIDEO: THE LAUNCH DAY SIMULATION BEGINS PLAY | HI-DEF


VIDEO: PAD BUNKER TRAINING FOR THE CREW PLAY | HI-DEF


VIDEO: CREW BRIEFED ON EMERGENCY PROCEDURES PLAY | HI-DEF


VIDEO: NIGHTTIME APPROACHES IN TRAINING AIRCRAFT PLAY | HI-DEF


VIDEO: TEST-DRIVING EMERGENCY ARMORED TANK PLAY | HI-DEF


VIDEO: INFORMAL CREW NEWS CONFERENCE AT LAUNCH PAD PLAY


VIDEO: ASTRONAUTS ARRIVE FOR PRACTICE COUNTDOWN PLAY



VIDEO: SHUTTLE DISCOVERY ROLLS OUT PAD 39A PLAY | HI-DEF


VIDEO: ORBITER HOISTED FOR MATING TO TANK PLAY | HI-DEF


VIDEO: DISCOVERY MOVED TO ASSEMBLY BUILDING PLAY | HI-DEF


VIDEO: TIME-LAPSE OF DISCOVERY ARRIVING IN VAB PLAY



VIDEO: PAYLOADS DELIVERED TO LAUNCH PAD PLAY | HI-DEF


VIDEO: LEONARDO PUT INTO TRANSPORTER PLAY | HI-DEF


VIDEO: STATION'S NEW AMMONIA TANK PLAY | HI-DEF


VIDEO: MPLM HATCH CLOSED FOR FLIGHT PLAY | HI-DEF


VIDEO: INSIDE SHUTTLE MAIN ENGINE SHOP PLAY | HI-DEF


VIDEO: CREW EQUIPMENT INTERFACE TEST PLAY | HI-DEF


SUBSCRIBE NOW