Shuttle Discovery heads for launch pad on Tuesday
BY WILLIAM HARWOOD
STORY WRITTEN FOR CBS NEWS "SPACE PLACE" & USED WITH PERMISSION
Posted: August 3, 2009


Engineers are readying the shuttle Discovery for rollout to pad 39A early Tuesday, one day later than planned because of work to assess the impact of a check valve failure in the steering system of the ship's left-side solid-fuel booster. The valve problem apparently caused a hydraulic system pump to spin backwards during a high-pressure leak check, possibly damaging the pump and one of the booster's hydraulic power units, officials said.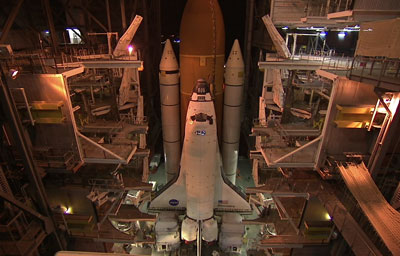 Credit: NASA TV



Each shuttle booster is equipped with two independent hydraulic power units, or HPUs, each one consisting of an auxiliary power unit, a hydraulic pump, a fuel supply module and a hydraulic fluid manifold. The two HPUs operate from T-minus 28 seconds through booster separation two minutes after launch, providing the hydraulic power needed to move the nozzles for steering.

Engineers plan to replace the suspect pump, the auxiliary power unit in question and the check valve at the launch pad, working in parallel with normal pre-flight preparations. A booster hydraulic system was replaced at the pad at least once before, but it was many years ago, officials said, and engineers are reviewing plans and procedures.

Rollout to the pad was scheduled to begin at 12:01 a.m. EDT Tuesday. As of this writing, launch on a space station resupply mission remains targeted for around Aug. 25, but there is little contingency time available to handle unexpected problems.

Discovery commander Frederick Sturckow, pilot Kevin Ford, Jose Hernandez, John "Danny" Olivas, Patrick Forrester, European Space Agency astronaut Christer Fuglesang and space station flight engineer Nicole Stott plan to fly to the Kennedy Space Center early Wednesday to review emergency procedures and participate in a practice countdown Friday.

The primary goals of Discovery's three-spacewalk mission are to deliver science racks and other hardware, including a new air revitalization system, to transfer crew supplies, swap out ammonia tanks for the station's cooling system and retrieve a European experiment package.

Stott, making her first flight, will replace flight engineer Timothy Kopra, launched to the station aboard the shuttle Endeavour July 15, as a member of the Expedition 20 crew. This is the final space station crew rotation flight planned for the space shuttle.

Station astronauts, meanwhile, completed a complex repair of the space station's U.S. carbon dioxide removal assembly, or CDRA, late Friday. The device broke down July 25, while the shuttle Endeavour was docked to the outpost. Engineers came up with a manual work-around and then a software patch to return the CDRA to near normal operation, but it broke down again late last week.

The problem ultimately was traced to a short in one of 12 heater pads in one of the two "beds" used to extract carbon dioxide from the crew's air supply. Working through Thursday and Friday, flight engineer Michael Barratt and Robert Thirsk carried out a complex repair to replace a heater controller and to cut wires leading to the shorted heating element. The CDRA was returned to normal operation Friday evening.


Additional coverage for subscribers:


VIDEO: ORBITER HOISTED FOR MATING TO TANK PLAY | HI-DEF


VIDEO: DISCOVERY MOVED TO ASSEMBLY BUILDING PLAY | HI-DEF


VIDEO: TIME-LAPSE OF DISCOVERY ARRIVING IN VAB PLAY


SUBSCRIBE NOW