Spaceflight Now +





Subscribe to Spaceflight Now Plus for access to our extensive video collections!
How do I sign up?
Video archive

STS-127: The programs

In advance of shuttle Endeavour's STS-127 mission to the station, managers from both programs discuss the flight.

Play

STS-127: The mission

A detailed step-by-step preview of Endeavour's STS-125 mission to install an external exposure platform on the station's Kibo science facility.

Play

STS-127: The EVAs

The lead spacewalk officer provides indepth explanations of the EVAs on Endeavour's assembly mission to the station.

Play

STS-127: The crew

The seven astronauts launching on Endeavour meet the press in the traditional pre-flight news conference.

Play

Become a subscriber
More video







Landing flight director hopeful about weather
BY WILLIAM HARWOOD
STORY WRITTEN FOR CBS NEWS "SPACE PLACE" & USED WITH PERMISSION
Posted: July 30, 2009


Optimistic the weather will cooperate for a morning landing, entry Flight Director Bryan Lunney said Thursday NASA will only staff the Kennedy Space Center for back-to-back landing opportunities Friday in hopes of bringing the shuttle Endeavour back to Florida.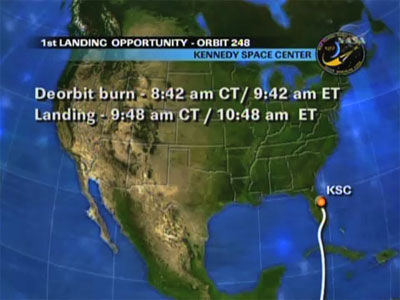 Credit: NASA TV



But Endeavour only has enough carbon dioxide-absorbing lithium hydroxide for two additional days in orbit and if the weather or some other problem forces a wave off Friday, backup landing sites will be activated and Endeavour will return to Earth, on one coast or the other, on Saturday.

"We're only going to try KSC tomorrow," Lunney said. "If for whatever reason, the weather or some such thing we don't get there, on Saturday that's what we'll call 'pick 'em' day and we'll be coming home Saturday to whichever site is available from a weather perspective."

Overnight, engineers assessed laser scans from a post-undocking inspection of the shuttle's reinforced carbon carbon nose cap and wing leading edge panels, which experience the most extreme heating during re-entry. No problems were found and mission managers cleared the shuttle's heat shield for entry as planned.

Commander Mark Polansky, pilot Douglas Hurley, Canadian flight engineer Julie Payette, David Wolf, Christopher Cassidy, Thomas Marshburn and returning space station flight engineer Koichi Wakata plan to close the shuttle's cargo bay doors around 7 a.m. EDT Friday to set the stage for landing.

Assuming the weather cooperates, Polansky and Hurley will fire Endeavour's twin braking rockets for three minutes and four seconds starting at 9:42:02 a.m., slowing the ship by 218 mph to drop out of orbit.

The shuttle will hit the discernible atmosphere at an altitude of 76 miles at 10:16 a.m., gliding the remaining 5,000 miles to the Kennedy Space Center. Flying almost due north over Central America and Cuba, Endeavour's flight path will carry the ship across southern Florida before a sweeping left turn to line up on runway 15. Touchdown is targeted for 10:48:20 a.m.

A second deorbit opportunity is available one orbit later, at 11:16:55 a.m., setting up a landing at 12:22:42 p.m. Multiple landing opportunities are available Saturday, starting at 11:08 a.m. at Kennedy and ending at 3:48 p.m. EDT at Edwards Air Force Base, Calif.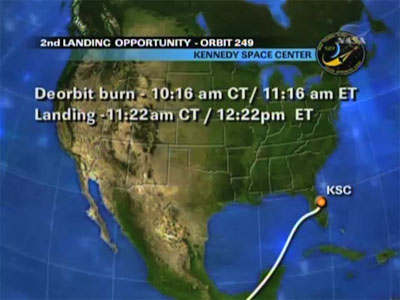 Credit: NASA TV



"Weather, as you know, in Florida is always kind of a challenge," Lunney said. "In a typical sea breeze situation, the winds come in off the ocean, that'll interact with the atmosphere and possibly cause some rain or thundershowers. We think, from monitoring what's happened the past few days and from looking ahead, that it won't start up until later, towards noon.

"Our landing, of course, is before noon," he said. "They were thinking between one o'clock, two o'clock out there it would start raining, or a good chance of starting to rain. The proof, of course, will come tomorrow. ... Right now, it's Florida, it's summer, so there's always, in my mind, kind of a chance of rain there.

"But in the morning, we'll have a much better sense of how that particular day is going to play out for us. Right now, the models, the predicts and looking at what's happened today, things are looking really good for us."

The Spaceflight Meteorology Group at the Johnson Space Center in Houston is predicting a few clouds at 3,000 feet, scattered clouds at 8,000 feet, a broken deck at 25,000 feet, light winds out of the south-southeast and a slight chance of showers and thunderstorms within 30 nautical miles of the runway. The chance for rain increases for the second opportunity one orbit later.

Here are updated timelines for Friday's deorbit opportunities (in EDT; best viewed with fixed-width font):

EDT...........EVENT


Rev. 248 Deorbit to KSC

Deorbit burn: 09:42:02 AM
Change in velocity (dV): 218 mph
Burn duration (dT): 03:04
Crossrange: 760 sm
Range from EI to KSC: 5,033 sm
Turn: 215-degree left turn to runway 15
       
05:42 AM......Begin deorbit timeline
05:57 AM......Radiator stow
06:07 AM......Mission specialists seat installation
06:13 AM......Computers set for deorbit prep
06:17 AM......Hydraulic system configuration
06:42 AM......Flash evaporator checkout
06:48 AM......Final payload deactivation
07:02 AM......Payload bay doors closed
07:12 AM......Mission control 'go' for OPS-3
07:22 AM......OPS-3 transition
07:47 AM......Entry switchlist verification
07:57 AM......Deorbit PAD update
08:02 AM......Crew entry review
08:17 AM......CDR/PLT don entry suits
08:34 AM......IMU alignment
08:42 AM......CDR/PLT strap in; MS suit don
08:59 AM......Shuttle steering check
09:02 AM......Hydraulic system prestart
09:09 AM......Toilet deactivation
       
09:22 AM......MCC 'go' for deorbit burn
09:28 AM......MS seat ingress
09:37 AM......Single APU start
       
09:42:02 AM...Deorbit ignition
09:45:06 AM...Deorbit burn complete
       
10:16:35 AM...Entry interface
10:21:42 AM...1st roll command to left
10:35:20 AM...C-band radar acquisition
10:36:06 AM...1st left-to-right roll reversal
10:41:59 AM...Velocity less than mach 2.5
10:44:09 AM...Velocity less than mach 1
10:45:08 AM...215-degree left turn to runway 15
10:48:20 AM...Landing


Rev. 249 Deorbit to KSC

Deorbit ignition: 11:16:55 AM
Change in velocity (dV): 218 mph
Burn duration (dT): 3:04
Crossrange: 292 sm
Range from EI to KSC: 5,086 sm
259 Left turn to runway 15
       
10:56 AM......MCC 'go' for deorbit burn
11:02 AM......MS seat ingress
11:11 AM......Single APU start
       
11:16:55 AM...Deorbit ignition
11:19:59 AM...Deorbit burn complete
       
11:50:54 AM...Entry interface
11:55:57 AM...1st roll command to left
12:05:41 PM...1st left-to-right roll reversal
12:16:13 PM...Velocity less than mach 2.5
12:18:27 PM...Velocity less than mach 1
12:19:07 PM...259-degree left turn to runway 15
12:22:42 PM...Landing



Additional coverage for subscribers:


VIDEO: FLIGHT DAY 16 HIGHLIGHTS MOVIE PLAY


VIDEO: SHUTTLE AND ISS PROGRAM UPDATE PLAY


VIDEO: THURSDAY'S MISSION STATUS BRIEFING PLAY


VIDEO: ANDE 2 EXPERIMENT LAUNCHED FROM ENDEAVOUR PLAY


VIDEO: ABC, AP AND SAN FRANCISCO INTERVIEWS PLAY


VIDEO: DRAGONSAT LAUNCHED FROM ENDEAVOUR PLAY


VIDEO: OVERVIEW OF FLIGHT DAY 16 ACTIVITIES PLAY



VIDEO: FLIGHT DAY 15 HIGHLIGHTS MOVIE PLAY


VIDEO: DRAMATIC DOCKING OF CARGO SHIP TO SPACE STATION PLAY


VIDEO: WEDNESDAY'S MISSION STATUS BRIEFING PLAY



VIDEO: FLIGHT DAY 14 HIGHLIGHTS MOVIE PLAY


VIDEO: TUESDAY'S MISSION STATUS BRIEFING PLAY


VIDEO: SHUTTLE FLIES AWAY FROM STATION PLAY


VIDEO: STUNNING VIEWS OF STATION DURING FLYAROUND PLAY


VIDEO: FOOTAGE OF ENDEAVOUR DURING THE VICTORY LAP PLAY


VIDEO: THE TWO SPACECRAFT PASS INTO ORBITAL SUNRISE PLAY


VIDEO: ENDEAVOUR UNDOCKS FROM THE SPACE STATION PLAY


VIDEO: FAREWELL CEREMONY BETWEEN SHUTTLE AND ISS CREWS PLAY


VIDEO: CREW FLOATS INTO ENDEAVOUR AND CLOSES HATCHWAY PLAY


VIDEO: ASTRONAUTS LEAVE THEIR MARK INSIDE THE STATION PLAY


VIDEO: NARRATED ANIMATION OF UNDOCKING AND FLYAROUND PLAY


VIDEO: TUESDAY MORNING FLIGHT DIRECTOR INTERVIEW PLAY



VIDEO: FLIGHT DAY 13 HIGHLIGHTS MOVIE PLAY


VIDEO: MONDAY'S MISSION STATUS BRIEFING PLAY


VIDEO: FIFTH AND FINAL SPACEWALK COMPLETED PLAY


VIDEO: SECOND CAMERA PUT ON JAPAN'S EXPOSED FACILITY PLAY


VIDEO: FIRST TELEVISION CAMERA INSTALLED BY SPACEWALKERS PLAY


VIDEO: CASSIDY RE-WIRES STATION ELECTRICAL CABLES PLAY


VIDEO: MONDAY MORNING FLIGHT DIRECTOR INTERVIEW PLAY



VIDEO: FLIGHT DAY 12 HIGHLIGHTS MOVIE PLAY


VIDEO: INTERNATIONAL NEWS CONFERENCE WITH ASTRONAUTS PLAY


VIDEO: SUNDAY'S MISSION STATUS BRIEFING PLAY


VIDEO: SUNDAY MORNING FLIGHT DIRECTOR INTERVIEW PLAY


VIDEO: OVERVIEW OF FLIGHT DAY 12 ACTIVITIES PLAY



VIDEO: FLIGHT DAY 11 HIGHLIGHTS MOVIE PLAY


VIDEO: INTERNATIONAL MESSAGE FROM SHUTTLE AND ISS CREWS PLAY


VIDEO: INDY, CBS NEWS AND MEMPHIS MEDIA INTERVIEWS PLAY


VIDEO: SATURDAY MORNING FLIGHT DIRECTOR INTERVIEW PLAY



VIDEO: FLIGHT DAY 10 HIGHLIGHTS MOVIE PLAY


VIDEO: FRIDAY'S MISSION STATUS BRIEFING PLAY


VIDEO: DELIVERY PALLET RETURNS TO SHUTTLE PLAY


VIDEO: LAST OF THE OLD BATTERIES STOWED AWAY PLAY


VIDEO: SIXTH AND FINAL NEW BATTERY IS PLUGGED IN PLAY


VIDEO: SPACEWALKERS RESUME WORK WITH BATTERY CHARLIE PLAY


VIDEO: FRIDAY MORNING FLIGHT DIRECTOR INTERVIEW PLAY



VIDEO: FLIGHT DAY 9 HIGHLIGHTS MOVIE PLAY


VIDEO: THURSDAY'S MISSION STATUS BRIEFING PLAY


VIDEO: MORE INTERVIEWS WITH LAS VEGAS, HOUSTON AND FOX PLAY


VIDEO: NORTH CAROLINA, MAINE AND ORLANDO TV INTERVIEWS PLAY


VIDEO: COMMUNICATIONS PACKAGE PUT ON SCIENCE DECK PLAY


VIDEO: X-RAY ASTRONOMY PAYLOAD INSTALLED ON STATION PLAY


VIDEO: THURSDAY MORNING FLIGHT DIRECTOR INTERVIEW PLAY


VIDEO: OVERVIEW OF FLIGHT DAY 9 ACTIVITIES PLAY



VIDEO: FLIGHT DAY 8 HIGHLIGHTS MOVIE PLAY


VIDEO: WEDNESDAY'S MISSION STATUS BRIEFING PLAY


VIDEO: EARLY END TO SPACEWALK NO. 3 DECLARED PLAY


VIDEO: SECOND FRESH BATTERY PUT INTO STATION TRUSS PLAY


VIDEO: FIRST OF THE NEW BATTERIES INSTALLED PLAY


VIDEO: SPACEWALKERS REMOVE FIRST OLD BATTERY PLAY


VIDEO: CHRIS CASSIDY PREPS JAPANESE EXPERIMENTS PLAY


VIDEO: WEDNESDAY MORNING FLIGHT DIRECTOR INTERVIEW PLAY


VIDEO: STEP-BY-STEP SUMMARY OF SPACEWALK NO. 3 PLAY



VIDEO: LEFT-HAND BOOSTER CAMERA LOOKING UPWARD PLAY


VIDEO: LEFT-HAND BOOSTER CAMERA LOOKING INBOARD PLAY


VIDEO: LEFT-HAND BOOSTER CAMERA LOOKING DOWNWARD PLAY


VIDEO: RIGHT-HAND BOOSTER CAMERA LOOKING UPWARD PLAY


VIDEO: RIGHT-HAND BOOSTER CAMERA LOOKING INBOARD PLAY


VIDEO: RIGHT-HAND BOOSTER CAMERA LOOKING DOWNWARD PLAY



VIDEO: FLIGHT DAY 7 HIGHLIGHTS MOVIE PLAY


VIDEO: TUESDAY'S MISSION STATUS BRIEFING PLAY


VIDEO: CREW ANSWERS PUBLIC'S QUESTIONS FROM SPACE PLAY


VIDEO: EXPOSED FACILITY RECEIVES EXPERIMENT CARRIER PLAY


VIDEO: JAPANESE EXPERIMENTS UNBERTHED FROM SHUTTLE PLAY


VIDEO: OVERVIEW OF FLIGHT DAY 7 ACTIVITIES PLAY


VIDEO: TUESDAY MORNING FLIGHT DIRECTOR INTERVIEW PLAY



VIDEO: FLIGHT DAY 6 HIGHLIGHTS MOVIE PLAY


VIDEO: MONDAY'S MISSION STATUS BRIEFING PLAY


VIDEO: REPLACEMENT COOLING PUMP PUT ON STATION PLAY


VIDEO: SPARE COMMUNICATIONS ANTENNA TRANSFERRED PLAY


VIDEO: SPACEWALKER HOPS ABOARD STATION ARM PLAY


VIDEO: WOLF AND MARSHBURN BEGIN EVA NO. 2 PLAY


VIDEO: OVERVIEW OF FLIGHT DAY 6 ACTIVITIES PLAY


VIDEO: STEP-BY-STEP SUMMARY OF SPACEWALK NO. 2 PLAY


VIDEO: MONDAY MORNING FLIGHT DIRECTOR INTERVIEW PLAY


VIDEO: OVERVIEW OF FLIGHT DAY 6 ACTIVITIES PLAY


VIDEO: STEP-BY-STEP SUMMARY OF SPACEWALK NO. 2 PLAY



VIDEO: FLIGHT DAY 5 HIGHLIGHTS MOVIE PLAY


VIDEO: CANADIANS IN SPACE PLAY


VIDEO: SUNDAY'S MISSION STATUS BRIEFING PLAY


VIDEO: PALLET HANDED OFF TO SPACE STATION PLAY


VIDEO: CARGO CARRIER UNBERTHED FROM SHUTTLE BAY PLAY


VIDEO: SUNDAY MORNING FLIGHT DIRECTOR INTERVIEW PLAY


VIDEO: OVERVIEW OF FLIGHT DAY 5 ACTIVITIES PLAY



VIDEO: FLIGHT DAY 4 HIGHLIGHTS MOVIE PLAY


VIDEO: SATURDAY'S MISSION STATUS BRIEFING PLAY


VIDEO: UPDATE ON ENDEAVOUR'S HEAT SHIELD CHECKS PLAY


VIDEO: JAPANESE OUTDOOR SCIENCE PLATFORM ATTACHED PLAY


VIDEO: SHUTTLE AND STATION ARMS HANDOFF SCIENCE DECK PLAY


VIDEO: JAPAN'S EXPOSED FACILITY UNBERTHED FROM SHUTTLE PLAY


VIDEO: THERMAL COVER JETTISONED FROM THE KIBO MODULE PLAY


VIDEO: HELMET-CAMERA VIEWS AS KOPRA CLIMBS TO SHUTTLE PLAY


VIDEO: TIM KOPRA EMERGES FROM AIRLOCK FOR EVA NO. 1 PLAY


VIDEO: SATURDAY MORNING FLIGHT DIRECTOR INTERVIEW PLAY


VIDEO: OVERVIEW OF FLIGHT DAY 4 ACTIVITIES PLAY


VIDEO: STEP-BY-STEP SUMMARY OF SPACEWALK NO. 1 PLAY


VIDEO: NARRATED TOUR OF ENDEAVOUR'S PAYLOAD BAY PLAY



VIDEO: FLIGHT DAY 3 HIGHLIGHTS MOVIE PLAY


VIDEO: FRIDAY'S MISSION STATUS BRIEFING PLAY


VIDEO: SHUTTLE CREW WELCOMED ABOARD STATION PLAY


VIDEO: ENDEAVOUR DOCKS TO THE SPACE STATION PLAY


VIDEO: ASTRONAUTS' ONBOARD CAMCORDER FOOTAGE PLAY


VIDEO: SHUTTLE FLIES OUT IN FRONT OF STATION PLAY


VIDEO: ENDEAVOUR PERFORMS 360-DEGREE BACKFLIP PLAY


VIDEO: BEAUTIFUL VIEWS OF ENDEAVOUR APPROACHING PLAY


VIDEO: STATION CAMERA CATCHES ENDEAVOUR'S "TI BURN" PLAY


VIDEO: NARRATED PREVIEW OF RENDEZVOUS AND DOCKING PLAY



VIDEO: FLIGHT DAY 2 HIGHLIGHTS MOVIE PLAY


VIDEO: TUESDAY'S MISSION STATUS BRIEFING PLAY


VIDEO: PREVIEW ANIMATION OF HEAT SHIELD INSPECTIONS PLAY



VIDEO: FLIGHT DAY 1 HIGHLIGHTS MOVIE PLAY


VIDEO: THE FULL STS-127 LAUNCH EXPERIENCE PLAY


VIDEO: INSIDE MISSION CONTROL DURING LAUNCH PLAY


VIDEO: LAUNCH REPLAY: VAB ROOF PLAY | HI-DEF


VIDEO: LAUNCH REPLAY: PRESS SITE PLAY | HI-DEF


VIDEO: LAUNCH REPLAY: PAD PERIMETER PLAY | HI-DEF


VIDEO: LAUNCH REPLAY: BEACH TRACKER PLAY | HI-DEF


VIDEO: LAUNCH REPLAY: UCS-23 TRACKER PLAY | HI-DEF


VIDEO: LAUNCH REPLAY: PLAYALINDA BEACH PLAY | HI-DEF


VIDEO: LAUNCH REPLAY: PATRICK AIR FORCE BASE PLAY | HI-DEF


VIDEO: LAUNCH REPLAY: BANANA CREEK VIP SITE PLAY | HI-DEF


VIDEO: LAUNCH REPLAY: PAD FRONT CAMERA PLAY | HI-DEF


VIDEO: LAUNCH REPLAY: WEST TOWER PLAY | HI-DEF


VIDEO: LAUNCH REPLAY: CAMERA 070 PLAY | HI-DEF


VIDEO: LAUNCH REPLAY: CAMERA 071 PLAY | HI-DEF


VIDEO: LAUNCH REPLAY: CAMERA CS-1 PLAY


VIDEO: LAUNCH REPLAY: CAMERA CS-2 PLAY


VIDEO: LAUNCH REPLAY: CAMERA CS-6 PLAY



VIDEO: SHUTTLE ENDEAVOUR BLASTS OFF! PLAY | HI-DEF


VIDEO: STS-127 POST-LAUNCH NEWS CONFERENCE PLAY


VIDEO: FOOTAGE OF FUEL TANK AFTER JETTISON PLAY


VIDEO: ASTRONAUTS REACH PAD 39A PLAY | HI-DEF


VIDEO: CREW DEPARTS QUARTERS FOR LAUNCH PAD PLAY | HI-DEF


VIDEO: ASTRONAUTS DON SPACESUITS FOR LAUNCH PLAY | HI-DEF



VIDEO: WEATHER SCRUBS LAUNCH AGAIN PLAY | HI-DEF


VIDEO: CREW ARRIVES AT PAD 39A ON MONDAY PLAY | HI-DEF


VIDEO: CREW DEPARTS QUARTERS ON MONDAY PLAY | HI-DEF


VIDEO: ASTRONAUTS SUIT UP ON MONDAY PLAY | HI-DEF



VIDEO: THUNDERSTORMS SCRUB SUNDAY'S ATTEMPT PLAY | HI-DEF


VIDEO: CREW DEPARTS QUARTERS ON SUNDAY PLAY | HI-DEF


VIDEO: ASTRONAUTS SUIT UP ON SUNDAY PLAY | HI-DEF


VIDEO: NARRATED SUMMARY SHUTTLE'S PREPARATIONS PLAY | HI-DEF


VIDEO: NARRATED SUMMARY PAYLOADS' PREPARATIONS PLAY | HI-DEF



VIDEO: LIGHTNING STRIKES POSTPONE ENDEAVOUR LAUNCH PLAY


VIDEO: FRIDAY'S PRE-LAUNCH NEWS CONFERENCE PLAY


VIDEO: THURSDAY'S STATUS REPORT ON THE COUNTDOWN PLAY


VIDEO: COUNTDOWN PREVIEW AND WEATHER BRIEFING PLAY


VIDEO: ASTRONAUTS RETURN TO CAPE FOR LAUNCH PLAY | HI-DEF



VIDEO: NO LEAKS FOUND DURING SPECIAL TEST PLAY


VIDEO: EXPLANATION OF THE HYDROGEN LEAK AND THE REPAIR PLAY



VIDEO: POST-SCRUB NEWS BRIEFING PLAY


VIDEO: FIRING ROOM UPDATE WITH LAUNCH DIRECTOR PLAY


VIDEO: SCRUB NO. 2 DECLARED DUE TO HYDROGEN LEAK PLAY



VIDEO: SUNDAY'S UPDATE FROM MISSION MANAGEMENT TEAM PLAY


VIDEO: LEAK POSTPONES SHUTTLE ENDEAVOUR LAUNCH PLAY



VIDEO: TIME-LAPSE OF SUN SETTING OVER PAD 39A PLAY


VIDEO: ANOTHER TIME-LAPSE OF GANTRY RETRACTION PLAY


VIDEO: TIME-LAPSE OF LAUNCH PAD TOWER ROLLBACK PLAY



VIDEO: PRE-LAUNCH INTERVIEW WITH MARK POLANSKY PLAY


VIDEO: PRE-LAUNCH INTERVIEW WITH DOUG HURLEY PLAY


VIDEO: PRE-LAUNCH INTERVIEW WITH CHRIS CASSIDY PLAY


VIDEO: PRE-LAUNCH INTERVIEW WITH JULIE PAYETTE PLAY


VIDEO: PRE-LAUNCH INTERVIEW WITH TOM MARSHBURN PLAY


VIDEO: PRE-LAUNCH INTERVIEW WITH DAVE WOLF PLAY



VIDEO: THE STS-127 MISSION PREVIEW MOVIE PLAY


VIDEO: THURSDAY'S PRE-LAUNCH NEWS CONFERENCE PLAY


VIDEO: JAPANESE SCIENCE FACILITIES ABOARD STATION PLAY


VIDEO: COUNTDOWN BEGINS TICKING FOR SATURDAY'S LAUNCH PLAY


VIDEO: LAUNCH COUNTDOWN PREVIEW BRIEFING PLAY


VIDEO: CREW ARRIVES JUST BEFORE MIDNIGHT PLAY | HI-DEF


VIDEO: GET TO KNOW ENDEAVOUR'S ASTRONAUTS PLAY



VIDEO: ASTRONAUTS PRACTICE EVACUATION OF SHUTTLE PLAY | HI-DEF


VIDEO: CREW BOARDS SHUTTLE FOR PRACTICE COUNT PLAY | HI-DEF


VIDEO: ASTRONAUTS SUIT UP FOR DRESS REHEARSAL PLAY | HI-DEF


VIDEO: CREW INSPECTS CARGO IN THE PAYLOAD BAY PLAY | HI-DEF


VIDEO: TRAINING SESSIONS AT LAUNCH PAD AND BUNKER PLAY | HI-DEF


VIDEO: INFORMAL CREW NEWS CONFERENCE AT LAUNCH PAD PLAY


VIDEO: ASTRONAUTS ARRIVE FOR PRACTICE COUNTDOWN PLAY



VIDEO: FLIGHT READINESS REVIEW SETS LAUNCH DATE PLAY



VIDEO: PAD 39A GANTRY ENCLOSES SHUTTLE PLAY | HI-DEF


VIDEO: ROLLAROUND MOVES ENDEAVOUR TO PAD 39A PLAY | HI-DEF


VIDEO: ENDEAVOUR IS HAULED OFF LAUNCH PAD 39B PLAY | HI-DEF


VIDEO: TIME-LAPSE OF SHUTTLE'S LAUNCH PAD SWITCH PLAY



VIDEO: SHUTTLE AND STATION PROGRAM UPDATE PLAY


VIDEO: THE STS-127 MISSION OVERVIEW BRIEFING PLAY


VIDEO: PREVIEW BRIEFING ON MISSION'S SPACEWALKS PLAY


VIDEO: THE ASTRONAUTS' PRE-FLIGHT NEWS BRIEFING PLAY



VIDEO: PAD 39B AND ITS LAST SPACE SHUTTLE PLAY | HI-DEF


VIDEO: ENDEAVOUR'S SUNRISE ARRIVAL AT PAD 39B PLAY | HI-DEF


VIDEO: MIDNIGHT ROLLOUT FROM ASSEMBLY BUILDING PLAY | HI-DEF


VIDEO: ENDEAVOUR HOISTED FOR ATTACHMENT TO TANK PLAY | HI-DEF


VIDEO: CRANE ROTATES ENDEAVOUR VERTICALLY PLAY | HI-DEF


VIDEO: ENDEAVOUR MOVES TO ASSEMBLY BUILDING PLAY | HI-DEF


VIDEO: ORION AND ARES ROCKET PROGRESS REPORT PLAY


SUBSCRIBE NOW