Spacewalkers give station's power grid fresh batteries
BY WILLIAM HARWOOD
STORY WRITTEN FOR CBS NEWS "SPACE PLACE" & USED WITH PERMISSION
Posted: July 24, 2009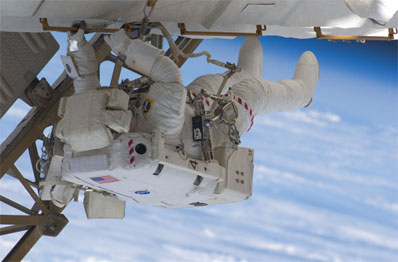 Credit: NASA



Astronauts Christopher Cassidy and Thomas Marshburn successfully installed four new batteries in the International Space Station's oldest set of solar arrays today, completing a high-priority job that was interrupted Wednesday by elevated carbon dioxide levels in Cassidy's spacesuit.

Cassidy and David Wolf intended to install four of six batteries Wednesday, but only two were in place when the spacewalk was brought to an early end. Today, Cassidy and Marshburn installed the final four. The six old batteries were bolted to a cargo carrier that will be returned to Earth in the shuttle Endeavour's cargo bay.

"You guys, from Houston, great job today," astronaut Aki Hoshide radioed from mission control. "All six batteries in and congratulations for your second EVA, both of you. Great job. And your families are watching."

"Thanks, Aki," the spacewalkers replied.

Today's spacewalk began at 9:54 a.m. EDT and ended at 5:06 p.m. It was the 129th spacewalk devoted to station assembly and maintenance since construction began, the 10th so far this year and the fourth of five planned by Endeavour's crew.

Total station EVA time now stands at 805 hours and 42 minutes. The Endeavour astronauts have now logged 25 hours and 36 minutes through four spacewalks. A fifth and final excursion is planned for Monday.

There were no problems of any significance today. The astronauts fell behind schedule at one point when they had problems bolting one of the old batteries in place, but they later made up lost time and remained pretty much on or ahead of schedule. Flight controllers told Cassidy to take it easy when his CO2 concentration climbed ever so slightly, but there were no significant issues.

"Very exciting to complete the objective of changing out those batteries and placing the carrier back in the payload bay," said Holly Ridings, the lead space station flight director. "We got some data and temperature status from all six new batteries on the integrated equipment assembly of the P6 truss.

"We're in the process of warming up those batteries with heaters into their operational temperature range. That will be followed by charging those batteries for use. By tomorrow afternoon, we hope to have those three battery sets, six batteries in all, back on line and working for us again as an integrated part of the power system on the space station.

"It was a great day," she concluded. "All of the crew did just a wonderful job today and we declared success with that part of the mission. We're all very, very pleased."

The combined 13-member crew of the shuttle-space station complex will enjoy an off-duty day Saturday to relax and catch their collective breath after a challenging 10 days in space. CBS News and two other news organizations will interview the shuttle crew at 8:03 a.m. Saturday.

"Tomorrow is a full day off for the crew," Ridings said. "In a very long mission like this, it's really important that they get some time to recuperate and recover and really just to enjoy being on orbit as a 13-person crew. So we're really excited that they have that opportunity."

A fifth and final spacewalk is planned for Monday. The objectives include a wiring modification to put two stabilizing gyroscopes on separate circuits; a minor insulation reconfiguration on Canada's DEXTRE construction robot; installation of two television cameras on the Japanese Exposed Facility; and deployment of a spare parts stowage mechanism on the station's main power truss.

"We plan optimistically and we build a time line, more or less, based on the priorities, but we also look at how close different tasks are and whether we want the crew to be together at certain points," said lead spacewalk officer Kieth Johnson. "If any of the tasks take longer than expected, then a task drops off the back."


Additional coverage for subscribers:


VIDEO: THURSDAY'S MISSION STATUS BRIEFING PLAY


VIDEO: MORE INTERVIEWS WITH LAS VEGAS, HOUSTON AND FOX PLAY


VIDEO: NORTH CAROLINA, MAINE AND ORLANDO TV INTERVIEWS PLAY


VIDEO: COMMUNICATIONS PACKAGE PUT ON SCIENCE DECK PLAY


VIDEO: X-RAY ASTRONOMY PAYLOAD INSTALLED ON STATION PLAY


VIDEO: THURSDAY MORNING FLIGHT DIRECTOR INTERVIEW PLAY


VIDEO: OVERVIEW OF FLIGHT DAY 9 ACTIVITIES PLAY



VIDEO: FLIGHT DAY 8 HIGHLIGHTS MOVIE PLAY


VIDEO: WEDNESDAY'S MISSION STATUS BRIEFING PLAY


VIDEO: EARLY END TO SPACEWALK NO. 3 DECLARED PLAY


VIDEO: SECOND FRESH BATTERY PUT INTO STATION TRUSS PLAY


VIDEO: FIRST OF THE NEW BATTERIES INSTALLED PLAY


VIDEO: SPACEWALKERS REMOVE FIRST OLD BATTERY PLAY


VIDEO: CHRIS CASSIDY PREPS JAPANESE EXPERIMENTS PLAY


VIDEO: WEDNESDAY MORNING FLIGHT DIRECTOR INTERVIEW PLAY


VIDEO: STEP-BY-STEP SUMMARY OF SPACEWALK NO. 3 PLAY



VIDEO: LEFT-HAND BOOSTER CAMERA LOOKING UPWARD PLAY


VIDEO: LEFT-HAND BOOSTER CAMERA LOOKING INBOARD PLAY


VIDEO: LEFT-HAND BOOSTER CAMERA LOOKING DOWNWARD PLAY


VIDEO: RIGHT-HAND BOOSTER CAMERA LOOKING UPWARD PLAY


VIDEO: RIGHT-HAND BOOSTER CAMERA LOOKING INBOARD PLAY


VIDEO: RIGHT-HAND BOOSTER CAMERA LOOKING DOWNWARD PLAY



VIDEO: FLIGHT DAY 7 HIGHLIGHTS MOVIE PLAY


VIDEO: TUESDAY'S MISSION STATUS BRIEFING PLAY


VIDEO: CREW ANSWERS PUBLIC'S QUESTIONS FROM SPACE PLAY


VIDEO: EXPOSED FACILITY RECEIVES EXPERIMENT CARRIER PLAY


VIDEO: JAPANESE EXPERIMENTS UNBERTHED FROM SHUTTLE PLAY


VIDEO: OVERVIEW OF FLIGHT DAY 7 ACTIVITIES PLAY


VIDEO: TUESDAY MORNING FLIGHT DIRECTOR INTERVIEW PLAY



VIDEO: FLIGHT DAY 6 HIGHLIGHTS MOVIE PLAY


VIDEO: MONDAY'S MISSION STATUS BRIEFING PLAY


VIDEO: REPLACEMENT COOLING PUMP PUT ON STATION PLAY


VIDEO: SPARE COMMUNICATIONS ANTENNA TRANSFERRED PLAY


VIDEO: SPACEWALKER HOPS ABOARD STATION ARM PLAY


VIDEO: WOLF AND MARSHBURN BEGIN EVA NO. 2 PLAY


VIDEO: OVERVIEW OF FLIGHT DAY 6 ACTIVITIES PLAY


VIDEO: STEP-BY-STEP SUMMARY OF SPACEWALK NO. 2 PLAY


VIDEO: MONDAY MORNING FLIGHT DIRECTOR INTERVIEW PLAY


VIDEO: OVERVIEW OF FLIGHT DAY 6 ACTIVITIES PLAY


VIDEO: STEP-BY-STEP SUMMARY OF SPACEWALK NO. 2 PLAY



VIDEO: FLIGHT DAY 5 HIGHLIGHTS MOVIE PLAY


VIDEO: CANADIANS IN SPACE PLAY


VIDEO: SUNDAY'S MISSION STATUS BRIEFING PLAY


VIDEO: PALLET HANDED OFF TO SPACE STATION PLAY


VIDEO: CARGO CARRIER UNBERTHED FROM SHUTTLE BAY PLAY


VIDEO: SUNDAY MORNING FLIGHT DIRECTOR INTERVIEW PLAY


VIDEO: OVERVIEW OF FLIGHT DAY 5 ACTIVITIES PLAY



VIDEO: FLIGHT DAY 4 HIGHLIGHTS MOVIE PLAY


VIDEO: SATURDAY'S MISSION STATUS BRIEFING PLAY


VIDEO: UPDATE ON ENDEAVOUR'S HEAT SHIELD CHECKS PLAY


VIDEO: JAPANESE OUTDOOR SCIENCE PLATFORM ATTACHED PLAY


VIDEO: SHUTTLE AND STATION ARMS HANDOFF SCIENCE DECK PLAY


VIDEO: JAPAN'S EXPOSED FACILITY UNBERTHED FROM SHUTTLE PLAY


VIDEO: THERMAL COVER JETTISONED FROM THE KIBO MODULE PLAY


VIDEO: HELMET-CAMERA VIEWS AS KOPRA CLIMBS TO SHUTTLE PLAY


VIDEO: TIM KOPRA EMERGES FROM AIRLOCK FOR EVA NO. 1 PLAY


VIDEO: SATURDAY MORNING FLIGHT DIRECTOR INTERVIEW PLAY


VIDEO: OVERVIEW OF FLIGHT DAY 4 ACTIVITIES PLAY


VIDEO: STEP-BY-STEP SUMMARY OF SPACEWALK NO. 1 PLAY


VIDEO: NARRATED TOUR OF ENDEAVOUR'S PAYLOAD BAY PLAY



VIDEO: FLIGHT DAY 3 HIGHLIGHTS MOVIE PLAY


VIDEO: FRIDAY'S MISSION STATUS BRIEFING PLAY


VIDEO: SHUTTLE CREW WELCOMED ABOARD STATION PLAY


VIDEO: ENDEAVOUR DOCKS TO THE SPACE STATION PLAY


VIDEO: ASTRONAUTS' ONBOARD CAMCORDER FOOTAGE PLAY


VIDEO: SHUTTLE FLIES OUT IN FRONT OF STATION PLAY


VIDEO: ENDEAVOUR PERFORMS 360-DEGREE BACKFLIP PLAY


VIDEO: BEAUTIFUL VIEWS OF ENDEAVOUR APPROACHING PLAY


VIDEO: STATION CAMERA CATCHES ENDEAVOUR'S "TI BURN" PLAY


VIDEO: NARRATED PREVIEW OF RENDEZVOUS AND DOCKING PLAY



VIDEO: FLIGHT DAY 2 HIGHLIGHTS MOVIE PLAY


VIDEO: TUESDAY'S MISSION STATUS BRIEFING PLAY


VIDEO: PREVIEW ANIMATION OF HEAT SHIELD INSPECTIONS PLAY



VIDEO: FLIGHT DAY 1 HIGHLIGHTS MOVIE PLAY


VIDEO: THE FULL STS-127 LAUNCH EXPERIENCE PLAY


VIDEO: INSIDE MISSION CONTROL DURING LAUNCH PLAY


VIDEO: LAUNCH REPLAY: VAB ROOF PLAY | HI-DEF


VIDEO: LAUNCH REPLAY: PRESS SITE PLAY | HI-DEF


VIDEO: LAUNCH REPLAY: PAD PERIMETER PLAY | HI-DEF


VIDEO: LAUNCH REPLAY: BEACH TRACKER PLAY | HI-DEF


VIDEO: LAUNCH REPLAY: UCS-23 TRACKER PLAY | HI-DEF


VIDEO: LAUNCH REPLAY: PLAYALINDA BEACH PLAY | HI-DEF


VIDEO: LAUNCH REPLAY: PATRICK AIR FORCE BASE PLAY | HI-DEF


VIDEO: LAUNCH REPLAY: BANANA CREEK VIP SITE PLAY | HI-DEF


VIDEO: LAUNCH REPLAY: PAD FRONT CAMERA PLAY | HI-DEF


VIDEO: LAUNCH REPLAY: WEST TOWER PLAY | HI-DEF


VIDEO: LAUNCH REPLAY: CAMERA 070 PLAY | HI-DEF


VIDEO: LAUNCH REPLAY: CAMERA 071 PLAY | HI-DEF


VIDEO: LAUNCH REPLAY: CAMERA CS-1 PLAY


VIDEO: LAUNCH REPLAY: CAMERA CS-2 PLAY


VIDEO: LAUNCH REPLAY: CAMERA CS-6 PLAY



VIDEO: SHUTTLE ENDEAVOUR BLASTS OFF! PLAY | HI-DEF


VIDEO: STS-127 POST-LAUNCH NEWS CONFERENCE PLAY


VIDEO: FOOTAGE OF FUEL TANK AFTER JETTISON PLAY


VIDEO: ASTRONAUTS REACH PAD 39A PLAY | HI-DEF


VIDEO: CREW DEPARTS QUARTERS FOR LAUNCH PAD PLAY | HI-DEF


VIDEO: ASTRONAUTS DON SPACESUITS FOR LAUNCH PLAY | HI-DEF



VIDEO: WEATHER SCRUBS LAUNCH AGAIN PLAY | HI-DEF


VIDEO: CREW ARRIVES AT PAD 39A ON MONDAY PLAY | HI-DEF


VIDEO: CREW DEPARTS QUARTERS ON MONDAY PLAY | HI-DEF


VIDEO: ASTRONAUTS SUIT UP ON MONDAY PLAY | HI-DEF



VIDEO: THUNDERSTORMS SCRUB SUNDAY'S ATTEMPT PLAY | HI-DEF


VIDEO: CREW DEPARTS QUARTERS ON SUNDAY PLAY | HI-DEF


VIDEO: ASTRONAUTS SUIT UP ON SUNDAY PLAY | HI-DEF


VIDEO: NARRATED SUMMARY SHUTTLE'S PREPARATIONS PLAY | HI-DEF


VIDEO: NARRATED SUMMARY PAYLOADS' PREPARATIONS PLAY | HI-DEF



VIDEO: LIGHTNING STRIKES POSTPONE ENDEAVOUR LAUNCH PLAY


VIDEO: FRIDAY'S PRE-LAUNCH NEWS CONFERENCE PLAY


VIDEO: THURSDAY'S STATUS REPORT ON THE COUNTDOWN PLAY


VIDEO: COUNTDOWN PREVIEW AND WEATHER BRIEFING PLAY


VIDEO: ASTRONAUTS RETURN TO CAPE FOR LAUNCH PLAY | HI-DEF



VIDEO: NO LEAKS FOUND DURING SPECIAL TEST PLAY


VIDEO: EXPLANATION OF THE HYDROGEN LEAK AND THE REPAIR PLAY



VIDEO: POST-SCRUB NEWS BRIEFING PLAY


VIDEO: FIRING ROOM UPDATE WITH LAUNCH DIRECTOR PLAY


VIDEO: SCRUB NO. 2 DECLARED DUE TO HYDROGEN LEAK PLAY



VIDEO: SUNDAY'S UPDATE FROM MISSION MANAGEMENT TEAM PLAY


VIDEO: LEAK POSTPONES SHUTTLE ENDEAVOUR LAUNCH PLAY



VIDEO: TIME-LAPSE OF SUN SETTING OVER PAD 39A PLAY


VIDEO: ANOTHER TIME-LAPSE OF GANTRY RETRACTION PLAY


VIDEO: TIME-LAPSE OF LAUNCH PAD TOWER ROLLBACK PLAY



VIDEO: PRE-LAUNCH INTERVIEW WITH MARK POLANSKY PLAY


VIDEO: PRE-LAUNCH INTERVIEW WITH DOUG HURLEY PLAY


VIDEO: PRE-LAUNCH INTERVIEW WITH CHRIS CASSIDY PLAY


VIDEO: PRE-LAUNCH INTERVIEW WITH JULIE PAYETTE PLAY


VIDEO: PRE-LAUNCH INTERVIEW WITH TOM MARSHBURN PLAY


VIDEO: PRE-LAUNCH INTERVIEW WITH DAVE WOLF PLAY



VIDEO: THE STS-127 MISSION PREVIEW MOVIE PLAY


VIDEO: THURSDAY'S PRE-LAUNCH NEWS CONFERENCE PLAY


VIDEO: JAPANESE SCIENCE FACILITIES ABOARD STATION PLAY


VIDEO: COUNTDOWN BEGINS TICKING FOR SATURDAY'S LAUNCH PLAY


VIDEO: LAUNCH COUNTDOWN PREVIEW BRIEFING PLAY


VIDEO: CREW ARRIVES JUST BEFORE MIDNIGHT PLAY | HI-DEF


VIDEO: GET TO KNOW ENDEAVOUR'S ASTRONAUTS PLAY



VIDEO: ASTRONAUTS PRACTICE EVACUATION OF SHUTTLE PLAY | HI-DEF


VIDEO: CREW BOARDS SHUTTLE FOR PRACTICE COUNT PLAY | HI-DEF


VIDEO: ASTRONAUTS SUIT UP FOR DRESS REHEARSAL PLAY | HI-DEF


VIDEO: CREW INSPECTS CARGO IN THE PAYLOAD BAY PLAY | HI-DEF


VIDEO: TRAINING SESSIONS AT LAUNCH PAD AND BUNKER PLAY | HI-DEF


VIDEO: INFORMAL CREW NEWS CONFERENCE AT LAUNCH PAD PLAY


VIDEO: ASTRONAUTS ARRIVE FOR PRACTICE COUNTDOWN PLAY



VIDEO: FLIGHT READINESS REVIEW SETS LAUNCH DATE PLAY



VIDEO: PAD 39A GANTRY ENCLOSES SHUTTLE PLAY | HI-DEF


VIDEO: ROLLAROUND MOVES ENDEAVOUR TO PAD 39A PLAY | HI-DEF


VIDEO: ENDEAVOUR IS HAULED OFF LAUNCH PAD 39B PLAY | HI-DEF


VIDEO: TIME-LAPSE OF SHUTTLE'S LAUNCH PAD SWITCH PLAY



VIDEO: SHUTTLE AND STATION PROGRAM UPDATE PLAY


VIDEO: THE STS-127 MISSION OVERVIEW BRIEFING PLAY


VIDEO: PREVIEW BRIEFING ON MISSION'S SPACEWALKS PLAY


VIDEO: THE ASTRONAUTS' PRE-FLIGHT NEWS BRIEFING PLAY



VIDEO: PAD 39B AND ITS LAST SPACE SHUTTLE PLAY | HI-DEF


VIDEO: ENDEAVOUR'S SUNRISE ARRIVAL AT PAD 39B PLAY | HI-DEF


VIDEO: MIDNIGHT ROLLOUT FROM ASSEMBLY BUILDING PLAY | HI-DEF


VIDEO: ENDEAVOUR HOISTED FOR ATTACHMENT TO TANK PLAY | HI-DEF


VIDEO: CRANE ROTATES ENDEAVOUR VERTICALLY PLAY | HI-DEF


VIDEO: ENDEAVOUR MOVES TO ASSEMBLY BUILDING PLAY | HI-DEF


VIDEO: ORION AND ARES ROCKET PROGRESS REPORT PLAY


SUBSCRIBE NOW