Station's outdoor science deck gets its first payloads
BY WILLIAM HARWOOD
STORY WRITTEN FOR CBS NEWS "SPACE PLACE" & USED WITH PERMISSION
Posted: July 23, 2009


Astronauts operating a Japanese robot arm from inside the space station's Kibo laboratory module Thursday successfully transferred three compact experiments from a shuttle pallet to a newly installed porch-like platform in a major milestone for Japan's space program.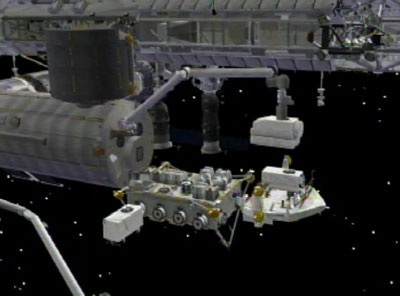 Credit: NASA



It was the first operational use of the new robot arm and the successful experiment transfer, along with the attachment of the porch earlier in the mission, accomplished one of the mission's top priorities.

"It's emotional enough for its designers and developers to see it accommodating external users," Tetsuro Yokoyama, deputy manager of the Kibo program, said of the robot arm work. "This also gives to Japanese public an impression that Japan's human spaceflight program is getting to a new horizon of meaningful operation and utilization."

Said lead flight director Holly Ridings: "We're very, very pleased for our colleagues" at the Japanese space agency.

While the experiment transfers were going on, flight controllers were revising plans for the crew's final two spacewalks. Spacewalk No. 4, scheduled to begin at 9:58 a.m. EDT Friday, will be devoted to completing the installation of new batteries in the station's oldest set of solar arrays, work expected to take seven-and-a-half hours to complete.

Astronauts David Wolf and Christopher Cassidy attempted to replace four of the six batteries during a spacewalk Wednesday, but the excursion was cut short after just two batteries were installed because of a carbon dioxide issue with Cassidy's spacesuit.

Ridings said Thursday engineers believe the problem was triggered when Cassidy, a former Navy SEAL, got off to a fast start in his first spacewalk, overtaxing the carbon dioxide removal system.

For Friday's spacewalk, Cassidy and crewmate Thomas Marshburn were told to take their time in the initial stages of the outing to make sure the CO2-absorbing lithium hydroxide in their suits does not get over-stressed early.

Assuming all four remaining batteries are installed Friday, Ridings said, Cassidy and Marshburn likely will focus on installing two Japanese television cameras during the mission's fifth and final spacewalk Monday, along with deploying a payload mounting mechanism.

Engineers, meanwhile, are monitoring a possible problem with a "sustaining heater" used to keep one of Endeavour's electricity producing fuel cells from getting too cold.

While docked to the space station, Endeavour draws most of its power from the space station's solar arrays and the shuttle's fuel cells are operated at a low-power setting. To keep the fuel cells from getting too cold, the sustaining heater occasionally kicks in. But fuel cell No. 3's heater ran longer than expected earlier today and engineers decided to change the shuttle's power generation configuration to prevent additional problems.

"Julie, we are seeing a longer than expected cycle on the sustaining heater on fuel cell 3," mission control radioed Endeavour. "We want to load up fuel cell 3 so it will stay warm while we look at the problem. So we'd like on (cockpit panel) R-1 is the Charlie (electrical bus) tie to off, O-F-F."

"Charlie tie to off, O-F-F," Julie Payette confirmed from the shuttle.

"Good copy."

As a result of the switch throw, fuel cell No. 3 was taken out of the shared bus configuration, forcing it to generate more power and keep itself warm without having to utilize the sustaining heater. On the flip side, the powerplant will use more hydrogen and oxygen than originally planned. But as of this writing, engineers believe the power setting will permit a full-duration mission as planned.

"Fuel cell 3, we really weren't using it, it didn't have much load on it," Ridings said. "It has a sustaining heater that when it's not loaded, comes on to keep the fuel cell warm. That heater came on and it stayed on longer than expected. They're not sure why it stayed on that long, but they decided we would start using the fuel cell and put normal loads on it to warm it up above the level where the heater needs to run.

"And so the fuel cell is fine, there's nothing wrong with it, just the heater staying on longer than expected. ... It stayed on about 20 minutes, you would expect more like two or three. We put load on it so it would stay in a warm region above where that heater's required while they go off and see if the heater signature will make some sense for them."

The heater problem is not related to a subtle issue experienced by fuel cell No. 3 before launch. But in its current configuration, a problem with one of the shuttle's other two fuel cells, in combination with a "failed on" fuel cell No. 3 heater, could result in a shortened mission.

As it now stands, no such issues are expected.


Additional coverage for subscribers:


VIDEO: NORTH CAROLINA, MAINE AND ORLANDO TV INTERVIEWS PLAY


VIDEO: COMMUNICATIONS PACKAGE PUT ON SCIENCE DECK PLAY


VIDEO: X-RAY ASTRONOMY PAYLOAD INSTALLED ON STATION PLAY


VIDEO: THURSDAY MORNING FLIGHT DIRECTOR INTERVIEW PLAY


VIDEO: OVERVIEW OF FLIGHT DAY 9 ACTIVITIES PLAY



VIDEO: FLIGHT DAY 8 HIGHLIGHTS MOVIE PLAY


VIDEO: WEDNESDAY'S MISSION STATUS BRIEFING PLAY


VIDEO: EARLY END TO SPACEWALK NO. 3 DECLARED PLAY


VIDEO: SECOND FRESH BATTERY PUT INTO STATION TRUSS PLAY


VIDEO: FIRST OF THE NEW BATTERIES INSTALLED PLAY


VIDEO: SPACEWALKERS REMOVE FIRST OLD BATTERY PLAY


VIDEO: CHRIS CASSIDY PREPS JAPANESE EXPERIMENTS PLAY


VIDEO: WEDNESDAY MORNING FLIGHT DIRECTOR INTERVIEW PLAY


VIDEO: STEP-BY-STEP SUMMARY OF SPACEWALK NO. 3 PLAY



VIDEO: LEFT-HAND BOOSTER CAMERA LOOKING UPWARD PLAY


VIDEO: LEFT-HAND BOOSTER CAMERA LOOKING INBOARD PLAY


VIDEO: LEFT-HAND BOOSTER CAMERA LOOKING DOWNWARD PLAY


VIDEO: RIGHT-HAND BOOSTER CAMERA LOOKING UPWARD PLAY


VIDEO: RIGHT-HAND BOOSTER CAMERA LOOKING INBOARD PLAY


VIDEO: RIGHT-HAND BOOSTER CAMERA LOOKING DOWNWARD PLAY



VIDEO: FLIGHT DAY 7 HIGHLIGHTS MOVIE PLAY


VIDEO: TUESDAY'S MISSION STATUS BRIEFING PLAY


VIDEO: CREW ANSWERS PUBLIC'S QUESTIONS FROM SPACE PLAY


VIDEO: EXPOSED FACILITY RECEIVES EXPERIMENT CARRIER PLAY


VIDEO: JAPANESE EXPERIMENTS UNBERTHED FROM SHUTTLE PLAY


VIDEO: OVERVIEW OF FLIGHT DAY 7 ACTIVITIES PLAY


VIDEO: TUESDAY MORNING FLIGHT DIRECTOR INTERVIEW PLAY



VIDEO: FLIGHT DAY 6 HIGHLIGHTS MOVIE PLAY


VIDEO: MONDAY'S MISSION STATUS BRIEFING PLAY


VIDEO: REPLACEMENT COOLING PUMP PUT ON STATION PLAY


VIDEO: SPARE COMMUNICATIONS ANTENNA TRANSFERRED PLAY


VIDEO: SPACEWALKER HOPS ABOARD STATION ARM PLAY


VIDEO: WOLF AND MARSHBURN BEGIN EVA NO. 2 PLAY


VIDEO: OVERVIEW OF FLIGHT DAY 6 ACTIVITIES PLAY


VIDEO: STEP-BY-STEP SUMMARY OF SPACEWALK NO. 2 PLAY


VIDEO: MONDAY MORNING FLIGHT DIRECTOR INTERVIEW PLAY


VIDEO: OVERVIEW OF FLIGHT DAY 6 ACTIVITIES PLAY


VIDEO: STEP-BY-STEP SUMMARY OF SPACEWALK NO. 2 PLAY



VIDEO: FLIGHT DAY 5 HIGHLIGHTS MOVIE PLAY


VIDEO: CANADIANS IN SPACE PLAY


VIDEO: SUNDAY'S MISSION STATUS BRIEFING PLAY


VIDEO: PALLET HANDED OFF TO SPACE STATION PLAY


VIDEO: CARGO CARRIER UNBERTHED FROM SHUTTLE BAY PLAY


VIDEO: SUNDAY MORNING FLIGHT DIRECTOR INTERVIEW PLAY


VIDEO: OVERVIEW OF FLIGHT DAY 5 ACTIVITIES PLAY



VIDEO: FLIGHT DAY 4 HIGHLIGHTS MOVIE PLAY


VIDEO: SATURDAY'S MISSION STATUS BRIEFING PLAY


VIDEO: UPDATE ON ENDEAVOUR'S HEAT SHIELD CHECKS PLAY


VIDEO: JAPANESE OUTDOOR SCIENCE PLATFORM ATTACHED PLAY


VIDEO: SHUTTLE AND STATION ARMS HANDOFF SCIENCE DECK PLAY


VIDEO: JAPAN'S EXPOSED FACILITY UNBERTHED FROM SHUTTLE PLAY


VIDEO: THERMAL COVER JETTISONED FROM THE KIBO MODULE PLAY


VIDEO: HELMET-CAMERA VIEWS AS KOPRA CLIMBS TO SHUTTLE PLAY


VIDEO: TIM KOPRA EMERGES FROM AIRLOCK FOR EVA NO. 1 PLAY


VIDEO: SATURDAY MORNING FLIGHT DIRECTOR INTERVIEW PLAY


VIDEO: OVERVIEW OF FLIGHT DAY 4 ACTIVITIES PLAY


VIDEO: STEP-BY-STEP SUMMARY OF SPACEWALK NO. 1 PLAY


VIDEO: NARRATED TOUR OF ENDEAVOUR'S PAYLOAD BAY PLAY



VIDEO: FLIGHT DAY 3 HIGHLIGHTS MOVIE PLAY


VIDEO: FRIDAY'S MISSION STATUS BRIEFING PLAY


VIDEO: SHUTTLE CREW WELCOMED ABOARD STATION PLAY


VIDEO: ENDEAVOUR DOCKS TO THE SPACE STATION PLAY


VIDEO: ASTRONAUTS' ONBOARD CAMCORDER FOOTAGE PLAY


VIDEO: SHUTTLE FLIES OUT IN FRONT OF STATION PLAY


VIDEO: ENDEAVOUR PERFORMS 360-DEGREE BACKFLIP PLAY


VIDEO: BEAUTIFUL VIEWS OF ENDEAVOUR APPROACHING PLAY


VIDEO: STATION CAMERA CATCHES ENDEAVOUR'S "TI BURN" PLAY


VIDEO: NARRATED PREVIEW OF RENDEZVOUS AND DOCKING PLAY



VIDEO: FLIGHT DAY 2 HIGHLIGHTS MOVIE PLAY


VIDEO: TUESDAY'S MISSION STATUS BRIEFING PLAY


VIDEO: PREVIEW ANIMATION OF HEAT SHIELD INSPECTIONS PLAY



VIDEO: FLIGHT DAY 1 HIGHLIGHTS MOVIE PLAY


VIDEO: THE FULL STS-127 LAUNCH EXPERIENCE PLAY


VIDEO: INSIDE MISSION CONTROL DURING LAUNCH PLAY


VIDEO: LAUNCH REPLAY: VAB ROOF PLAY | HI-DEF


VIDEO: LAUNCH REPLAY: PRESS SITE PLAY | HI-DEF


VIDEO: LAUNCH REPLAY: PAD PERIMETER PLAY | HI-DEF


VIDEO: LAUNCH REPLAY: BEACH TRACKER PLAY | HI-DEF


VIDEO: LAUNCH REPLAY: UCS-23 TRACKER PLAY | HI-DEF


VIDEO: LAUNCH REPLAY: PLAYALINDA BEACH PLAY | HI-DEF


VIDEO: LAUNCH REPLAY: PATRICK AIR FORCE BASE PLAY | HI-DEF


VIDEO: LAUNCH REPLAY: BANANA CREEK VIP SITE PLAY | HI-DEF


VIDEO: LAUNCH REPLAY: PAD FRONT CAMERA PLAY | HI-DEF


VIDEO: LAUNCH REPLAY: WEST TOWER PLAY | HI-DEF


VIDEO: LAUNCH REPLAY: CAMERA 070 PLAY | HI-DEF


VIDEO: LAUNCH REPLAY: CAMERA 071 PLAY | HI-DEF


VIDEO: LAUNCH REPLAY: CAMERA CS-1 PLAY


VIDEO: LAUNCH REPLAY: CAMERA CS-2 PLAY


VIDEO: LAUNCH REPLAY: CAMERA CS-6 PLAY



VIDEO: SHUTTLE ENDEAVOUR BLASTS OFF! PLAY | HI-DEF


VIDEO: STS-127 POST-LAUNCH NEWS CONFERENCE PLAY


VIDEO: FOOTAGE OF FUEL TANK AFTER JETTISON PLAY


VIDEO: ASTRONAUTS REACH PAD 39A PLAY | HI-DEF


VIDEO: CREW DEPARTS QUARTERS FOR LAUNCH PAD PLAY | HI-DEF


VIDEO: ASTRONAUTS DON SPACESUITS FOR LAUNCH PLAY | HI-DEF



VIDEO: WEATHER SCRUBS LAUNCH AGAIN PLAY | HI-DEF


VIDEO: CREW ARRIVES AT PAD 39A ON MONDAY PLAY | HI-DEF


VIDEO: CREW DEPARTS QUARTERS ON MONDAY PLAY | HI-DEF


VIDEO: ASTRONAUTS SUIT UP ON MONDAY PLAY | HI-DEF



VIDEO: THUNDERSTORMS SCRUB SUNDAY'S ATTEMPT PLAY | HI-DEF


VIDEO: CREW DEPARTS QUARTERS ON SUNDAY PLAY | HI-DEF


VIDEO: ASTRONAUTS SUIT UP ON SUNDAY PLAY | HI-DEF


VIDEO: NARRATED SUMMARY SHUTTLE'S PREPARATIONS PLAY | HI-DEF


VIDEO: NARRATED SUMMARY PAYLOADS' PREPARATIONS PLAY | HI-DEF



VIDEO: LIGHTNING STRIKES POSTPONE ENDEAVOUR LAUNCH PLAY


VIDEO: FRIDAY'S PRE-LAUNCH NEWS CONFERENCE PLAY


VIDEO: THURSDAY'S STATUS REPORT ON THE COUNTDOWN PLAY


VIDEO: COUNTDOWN PREVIEW AND WEATHER BRIEFING PLAY


VIDEO: ASTRONAUTS RETURN TO CAPE FOR LAUNCH PLAY | HI-DEF



VIDEO: NO LEAKS FOUND DURING SPECIAL TEST PLAY


VIDEO: EXPLANATION OF THE HYDROGEN LEAK AND THE REPAIR PLAY



VIDEO: POST-SCRUB NEWS BRIEFING PLAY


VIDEO: FIRING ROOM UPDATE WITH LAUNCH DIRECTOR PLAY


VIDEO: SCRUB NO. 2 DECLARED DUE TO HYDROGEN LEAK PLAY



VIDEO: SUNDAY'S UPDATE FROM MISSION MANAGEMENT TEAM PLAY


VIDEO: LEAK POSTPONES SHUTTLE ENDEAVOUR LAUNCH PLAY



VIDEO: TIME-LAPSE OF SUN SETTING OVER PAD 39A PLAY


VIDEO: ANOTHER TIME-LAPSE OF GANTRY RETRACTION PLAY


VIDEO: TIME-LAPSE OF LAUNCH PAD TOWER ROLLBACK PLAY



VIDEO: PRE-LAUNCH INTERVIEW WITH MARK POLANSKY PLAY


VIDEO: PRE-LAUNCH INTERVIEW WITH DOUG HURLEY PLAY


VIDEO: PRE-LAUNCH INTERVIEW WITH CHRIS CASSIDY PLAY


VIDEO: PRE-LAUNCH INTERVIEW WITH JULIE PAYETTE PLAY


VIDEO: PRE-LAUNCH INTERVIEW WITH TOM MARSHBURN PLAY


VIDEO: PRE-LAUNCH INTERVIEW WITH DAVE WOLF PLAY



VIDEO: THE STS-127 MISSION PREVIEW MOVIE PLAY


VIDEO: THURSDAY'S PRE-LAUNCH NEWS CONFERENCE PLAY


VIDEO: JAPANESE SCIENCE FACILITIES ABOARD STATION PLAY


VIDEO: COUNTDOWN BEGINS TICKING FOR SATURDAY'S LAUNCH PLAY


VIDEO: LAUNCH COUNTDOWN PREVIEW BRIEFING PLAY


VIDEO: CREW ARRIVES JUST BEFORE MIDNIGHT PLAY | HI-DEF


VIDEO: GET TO KNOW ENDEAVOUR'S ASTRONAUTS PLAY



VIDEO: ASTRONAUTS PRACTICE EVACUATION OF SHUTTLE PLAY | HI-DEF


VIDEO: CREW BOARDS SHUTTLE FOR PRACTICE COUNT PLAY | HI-DEF


VIDEO: ASTRONAUTS SUIT UP FOR DRESS REHEARSAL PLAY | HI-DEF


VIDEO: CREW INSPECTS CARGO IN THE PAYLOAD BAY PLAY | HI-DEF


VIDEO: TRAINING SESSIONS AT LAUNCH PAD AND BUNKER PLAY | HI-DEF


VIDEO: INFORMAL CREW NEWS CONFERENCE AT LAUNCH PAD PLAY


VIDEO: ASTRONAUTS ARRIVE FOR PRACTICE COUNTDOWN PLAY



VIDEO: FLIGHT READINESS REVIEW SETS LAUNCH DATE PLAY



VIDEO: PAD 39A GANTRY ENCLOSES SHUTTLE PLAY | HI-DEF


VIDEO: ROLLAROUND MOVES ENDEAVOUR TO PAD 39A PLAY | HI-DEF


VIDEO: ENDEAVOUR IS HAULED OFF LAUNCH PAD 39B PLAY | HI-DEF


VIDEO: TIME-LAPSE OF SHUTTLE'S LAUNCH PAD SWITCH PLAY



VIDEO: SHUTTLE AND STATION PROGRAM UPDATE PLAY


VIDEO: THE STS-127 MISSION OVERVIEW BRIEFING PLAY


VIDEO: PREVIEW BRIEFING ON MISSION'S SPACEWALKS PLAY


VIDEO: THE ASTRONAUTS' PRE-FLIGHT NEWS BRIEFING PLAY



VIDEO: PAD 39B AND ITS LAST SPACE SHUTTLE PLAY | HI-DEF


VIDEO: ENDEAVOUR'S SUNRISE ARRIVAL AT PAD 39B PLAY | HI-DEF


VIDEO: MIDNIGHT ROLLOUT FROM ASSEMBLY BUILDING PLAY | HI-DEF


VIDEO: ENDEAVOUR HOISTED FOR ATTACHMENT TO TANK PLAY | HI-DEF


VIDEO: CRANE ROTATES ENDEAVOUR VERTICALLY PLAY | HI-DEF


VIDEO: ENDEAVOUR MOVES TO ASSEMBLY BUILDING PLAY | HI-DEF


VIDEO: ORION AND ARES ROCKET PROGRESS REPORT PLAY


SUBSCRIBE NOW