No obvious problems found with next shuttle tank foam
BY WILLIAM HARWOOD
STORY WRITTEN FOR CBS NEWS "SPACE PLACE" & USED WITH PERMISSION
Posted: July 22, 2009


Engineers testing the adhesion of foam insulation on the external tank needed for an August shuttle flight have not found any obvious problems that would raise concern about debris shedding like the foam losses noted during Endeavour's climb to space last week, officials said Wednesday.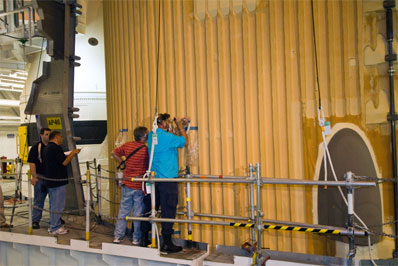 Technicians examine Discovery's tank in the Vehicle Assembly Building. Credit: NASA-KSC



An unusual amount of foam insulation pulled away from the central "intertank" region of Endeavour's tank, a structurally rigid section of the huge tank that is not exposed to ultra-low cryogenic temperatures. A few of Endeavour's heat-shield tiles were dinged by falling debris, but there was no major damage and the shuttle's heat shield has been cleared for entry as is.

The shuttle Discovery is scheduled for launch around Aug. 21 and its tank, ET-132, is being subjected to tests and a manufacturing review to determine if there are any unknown problems that might lead to unexpected foam shedding.

At the Kennedy Space Center in Florida, engineers have carried out 26 foam adhesion tests, pulling small cores of foam to make sure the robotically sprayed-on insulation is firmly bonded to the underlying structure.

In all 26 cases, the foam remained firmly bonded and no underlying primer was exposed. While foam loss is still possible, it's not considered probable. Given the nature of bond adhesion failure modes, any foam releases that did occur would be expected relatively late, after 100 seconds.

Engineers are still discussing whether additional plug-pull tests are needed for a statistically meaningful sample, "but it's a step in the right direction," a NASA official said Wednesday.

"Some people think they feel pretty confident this is a good intertank and then there are some people who say we're not there yet, we need some more data," he said.

Engineers also are still discussing the loss of a small piece of foam from a so-called ice-frost ramp on the liquid oxygen section of Endeavour's tank. A similar foam incident occurred in the same place during a May shuttle flight.

Discovery currently is targeted for launch around Aug. 21. But foam testing has delayed the shuttle's attachment to ET-132 and if the orbiter is not moved to the Vehicle Assembly Building for mating in the next few days, the launch date likely will start slipping as well.


Additional coverage for subscribers:


VIDEO: EXTERNAL TANK FOAM TESTS PERFORMED PLAY | HI-DEF


SUBSCRIBE NOW