Spaceflight Now +





Subscribe to Spaceflight Now Plus for access to our extensive video collections!
How do I sign up?
Video archive

STS-127: The programs

In advance of shuttle Endeavour's STS-127 mission to the station, managers from both programs discuss the flight.

Play

STS-127: The mission

A detailed step-by-step preview of Endeavour's STS-125 mission to install an external exposure platform on the station's Kibo science facility.

Play

STS-127: The EVAs

The lead spacewalk officer provides indepth explanations of the EVAs on Endeavour's assembly mission to the station.

Play

STS-127: The crew

The seven astronauts launching on Endeavour meet the press in the traditional pre-flight news conference.

Play

Become a subscriber
More video







Spacewalk No. 2 ends
BY WILLIAM HARWOOD
STORY WRITTEN FOR CBS NEWS "SPACE PLACE" & USED WITH PERMISSION
Posted: July 20, 2009


Spacewalkers David Wolf and Thomas Marshburn have successfully transferred a spare KU-band antenna, a backup 1,300-pound coolant system pump module and a robot arm transporter drive motor to the International Space Station, putting the spares in storage to protect against failures after the shuttle fleet is retired next year.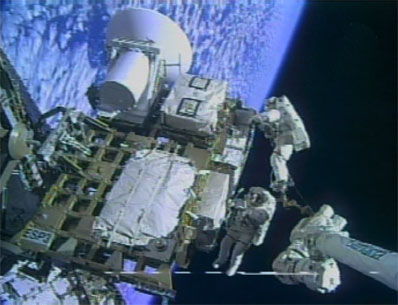 Credit: NASA TV



The astronauts had no major problems, but the transfer work took longer than expected and flight controllers told them to defer a final planned task: installation of a television camera on the new Japanese Exposed Facility experiment platform. The camera will be installed during a later spacewalk.

Instead, Marshburn was asked to install insulation on cables used to route station power to the shuttle while Wolf got off the station's arm and packed up tools and equipment.

They returned to the space station's Quest airlock module and started repressurizing at 6:20 p.m. EDT, officially ending a six-hour 53-minute spacewalk.

This was the 127th spacewalk devoted to station assembly and maintenance since construction began in 1998, the second of five planned by Endeavour's crew, the sixth for Wolf and the first for Marshburn. Total space station EVA time now stands at 792 hours and 31 minutes.


Additional coverage for subscribers:


VIDEO: OVERVIEW OF FLIGHT DAY 6 ACTIVITIES PLAY


VIDEO: STEP-BY-STEP SUMMARY OF SPACEWALK NO. 2 PLAY



VIDEO: CANADIANS IN SPACE PLAY


VIDEO: SUNDAY'S MISSION STATUS BRIEFING PLAY


VIDEO: PALLET HANDED OFF TO SPACE STATION PLAY


VIDEO: CARGO CARRIER UNBERTHED FROM SHUTTLE BAY PLAY


VIDEO: SUNDAY MORNING FLIGHT DIRECTOR INTERVIEW PLAY


VIDEO: OVERVIEW OF FLIGHT DAY 5 ACTIVITIES PLAY



VIDEO: FLIGHT DAY 4 HIGHLIGHTS MOVIE PLAY


VIDEO: SATURDAY'S MISSION STATUS BRIEFING PLAY


VIDEO: UPDATE ON ENDEAVOUR'S HEAT SHIELD CHECKS PLAY


VIDEO: JAPANESE OUTDOOR SCIENCE PLATFORM ATTACHED PLAY


VIDEO: SHUTTLE AND STATION ARMS HANDOFF SCIENCE DECK PLAY


VIDEO: JAPAN'S EXPOSED FACILITY UNBERTHED FROM SHUTTLE PLAY


VIDEO: THERMAL COVER JETTISONED FROM THE KIBO MODULE PLAY


VIDEO: HELMET-CAMERA VIEWS AS KOPRA CLIMBS TO SHUTTLE PLAY


VIDEO: TIM KOPRA EMERGES FROM AIRLOCK FOR EVA NO. 1 PLAY


VIDEO: SATURDAY MORNING FLIGHT DIRECTOR INTERVIEW PLAY


VIDEO: OVERVIEW OF FLIGHT DAY 4 ACTIVITIES PLAY


VIDEO: STEP-BY-STEP SUMMARY OF SPACEWALK NO. 1 PLAY


VIDEO: NARRATED TOUR OF ENDEAVOUR'S PAYLOAD BAY PLAY



VIDEO: FLIGHT DAY 3 HIGHLIGHTS MOVIE PLAY


VIDEO: FRIDAY'S MISSION STATUS BRIEFING PLAY


VIDEO: SHUTTLE CREW WELCOMED ABOARD STATION PLAY


VIDEO: ENDEAVOUR DOCKS TO THE SPACE STATION PLAY


VIDEO: ASTRONAUTS' ONBOARD CAMCORDER FOOTAGE PLAY


VIDEO: SHUTTLE FLIES OUT IN FRONT OF STATION PLAY


VIDEO: ENDEAVOUR PERFORMS 360-DEGREE BACKFLIP PLAY


VIDEO: BEAUTIFUL VIEWS OF ENDEAVOUR APPROACHING PLAY


VIDEO: STATION CAMERA CATCHES ENDEAVOUR'S "TI BURN" PLAY


VIDEO: NARRATED PREVIEW OF RENDEZVOUS AND DOCKING PLAY



VIDEO: FLIGHT DAY 2 HIGHLIGHTS MOVIE PLAY


VIDEO: TUESDAY'S MISSION STATUS BRIEFING PLAY


VIDEO: PREVIEW ANIMATION OF HEAT SHIELD INSPECTIONS PLAY



VIDEO: FLIGHT DAY 1 HIGHLIGHTS MOVIE PLAY


VIDEO: THE FULL STS-127 LAUNCH EXPERIENCE PLAY


VIDEO: INSIDE MISSION CONTROL DURING LAUNCH PLAY


VIDEO: LAUNCH REPLAY: VAB ROOF PLAY | HI-DEF


VIDEO: LAUNCH REPLAY: PRESS SITE PLAY | HI-DEF


VIDEO: LAUNCH REPLAY: PAD PERIMETER PLAY | HI-DEF


VIDEO: LAUNCH REPLAY: BEACH TRACKER PLAY | HI-DEF


VIDEO: LAUNCH REPLAY: UCS-23 TRACKER PLAY | HI-DEF


VIDEO: LAUNCH REPLAY: PLAYALINDA BEACH PLAY | HI-DEF


VIDEO: LAUNCH REPLAY: PATRICK AIR FORCE BASE PLAY | HI-DEF


VIDEO: LAUNCH REPLAY: BANANA CREEK VIP SITE PLAY | HI-DEF


VIDEO: LAUNCH REPLAY: PAD FRONT CAMERA PLAY | HI-DEF


VIDEO: LAUNCH REPLAY: WEST TOWER PLAY | HI-DEF


VIDEO: LAUNCH REPLAY: CAMERA 070 PLAY | HI-DEF


VIDEO: LAUNCH REPLAY: CAMERA 071 PLAY | HI-DEF


VIDEO: LAUNCH REPLAY: CAMERA CS-1 PLAY


VIDEO: LAUNCH REPLAY: CAMERA CS-2 PLAY


VIDEO: LAUNCH REPLAY: CAMERA CS-6 PLAY



VIDEO: SHUTTLE ENDEAVOUR BLASTS OFF! PLAY | HI-DEF


VIDEO: STS-127 POST-LAUNCH NEWS CONFERENCE PLAY


VIDEO: FOOTAGE OF FUEL TANK AFTER JETTISON PLAY


VIDEO: ASTRONAUTS REACH PAD 39A PLAY | HI-DEF


VIDEO: CREW DEPARTS QUARTERS FOR LAUNCH PAD PLAY | HI-DEF


VIDEO: ASTRONAUTS DON SPACESUITS FOR LAUNCH PLAY | HI-DEF



VIDEO: WEATHER SCRUBS LAUNCH AGAIN PLAY | HI-DEF


VIDEO: CREW ARRIVES AT PAD 39A ON MONDAY PLAY | HI-DEF


VIDEO: CREW DEPARTS QUARTERS ON MONDAY PLAY | HI-DEF


VIDEO: ASTRONAUTS SUIT UP ON MONDAY PLAY | HI-DEF



VIDEO: THUNDERSTORMS SCRUB SUNDAY'S ATTEMPT PLAY | HI-DEF


VIDEO: CREW DEPARTS QUARTERS ON SUNDAY PLAY | HI-DEF


VIDEO: ASTRONAUTS SUIT UP ON SUNDAY PLAY | HI-DEF


VIDEO: NARRATED SUMMARY SHUTTLE'S PREPARATIONS PLAY | HI-DEF


VIDEO: NARRATED SUMMARY PAYLOADS' PREPARATIONS PLAY | HI-DEF



VIDEO: LIGHTNING STRIKES POSTPONE ENDEAVOUR LAUNCH PLAY


VIDEO: FRIDAY'S PRE-LAUNCH NEWS CONFERENCE PLAY


VIDEO: THURSDAY'S STATUS REPORT ON THE COUNTDOWN PLAY


VIDEO: COUNTDOWN PREVIEW AND WEATHER BRIEFING PLAY


VIDEO: ASTRONAUTS RETURN TO CAPE FOR LAUNCH PLAY | HI-DEF



VIDEO: NO LEAKS FOUND DURING SPECIAL TEST PLAY


VIDEO: EXPLANATION OF THE HYDROGEN LEAK AND THE REPAIR PLAY



VIDEO: POST-SCRUB NEWS BRIEFING PLAY


VIDEO: FIRING ROOM UPDATE WITH LAUNCH DIRECTOR PLAY


VIDEO: SCRUB NO. 2 DECLARED DUE TO HYDROGEN LEAK PLAY



VIDEO: SUNDAY'S UPDATE FROM MISSION MANAGEMENT TEAM PLAY


VIDEO: LEAK POSTPONES SHUTTLE ENDEAVOUR LAUNCH PLAY



VIDEO: TIME-LAPSE OF SUN SETTING OVER PAD 39A PLAY


VIDEO: ANOTHER TIME-LAPSE OF GANTRY RETRACTION PLAY


VIDEO: TIME-LAPSE OF LAUNCH PAD TOWER ROLLBACK PLAY



VIDEO: PRE-LAUNCH INTERVIEW WITH MARK POLANSKY PLAY


VIDEO: PRE-LAUNCH INTERVIEW WITH DOUG HURLEY PLAY


VIDEO: PRE-LAUNCH INTERVIEW WITH CHRIS CASSIDY PLAY


VIDEO: PRE-LAUNCH INTERVIEW WITH JULIE PAYETTE PLAY


VIDEO: PRE-LAUNCH INTERVIEW WITH TOM MARSHBURN PLAY


VIDEO: PRE-LAUNCH INTERVIEW WITH DAVE WOLF PLAY



VIDEO: THE STS-127 MISSION PREVIEW MOVIE PLAY


VIDEO: THURSDAY'S PRE-LAUNCH NEWS CONFERENCE PLAY


VIDEO: JAPANESE SCIENCE FACILITIES ABOARD STATION PLAY


VIDEO: COUNTDOWN BEGINS TICKING FOR SATURDAY'S LAUNCH PLAY


VIDEO: LAUNCH COUNTDOWN PREVIEW BRIEFING PLAY


VIDEO: CREW ARRIVES JUST BEFORE MIDNIGHT PLAY | HI-DEF


VIDEO: GET TO KNOW ENDEAVOUR'S ASTRONAUTS PLAY



VIDEO: ASTRONAUTS PRACTICE EVACUATION OF SHUTTLE PLAY | HI-DEF


VIDEO: CREW BOARDS SHUTTLE FOR PRACTICE COUNT PLAY | HI-DEF


VIDEO: ASTRONAUTS SUIT UP FOR DRESS REHEARSAL PLAY | HI-DEF


VIDEO: CREW INSPECTS CARGO IN THE PAYLOAD BAY PLAY | HI-DEF


VIDEO: TRAINING SESSIONS AT LAUNCH PAD AND BUNKER PLAY | HI-DEF


VIDEO: INFORMAL CREW NEWS CONFERENCE AT LAUNCH PAD PLAY


VIDEO: ASTRONAUTS ARRIVE FOR PRACTICE COUNTDOWN PLAY



VIDEO: FLIGHT READINESS REVIEW SETS LAUNCH DATE PLAY



VIDEO: PAD 39A GANTRY ENCLOSES SHUTTLE PLAY | HI-DEF


VIDEO: ROLLAROUND MOVES ENDEAVOUR TO PAD 39A PLAY | HI-DEF


VIDEO: ENDEAVOUR IS HAULED OFF LAUNCH PAD 39B PLAY | HI-DEF


VIDEO: TIME-LAPSE OF SHUTTLE'S LAUNCH PAD SWITCH PLAY



VIDEO: SHUTTLE AND STATION PROGRAM UPDATE PLAY


VIDEO: THE STS-127 MISSION OVERVIEW BRIEFING PLAY


VIDEO: PREVIEW BRIEFING ON MISSION'S SPACEWALKS PLAY


VIDEO: THE ASTRONAUTS' PRE-FLIGHT NEWS BRIEFING PLAY



VIDEO: PAD 39B AND ITS LAST SPACE SHUTTLE PLAY | HI-DEF


VIDEO: ENDEAVOUR'S SUNRISE ARRIVAL AT PAD 39B PLAY | HI-DEF


VIDEO: MIDNIGHT ROLLOUT FROM ASSEMBLY BUILDING PLAY | HI-DEF


VIDEO: ENDEAVOUR HOISTED FOR ATTACHMENT TO TANK PLAY | HI-DEF


VIDEO: CRANE ROTATES ENDEAVOUR VERTICALLY PLAY | HI-DEF


VIDEO: ENDEAVOUR MOVES TO ASSEMBLY BUILDING PLAY | HI-DEF


VIDEO: ORION AND ARES ROCKET PROGRESS REPORT PLAY


SUBSCRIBE NOW