Shuttle heat shield inspection finds no major issues
BY WILLIAM HARWOOD
STORY WRITTEN FOR CBS NEWS "SPACE PLACE" & USED WITH PERMISSION
Posted: July 18, 2009


NASA's Debris Analysis Team is in the final stages of reviewing launch and on-orbit photography of the shuttle Endeavour's heat shield. The ship's nose cap and wing leading edge panels have been cleared for entry as is and while 16 areas have been identified with minor tile damage, engineers have not seen anything that warrants repairs or additional inspections, a senior manager said Saturday.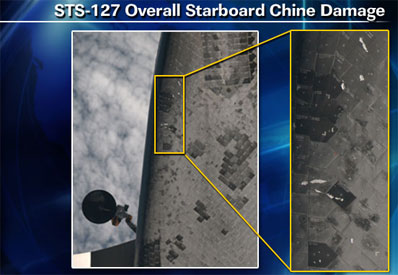 Credit: NASA



Mike Moses, acting as chairman of NASA's Mission Management Team, said the DAT recommended Friday evening to forego any additional "focused" inspections of Endeavour's heat shield after examining hundreds of photos shot during Endeavour's approach to the station Friday.

"After the review they decided they did not need that additional data, which is a very good sign," Moses said. "We have not yet officially cleared the vehicle for entry, but having no focused inspection is a step down the path of saying we are going to be in really good shape.

"The reason we haven't officially cleared the vehicle for entry is, we had them focus on this focused inspection stuff first, the big things you think you might need more imagery on. But there are still a handful of minor things they need to go back and do the math, finish the analysis. ... We expect in the next day, maybe tomorrow, probably by Monday, we expect the thumbs up and to clear the vehicle for entry."

During Endeavour's approach to the space station Friday, commander Mark Polansky flew the orbiter threw a 360-degree flip maneuver, allowing the station astronauts to photograph the heat shield tiles on the ship's belly with high-resolution cameras. Sixteen areas of tile damage were noted, along with eight areas where defects were seen in spacers and thermal barriers between tiles.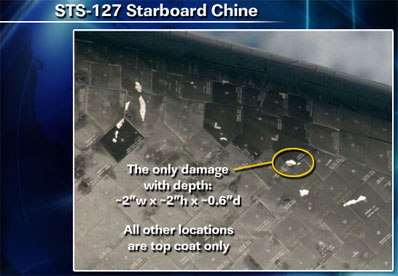 Credit: NASA



Most of the tile dings were near the nose of the shuttle where foam debris from Endeavour's external tank impacted during launch Wednesday. Moses said one impact site featured a gouge 0.6 of an inch deep. The rest of the areas experienced coating damage only and none of them pose a threat to a safe re-entry.

"No real worries with any of these areas," Moses said.

Video from cameras mounted in the shuttle's twin-solid fuel boosters should be available for analysis by Sunday. Engineers are eager to examine the footage to better understand what caused an unusual amount of foam insulation to peel away from the central "intertank" area of the external tank during Endeavour's launch.

The major concern during ascent is debris that comes off in the first two minutes and 15 seconds of flight, when the shuttle is still in the dense lower atmosphere. During that period, lightweight pieces of foam can slow down so fast in the airstream that the shuttle can effectively run into them at a high enough relative velocity to cause heat shield damage.

During Endeavour's launching, most of the intertank foam that fell away was released after the period of aerodynamic vulnerability. But Moses said the mechanism is unknown and until engineers get a better understanding, they can't rule out the possibility the next tank in the sequence could shed foam earlier.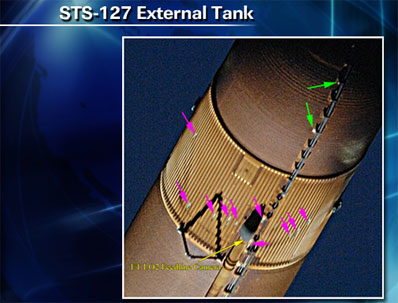 Credit: NASA



"Based on this flight, most of it came off late and so that says for this flight, that's why we didn't see a lot of damage," Moses said. "We aren't ready yet to say we're good and that we don't have a mechanism that would say it can't come off early. That's one of the big question marks we're going to have to answer as part of our flight rationale to be ready to fly the (next) tank, ET-132."

ET-132 currently is attached to a set of boosters at the Kennedy Space Center awaiting the shuttle Discovery and rollout to the pad for launch in late August. NASA originally planned to move Discovery to the Vehicle Assembly Building Monday, but the move is now on hold.

"One of the things we're going to do is go do pull tests on that tank," Moses said. "They're basically going to go cut inch-diameter size core samples and hook up a load cell to it and pull to see do we have a good bond to the metal primer underneath or not?

"We saw a fair amount of foam loss on the back side of (Endeavour's) external tank in that intertank region. You can almost see there were some areas in the crew hand-held video there's foam missing whereas in the umbilical well imagery, it's not missing. That says foam was still popping off even after (separation), which is yet another puzzling type mechanism. It's puzzling enough that foam's popping off so late without a lot of aerodynamic forces. It probably means it's thermally related, but again, we're starting to speculate."

Engineers at Lockheed Martin's Michoud Assembly Facility where the tanks are built are "looking at all that data, trying to find a common thread here that allows us to determine what that mechanism is and then based on that, do we have assurance that it can't come off earlier than that?" Moses said. "And that's really going to be the linchpin of our flight rationale."


Additional coverage for subscribers:


VIDEO: SATURDAY'S MISSION STATUS BRIEFING PLAY


VIDEO: UPDATE ON ENDEAVOUR'S HEAT SHIELD CHECKS PLAY


VIDEO: JAPANESE OUTDOOR SCIENCE PLATFORM ATTACHED PLAY


VIDEO: SHUTTLE AND STATION ARMS HANDOFF SCIENCE DECK PLAY


VIDEO: JAPAN'S EXPOSED FACILITY UNBERTHED FROM SHUTTLE PLAY


VIDEO: THERMAL COVER JETTISONED FROM THE KIBO MODULE PLAY


VIDEO: HELMET-CAMERA VIEWS AS KOPRA CLIMBS TO SHUTTLE PLAY


VIDEO: TIM KOPRA EMERGES FROM AIRLOCK FOR EVA NO. 1 PLAY


VIDEO: SATURDAY MORNING FLIGHT DIRECTOR INTERVIEW PLAY


VIDEO: OVERVIEW OF FLIGHT DAY 4 ACTIVITIES PLAY


VIDEO: STEP-BY-STEP SUMMARY OF SPACEWALK NO. 1 PLAY


VIDEO: NARRATED TOUR OF ENDEAVOUR'S PAYLOAD BAY PLAY



VIDEO: FLIGHT DAY 3 HIGHLIGHTS MOVIE PLAY


VIDEO: FRIDAY'S MISSION STATUS BRIEFING PLAY


VIDEO: SHUTTLE CREW WELCOMED ABOARD STATION PLAY


VIDEO: ENDEAVOUR DOCKS TO THE SPACE STATION PLAY


VIDEO: ASTRONAUTS' ONBOARD CAMCORDER FOOTAGE PLAY


VIDEO: SHUTTLE FLIES OUT IN FRONT OF STATION PLAY


VIDEO: ENDEAVOUR PERFORMS 360-DEGREE BACKFLIP PLAY


VIDEO: BEAUTIFUL VIEWS OF ENDEAVOUR APPROACHING PLAY


VIDEO: STATION CAMERA CATCHES ENDEAVOUR'S "TI BURN" PLAY


VIDEO: NARRATED PREVIEW OF RENDEZVOUS AND DOCKING PLAY



VIDEO: FLIGHT DAY 2 HIGHLIGHTS MOVIE PLAY


VIDEO: TUESDAY'S MISSION STATUS BRIEFING PLAY


VIDEO: PREVIEW ANIMATION OF HEAT SHIELD INSPECTIONS PLAY



VIDEO: FLIGHT DAY 1 HIGHLIGHTS MOVIE PLAY


VIDEO: THE FULL STS-127 LAUNCH EXPERIENCE PLAY


VIDEO: INSIDE MISSION CONTROL DURING LAUNCH PLAY


VIDEO: LAUNCH REPLAY: VAB ROOF PLAY | HI-DEF


VIDEO: LAUNCH REPLAY: PRESS SITE PLAY | HI-DEF


VIDEO: LAUNCH REPLAY: PAD PERIMETER PLAY | HI-DEF


VIDEO: LAUNCH REPLAY: BEACH TRACKER PLAY | HI-DEF


VIDEO: LAUNCH REPLAY: UCS-23 TRACKER PLAY | HI-DEF


VIDEO: LAUNCH REPLAY: PLAYALINDA BEACH PLAY | HI-DEF


VIDEO: LAUNCH REPLAY: PATRICK AIR FORCE BASE PLAY | HI-DEF


VIDEO: LAUNCH REPLAY: BANANA CREEK VIP SITE PLAY | HI-DEF


VIDEO: LAUNCH REPLAY: PAD FRONT CAMERA PLAY | HI-DEF


VIDEO: LAUNCH REPLAY: WEST TOWER PLAY | HI-DEF


VIDEO: LAUNCH REPLAY: CAMERA 070 PLAY | HI-DEF


VIDEO: LAUNCH REPLAY: CAMERA 071 PLAY | HI-DEF


VIDEO: LAUNCH REPLAY: CAMERA CS-1 PLAY


VIDEO: LAUNCH REPLAY: CAMERA CS-2 PLAY


VIDEO: LAUNCH REPLAY: CAMERA CS-6 PLAY



VIDEO: SHUTTLE ENDEAVOUR BLASTS OFF! PLAY | HI-DEF


VIDEO: STS-127 POST-LAUNCH NEWS CONFERENCE PLAY


VIDEO: FOOTAGE OF FUEL TANK AFTER JETTISON PLAY


VIDEO: ASTRONAUTS REACH PAD 39A PLAY | HI-DEF


VIDEO: CREW DEPARTS QUARTERS FOR LAUNCH PAD PLAY | HI-DEF


VIDEO: ASTRONAUTS DON SPACESUITS FOR LAUNCH PLAY | HI-DEF



VIDEO: WEATHER SCRUBS LAUNCH AGAIN PLAY | HI-DEF


VIDEO: CREW ARRIVES AT PAD 39A ON MONDAY PLAY | HI-DEF


VIDEO: CREW DEPARTS QUARTERS ON MONDAY PLAY | HI-DEF


VIDEO: ASTRONAUTS SUIT UP ON MONDAY PLAY | HI-DEF



VIDEO: THUNDERSTORMS SCRUB SUNDAY'S ATTEMPT PLAY | HI-DEF


VIDEO: CREW DEPARTS QUARTERS ON SUNDAY PLAY | HI-DEF


VIDEO: ASTRONAUTS SUIT UP ON SUNDAY PLAY | HI-DEF


VIDEO: NARRATED SUMMARY SHUTTLE'S PREPARATIONS PLAY | HI-DEF


VIDEO: NARRATED SUMMARY PAYLOADS' PREPARATIONS PLAY | HI-DEF



VIDEO: LIGHTNING STRIKES POSTPONE ENDEAVOUR LAUNCH PLAY


VIDEO: FRIDAY'S PRE-LAUNCH NEWS CONFERENCE PLAY


VIDEO: THURSDAY'S STATUS REPORT ON THE COUNTDOWN PLAY


VIDEO: COUNTDOWN PREVIEW AND WEATHER BRIEFING PLAY


VIDEO: ASTRONAUTS RETURN TO CAPE FOR LAUNCH PLAY | HI-DEF



VIDEO: NO LEAKS FOUND DURING SPECIAL TEST PLAY


VIDEO: EXPLANATION OF THE HYDROGEN LEAK AND THE REPAIR PLAY



VIDEO: POST-SCRUB NEWS BRIEFING PLAY


VIDEO: FIRING ROOM UPDATE WITH LAUNCH DIRECTOR PLAY


VIDEO: SCRUB NO. 2 DECLARED DUE TO HYDROGEN LEAK PLAY



VIDEO: SUNDAY'S UPDATE FROM MISSION MANAGEMENT TEAM PLAY


VIDEO: LEAK POSTPONES SHUTTLE ENDEAVOUR LAUNCH PLAY



VIDEO: TIME-LAPSE OF SUN SETTING OVER PAD 39A PLAY


VIDEO: ANOTHER TIME-LAPSE OF GANTRY RETRACTION PLAY


VIDEO: TIME-LAPSE OF LAUNCH PAD TOWER ROLLBACK PLAY



VIDEO: PRE-LAUNCH INTERVIEW WITH MARK POLANSKY PLAY


VIDEO: PRE-LAUNCH INTERVIEW WITH DOUG HURLEY PLAY


VIDEO: PRE-LAUNCH INTERVIEW WITH CHRIS CASSIDY PLAY


VIDEO: PRE-LAUNCH INTERVIEW WITH JULIE PAYETTE PLAY


VIDEO: PRE-LAUNCH INTERVIEW WITH TOM MARSHBURN PLAY


VIDEO: PRE-LAUNCH INTERVIEW WITH DAVE WOLF PLAY



VIDEO: THE STS-127 MISSION PREVIEW MOVIE PLAY


VIDEO: THURSDAY'S PRE-LAUNCH NEWS CONFERENCE PLAY


VIDEO: JAPANESE SCIENCE FACILITIES ABOARD STATION PLAY


VIDEO: COUNTDOWN BEGINS TICKING FOR SATURDAY'S LAUNCH PLAY


VIDEO: LAUNCH COUNTDOWN PREVIEW BRIEFING PLAY


VIDEO: CREW ARRIVES JUST BEFORE MIDNIGHT PLAY | HI-DEF


VIDEO: GET TO KNOW ENDEAVOUR'S ASTRONAUTS PLAY



VIDEO: ASTRONAUTS PRACTICE EVACUATION OF SHUTTLE PLAY | HI-DEF


VIDEO: CREW BOARDS SHUTTLE FOR PRACTICE COUNT PLAY | HI-DEF


VIDEO: ASTRONAUTS SUIT UP FOR DRESS REHEARSAL PLAY | HI-DEF


VIDEO: CREW INSPECTS CARGO IN THE PAYLOAD BAY PLAY | HI-DEF


VIDEO: TRAINING SESSIONS AT LAUNCH PAD AND BUNKER PLAY | HI-DEF


VIDEO: INFORMAL CREW NEWS CONFERENCE AT LAUNCH PAD PLAY


VIDEO: ASTRONAUTS ARRIVE FOR PRACTICE COUNTDOWN PLAY



VIDEO: FLIGHT READINESS REVIEW SETS LAUNCH DATE PLAY



VIDEO: PAD 39A GANTRY ENCLOSES SHUTTLE PLAY | HI-DEF


VIDEO: ROLLAROUND MOVES ENDEAVOUR TO PAD 39A PLAY | HI-DEF


VIDEO: ENDEAVOUR IS HAULED OFF LAUNCH PAD 39B PLAY | HI-DEF


VIDEO: TIME-LAPSE OF SHUTTLE'S LAUNCH PAD SWITCH PLAY



VIDEO: SHUTTLE AND STATION PROGRAM UPDATE PLAY


VIDEO: THE STS-127 MISSION OVERVIEW BRIEFING PLAY


VIDEO: PREVIEW BRIEFING ON MISSION'S SPACEWALKS PLAY


VIDEO: THE ASTRONAUTS' PRE-FLIGHT NEWS BRIEFING PLAY



VIDEO: PAD 39B AND ITS LAST SPACE SHUTTLE PLAY | HI-DEF


VIDEO: ENDEAVOUR'S SUNRISE ARRIVAL AT PAD 39B PLAY | HI-DEF


VIDEO: MIDNIGHT ROLLOUT FROM ASSEMBLY BUILDING PLAY | HI-DEF


VIDEO: ENDEAVOUR HOISTED FOR ATTACHMENT TO TANK PLAY | HI-DEF


VIDEO: CRANE ROTATES ENDEAVOUR VERTICALLY PLAY | HI-DEF


VIDEO: ENDEAVOUR MOVES TO ASSEMBLY BUILDING PLAY | HI-DEF


VIDEO: ORION AND ARES ROCKET PROGRESS REPORT PLAY


SUBSCRIBE NOW