External science deck hoisted out of shuttle payload bay
BY WILLIAM HARWOOD
STORY WRITTEN FOR CBS NEWS "SPACE PLACE" & USED WITH PERMISSION
Posted: July 18, 2009


Astronauts Koichi Wakata and shuttle pilot Douglas Hurley, operating the International Space Station's robot arm, carefully pulled a 4.1-ton experiment platform from Endeavour's payload bay today for attachment to the Japanese Kibo laboratory module.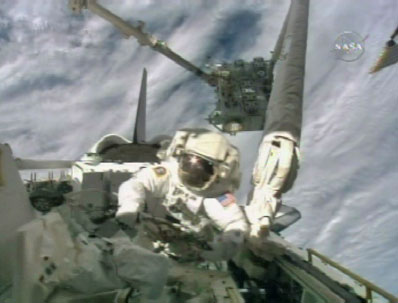 The station robot arm hands off the Japanese Exposed Facility to the shuttle arm after unberthing from the payload bay. Tim Kopra is seen in the foreground. Credit: NASA TV



The Japanese Exposed Facility, or JEF, was prepped for unberthing by spacewalkers David Wolf and Timothy Kopra, who removed insulation and disconnected an electrical cable providing shuttle power to internal heaters. After retention latches were opened, Wakata and Hurley began the unberthing process just before 2 p.m.

To get the JEF from Endeavour's cargo bay to its attachment point on the outboard end of the Kibo module, Wakata and Hurley first must hand the platform off to the shuttle's robot arm, operated by Canadian astronaut Julie Payette. After repositioning the station arm at work site No. 6 on the left side of the station's main power truss, Wakata will re-grapple the JEF and move it into position for attachment to Kibo.

While that work is going on, Wolf and Kopra will be focusing on a variety of other tasks. Wolf will prepare an ammonia cooling system for future servicing and then reconfigure an astronaut equipment cart attached to the station arm's mobile transporter. Kopra, meanwhile, will move to the forward end of the lab complex to prepare a berthing system for use by a Japanese cargo ship in September.

Both spacewalkers then will attempt to deploy jammed cargo mounting hardware on the left side of the solar array truss. If time is available, they also will deploy a cargo mounting system on the right side of the truss.

There have been no problems of any significance so far, although a microphone problem is producing loud background static that occasionally makes it difficult to hear the spacewalkers.

Today's spacewalk began when Wolf and Kopra, floating in the space station's Quest airlock module, switched their spacesuits to battery power at 12:19 p.m. EDT.

For identification, Wolf, call sign EV-1, is wearing a spacesuit with red stripes around the legs. Kopra, EV-2, is wearing an unmarked suit.

This is the 126th spacewalk devoted to station assembly and maintenance since construction began in 1998, the seventh so far this year and the first of five planned by Endeavour's crew. It is the fifth spacewalk for Wolf and the first for Kopra.


Additional coverage for subscribers:


VIDEO: OVERVIEW OF FLIGHT DAY 4 ACTIVITIES PLAY


VIDEO: STEP-BY-STEP SUMMARY OF SPACEWALK NO. 1 PLAY


VIDEO: NARRATED TOUR OF ENDEAVOUR'S PAYLOAD BAY PLAY



VIDEO: FLIGHT DAY 3 HIGHLIGHTS MOVIE PLAY


VIDEO: FRIDAY'S MISSION STATUS BRIEFING PLAY


VIDEO: SHUTTLE CREW WELCOMED ABOARD STATION PLAY


VIDEO: ENDEAVOUR DOCKS TO THE SPACE STATION PLAY


VIDEO: ASTRONAUTS' ONBOARD CAMCORDER FOOTAGE PLAY


VIDEO: SHUTTLE FLIES OUT IN FRONT OF STATION PLAY


VIDEO: ENDEAVOUR PERFORMS 360-DEGREE BACKFLIP PLAY


VIDEO: BEAUTIFUL VIEWS OF ENDEAVOUR APPROACHING PLAY


VIDEO: STATION CAMERA CATCHES ENDEAVOUR'S "TI BURN" PLAY


VIDEO: NARRATED PREVIEW OF RENDEZVOUS AND DOCKING PLAY



VIDEO: FLIGHT DAY 2 HIGHLIGHTS MOVIE PLAY


VIDEO: TUESDAY'S MISSION STATUS BRIEFING PLAY


VIDEO: PREVIEW ANIMATION OF HEAT SHIELD INSPECTIONS PLAY



VIDEO: FLIGHT DAY 1 HIGHLIGHTS MOVIE PLAY


VIDEO: THE FULL STS-127 LAUNCH EXPERIENCE PLAY


VIDEO: INSIDE MISSION CONTROL DURING LAUNCH PLAY


VIDEO: LAUNCH REPLAY: VAB ROOF PLAY | HI-DEF


VIDEO: LAUNCH REPLAY: PRESS SITE PLAY | HI-DEF


VIDEO: LAUNCH REPLAY: PAD PERIMETER PLAY | HI-DEF


VIDEO: LAUNCH REPLAY: BEACH TRACKER PLAY | HI-DEF


VIDEO: LAUNCH REPLAY: UCS-23 TRACKER PLAY | HI-DEF


VIDEO: LAUNCH REPLAY: PLAYALINDA BEACH PLAY | HI-DEF


VIDEO: LAUNCH REPLAY: PATRICK AIR FORCE BASE PLAY | HI-DEF


VIDEO: LAUNCH REPLAY: BANANA CREEK VIP SITE PLAY | HI-DEF


VIDEO: LAUNCH REPLAY: PAD FRONT CAMERA PLAY | HI-DEF


VIDEO: LAUNCH REPLAY: WEST TOWER PLAY | HI-DEF


VIDEO: LAUNCH REPLAY: CAMERA 070 PLAY | HI-DEF


VIDEO: LAUNCH REPLAY: CAMERA 071 PLAY | HI-DEF


VIDEO: LAUNCH REPLAY: CAMERA CS-1 PLAY


VIDEO: LAUNCH REPLAY: CAMERA CS-2 PLAY


VIDEO: LAUNCH REPLAY: CAMERA CS-6 PLAY



VIDEO: SHUTTLE ENDEAVOUR BLASTS OFF! PLAY | HI-DEF


VIDEO: STS-127 POST-LAUNCH NEWS CONFERENCE PLAY


VIDEO: FOOTAGE OF FUEL TANK AFTER JETTISON PLAY


VIDEO: ASTRONAUTS REACH PAD 39A PLAY | HI-DEF


VIDEO: CREW DEPARTS QUARTERS FOR LAUNCH PAD PLAY | HI-DEF


VIDEO: ASTRONAUTS DON SPACESUITS FOR LAUNCH PLAY | HI-DEF



VIDEO: WEATHER SCRUBS LAUNCH AGAIN PLAY | HI-DEF


VIDEO: CREW ARRIVES AT PAD 39A ON MONDAY PLAY | HI-DEF


VIDEO: CREW DEPARTS QUARTERS ON MONDAY PLAY | HI-DEF


VIDEO: ASTRONAUTS SUIT UP ON MONDAY PLAY | HI-DEF



VIDEO: THUNDERSTORMS SCRUB SUNDAY'S ATTEMPT PLAY | HI-DEF


VIDEO: CREW DEPARTS QUARTERS ON SUNDAY PLAY | HI-DEF


VIDEO: ASTRONAUTS SUIT UP ON SUNDAY PLAY | HI-DEF


VIDEO: NARRATED SUMMARY SHUTTLE'S PREPARATIONS PLAY | HI-DEF


VIDEO: NARRATED SUMMARY PAYLOADS' PREPARATIONS PLAY | HI-DEF



VIDEO: LIGHTNING STRIKES POSTPONE ENDEAVOUR LAUNCH PLAY


VIDEO: FRIDAY'S PRE-LAUNCH NEWS CONFERENCE PLAY


VIDEO: THURSDAY'S STATUS REPORT ON THE COUNTDOWN PLAY


VIDEO: COUNTDOWN PREVIEW AND WEATHER BRIEFING PLAY


VIDEO: ASTRONAUTS RETURN TO CAPE FOR LAUNCH PLAY | HI-DEF



VIDEO: NO LEAKS FOUND DURING SPECIAL TEST PLAY


VIDEO: EXPLANATION OF THE HYDROGEN LEAK AND THE REPAIR PLAY



VIDEO: POST-SCRUB NEWS BRIEFING PLAY


VIDEO: FIRING ROOM UPDATE WITH LAUNCH DIRECTOR PLAY


VIDEO: SCRUB NO. 2 DECLARED DUE TO HYDROGEN LEAK PLAY



VIDEO: SUNDAY'S UPDATE FROM MISSION MANAGEMENT TEAM PLAY


VIDEO: LEAK POSTPONES SHUTTLE ENDEAVOUR LAUNCH PLAY



VIDEO: TIME-LAPSE OF SUN SETTING OVER PAD 39A PLAY


VIDEO: ANOTHER TIME-LAPSE OF GANTRY RETRACTION PLAY


VIDEO: TIME-LAPSE OF LAUNCH PAD TOWER ROLLBACK PLAY



VIDEO: PRE-LAUNCH INTERVIEW WITH MARK POLANSKY PLAY


VIDEO: PRE-LAUNCH INTERVIEW WITH DOUG HURLEY PLAY


VIDEO: PRE-LAUNCH INTERVIEW WITH CHRIS CASSIDY PLAY


VIDEO: PRE-LAUNCH INTERVIEW WITH JULIE PAYETTE PLAY


VIDEO: PRE-LAUNCH INTERVIEW WITH TOM MARSHBURN PLAY


VIDEO: PRE-LAUNCH INTERVIEW WITH DAVE WOLF PLAY



VIDEO: THE STS-127 MISSION PREVIEW MOVIE PLAY


VIDEO: THURSDAY'S PRE-LAUNCH NEWS CONFERENCE PLAY


VIDEO: JAPANESE SCIENCE FACILITIES ABOARD STATION PLAY


VIDEO: COUNTDOWN BEGINS TICKING FOR SATURDAY'S LAUNCH PLAY


VIDEO: LAUNCH COUNTDOWN PREVIEW BRIEFING PLAY


VIDEO: CREW ARRIVES JUST BEFORE MIDNIGHT PLAY | HI-DEF


VIDEO: GET TO KNOW ENDEAVOUR'S ASTRONAUTS PLAY



VIDEO: ASTRONAUTS PRACTICE EVACUATION OF SHUTTLE PLAY | HI-DEF


VIDEO: CREW BOARDS SHUTTLE FOR PRACTICE COUNT PLAY | HI-DEF


VIDEO: ASTRONAUTS SUIT UP FOR DRESS REHEARSAL PLAY | HI-DEF


VIDEO: CREW INSPECTS CARGO IN THE PAYLOAD BAY PLAY | HI-DEF


VIDEO: TRAINING SESSIONS AT LAUNCH PAD AND BUNKER PLAY | HI-DEF


VIDEO: INFORMAL CREW NEWS CONFERENCE AT LAUNCH PAD PLAY


VIDEO: ASTRONAUTS ARRIVE FOR PRACTICE COUNTDOWN PLAY



VIDEO: FLIGHT READINESS REVIEW SETS LAUNCH DATE PLAY



VIDEO: PAD 39A GANTRY ENCLOSES SHUTTLE PLAY | HI-DEF


VIDEO: ROLLAROUND MOVES ENDEAVOUR TO PAD 39A PLAY | HI-DEF


VIDEO: ENDEAVOUR IS HAULED OFF LAUNCH PAD 39B PLAY | HI-DEF


VIDEO: TIME-LAPSE OF SHUTTLE'S LAUNCH PAD SWITCH PLAY



VIDEO: SHUTTLE AND STATION PROGRAM UPDATE PLAY


VIDEO: THE STS-127 MISSION OVERVIEW BRIEFING PLAY


VIDEO: PREVIEW BRIEFING ON MISSION'S SPACEWALKS PLAY


VIDEO: THE ASTRONAUTS' PRE-FLIGHT NEWS BRIEFING PLAY



VIDEO: PAD 39B AND ITS LAST SPACE SHUTTLE PLAY | HI-DEF


VIDEO: ENDEAVOUR'S SUNRISE ARRIVAL AT PAD 39B PLAY | HI-DEF


VIDEO: MIDNIGHT ROLLOUT FROM ASSEMBLY BUILDING PLAY | HI-DEF


VIDEO: ENDEAVOUR HOISTED FOR ATTACHMENT TO TANK PLAY | HI-DEF


VIDEO: CRANE ROTATES ENDEAVOUR VERTICALLY PLAY | HI-DEF


VIDEO: ENDEAVOUR MOVES TO ASSEMBLY BUILDING PLAY | HI-DEF


VIDEO: ORION AND ARES ROCKET PROGRESS REPORT PLAY


SUBSCRIBE NOW