NASA managers downplay ascent debris strikes
BY WILLIAM HARWOOD
STORY WRITTEN FOR CBS NEWS "SPACE PLACE" & USED WITH PERMISSION
Posted: July 15, 2009;
Updated after news conference


Running a month late because of hydrogen leaks and stormy weather, the shuttle Endeavour finally roared to life and blasted off Wednesday on its sixth try, rocketing away through a hazy sky toward a Friday rendezvous with the International Space Station.
Multiple pieces of foam insulation fell from the ship's external tank during the early moments of flight, but it was not immediately clear whether the shuttle's fragile heat shield suffered any significant damage.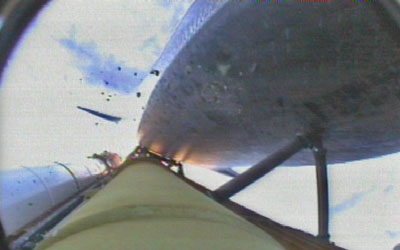 Credit: NASA TV



With commander Mark Polansky and pilot Douglas Hurley at the controls, Endeavour's three main engines ignited in staggered sequence and throttled up to full thrust, followed seconds later by ignition of the shuttle's twin solid-fuel boosters at 6:03:10 p.m. EDT.

Belching fire and churning clouds of exhaust, Endeavour quickly thundered away from launch pad 39A atop twin pillars of 5,000-degree flame from its powerful boosters, rotated about its vertical axis and arced away to the northeast.

A television camera mounted on the side of the shuttle's external tank provided spectacular views of the Kennedy Space Center launch complex dropping away below and then the separation of the shuttle's twin boosters two minutes and five seconds into the flight.

Several pieces of debris, presumably foam insulation from the tank, ice or both, fell away during the climb out of the lower atmosphere, including some that appeared to hit the orbiter's heat shield well before booster separation. Additional debris events were seen as the shuttle continued its climb out of the discernible atmosphere.

"At about 107 seconds during ascent, we did see some debris events," astronaut Alan Poindexter called the crew from mission control. He said impacts were observed on the underside of the forward part of the right wing, similar to, but less severe than, damage that occurred during a May shuttle launch.

"It appeared to impact the starboard chine area," Poindexter said. "The impact appears to be less than what we experienced on (the last mission) and we'll certainly take a look at this throughout the evening and through the day tomorrow."

"Thanks for the info, I'm sure we'll get a good chance for all of us to get a good look at all that" during post-launch inspections Thursday, Polansky replied. "We can't thank you enough for getting us this far. It was a pretty decent wait, but we're thrilled to be here."

Debris impacts are not an issue after about two-and-a-half minutes, when the shuttle is out of the dense lower atmosphere. But several of the impacts observed during Endeavour's launch occurred during the period when debris strikes are more likely to cause damage.

"If it happened right away, the relative speed of the vehicle's not that great," said Mike Moses, director of shuttle launch integration at the Kennedy Space Center. "And then, once you get out of the atmosphere, if something comes off it kind of stays at the same speed as you when it hits you, so the relative speed is not that great.

"But there's a chunk of time where you're still in the thicker part of the atmosphere where a piece of foam comes off and effectively stops and we fly into it and hit it very fast," he said. "It's not just atmosphere, but that's basically what the phenomenon is."

Debris is not unexpected during launch, but the number of events seen during Endeavour's ascent was unusual. Reporters going through video footage frame by frame counted at least 15 debris events between liftoff and two minutes and 20 seconds into flight.

But Bill Gerstenmaier, chief of space operations at NASA headquarters, cautioned that lighting may have played a role in initial impressions.

"We had very good lighting today, so we probably saw the tank much better than we have on several of the past flights when they were evening launches," he said.

As with all shuttle launchings, engineers will need several days to evaluate launch and on-orbit imagery to make sure there are no problems.

"The bottom line is, we saw some stuff, some of it doesn't concern us, some of it you really just can't speculate on right now," Moses said. "We have the tools and processes to go clear this vehicle for entry. You'll know as we know what we find when we do (the inspections). No real worries there, we've just got to wait and see what happens."

The astronauts plan to spend their second day in orbit Thursday checking out their spacesuits, rendezvous tools and inspecting the shuttle's nose cap and wing leading edge panels using a laser scanner on the end of a 50-foot-long boom attached to Endeavour's robot arm.

If all goes well, Polansky will guide Endeavour to a docking with the International Space Station Friday afternoon. During final approach, the station astronauts, using cameras with powerful telephoto lenses, will photograph the heat shield tiles on the shuttle's belly to look for any signs of damage.

The official embroidered patch for the historic
Ares 1-X rocket test flight is available in the Spaceflight Now Store.


U.S. SHOPPERS | WORLDWIDE






The primary goals of the 16-day mission include attachment of an experiment platform to the Japanese Kibo lab module, replacement of aging solar array batteries and delivery of critical spare parts and components, hedges against failures after the shuttle is retired next year.

Five spacewalks by four astronauts will be required, along with carefully choreographed, near daily use of three robot arms, two on the station and one aboard the space shuttle, to move equipment, spare parts, experiments and spacewalkers from one work site to another.

Complicating the choreography, the station must host a combined crew of 13 - six full-time station astronauts and seven shuttle visitors - for the first time, putting the lab's life support systems, including its new water recycling system, toilets, oxygen generators, and carbon dioxide scrubbers, to the test.

"It's like having your family descend on you for the holidays, right? And they're going to stay for a very long time. And they come, and they're bringing all their stuff," Moses said before launch.

But he said the combined crews are "more than ready" for the challenge, adding that with six full-time station astronauts on board, "I think what we're going to see is probably some unprecedented efficiencies" because "they know where to go, they know what the procedures are, they know how to get things done."

Polansky and his crewmates had hoped to blast off June 11, but the flight was delayed June 13 and 17 by a leaking hydrogen vent line and then three times in a row Saturday, Sunday and Monday by stormy weather over the Kennedy Space Center.

Electrical storms developed near the space center again early today, but conditions improved as the afternoon wore on and Endeavour finally was cleared for launch.

"Well Roman, the vehicle's ready, the support teams are definitely ready and the weather's finally cooperating, so It is now time to fly," Launch Director Pete Nickolenko radioed Endeavour. "Persistence pays off. Good luck and Godspeed.

"Pete, thanks to you and everyone who's worked so hard for this moment," Polansky replied. "Endeavour's patiently waited for this, we're ready to go and we're going to take all of you with us on a great mission. Thanks a lot."

The only technical issue today was concern about the performance of fuel cell No. 3, one of three compact powerplants that combine oxygen and hydrogen to generate the shuttle's electricity. Fresh water is produced as a by-product of the reaction.

Engineers are hopeful fuel cell No. 3 will operate normally throughout the mission, but there is a chance it could have problems at the low power levels required when the shuttle is plugged into the space station's solar power system after docking.

For the Endeavour astronauts, shuttle mission STS-127 is the equivalent of a "heavy duty construction mission," said flight engineer Julie Payette, a Canadian astronaut, jet pilot, and robot arm operator. "It is about as complex a mission as we've put together so far in the joint shuttle-space station program."

"With the shuttle program ending in 2010, we had to pack the mission as much as we could. So our mission is probably reaching the limits of what one crew can do on a 16-day mission: five different spacewalks, we're basically operating at least two (robot) arms every day of the mission except for one, it is extremely intensive in the choreography that we do.

"But it is a construction mission," said Payette, making her second shuttle flight. "We are crane operators, we're construction workers, we're going to replace elements of the station, install new elements on the station, transfer equipment inside the station, we're going to disturb life for two weeks, and then we're going to go home."

Joining Payette on the shuttle's upper flight deck for launch were Polansky, making his third flight, rookie pilot Hurley and first-time flier Christopher Cassidy, a Navy SEAL with combat experience in the caves of Afghanistan. Based on seat positions, Hurley was the 499th individual to reach orbit and Cassidy was the 500th.

Strapped in on the lower deck were David Wolf, a doctor making his fourth flight, physician-astronaut Thomas Marshburn, and space station flight engineer Timothy Kopra, both making their first flights.

Kopra, an Army helicopter pilot, will trade places with Japanese astronaut Koichi Wakata as a member of the Expedition 20 crew, remaining behind aboard the International Space Station when Endeavour departs. Wakata, launched to the station in March aboard the shuttle Discovery, will take Kopra's place aboard the shuttle for the trip back to Earth.

The Japanese Kibo laboratory is made up of two modules, a roomy central lab and an attached logistics module. Endeavour's crew is delivering a porch-like external platform called the Japanese Exposed Facility, or JEF, and three experiment packages.

The main Japanese lab module is equipped with its own airlock and its own robot arm to move experiments out to the exposed facility and back inside as needed.

"The Japanese Exposed Facility, or JEF as we tend to call it, is very impressive," Wolf said in a NASA interview. "It's a large external porch to the space station where high quality experiments can be conducted in the high vacuum of space. It's really an exceptionally valuable piece of real estate. It has its own robotic arm, the ability to do observations of the Earth and of the sky, astrophysics experiments, a very wide range of abilities."

Protecting against failures down the road, the astronauts also plan to mount a spare S-band antenna assembly on an external storage platform, along with a spare cooling system pump module and a replacement drive unit for the station's robot arm transporter.

In one of the more challenging tasks faced by the spacewalkers, six 375-pound batteries will be replaced in the station's oldest set of solar arrays on the far left end of the lab's main power truss. The battery replacement will be spread over two spacewalks.

"The P6 batteries have been up there since December of 2000," said Kirk Shireman, deputy director of the space station program at the Johnson Space Center. "They're reaching the end of their life (and) we need to swap them out. We'll be doing that for the first time, it's very challenging."

The spacewalkers also will attempt to rewire a gyroscope circuit, install another television camera to provide additional external views, and deploy a jammed external storage mount on the left side of the power truss. The crew plans to deploy two others on the right side of the station that are needed to hold spare parts and equipment being stockpiled as the shuttle program winds down toward retirement in 2010.

Finally, the astronauts will make preparations for the debut flight of a Japanese cargo ship in September. The HTV spacecraft is designed to be plucked out of open space by the station's robot arm for docking to the Harmony module's upper port.

If all goes well, Endeavour will undock from the space station July 28 and return to the Kennedy Space Center on July 31.


Additional coverage for subscribers:


VIDEO: WEATHER SCRUBS LAUNCH AGAIN PLAY | HI-DEF


VIDEO: CREW ARRIVES AT PAD 39A ON MONDAY PLAY | HI-DEF


VIDEO: CREW DEPARTS QUARTERS ON MONDAY PLAY | HI-DEF


VIDEO: ASTRONAUTS SUIT UP ON MONDAY PLAY | HI-DEF



VIDEO: THUNDERSTORMS SCRUB SUNDAY'S ATTEMPT PLAY | HI-DEF


VIDEO: CREW DEPARTS QUARTERS ON SUNDAY PLAY | HI-DEF


VIDEO: ASTRONAUTS SUIT UP ON SUNDAY PLAY | HI-DEF


VIDEO: NARRATED SUMMARY SHUTTLE'S PREPARATIONS PLAY | HI-DEF


VIDEO: NARRATED SUMMARY PAYLOADS' PREPARATIONS PLAY | HI-DEF



VIDEO: LIGHTNING STRIKES POSTPONE ENDEAVOUR LAUNCH PLAY


VIDEO: FRIDAY'S PRE-LAUNCH NEWS CONFERENCE PLAY


VIDEO: THURSDAY'S STATUS REPORT ON THE COUNTDOWN PLAY


VIDEO: COUNTDOWN PREVIEW AND WEATHER BRIEFING PLAY


VIDEO: ASTRONAUTS RETURN TO CAPE FOR LAUNCH PLAY | HI-DEF



VIDEO: NO LEAKS FOUND DURING SPECIAL TEST PLAY


VIDEO: EXPLANATION OF THE HYDROGEN LEAK AND THE REPAIR PLAY



VIDEO: POST-SCRUB NEWS BRIEFING PLAY


VIDEO: FIRING ROOM UPDATE WITH LAUNCH DIRECTOR PLAY


VIDEO: SCRUB NO. 2 DECLARED DUE TO HYDROGEN LEAK PLAY



VIDEO: SUNDAY'S UPDATE FROM MISSION MANAGEMENT TEAM PLAY


VIDEO: LEAK POSTPONES SHUTTLE ENDEAVOUR LAUNCH PLAY



VIDEO: TIME-LAPSE OF SUN SETTING OVER PAD 39A PLAY


VIDEO: ANOTHER TIME-LAPSE OF GANTRY RETRACTION PLAY


VIDEO: TIME-LAPSE OF LAUNCH PAD TOWER ROLLBACK PLAY



VIDEO: PRE-LAUNCH INTERVIEW WITH MARK POLANSKY PLAY


VIDEO: PRE-LAUNCH INTERVIEW WITH DOUG HURLEY PLAY


VIDEO: PRE-LAUNCH INTERVIEW WITH CHRIS CASSIDY PLAY


VIDEO: PRE-LAUNCH INTERVIEW WITH JULIE PAYETTE PLAY


VIDEO: PRE-LAUNCH INTERVIEW WITH TOM MARSHBURN PLAY


VIDEO: PRE-LAUNCH INTERVIEW WITH DAVE WOLF PLAY



VIDEO: THE STS-127 MISSION PREVIEW MOVIE PLAY


VIDEO: THURSDAY'S PRE-LAUNCH NEWS CONFERENCE PLAY


VIDEO: JAPANESE SCIENCE FACILITIES ABOARD STATION PLAY


VIDEO: COUNTDOWN BEGINS TICKING FOR SATURDAY'S LAUNCH PLAY


VIDEO: LAUNCH COUNTDOWN PREVIEW BRIEFING PLAY


VIDEO: CREW ARRIVES JUST BEFORE MIDNIGHT PLAY | HI-DEF


VIDEO: GET TO KNOW ENDEAVOUR'S ASTRONAUTS PLAY



VIDEO: ASTRONAUTS PRACTICE EVACUATION OF SHUTTLE PLAY | HI-DEF


VIDEO: CREW BOARDS SHUTTLE FOR PRACTICE COUNT PLAY | HI-DEF


VIDEO: ASTRONAUTS SUIT UP FOR DRESS REHEARSAL PLAY | HI-DEF


VIDEO: CREW INSPECTS CARGO IN THE PAYLOAD BAY PLAY | HI-DEF


VIDEO: TRAINING SESSIONS AT LAUNCH PAD AND BUNKER PLAY | HI-DEF


VIDEO: INFORMAL CREW NEWS CONFERENCE AT LAUNCH PAD PLAY


VIDEO: ASTRONAUTS ARRIVE FOR PRACTICE COUNTDOWN PLAY



VIDEO: FLIGHT READINESS REVIEW SETS LAUNCH DATE PLAY



VIDEO: PAD 39A GANTRY ENCLOSES SHUTTLE PLAY | HI-DEF


VIDEO: ROLLAROUND MOVES ENDEAVOUR TO PAD 39A PLAY | HI-DEF


VIDEO: ENDEAVOUR IS HAULED OFF LAUNCH PAD 39B PLAY | HI-DEF


VIDEO: TIME-LAPSE OF SHUTTLE'S LAUNCH PAD SWITCH PLAY



VIDEO: SHUTTLE AND STATION PROGRAM UPDATE PLAY


VIDEO: THE STS-127 MISSION OVERVIEW BRIEFING PLAY


VIDEO: PREVIEW BRIEFING ON MISSION'S SPACEWALKS PLAY


VIDEO: THE ASTRONAUTS' PRE-FLIGHT NEWS BRIEFING PLAY



VIDEO: PAD 39B AND ITS LAST SPACE SHUTTLE PLAY | HI-DEF


VIDEO: ENDEAVOUR'S SUNRISE ARRIVAL AT PAD 39B PLAY | HI-DEF


VIDEO: MIDNIGHT ROLLOUT FROM ASSEMBLY BUILDING PLAY | HI-DEF


VIDEO: ENDEAVOUR HOISTED FOR ATTACHMENT TO TANK PLAY | HI-DEF


VIDEO: CRANE ROTATES ENDEAVOUR VERTICALLY PLAY | HI-DEF


VIDEO: ENDEAVOUR MOVES TO ASSEMBLY BUILDING PLAY | HI-DEF


VIDEO: ORION AND ARES ROCKET PROGRESS REPORT PLAY


SUBSCRIBE NOW