Thunderstorms postpone shuttle launch to Monday
BY WILLIAM HARWOOD
STORY WRITTEN FOR CBS NEWS "SPACE PLACE" & USED WITH PERMISSION
Posted: July 12, 2009


Stormy weather approaching the Kennedy Space Center forced NASA launch managers to order another 24-hour delay for the hard-luck crew of the shuttle Endeavour Sunday, their fourth slip since a hydrogen leak derailed an initial launch try in June.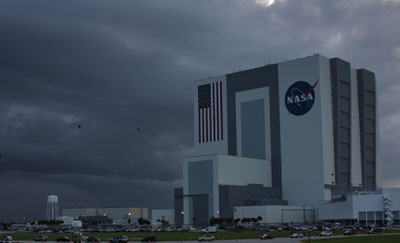 Dark clouds gather over the Vehicle Assembly Building. Credit: Stephen Clark/Spaceflight Now



There were no leaks or technical problems of any significance during today's countdown and Endeavour's external tank was loaded with a half-million gallons of rocket fuel without incident.

Commander Mark Polansky and his crewmates began strapping in a few minutes before 4 p.m. EDT, hopeful about finally kicking off a 16-day space station assembly mission.

But as the afternoon wore on, storm cells began pushing in from the west that eventually violated NASA's flight rules for launch as well as an emergency return to the launch site in case of an engine failure early in flight.

With a short five-minute window, Launch Director Pete Nickolenko did not have time to wait for improving conditions and with forecasters solidly no-go for launch, he reluctantly called off the countdown during a final hold at the T-minus nine-minute mark.

"Roman, we got the vehicle ready and the weather unfortunately did not cooperate with us today, we had some colliding sea breezes," Nickolenko radioed just after 7 p.m. "We're going to have to declare a scrub for today and try to bring the team back for another attempt tomorrow."

"We understand and we'll be ready," Polansky replied from Endeavour's flight deck.

Endeavour's next launch opportunity comes at 6:51:24 p.m. Monday. Forecasters are predicting a 60 percent chance of acceptable weather Monday and Tuesday.

As it now stands, Endeavour must be off the ground by Tuesday or the flight will be delayed to July 27, after a high-priority Russian Progress resupply mission scheduled for launch July 24.


The official crew patch for Endeavour's flight to finish building Japan's section of the space station is available in the Spaceflight Now Store.


U.S. SHOPPERS | WORLDWIDE





Additional coverage for subscribers:


VIDEO: LIGHTNING STRIKES POSTPONE ENDEAVOUR LAUNCH PLAY


VIDEO: FRIDAY'S PRE-LAUNCH NEWS CONFERENCE PLAY


VIDEO: THURSDAY'S STATUS REPORT ON THE COUNTDOWN PLAY


VIDEO: COUNTDOWN PREVIEW AND WEATHER BRIEFING PLAY


VIDEO: ASTRONAUTS RETURN TO CAPE FOR LAUNCH PLAY | HI-DEF



VIDEO: NO LEAKS FOUND DURING SPECIAL TEST PLAY


VIDEO: EXPLANATION OF THE HYDROGEN LEAK AND THE REPAIR PLAY



VIDEO: POST-SCRUB NEWS BRIEFING PLAY


VIDEO: FIRING ROOM UPDATE WITH LAUNCH DIRECTOR PLAY


VIDEO: SCRUB NO. 2 DECLARED DUE TO HYDROGEN LEAK PLAY



VIDEO: SUNDAY'S UPDATE FROM MISSION MANAGEMENT TEAM PLAY


VIDEO: LEAK POSTPONES SHUTTLE ENDEAVOUR LAUNCH PLAY



VIDEO: TIME-LAPSE OF SUN SETTING OVER PAD 39A PLAY


VIDEO: ANOTHER TIME-LAPSE OF GANTRY RETRACTION PLAY


VIDEO: TIME-LAPSE OF LAUNCH PAD TOWER ROLLBACK PLAY



VIDEO: PRE-LAUNCH INTERVIEW WITH MARK POLANSKY PLAY


VIDEO: PRE-LAUNCH INTERVIEW WITH DOUG HURLEY PLAY


VIDEO: PRE-LAUNCH INTERVIEW WITH CHRIS CASSIDY PLAY


VIDEO: PRE-LAUNCH INTERVIEW WITH JULIE PAYETTE PLAY


VIDEO: PRE-LAUNCH INTERVIEW WITH TOM MARSHBURN PLAY


VIDEO: PRE-LAUNCH INTERVIEW WITH DAVE WOLF PLAY



VIDEO: THE STS-127 MISSION PREVIEW MOVIE PLAY


VIDEO: THURSDAY'S PRE-LAUNCH NEWS CONFERENCE PLAY


VIDEO: JAPANESE SCIENCE FACILITIES ABOARD STATION PLAY


VIDEO: COUNTDOWN BEGINS TICKING FOR SATURDAY'S LAUNCH PLAY


VIDEO: LAUNCH COUNTDOWN PREVIEW BRIEFING PLAY


VIDEO: CREW ARRIVES JUST BEFORE MIDNIGHT PLAY | HI-DEF


VIDEO: GET TO KNOW ENDEAVOUR'S ASTRONAUTS PLAY



VIDEO: ASTRONAUTS PRACTICE EVACUATION OF SHUTTLE PLAY | HI-DEF


VIDEO: CREW BOARDS SHUTTLE FOR PRACTICE COUNT PLAY | HI-DEF


VIDEO: ASTRONAUTS SUIT UP FOR DRESS REHEARSAL PLAY | HI-DEF


VIDEO: CREW INSPECTS CARGO IN THE PAYLOAD BAY PLAY | HI-DEF


VIDEO: TRAINING SESSIONS AT LAUNCH PAD AND BUNKER PLAY | HI-DEF


VIDEO: INFORMAL CREW NEWS CONFERENCE AT LAUNCH PAD PLAY


VIDEO: ASTRONAUTS ARRIVE FOR PRACTICE COUNTDOWN PLAY



VIDEO: FLIGHT READINESS REVIEW SETS LAUNCH DATE PLAY



VIDEO: PAD 39A GANTRY ENCLOSES SHUTTLE PLAY | HI-DEF


VIDEO: ROLLAROUND MOVES ENDEAVOUR TO PAD 39A PLAY | HI-DEF


VIDEO: ENDEAVOUR IS HAULED OFF LAUNCH PAD 39B PLAY | HI-DEF


VIDEO: TIME-LAPSE OF SHUTTLE'S LAUNCH PAD SWITCH PLAY



VIDEO: SHUTTLE AND STATION PROGRAM UPDATE PLAY


VIDEO: THE STS-127 MISSION OVERVIEW BRIEFING PLAY


VIDEO: PREVIEW BRIEFING ON MISSION'S SPACEWALKS PLAY


VIDEO: THE ASTRONAUTS' PRE-FLIGHT NEWS BRIEFING PLAY



VIDEO: PAD 39B AND ITS LAST SPACE SHUTTLE PLAY | HI-DEF


VIDEO: ENDEAVOUR'S SUNRISE ARRIVAL AT PAD 39B PLAY | HI-DEF


VIDEO: MIDNIGHT ROLLOUT FROM ASSEMBLY BUILDING PLAY | HI-DEF


VIDEO: ENDEAVOUR HOISTED FOR ATTACHMENT TO TANK PLAY | HI-DEF


VIDEO: CRANE ROTATES ENDEAVOUR VERTICALLY PLAY | HI-DEF


VIDEO: ENDEAVOUR MOVES TO ASSEMBLY BUILDING PLAY | HI-DEF


VIDEO: ORION AND ARES ROCKET PROGRESS REPORT PLAY


SUBSCRIBE NOW