Endeavour test date set; knob jammed in Atlantis
BY WILLIAM HARWOOD
STORY WRITTEN FOR CBS NEWS "SPACE PLACE" & USED WITH PERMISSION
Posted: June 24, 2009


Engineers plan to load the shuttle Endeavour's external tank with rocket fuel next Wednesday to test vent line fixes intended to stop, or at least reduce, gaseous hydrogen leaks that grounded the shuttle June 13 and 17, NASA officials said today. If the repairs work, the agency will press ahead with a third attempt to launch Endeavour on a space station assembly mission July 11.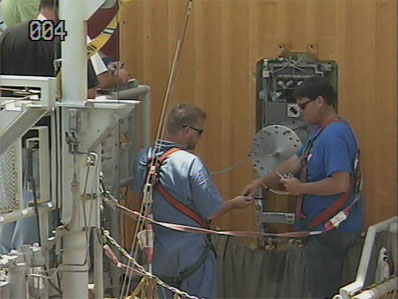 Ground crews work on Endeavour's ground umbilical carrier plate at pad 39A on Wednesday. Credit: NASA TV



A different sort of problem has cropped up for the shuttle Atlantis, just back from a successful mission to overhaul the Hubble Space Telescope. Sources say engineers recently discovered an astronaut work light attachment knob lodged between the inner pressure pane of cockpit window No. 5 and the back of an instrument panel housing.

The knob, used to mount a light on a bracket much like the knob on a tripod holds a camera, floated into a hard-to-see corner of the window area during the mission, when the crew cabin was pressurized to 14.7 pounds per square inch. It apparently got stuck between the inner window pane and the instrument panel housing when Atlantis returned to Earth and the cabin structure shrank slightly.

The knob is now firmly lodged against the inner pressure pane of window No. 5, the sources said. Because of uncertainty about whether the pane has been damaged, the knob must be removed - and the pane confirmed to be structurally sound - before Atlantis can fly again in November.

While the knurled knob is pressing against the pane in two locations, it's not yet clear whether the glass has suffered any measurable damage. But access is tight and engineers considering removal options must make sure they don't inadvertently damage the glass. Replacing a pressure pane, one official said, could take months because part of the cockpit instrumentation would have to be moved or disconnected to provide clearance.

Engineers have tried to cool the stuck knob with dry ice in hopes of getting it to shrink enough to permit removal, but that did not work. A variety of other techniques are under assessment and it's not yet clear what impact, if any, the issue might have for Atlantis' next mission. Launch is targeted for Nov. 12.

Endeavour was grounded twice June 13 and 17 by gaseous hydrogen leaks where a 7-inch vent line attaches to an umbilical plate on the side of the shuttle's external tank. Engineers believe the rectangular vent port housing built into the tank was misaligned slightly during the manufacturing process, preventing the umbilical plate and quick-disconnect fitting from achieving a tight seal.

To improve the vent line umbilical's ability to maintain a tight fit when the hardware is chilled to cryogenic temperatures, moving slightly as the mechanism contracts slightly, engineers are switching to an alternative two-part seal that is more flexible than the single-piece seal used earlier.

In addition, special washers will be installed on the umbilical plate's mounting points to act as shims, again to improve the system's ability to move slightly while maintaining a tight seal.

Hydrogen concentrations of up to 40,000 parts per million are allowable and engineers are hopeful the changes will eliminate the leakage, or at least reduce it to allowable levels. If so, NASA will press ahead with plans to launch Endeavour July 11.

Engineers plan to install a new flexible two-part seal in the vent line Thursday and to attach the quick-disconnect fitting Saturday. The "call to stations" to begin what amounts to a countdown to the fueling test is planned for Monday night. If all goes well, the tank will be loaded with super cold liquid oxygen and hydrogen rocket fuel Wednesday morning.


Additional coverage for subscribers:


VIDEO: POST-SCRUB NEWS BRIEFING PLAY


VIDEO: FIRING ROOM UPDATE WITH LAUNCH DIRECTOR PLAY


VIDEO: SCRUB NO. 2 DECLARED DUE TO HYDROGEN LEAK PLAY



VIDEO: SUNDAY'S UPDATE FROM MISSION MANAGEMENT TEAM PLAY


VIDEO: LEAK POSTPONES SHUTTLE ENDEAVOUR LAUNCH PLAY



VIDEO: TIME-LAPSE OF SUN SETTING OVER PAD 39A PLAY


VIDEO: ANOTHER TIME-LAPSE OF GANTRY RETRACTION PLAY


VIDEO: TIME-LAPSE OF LAUNCH PAD TOWER ROLLBACK PLAY



VIDEO: PRE-LAUNCH INTERVIEW WITH MARK POLANSKY PLAY


VIDEO: PRE-LAUNCH INTERVIEW WITH DOUG HURLEY PLAY


VIDEO: PRE-LAUNCH INTERVIEW WITH CHRIS CASSIDY PLAY


VIDEO: PRE-LAUNCH INTERVIEW WITH JULIE PAYETTE PLAY


VIDEO: PRE-LAUNCH INTERVIEW WITH TOM MARSHBURN PLAY


VIDEO: PRE-LAUNCH INTERVIEW WITH DAVE WOLF PLAY



VIDEO: THE STS-127 MISSION PREVIEW MOVIE PLAY


VIDEO: THURSDAY'S PRE-LAUNCH NEWS CONFERENCE PLAY


VIDEO: JAPANESE SCIENCE FACILITIES ABOARD STATION PLAY


VIDEO: COUNTDOWN BEGINS TICKING FOR SATURDAY'S LAUNCH PLAY


VIDEO: LAUNCH COUNTDOWN PREVIEW BRIEFING PLAY


VIDEO: CREW ARRIVES JUST BEFORE MIDNIGHT PLAY | HI-DEF


VIDEO: GET TO KNOW ENDEAVOUR'S ASTRONAUTS PLAY



VIDEO: ASTRONAUTS PRACTICE EVACUATION OF SHUTTLE PLAY | HI-DEF


VIDEO: CREW BOARDS SHUTTLE FOR PRACTICE COUNT PLAY | HI-DEF


VIDEO: ASTRONAUTS SUIT UP FOR DRESS REHEARSAL PLAY | HI-DEF


VIDEO: CREW INSPECTS CARGO IN THE PAYLOAD BAY PLAY | HI-DEF


VIDEO: TRAINING SESSIONS AT LAUNCH PAD AND BUNKER PLAY | HI-DEF


VIDEO: INFORMAL CREW NEWS CONFERENCE AT LAUNCH PAD PLAY


VIDEO: ASTRONAUTS ARRIVE FOR PRACTICE COUNTDOWN PLAY



VIDEO: FLIGHT READINESS REVIEW SETS LAUNCH DATE PLAY



VIDEO: PAD 39A GANTRY ENCLOSES SHUTTLE PLAY | HI-DEF


VIDEO: ROLLAROUND MOVES ENDEAVOUR TO PAD 39A PLAY | HI-DEF


VIDEO: ENDEAVOUR IS HAULED OFF LAUNCH PAD 39B PLAY | HI-DEF


VIDEO: TIME-LAPSE OF SHUTTLE'S LAUNCH PAD SWITCH PLAY



VIDEO: SHUTTLE AND STATION PROGRAM UPDATE PLAY


VIDEO: THE STS-127 MISSION OVERVIEW BRIEFING PLAY


VIDEO: PREVIEW BRIEFING ON MISSION'S SPACEWALKS PLAY


VIDEO: THE ASTRONAUTS' PRE-FLIGHT NEWS BRIEFING PLAY



VIDEO: PAD 39B AND ITS LAST SPACE SHUTTLE PLAY | HI-DEF


VIDEO: ENDEAVOUR'S SUNRISE ARRIVAL AT PAD 39B PLAY | HI-DEF


VIDEO: MIDNIGHT ROLLOUT FROM ASSEMBLY BUILDING PLAY | HI-DEF


VIDEO: ENDEAVOUR HOISTED FOR ATTACHMENT TO TANK PLAY | HI-DEF


VIDEO: CRANE ROTATES ENDEAVOUR VERTICALLY PLAY | HI-DEF


VIDEO: ENDEAVOUR MOVES TO ASSEMBLY BUILDING PLAY | HI-DEF


VIDEO: ORION AND ARES ROCKET PROGRESS REPORT PLAY


SUBSCRIBE NOW