Flight will be intricate dance of spacewalks and robotics
BY WILLIAM HARWOOD
STORY WRITTEN FOR CBS NEWS "SPACE PLACE" & USED WITH PERMISSION
Posted: June 11, 2009


The shuttle Endeavour is poised for blastoff Saturday on one of the most complex space station assembly missions yet attempted, a grueling 16-day flight to attach a Japanese experiment platform, deliver critical spare parts, replace massive solar array batteries and swap out a station crew member.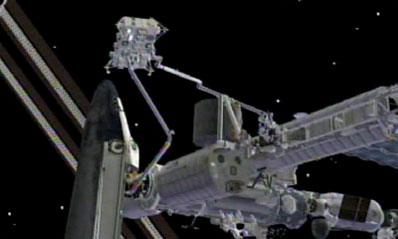 The space shuttle and station robot arms work together in transferring the external exposure facility from Endeavour. Credit: NASA TV



Five spacewalks by four astronauts will be required, along with carefully choreographed, near daily use of three robot arms, two on the station and one aboard the space shuttle, to move equipment, spare parts, experiments and spacewalkers from one work site to another.

Complicating the choreography, the station must host a combined crew of 13 - six full-time station astronauts and seven shuttle visitors - for the first time, putting the lab's life support systems, including its new water recycling system, toilets, oxygen generators and carbon dioxide scrubbers, to the test.

"It's like having your family descend on you for the holidays, right? And they're going to stay for a very long time. And they come, and they're bringing all their stuff," said Mike Moses, director of shuttle integration at the Kennedy Space Center.

But he said the combined crews are "more than ready" for the challenge, adding that with six full-time station astronauts on board, "I think what we're going to see is probably some unprecedented efficiencies" because "they know where to go, they know what the procedures are, they know how to get things done."

For the Endeavour astronauts, shuttle mission STS-127 is the equivalent of a "heavy duty construction mission," said flight engineer Julie Payette, a Canadian astronaut, jet pilot and robot arm operator. "It is about as complex a mission as we've put together so far in the joint shuttle-space station program.

"With the shuttle program ending in 2010, we had to pack the mission as much as we could. So our mission is probably reaching the limits of what one crew can do on a 16-day mission: five different spacewalks, we're basically operating at least two (robot) arms every day of the mission except for one, it is extremely intensive in the choreography that we do.

"But it is a construction mission," said Payette, making her second shuttle flight. "We are crane operators, we're construction workers, we're going to replace elements of the station, install new elements on the station, transfer equipment inside the station, we're going to disturb life for two weeks and then we're going to go home."

Lead spacewalker David Wolf, a physician-astronaut and Mir veteran making his fourth spaceflight, said the complexity of the mission is "not just from EVA (spacewalks). It's doing the EVA and robotics and the other internal transfer work that we have planned, all at once in a very complex choreography."

"It is busy, it is a sprint race for us and it's very interactive, it takes everyone (of the astronauts), mission control and the engineering teams to be with it real time, tracking as we go, to pull this off," he said.

Endeavour is scheduled for liftoff on the 126th shuttle mission at 7:17:15 a.m. Saturday, roughly the moment Earth's rotation carries launch pad 39A into the plane of the space station's orbit.

Joining Payette on the shuttle's upper flight deck will be veteran commander Mark Polansky, making his third flight, rookie pilot Douglas Hurley and first-time flier Christopher Cassidy, a Navy SEAL with combat experience in the caves of Afghanistan. Based on seat positions, Hurley will be the 499th individual to reach orbit and Cassidy will be the 500th.

Strapped in on the lower deck will be Wolf, physician-astronaut Thomas Marshburn and space station flight engineer Timothy Kopra, both making their first flights.

Kopra will trade places with Japanese astronaut Koichi Wakata as a member of the Expedition 20 crew, remaining behind aboard the International Space Station when Endeavour departs. Wakata, launched to the station in March aboard the shuttle Discovery, will take Kopra's place aboard the shuttle for the trip back to Earth.

"If I had to cherry pick a mission to be part of, it would be this one," Kopra, an Army helicopter pilot, told CBS News. "A fabulous space shuttle crew, it's very complex like a lot of our station missions, five EVAs using three robotic arms, transition to six-person crew and then to be part of that six-person crew and stay for a few months, I'm just really thrilled."

Along with the crew swap, the primary goals of the mission are to attach a porch-like external experiment platform to the Japanese Kibo laboratory module, to equip it with three experiment packages and to hook up TV cameras, data and electrical connections. Attachment of the Japanese Exposed Facility, or JEF, will complete the assembly of the station's most sophisticated laboratory suite.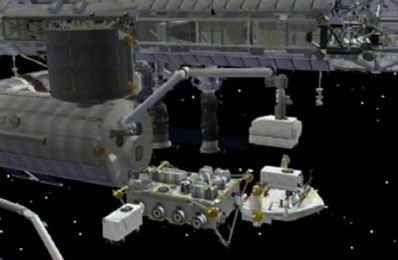 The Japanese robot arm on Kibo maneuvers payloads on the new external exposure facility. Credit: NASA TV



The main Japanese lab module is equipped with its own airlock and its own robot arm to move experiments out to the exposed facility and back inside as needed.

"The Japanese Exposed Facility, or JEF as we tend to call it, is very impressive," Wolf said in a NASA interview. "It's a large external porch to the space station where high quality experiments can be conducted in the high vacuum of space. It's really an exceptionally valuable piece of real estate. It has its own robotic arm, the ability to do observations of the Earth and of the sky, astrophysics experiments, a very wide range of abilities."

Protecting against failures down the road, the astronauts also plan to mount a spare S-band antenna assembly on an external storage platform, along with a spare cooling system pump module and a replacement drive unit for the station's robot arm transporter.

In one of the more challenging tasks faced by the spacewalkers, six 375-pound batteries will be replaced in the station's oldest set of solar arrays on the far left end of the lab's main power truss. The battery replacement will be spread over two spacewalks.

"The P6 batteries have been up there since December of 2000, so they've been up there quite a while," said Kirk Shireman, deputy director of the space station program at the Johnson Space Center. "They're reaching the end of their life (and) we need to swap them out. We'll be doing that for the first time, it's very challenging."

The spacewalkers also will attempt to rewire a gyroscope circuit, install another television camera to provide additional external views and deploy a jammed external storage mount on the left side of the power truss. The crew plans to deploy two others on the right side of the station that are needed to hold spare parts and equipment being stockpiled as the shuttle program winds down toward retirement in 2010.

Finally, the astronauts will make preparations for the debut flight of a Japanese cargo ship in September. The HTV spacecraft is designed to be plucked out of open space by the station's robot arm for docking to the Harmony module's upper port.

Endeavour's crew stands at the base of launch pad 39A. Credit: NASA-KSC



Wolf and Kopra will carry out the mission's first spacewalk, followed by EVAs with Wolf and Marshburn, Wolf and Cassidy and then a final two excursions by Cassidy and Marshburn. Polansky, Hurley and Payette will operate the shuttle and station robot arms, moving from the orbiter to the station and back as needed, assisted by Wakata.

In several cases, robot arm operations and equipment transfers will be going on while the spacewalkers are doing something else at a different location.

"It's an extremely challenging, complex mission," Polansky told CBS News. "The robotics that are interlaced with the spacewalks are complicated, we do complicated robotics every single day of the mission, starting with the first full day in orbit all the way through. We just never get to come up for air. It's something I think about a lot."

And with a combined crew of 13 aboard the space station, the pace will be hectic to say the least.

"It'll be very interesting to see how we're going to adapt to that many people inside a relatively small vehicle," Payette said. "I mean, it's very roomy compared to the comfort of the space shuttle, but it's still a very confined environment. There will be growing pains, how to adapt to one another, not to step on one another, not to all speak on the communications loops at the same time.

"But I think it'll be awesome for the first time to have that many people in space. It will really be the beginning of a permanent settlement in space, because that's what it will be in the future and we're trying it out for the first time. It'll be very interesting, the social aspects of having that many people on board from different nationalities."

Said Wolf: "We're kind of having a population explosion in space, you know, with the 13 or so people will be up there. That will be interesting. ... We're going to have to learn to operate and keep all that organized. And these are busy schedules, with a lot of activity going on, so it's important that we learn how to handle that, manage it."

Endeavour's road to orbit began in April when the shuttle was hauled out to launch pad 39B to serve as an emergency rescue vehicle for the crew of the shuttle Atlantis, launched May 11 on a fifth and final mission to service the Hubble Space Telescope.

Toward the end of Atlantis' mission, engineers started a countdown for Endeavour to protect against the possibility of damage spotted late in the Hubble mission. When it became clear a rescue flight would not be needed, the countdown was halted and engineers moved Endeavour to pad 39A for work to ready the ship for launch Saturday.

Other than interruptions prompted by stormy weather, Endeavour's processing has been relatively smooth. While engineers were unable to trace the cause of an avionics short circuit that knocked out a redundant flight control system during Atlantis' launch, NASA managers said Endeavour's wiring is newer and has been inspected more recently. No similar problems are expected.

Assuming an on-time launch, Endeavour will dock with the space station around 3:55 a.m. on Monday, June 15. The mission will be conducted during the deep overnight hours in the United States, with the five spacewalks beginning between 1:42 a.m. and 10:12 p.m. on June 16, 18, 20, 21 and 24. Undocking is expected around 8:11 p.m. on June 26 with landing back at the Kennedy Space Center scheduled for 12:18 a.m. on June 29.

"I sum it up this way," Payette said. "Six people, five EVAs, three (robot) arms, seven (payload) handoffs, 16 days. It is going to be an action-packed flight. So if you're bored, please tune in."

Endeavour's mission is being flown against a backdrop of high anxiety as NASA's post-Columbia drive to develop a new rocket system to replace the space shuttle comes under renewed scrutiny. The first public hearing by a presidential panel charged with assessing NASA's manned space program is scheduled for June 17.

The Bush administration ordered NASA to complete the space station and retire the shuttle by the end of 2010 to free up funds to pay for development of a new rocket system that would be safer and cheaper to operate. The ultimate goal of the program was to establish Antarctica-style bases on the moon beginning in the early 2020s.

Under the leadership of former Administrator Mike Griffin, NASA opted to develop the Ares 1 rocket, using a shuttle solid-fuel booster as a first stage and a hydrogen-fueled second stage, to launch Orion crew capsules to low-Earth orbit. A giant unmanned rocket called the Ares 5 is envisioned to propel lunar landers and attached Orion spacecraft to the moon.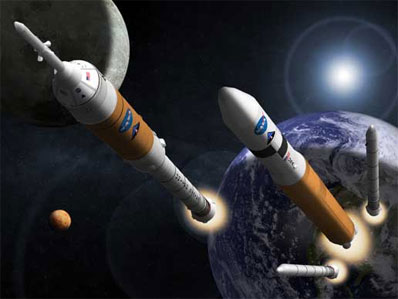 An artist's concept depicts the Ares 1 rocket with the Orion crew capsule and the Ares 5 cargo launch vehicle. Credit: NASA



But the Bush administration provided little in the way of additional funding to pay for the new rockets and NASA expects a five-year gap between the end of shuttle operations and the debut of Ares 1/Orion. In the interim, U.S. astronauts will have to hitch rides to the space station aboard Russian Soyuz ferry craft.

Despite the Apollo heritage of the new upper stage and the remarkable safety record of space shuttle boosters - one failure in 127 shuttle missions, or 252 booster flights - critics have relentlessly attacked the Ares/Orion architecture, arguing that alternatives based on heavy lift Delta or Atlas rockets, or a new family of liquid-fueled boosters, makes more sense.

Emotions run high on all sides, fueled by the internet and bloggers, the perception of technical problems with the Ares program, distrust of the NASA bureaucracy and supporters of commercial rocket agendas.

The Obama administration recently ordered an independent assessment of NASA's manned space program, a review headed by former Lockheed Martin CEO Norman Augustine, that is expected to be completed by August.

In the meantime, the White House Office of Management and Budget has deleted $3.1 billion from NASA's projected budget through 2013. That money is needed to begin development of the Ares 5 moon rocket and without it, NASA managers say, the moon program will be deferred if not eliminated.

Administration officials say money can be returned to the projected budget depending on the conclusions of the Augustine review. But for now, the future of NASA's manned space program is uncertain, including use of the International Space Station. As it now stands, U.S. participation in the project will end in 2015 unless additional funding is approved.

NASA has resolutely moved ahead with its ongoing programs and launch of a sophisticated satellite to begin mapping the moon in unprecedented detail is scheduled for June 17, the same day the Augustine panel will hold its first public hearing.

The Endeavour astronauts will be asleep, facing their second spacewalk in the deep overnight hours as NASA presses ahead with a final eight shuttle missions to complete the space station and stock it with the supplies and spare parts needed to keep it viable after the shuttle is retired.

Endeavour's mission comes on the heels of the May 27 launch of a Russian Soyuz capsule that ferried three additional crew members to the space station, boosting the lab's full-time crew to six for the first time.

Station commander Gennady Padalka, NASA flight engineer Michael Barratt and Wakata were joined by cosmonaut Roman Romanenko, European Space Agency astronaut Frank De Winne of Belgium and Canadian Space Agency astronaut Robert Thirsk.

"Six-person crew is a milestone in the history of the International Space Station," Thirsk said before launch. "In a big way, the International Space Station will be able to fulfill it's primary purpose, which is to function as a world-class orbiting laboratory for medical science and materials science."

The new Expedition 20 crew. Front row: De Winne and Padalka. Back row: Barratt, Thirsk, Wakata and Romanenko. Credit: NASA



The lab complex has been stocked with enough food to last the expanded crew through October even if subsequent shuttle and unmanned resupply missions get delayed. Oxygen is generated on board by U.S. and Russian systems and fresh water is delivered by shuttle crews and automated Russian supply ships.

But in a major milestone, a sophisticated water recycling system was installed late last year and, after startup problems were resolved, the new hardware was cleared for everyday use. The system recycles condensate and urine from a U.S. toilet in the Destiny lab module, generating ultra-pure water for drinking, crew hygiene and oxygen generation.

The water recycling system will be critical to sustaining a six-person crew after the space shuttle is retired late next year.

"It will be a challenge for everybody to make sure we can sustain six persons on orbit," De Winne said before launch. "I think it shows a great example to the rest of the world that if nations want to work together for something great, for something wonderful, for something for the future of our kids, that we can achieve incredible things."

Coping with a combined crew of 13 during Endeavour's mission will be another challenge, one that will pose a severe test of the station's life support systems.

"Oxygen, plenty of oxygen supplied by the O2 supplies on board the shuttle, we have the oxygen generation system on board the U.S. segment, which is functioning, and the Elektron, which is the Russian system. So oxygen production is not an issue," Shireman said.

"Carbon dioxide, we have the Vozdukh, which is the Russian carbon dioxide scrubber, we have the CDRA, the carbon dioxide removal assembly aboard the U.S. segment. Those two together cannot take care of 13 completely, so we'll actually be utilizing two lithium hydroxide canisters on board the shuttle every day to keep the carbon dioxide within its limits. We have a stockpile plus margin aboard ISS, so that's not an issue.

"In terms of food preparation, we have basically three galleys, the shuttle has a galley, the ISS in the U.S. segment has a galley and then there's the Russian segment galley and food warmers, all those things are functional. We'll have plenty of food preparation capability so we don't expect any difficulties there.

"To the best of our ability, we've tried to think of all those things that having additional people on board dictate," Shireman said. "I think we have a good plan at this point in time. I expect we'll learn and adapt during the mission as we see it unfold."

As for bathroom management, Shireman said he did not expect any problems.

"We've been planning for this for quite some time," he said. "We have the whole thing choreographed. When the shuttle crew arrives, there's actually three functioning bathrooms, so there's actually more bathrooms per person than we've had in the past, if you think about it."

Up until now, the station's science output has been limited because assembly was ongoing and the lab's three full-time crew members were busy simply maintaining the growing complex. With a crew of six, the time devoted to scientific research is expected to triple, jumping from 20 hours a week to more than 70.

"We've been building the International Space Station for 10 years now and we've finally gotten to a point now where it has some incredible laboratory facilities and six people on board the station to do some science," Thirsk said. "So you're going to see over 1,000 hours (in the near term) of crew time devoted to research and development."

More than 100 experiments are planned for the Expedition 20 crew.

"We're going to be doing life science work, we're going to be doing medical operations, plant biology, fluid physics, materials processing, exploiting this weightless environment of space," Thirsk said. "We're ... doing some great, fundamental science for preparing humans for the next venture into space."

But for now, it's not clear what that next venture will be.


Additional coverage for subscribers:


VIDEO: THE STS-127 MISSION PREVIEW MOVIE PLAY


VIDEO: THURSDAY'S PRE-LAUNCH NEWS CONFERENCE PLAY


VIDEO: JAPANESE SCIENCE FACILITIES ABOARD STATION PLAY


VIDEO: COUNTDOWN BEGINS TICKING FOR SATURDAY'S LAUNCH PLAY


VIDEO: LAUNCH COUNTDOWN PREVIEW BRIEFING PLAY


VIDEO: CREW ARRIVES JUST BEFORE MIDNIGHT PLAY | HI-DEF


VIDEO: GET TO KNOW ENDEAVOUR'S ASTRONAUTS PLAY



VIDEO: ASTRONAUTS PRACTICE EVACUATION OF SHUTTLE PLAY | HI-DEF


VIDEO: CREW BOARDS SHUTTLE FOR PRACTICE COUNT PLAY | HI-DEF


VIDEO: ASTRONAUTS SUIT UP FOR DRESS REHEARSAL PLAY | HI-DEF


VIDEO: CREW INSPECTS CARGO IN THE PAYLOAD BAY PLAY | HI-DEF


VIDEO: TRAINING SESSIONS AT LAUNCH PAD AND BUNKER PLAY | HI-DEF


VIDEO: INFORMAL CREW NEWS CONFERENCE AT LAUNCH PAD PLAY


VIDEO: ASTRONAUTS ARRIVE FOR PRACTICE COUNTDOWN PLAY



VIDEO: FLIGHT READINESS REVIEW SETS LAUNCH DATE PLAY



VIDEO: PAD 39A GANTRY ENCLOSES SHUTTLE PLAY | HI-DEF


VIDEO: ROLLAROUND MOVES ENDEAVOUR TO PAD 39A PLAY | HI-DEF


VIDEO: ENDEAVOUR IS HAULED OFF LAUNCH PAD 39B PLAY | HI-DEF


VIDEO: TIME-LAPSE OF SHUTTLE'S LAUNCH PAD SWITCH PLAY



VIDEO: SHUTTLE AND STATION PROGRAM UPDATE PLAY


VIDEO: THE STS-127 MISSION OVERVIEW BRIEFING PLAY


VIDEO: PREVIEW BRIEFING ON MISSION'S SPACEWALKS PLAY


VIDEO: THE ASTRONAUTS' PRE-FLIGHT NEWS BRIEFING PLAY



VIDEO: PAD 39B AND ITS LAST SPACE SHUTTLE PLAY | HI-DEF


VIDEO: ENDEAVOUR'S SUNRISE ARRIVAL AT PAD 39B PLAY | HI-DEF


VIDEO: MIDNIGHT ROLLOUT FROM ASSEMBLY BUILDING PLAY | HI-DEF


VIDEO: ENDEAVOUR HOISTED FOR ATTACHMENT TO TANK PLAY | HI-DEF


VIDEO: CRANE ROTATES ENDEAVOUR VERTICALLY PLAY | HI-DEF


VIDEO: ENDEAVOUR MOVES TO ASSEMBLY BUILDING PLAY | HI-DEF


VIDEO: ORION AND ARES ROCKET PROGRESS REPORT PLAY


SUBSCRIBE NOW