Countdown clocks start ticking for Endeavour launch
BY WILLIAM HARWOOD
STORY WRITTEN FOR CBS NEWS "SPACE PLACE" & USED WITH PERMISSION
Posted: June 10, 2009


The countdown began today for the shuttle Endeavour's launch Saturday on a complex 16-day space station assembly mission. There are no technical problems of any significance at launch complex 39A and forecasters are predicting a 90 percent chance of good weather.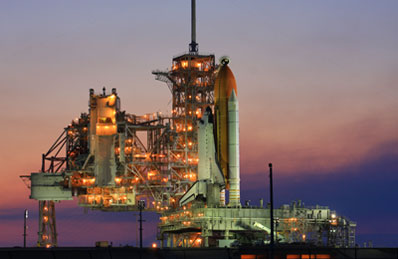 File photo. Credit: Stephen Clark



"The launch team and the flight crew are all very excited to be in launch countdown, we've worked hard to get here and we're all eager to get Endeavour and her crew on the way to the International Space Station," said NASA Test Director Steve Payne.

"Right now, Endeavour's in great shape, the launch countdown is progressing nominally, the weather looks like it might cooperate and we are ready to fly this mission."

Commander Mark Polansky, pilot Douglas Hurley, Canadian flight engineer Julie Payette, David Wolf, Christopher Cassidy, Thomas Marshburn and space station flight engineer Timothy Kopra flew to the Kennedy Space Center from Houston late Monday to prepare for launch.

The countdown began on time at 9 a.m. today, setting up a launch attempt at 7:17:15 a.m. EDT Saturday, roughly the moment Earth's rotation carries launch pad 39A into the plane of the space station's orbit. The shuttle has enough power to launch five minutes to either side of that "in-plane" time, but NASA targets the middle of the 10-minute window to maximize ascent performance.

Forecasters are predicting virtually ideal weather Saturday, with light winds and only a 10 percent chance of cumulus clouds that could raise a concern about rocket-triggered lightning. NASA's emergency runways in New Mexico, California, Spain and France are all expected to be "go" for launch.

On Sunday and Monday, the forecast drops to 80 percent go, with cumulus clouds and showers possible within 20 nautical miles of the Shuttle Landing Facility. Conditions at three of NASA's five backup landing sites also are expected to deteriorate, but at least one site should be available in both Europe and the United States.

"Right now, weather's looking very good for launch time," said Air Force Lt. Col. Patrick Barrett, a forecaster with the 45th Weather Squadron at nearby Patrick Air Force Base. "I think the weather is cooperating very well for us and we should be good to go."

NASA only has three days to get Endeavour off the pad or the flight will be delayed until after the planned June 17 launch of NASA's Lunar Reconnaissance Orbiter.

If the launch is delayed, and if the lunar orbiter takes off on time, NASA may be able to make additional attempts to launch Endeavour on June 19 and 20. After that, the flight would slip to July 11 because of temperature constraints related to the space station's orbit.


Additional coverage for subscribers:


VIDEO: LAUNCH COUNTDOWN PREVIEW BRIEFING PLAY


VIDEO: CREW ARRIVES JUST BEFORE MIDNIGHT PLAY | HI-DEF


VIDEO: GET TO KNOW ENDEAVOUR'S ASTRONAUTS PLAY



VIDEO: ASTRONAUTS PRACTICE EVACUATION OF SHUTTLE PLAY | HI-DEF


VIDEO: CREW BOARDS SHUTTLE FOR PRACTICE COUNT PLAY | HI-DEF


VIDEO: ASTRONAUTS SUIT UP FOR DRESS REHEARSAL PLAY | HI-DEF


VIDEO: CREW INSPECTS CARGO IN THE PAYLOAD BAY PLAY | HI-DEF


VIDEO: TRAINING SESSIONS AT LAUNCH PAD AND BUNKER PLAY | HI-DEF


VIDEO: INFORMAL CREW NEWS CONFERENCE AT LAUNCH PAD PLAY


VIDEO: ASTRONAUTS ARRIVE FOR PRACTICE COUNTDOWN PLAY



VIDEO: FLIGHT READINESS REVIEW SETS LAUNCH DATE PLAY



VIDEO: PAD 39A GANTRY ENCLOSES SHUTTLE PLAY | HI-DEF


VIDEO: ROLLAROUND MOVES ENDEAVOUR TO PAD 39A PLAY | HI-DEF


VIDEO: ENDEAVOUR IS HAULED OFF LAUNCH PAD 39B PLAY | HI-DEF


VIDEO: TIME-LAPSE OF SHUTTLE'S LAUNCH PAD SWITCH PLAY



VIDEO: SHUTTLE AND STATION PROGRAM UPDATE PLAY


VIDEO: THE STS-127 MISSION OVERVIEW BRIEFING PLAY


VIDEO: PREVIEW BRIEFING ON MISSION'S SPACEWALKS PLAY


VIDEO: THE ASTRONAUTS' PRE-FLIGHT NEWS BRIEFING PLAY



VIDEO: PAD 39B AND ITS LAST SPACE SHUTTLE PLAY | HI-DEF


VIDEO: ENDEAVOUR'S SUNRISE ARRIVAL AT PAD 39B PLAY | HI-DEF


VIDEO: MIDNIGHT ROLLOUT FROM ASSEMBLY BUILDING PLAY | HI-DEF


VIDEO: ENDEAVOUR HOISTED FOR ATTACHMENT TO TANK PLAY | HI-DEF


VIDEO: CRANE ROTATES ENDEAVOUR VERTICALLY PLAY | HI-DEF


VIDEO: ENDEAVOUR MOVES TO ASSEMBLY BUILDING PLAY | HI-DEF


VIDEO: ORION AND ARES ROCKET PROGRESS REPORT PLAY


SUBSCRIBE NOW