Endeavour astronauts jet
into the Cape for launch
BY WILLIAM HARWOOD
STORY WRITTEN FOR CBS NEWS "SPACE PLACE" & USED WITH PERMISSION
Posted: June 9, 2009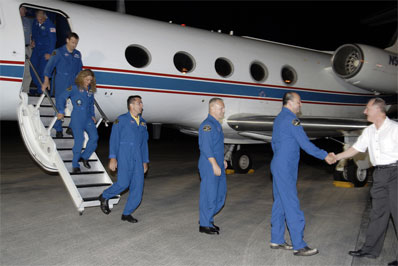 Launch director Pete Nickolenko welcomes the astronauts. Credit: NASA-KSC



The crew of the shuttle Endeavour flew back to Florida late Monday to prepare for blastoff Saturday on a complex space station assembly mission.

"Thanks for coming out at the lovely hour of just past, let me see what time is it, midnight here at KSC," commander Mark Polansky told reporters at the shuttle landing strip. "The STS-127 crew, we're absolutely thrilled to be down here in preparation for Saturday's launch of Endeavour.

"I just think it's really incredible to be part of a team that has six people in orbit now on the International Space Station and when we get there, we'll have 13 on board for the very first time. We'll have all of the major international partner space agencies represented at once. And if that's not enough, we're going to be challenged with five spacewalks, coupled with complicated robotics using three different arms, all at the same time.

"So we're really happy to be a part of that," Polansky said. "As astronauts, we often get a lot of the spotlight, but this mission is a really great reminder of the countless number of men and women around the globe who work so tirelessly to go ahead and prepare missions like this and others, and that's something that I think we're all really proud to be a part of."

Polansky, pilot Douglas Hurley, Canadian flight engineer Julie Payette, David Wolf, Christopher Cassidy, Thomas Marshburn and space station flight engineer Timothy Kopra landed at the Florida space center just before midnight.

"Thank you for taking the time to come and see us at this ungodly hour," said Payette. "This represents, of course, one of those flights where we have to shift in a completely different time zone in order to synch up with the space station. And for that, we become a bit of a stealth flight."

Engineers plan to start Endeavour's countdown at 9 a.m. Wednesday, setting up a launch attempt Saturday at 7:17:15 a.m., roughly the moment Earth's rotation carries launch pad 39A into the plane of the space station's orbit.

The goals of the 16-day five-spacewalk mission are to deliver and attach a Japanese experiment platform; to replace aging solar array batteries; to deliver critical spare parts; and to ferry Kopra to the lab complex to replace Japanese astronaut Koichi Wakata.

As it now stands, NASA will only have three days to get Endeavour off the pad or the flight will be delayed until after the planned June 17 launch of NASA's Lunar Reconnaissance Orbiter.

If the shuttle launch is delayed past Monday, and if the lunar orbiter takes off on time next Wednesday, NASA may be able to make additional attempts to launch Endeavour on June 19 and 20. After that, the flight would slip to July 11 because of temperature constraints related to the space station's orbit.

"We are so ready to go, we just can't wait," said Marshburn. "It's an awesome experience to see what the team here at Kennedy has done to get us ready to go, to get the orbiter ready to go."

Said Wolf: "The space station is really one of the great wonders of the human race that's ever been produced. We have a very challenging mission, we have a very talented team, that's a perfect combination. Thanks much."


Additional coverage for subscribers:


VIDEO: CREW ARRIVES JUST BEFORE MIDNIGHT PLAY


VIDEO: GET TO KNOW ENDEAVOUR'S ASTRONAUTS PLAY



VIDEO: ASTRONAUTS PRACTICE EVACUATION OF SHUTTLE PLAY | HI-DEF


VIDEO: CREW BOARDS SHUTTLE FOR PRACTICE COUNT PLAY | HI-DEF


VIDEO: ASTRONAUTS SUIT UP FOR DRESS REHEARSAL PLAY | HI-DEF


VIDEO: CREW INSPECTS CARGO IN THE PAYLOAD BAY PLAY | HI-DEF


VIDEO: TRAINING SESSIONS AT LAUNCH PAD AND BUNKER PLAY | HI-DEF


VIDEO: INFORMAL CREW NEWS CONFERENCE AT LAUNCH PAD PLAY


VIDEO: ASTRONAUTS ARRIVE FOR PRACTICE COUNTDOWN PLAY



VIDEO: FLIGHT READINESS REVIEW SETS LAUNCH DATE PLAY



VIDEO: PAD 39A GANTRY ENCLOSES SHUTTLE PLAY | HI-DEF


VIDEO: ROLLAROUND MOVES ENDEAVOUR TO PAD 39A PLAY | HI-DEF


VIDEO: ENDEAVOUR IS HAULED OFF LAUNCH PAD 39B PLAY | HI-DEF


VIDEO: TIME-LAPSE OF SHUTTLE'S LAUNCH PAD SWITCH PLAY



VIDEO: SHUTTLE AND STATION PROGRAM UPDATE PLAY


VIDEO: THE STS-127 MISSION OVERVIEW BRIEFING PLAY


VIDEO: PREVIEW BRIEFING ON MISSION'S SPACEWALKS PLAY


VIDEO: THE ASTRONAUTS' PRE-FLIGHT NEWS BRIEFING PLAY



VIDEO: PAD 39B AND ITS LAST SPACE SHUTTLE PLAY | HI-DEF


VIDEO: ENDEAVOUR'S SUNRISE ARRIVAL AT PAD 39B PLAY | HI-DEF


VIDEO: MIDNIGHT ROLLOUT FROM ASSEMBLY BUILDING PLAY | HI-DEF


VIDEO: ENDEAVOUR HOISTED FOR ATTACHMENT TO TANK PLAY | HI-DEF


VIDEO: CRANE ROTATES ENDEAVOUR VERTICALLY PLAY | HI-DEF


VIDEO: ENDEAVOUR MOVES TO ASSEMBLY BUILDING PLAY | HI-DEF


VIDEO: ORION AND ARES ROCKET PROGRESS REPORT PLAY


SUBSCRIBE NOW