Shuttle managers pressing ahead with planned launch
BY WILLIAM HARWOOD
STORY WRITTEN FOR CBS NEWS "SPACE PLACE" & USED WITH PERMISSION
Posted: May 29, 2009


NASA managers met Friday and decided to continue processing the shuttle Endeavour for launch June 13 on a five-spacewalk space station assembly mission while continuing an analysis of a short circuit that knocked an avionics unit off line during the shuttle Atlantis' liftoff May 11.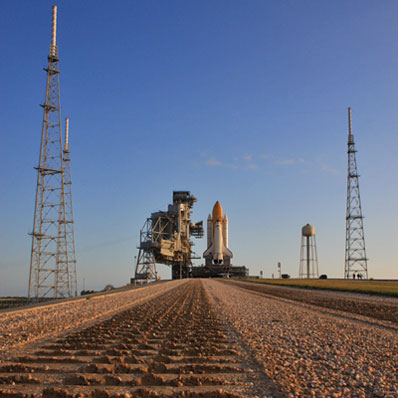 Credit: Justin Ray/Spaceflight Now



An executive-level flight readiness review is planned for next Wednesday to assess the status of launch processing and to set an official launch date. While the short circuit analysis is not complete, engineers are optimistic it will have no impact on Endeavour's launch.

The weather, however, is another matter. To make the June 13 target, Endeavour must be moved from pad 39B, where it was on stand-by for emergency rescue duty during Atlantis' Hubble Space Telescope servicing mission, to pad 39A on Sunday.

Rollover had been targeted for Friday, but it has now slipped to Sunday, primarily because of stormy weather that delayed rollover preparations. With no contingency time left in the processing schedule to handle unexpected problems, another rollover delay - or any other significant issue - likely would delay launch.

As it now stands, NASA only has three days to get Endeavour off the ground in June or the flight will be delayed one month. The short window is the result of a conflict with another high-priority mission - launch of NASA's Lunar Reconnaissance Orbiter on June 17 - and temperature constraints due to the space station's orbit.

If Endeavour misses the three-day June launch window, the flight will slip to around July 11, based on the most recent analysis of the station's trajectory.

Along with moving Endeavour to pad 39A Sunday, NASA also plans to begin the shuttle Atlantis's ferry flight back to the Kennedy Space Center from Edwards Air Force Base, Calif., where the orbiter landed last weekend.

Because of its diversion to California and the time needed to prepare the ship for its cross country flight atop NASA's 747 transport jet, engineers have not yet gained access to the aft avionics bay where aerosurface actuator No. 1, the unit that failed during launch, is located.

Based on telemetry, engineers believe a short circuit in the wiring leading to or from the box triggered the failure, not a problem with the box itself. The unit is part of a redundant system used to move the shuttle's elevons and rudder/speedbrake and its failure had no impact on Atlantis' climb to space or subsequent re-entry.

But engineers want to make sure the short is not the result of any kind of fleet-wide wiring problem. As a result, ASA-1 will be pulled from Atlantis and subjected to inspections and electrical tests to help isolate the issue.

Endeavour, built to replace the shuttle Challenger, is NASA's newest space shuttle and engineers are confident its wiring is in good shape. But if any problems are found, engineers will re-assess the launch schedule and what, if anything, might be needed to clear the ship for flight.

Hoping for the best, Atlantis commander Mark Polansky, pilot Douglas Hurley, flight engineer Julie Payette, spacewalkers David Wolf, Christopher Cassidy, Thomas Marshburn and space station flight engineer Timothy Kopra plan to fly to Florida Tuesday to review launch pad emergency procedures and to participate in a practice countdown Thursday.

The primary goals of Endeavour's five-spacewalk mission are to attach an external experiment platform to the Japanese Kibo laboratory, to replace batteries on the space station's oldest set of solar arrays, to deliver critical spare parts and to perform a variety of get-ahead tasks for upcoming assembly flights.

The space station program achieved a major milestone Friday with arrival of three fresh crew members, boosting the lab's full-time crew to six.

Before Endeavour's arrival, Expedition 20 commander Gennady Padalka and Michael Barratt plan to carry out two spacewalks June 5 and 10 - the day Endeavour's countdown is expected to begin - to prepare the Russian Zvezda command module for the attachment of a new docking module.


Additional coverage for subscribers:


VIDEO: SHUTTLE AND STATION PROGRAM UPDATE PLAY


VIDEO: THE STS-127 MISSION OVERVIEW BRIEFING PLAY


VIDEO: PREVIEW BRIEFING ON MISSION'S SPACEWALKS PLAY


VIDEO: THE ASTRONAUTS' PRE-FLIGHT NEWS BRIEFING PLAY



VIDEO: PAD 39B AND ITS LAST SPACE SHUTTLE PLAY | HI-DEF


VIDEO: ENDEAVOUR'S SUNRISE ARRIVAL AT PAD 39B PLAY | HI-DEF


VIDEO: MIDNIGHT ROLLOUT FROM ASSEMBLY BUILDING PLAY | HI-DEF


VIDEO: ENDEAVOUR HOISTED FOR ATTACHMENT TO TANK PLAY | HI-DEF


VIDEO: CRANE ROTATES ENDEAVOUR VERTICALLY PLAY | HI-DEF


VIDEO: ENDEAVOUR MOVES TO ASSEMBLY BUILDING PLAY | HI-DEF


VIDEO: ORION AND ARES ROCKET PROGRESS REPORT PLAY


SUBSCRIBE NOW