NASA faces hurdles to launch Endeavour in June window
BY JUSTIN RAY
SPACEFLIGHT NOW
Posted: May 28, 2009


Space shuttle Endeavour will switch launch pads at the Kennedy Space Center on Sunday morning, a move that's coming later than expected and making the schedules leading toward a mid-June space station construction flight even tighter.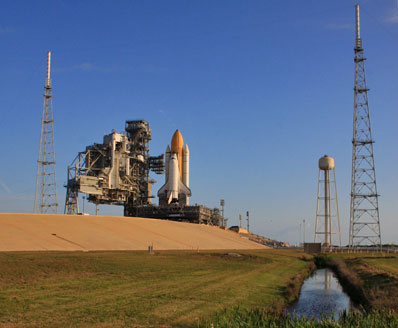 Credit: Justin Ray/Spaceflight Now



Endeavour was positioned atop pad 39B on April 17 to serve as a standby rescue vehicle during shuttle Atlantis' servicing mission to the Hubble Space Telescope that launched from pad 39A on May 11. Atlantis flew the action-packed mission that renewed the observatory for an extended life and then safely landed last Sunday in California.

Pad 39B is undergoing modifications for the Ares 1-X rocket launch in late August or early September. Although the pad can support an emergency shuttle launch, NASA now wants to turn over the site to the new Constellation program to finish the preps for this summer's rocket test flight.

And so Endeavour will transfer from the northern pad to the southern one at Complex 39 beginning at 12:01 a.m. EDT (0401 GMT) Sunday.

The payloads to launch aboard Endeavour, including the external science facility for Japan's segment of the space station and spare parts for the outpost, were stowed in the pad 39A cleanroom this week to await the shuttle's arrival.

NASA was targeting a Saturday rollaround of Endeavour. However, the poor weather conditions that forced Atlantis' landing to be diverted from Florida to California have continued to plague the Cape area and slowed down work at pad 39B.

But the one-day slip now puts Endeavour's targeted June 13 launch date in jeopardy. NASA managers say there's virtually no slack in the schedule that includes a practice countdown for the astronauts and installing the payloads. Thursday's decision to delay the rollaround means a one-day slip to the launch date could be unavoidable.

"The ground operations team at KSC is amazing, so I never count them out," said John Shannon, the shuttle program manager. "So if we rolled on Sunday as opposed to Saturday, maybe they could make it up. We'd have a meeting to discuss it and look at the schedules and see what could be done. But it's getting very tight."

As things currently stand, Endeavour would have to launch no later than June 19 or else remain on the ground until July 12 because of thermal constraints between the shuttle and the space station's orbit.

A possible further complicating factor for the June window could be the planned Atlas 5 rocket launch from nearby Complex 41 on June 17 carrying NASA's Lunar Reconnaissance Orbiter to the moon and a lunar impactor secondary payload called LCROSS. The Air Force's Eastern Range that provides tracking, safety and communications services to all shuttle and rocket launches from the Cape needs 48 hours between flights to reconfigure systems. As such, Endeavour would get three early morning tries June 13, 14 and 15 before giving way to the Atlas launch on the afternoon June 17.

Whether the Atlas could step aside for the shuttle has not been decided. The lunar launch has four-day windows available every couple of weeks, including periods opening June 17 and July 1.

"It's a NASA launch with a NASA payload on it, so we'd talk about it. But there's great interest in getting that launch off on that time and right now the plan would be is we would move over to July if we could not get off in those three days," Shannon said.

Perhaps a more pressing issue to Endeavour's launch date, however, could be resolving the short circuit seen during Atlantis' liftoff that knocked out an aerosurface-control avionics box. Managers want to know what caused the short and make sure a similar condition doesn't exist on Endeavour.

Engineers don't have sufficient access inside the shuttle while it's in California to inspect the associated wiring and would be forced to wait until Atlantis gets back to the hangar at Kennedy Space Center to do those checks, Shannon said.

Ground crews are readying the shuttle for mating atop a 747 carrier jet and the ferry trip back to Florida that could begin as early as Sunday. Arrival back at the Cape isn't expected before Monday.

An ongoing debate that hasn't been settled is whether to continue with launch preps and assume Endeavour's wiring will be cleared or else stand down from trying to launch in June and await the inspection work once Atlantis returns.

"We're going to meet tomorrow and talk about the (problem) some more, and I think tomorrow we'll decide whether it's really required to have the data from Atlantis and then what the timeline of that looks like," Shannon said Thursday.

"If that is required, obviously having the ferry completed and having Atlantis back in the Orbiter Processing Facility to take a look at the wiring would be required before we commit to a flight date. We're going to have that discussion tomorrow and we'll let folks know where we end up on that."

The problem seen on Atlantis caused no impact to the mission. But the short did fail one of four redundant units that route computer commands to the hydraulic actuators used to move the shuttle's aerosurfaces.

"We have a lot of confidence in wiring on Endeavour. We don't completely understand what piece of wiring failed on (Atlantis) and while you have a lot of confidence on what Endeavour's configuration is, you still have some doubt and you'd want to go and find out exactly what the problem was on (Atlantis) and just lay eyes on the same wiring on (Endeavour) and verify you don't have a generic problem. History would say we don't have a generic problem and we should not have to worry about it, but then there's just a level of conservatism that says 'hey, let's just go and make sure.'"


Additional coverage for subscribers:


VIDEO: PAD 39B AND ITS LAST SPACE SHUTTLE PLAY | HI-DEF


VIDEO: ENDEAVOUR'S SUNRISE ARRIVAL AT PAD 39B PLAY | HI-DEF


VIDEO: MIDNIGHT ROLLOUT FROM ASSEMBLY BUILDING PLAY | HI-DEF


VIDEO: ENDEAVOUR HOISTED FOR ATTACHMENT TO TANK PLAY | HI-DEF


VIDEO: CRANE ROTATES ENDEAVOUR VERTICALLY PLAY | HI-DEF


VIDEO: ENDEAVOUR MOVES TO ASSEMBLY BUILDING PLAY | HI-DEF


VIDEO: ORION AND ARES ROCKET PROGRESS REPORT PLAY


SUBSCRIBE NOW