Shuttle Atlantis to land on one coast or the other today
BY WILLIAM HARWOOD
STORY WRITTEN FOR CBS NEWS "SPACE PLACE" & USED WITH PERMISSION
Posted: May 24, 2009


Delayed two days by stormy weather in Florida, the Atlantis astronauts rigged the shuttle for re-entry again today, prepared to head for California if necessary to finally close out their Hubble Space Telescope repair mission.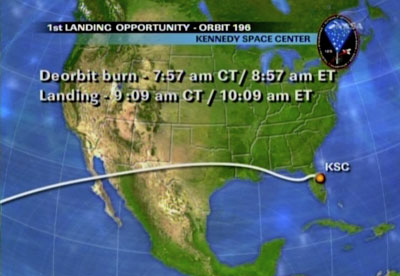 Credit: NASA TV



The crew has two opportunities to land at Florida's Kennedy Space Center today, the first at 10:09 a.m. and the second at 11:48 a.m., and two at Edwards Air Force Base, Calif., one at 11:38 a.m. EDT and the other at 1:17 p.m. EDT.

The astronauts were awakened shortly after 1 a.m. by a recording of Richard Wagner's "Ride of the Valkyries" beamed up from mission control by the overnight planning shift.

"And Houston, we want to take a minute before you guys go off shift to say thank you for staying with us through this weekend," commander Scott Altman said later. "I know it's meant a lot of folks spent the weekend in MCC (mission control center) instead of at the beach for the Memorial Day weekend. We appreciate the sacrifices that are being made to support us while we're continuing to go around. We surely do appreciate it."

The Spaceflight Meteorology Group at the Johnson Space Center in Houston is predicting a chance of thundershowers within 30 nautical miles of the Kennedy Space Center runway and a deck of broken clouds at 3,500 feet, both violations of NASA's entry flight rules. The forecast for Edwards Air Force Base in California's Mojave Desert calls for clear skies and light winds.

"We're marching into deorbit prep," astronaut Gregory H. Johnson radioed from mission control just before 5 a.m. "We've gotten an initial weather brief on KSC. It's a similar pattern to yesterday. We are going to march down just like we did yesterday to (payload bay) door closure (around 6:15 a.m.) and see where we get. We're also closely watching Edwards, orbit 197, that's the first opportunity into Edwards. So (we're) looking at KSC for the first rev and then your second orbit, we'll be looking at KSC and Edwards."

"OK, Houston," Altman replied. "That's kind of what I expected. Basically, look at the first orbit to KSC and then make a call on the second orbit for Edwards or KSC."

"Yes, and to wrap that up with a bow, Scooter, the weather at Edwards is looking great," Johnson said.

"OK, that's nice to know, that Edwards is solid as a backup."

"Roger, the sky is clear out there in California and the wind is right down the runway at about 17 knots."

"Sounds good," Altman said.

The astronauts originally hoped to land Friday, but low clouds and thundershowers from a low pressure system forced entry Flight Director Norm Knight to order a one-day wave off. Conditions were roughly the same Saturday and Knight considered diverting the crew to California. But in the end, despite a marginal forecast, he decided on another one-day wave off in hopes of better conditions today.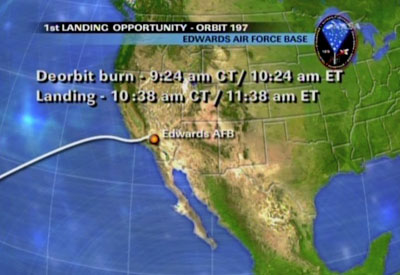 Credit: NASA TV



A landing in California would cost NASA's about $1.8 million and a week to 10 days of lost processing time. But another concern is getting access to an avionics box in the orbiter's engine compartment that failed right at liftoff May 11.

The aerosurface actuator control box is one of four redundant units used to format computer commands to the hydraulic actuators that move the shuttle's elevons and rudder/speedbrake. The failure in ASA-1 caused no problems for Atlantis, but NASA managers need to make sure it's not the result of some generic problem that could affect the shuttle Endeavour, scheduled for launch June 13.

If Atlantis is diverted to California, access to the failed unit will be delayed and engineers will not have as much time for troubleshooting. Endeavour's flight readiness review is planned for June 3.

EDT...........EVENT

Rev. 196 Deorbit to KSC

Deorbit ignition (TIG): 08:56:56 AM (dV: 171 mph; dT: 02:31)
Crossrange: 173 statute miles
Range to KSC at entry interface (atmospheric entry): 4,909 statute miles
Landing: 10:09:28 AM

04:56 AM......Begin deorbit timeline
05:11 AM......Radiator stow
05:21 AM......Mission specialists seat installation
05:27 AM......Computers set for deorbit prep
05:31 AM......Hydraulic system configuration
05:56 AM......Flash evaporator checkout
06:02 AM......Final payload deactivation
06:16 AM......Payload bay doors closed
06:26 AM......Mission control 'go' for OPS-3 software load
06:36 AM......OPS-3 entry software loaded
07:01 AM......Entry switchlist verification
07:11 AM......Deorbit maneuver update
07:16 AM......Crew entry review
07:31 AM......CDR/PLT don entry suits
07:48 AM......IMU alignment
07:56 AM......CDR/PLT strap in; MS suit don
08:13 AM......Shuttle steering check
08:16 AM......Hydraulic system prestart
08:23 AM......Toilet deactivation
08:36 AM......MCC 'go' for deorbit burn
08:42 AM......MS seat ingress
08:51 AM......Single APU start

08:56:56 AM...Deorbit ignition
08:59:27 AM...Deorbit burn complete

09:38:12 AM...Entry interface
09:42:39 AM...1st roll command to left
09:51:06 AM...1st right-to-let roll reversal
09:56:28 AM...C-band radar acquisition
10:03:02 AM...Velocity less than mach 2.5
10:05:12 AM...Velocity less than mach 1
10:05:28 AM...305-degree left turn to runway 15
10:09:28 AM...Landing

-----------------------------------------------

Rev. 197 Deorbit to EDW

TIG: 10:24:06 AM (dV: 182 mph; dT: 2:40)
Crossrange: 467 sm
Range to EDW at entry interface: 4,889 sm
Landing: 11:38:52 AM

10:04 AM......MCC 'go' for deorbit burn
10:10 AM......MS seat ingress
10:19 AM......Single APU start

10:24:06 AM...Deorbit ignition
10:26:46 AM...Deorbit burn complete

11:07:54 AM...Entry interface
11:12:23 AM...1st roll command to left
11:23:41 AM...1st left-to-right roll reversal
11:32:38 AM...Velocity less than mach 2.5
11:34:51 AM...Velocity less than mach 1
11:35:45 AM...205-degree left turn to runway 22
11:38:52 AM...Landing

-----------------------------------------------

Rev. 197 Deorbit to KSC

TIG: 10:40:56 AM (dV: 171 mph; dT: 2:32)
Crossrange: 632 sm
Range to KSC at entry interface: 4,878 sm
Landing: 11:48:16 AM

10:20 AM......MCC 'go' for deorbit burn
10:26 AM......MS seat ingress
10:35 AM......Single APU start

10:40:56 AM...Deorbit ignition
10:43:28 AM...Deorbit burn complete

11:17:07 AM...Entry interface
11:21:34 AM...1st roll command to left
11:34:26 AM...1st left-to-right roll reversal
11:41:53 AM...Velocity less than mach 2.5
11:44:02 AM...Velocity less than mach 1
11:44:16 AM...304 degree left turn to runway 15
11:48:16 AM...Landing

-----------------------------------------------

Rev. 198 Deorbit to EDW

TIG: 12:07:06 PM (dV: 168 mph; dT: 2:28)
Crossrange: 754 sm
Range to EDW at entry interface: 4,864 sm
Landing: 01:17:43 PM

11:47 AM......MCC 'go' for deorbit burn
11:53 AM......MS seat ingress
12:02 PM......Single APU start

12:07:06 PM...Deorbit ignition
12:09:35 PM...Deorbit burn complete

12:46:40 PM...Entry interface
12:51:06 PM...1st roll command to left
01:05:23 PM...1st left-to-right roll reversal
01:11:31 PM...Velocity less than mach 2.5
01:13:43 PM...Velocity less than mach 1
01:14:38 PM...200-degree left turn to runway 22
01:17:43 PM...Landing
EDT...........EVENT

Rev. 196 Deorbit to KSC

Deorbit ignition (TIG): 08:56:56 AM (dV: 171 mph; dT: 02:31)
Crossrange: 173 statute miles
Range to KSC at entry interface (atmospheric entry): 4,909 statute miles
Landing: 10:09:28 AM

04:56 AM......Begin deorbit timeline
05:11 AM......Radiator stow
05:21 AM......Mission specialists seat installation
05:27 AM......Computers set for deorbit prep
05:31 AM......Hydraulic system configuration
05:56 AM......Flash evaporator checkout
06:02 AM......Final payload deactivation
06:16 AM......Payload bay doors closed
06:26 AM......Mission control 'go' for OPS-3 software load
06:36 AM......OPS-3 entry software loaded
07:01 AM......Entry switchlist verification
07:11 AM......Deorbit maneuver update
07:16 AM......Crew entry review
07:31 AM......CDR/PLT don entry suits
07:48 AM......IMU alignment
07:56 AM......CDR/PLT strap in; MS suit don
08:13 AM......Shuttle steering check
08:16 AM......Hydraulic system prestart
08:23 AM......Toilet deactivation
08:36 AM......MCC 'go' for deorbit burn
08:42 AM......MS seat ingress
08:51 AM......Single APU start

08:56:56 AM...Deorbit ignition
08:59:27 AM...Deorbit burn complete

09:38:12 AM...Entry interface
09:42:39 AM...1st roll command to left
09:51:06 AM...1st right-to-let roll reversal
09:56:28 AM...C-band radar acquisition
10:03:02 AM...Velocity less than mach 2.5
10:05:12 AM...Velocity less than mach 1
10:05:28 AM...305-degree left turn to runway 15
10:09:28 AM...Landing

-----------------------------------------------

Rev. 197 Deorbit to EDW

TIG: 10:24:06 AM (dV: 182 mph; dT: 2:40)
Crossrange: 467 sm
Range to EDW at entry interface: 4,889 sm
Landing: 11:38:52 AM

10:04 AM......MCC 'go' for deorbit burn
10:10 AM......MS seat ingress
10:19 AM......Single APU start

10:24:06 AM...Deorbit ignition
10:26:46 AM...Deorbit burn complete

11:07:54 AM...Entry interface
11:12:23 AM...1st roll command to left
11:23:41 AM...1st left-to-right roll reversal
11:32:38 AM...Velocity less than mach 2.5
11:34:51 AM...Velocity less than mach 1
11:35:45 AM...205-degree left turn to runway 22
11:38:52 AM...Landing

-----------------------------------------------

Rev. 197 Deorbit to KSC

TIG: 10:40:56 AM (dV: 171 mph; dT: 2:32)
Crossrange: 632 sm
Range to KSC at entry interface: 4,878 sm
Landing: 11:48:16 AM

10:20 AM......MCC 'go' for deorbit burn
10:26 AM......MS seat ingress
10:35 AM......Single APU start

10:40:56 AM...Deorbit ignition
10:43:28 AM...Deorbit burn complete

11:17:07 AM...Entry interface
11:21:34 AM...1st roll command to left
11:34:26 AM...1st left-to-right roll reversal
11:41:53 AM...Velocity less than mach 2.5
11:44:02 AM...Velocity less than mach 1
11:44:16 AM...304 degree left turn to runway 15
11:48:16 AM...Landing

-----------------------------------------------

Rev. 198 Deorbit to EDW

TIG: 12:07:06 PM (dV: 168 mph; dT: 2:28)
Crossrange: 754 sm
Range to EDW at entry interface: 4,864 sm
Landing: 01:17:43 PM

11:47 AM......MCC 'go' for deorbit burn
11:53 AM......MS seat ingress
12:02 PM......Single APU start

12:07:06 PM...Deorbit ignition
12:09:35 PM...Deorbit burn complete

12:46:40 PM...Entry interface
12:51:06 PM...1st roll command to left
01:05:23 PM...1st left-to-right roll reversal
01:11:31 PM...Velocity less than mach 2.5
01:13:43 PM...Velocity less than mach 1
01:14:38 PM...200-degree left turn to runway 22
01:17:43 PM...Landing



Additional coverage for subscribers:


VIDEO: LANDING POSTPONED AN ADDITIONAL DAY BY WEATHER PLAY


VIDEO: LANDING POSTPONED 24 HOURS BY BAD WEATHER PLAY


VIDEO: PREVIEW OF FLIGHT DAY 12 ACTIVITIES PLAY



VIDEO: FLIGHT DAY 11 HIGHLIGHTS MOVIE PLAY


VIDEO: PRE-LANDING MISSION STATUS BRIEFING PLAY


VIDEO: TELEVISION NETWORKS INTERVIEW THE CREW PLAY


VIDEO: A LIVE CHAT BETWEEN ASTRONAUTS AND U.S. SENATORS PLAY


VIDEO: PREVIEW OF FLIGHT DAY 11 ACTIVITIES PLAY



VIDEO: LEFT-HAND BOOSTER CAMERA LOOKING UPWARD PLAY


VIDEO: LEFT-HAND BOOSTER CAMERA LOOKING INBOARD PLAY


VIDEO: LEFT-HAND BOOSTER CAMERA LOOKING DOWNWARD PLAY


VIDEO: RIGHT-HAND BOOSTER CAMERA LOOKING UPWARD PLAY


VIDEO: RIGHT-HAND BOOSTER CAMERA LOOKING INBOARD PLAY


VIDEO: RIGHT-HAND BOOSTER CAMERA LOOKING DOWNWARD PLAY



VIDEO: PRESIDENT OBAMA CALLS THE ATLANTIS ASTRONAUTS PLAY


VIDEO: ATLANTIS' HEAT SHIELD OFFICIALLY CLEARED FOR ENTRY PLAY


VIDEO: SHIP-TO-SHIP CALL BETWEEN ATLANTIS AND STATION PLAY


VIDEO: CREW'S IN-FLIGHT NEWS CONFERENCE PLAY



VIDEO: STATION CREW'S WATER TASTE-TEST CEREMONY PLAY



VIDEO: FLIGHT DAY 9 HIGHLIGHTS MOVIE PLAY


VIDEO: HST SCIENTIST CRITICIZES SHUTTLE RETIREMENT PLAY


VIDEO: HUBBLE DEPLOYED FROM THE SPACE SHUTTLE PLAY


VIDEO: TUESDAY'S MISSION STATUS BRIEFING PLAY


VIDEO: COMMANDER SCOTT ALTMAN'S COMMENTS AFTER DEPLOY PLAY


VIDEO: HUBBLE IS HOISTED OUT OF THE PAYLOAD BAY PLAY


VIDEO: ATLANTIS' ROBOT ARM GRAPPLES THE TELESCOPE PLAY


VIDEO: PREVIEW OF HST DEPLOY AND ATLANTIS INSPECTIONS PLAY



VIDEO: FLIGHT DAY 8 HIGHLIGHTS MOVIE PLAY


VIDEO: MONDAY NIGHT UPDATE FROM HST CONTROL CENTER PLAY


VIDEO: MONDAY'S MISSION STATUS BRIEFING PLAY


VIDEO: HUBBLE'S HIGH-GAIN ANTENNA BOOMS UNFOLDED PLAY


VIDEO: COVER PUT ON HUBBLE ANTENNA AS EVA CONCLUDES PLAY


VIDEO: REFLECTING ON THE MISSION AS SPACEWALK NEARS END PLAY


VIDEO: SHEET OF THERMAL COVERING ADDED TO BAY 7 DOOR PLAY


VIDEO: NEW THERMAL SHIELDING PANEL PUT ON BAY 8 DOOR PLAY


VIDEO: DEGRADED THERMAL BLANKET PEELED OFF BAY 5 DOOR PLAY


VIDEO: THE OLD FINE GUIDANCE SENSOR STOWED FOR LANDING PLAY


VIDEO: UPGRADED FINE GUIDANCE SENSOR INSTALLED IN HUBBLE PLAY


VIDEO: OLD FINE GUIDANCE SENSOR REMOVED FROM TELESCOPE PLAY


VIDEO: SPACEWALKERS STRUGGLE WITH BOLTS AND LATCHES PLAY


VIDEO: REPLACEMENT OF HUBBLE'S 19-YEAR-OLD BATTERIES PLAY


VIDEO: SPACEWALKERS EMERGE FROM AIRLOCK TO START EVA PLAY


VIDEO: NARRATED PREVIEW OF SPACEWALK NO. 5 PLAY



VIDEO: FLIGHT DAY 7 HIGHLIGHTS MOVIE PLAY


VIDEO: SUNDAY NIGHT UPDATE FROM HST CONTROL CENTER PLAY


VIDEO: SUNDAY'S MISSION STATUS BRIEFING PLAY


VIDEO: SPACE TELESCOPE IMAGING SPECTROGRAPH WORK DONE PLAY


VIDEO: OPENING COVER ON THE ELECTRONICS MODULE ON STIS PLAY


VIDEO: SPACEWALKER MIKE MASSIMINO REMOVES TINY SCREWS PLAY


VIDEO: TRIP FROM AIRLOCK BACK WITH SPARE POWER TOOL PLAY


VIDEO: CAPTURE PLATE MOUNTED ONTO STIS POWER MODULE PLAY


VIDEO: MASSIMINO FIGHTS WITH STUCK BOLT ON HANDRAIL PLAY


VIDEO: SPACEWALKERS GET ORGANIZED FOR STIS REPAIR PLAY


VIDEO: NARRATED PREVIEW OF SPACEWALK NO. 4 PLAY


VIDEO: FLIGHT DIRECTOR'S PREVIEW OF MISSION'S DAY 7 PLAY



VIDEO: FLIGHT DAY 6 HIGHLIGHTS MOVIE PLAY


VIDEO: SATURDAY NIGHT UPDATE FROM HST CONTROL CENTER PLAY


VIDEO: SATURDAY'S MISSION STATUS BRIEFING PLAY


VIDEO: REPAIR OF ADVANCED CAMERA FOR SURVEYS FINISHED PLAY


VIDEO: WATCH AS GRUNSFELD REPAIRS HUBBLE CAMERA PLAY


VIDEO: COSTAR STOWED IN ATLANTIS' PAYLOAD BAY PLAY


VIDEO: UMBILICALS HOOKED UP TO NEW INSTRUMENT PLAY


VIDEO: COSMIC ORIGINS SPECTROGRAPH INSTALLED PLAY


VIDEO: SPECTROGRAPH PREPPED IN LAUNCH CARRIER PLAY


VIDEO: COSTAR OPTICS PACKAGE REMOVED FROM HUBBLE PLAY


VIDEO: SPACEWALKERS OPEN SHROUD DOORS ON TELESCOPE PLAY


VIDEO: NARRATED PREVIEW OF SPACEWALK NO. 3 PLAY


VIDEO: FLIGHT DIRECTOR'S PREVIEW OF MISSION'S DAY 6 PLAY



VIDEO: FLIGHT DAY 5 HIGHLIGHTS MOVIE PLAY


VIDEO: FRIDAY NIGHT UPDATE FROM HST CONTROL CENTER PLAY


VIDEO: FRIDAY'S MISSION STATUS BRIEFING PLAY


VIDEO: SPARE GYRO UNIT INSTALLED INTO THIRD POSITION PLAY


VIDEO: ANOTHER GYROSCOPE UNIT PUT INTO SECOND SLOT PLAY


VIDEO: TROUBLE INSTALLING SECOND GYROSCOPE PACKAGE PLAY


VIDEO: REMOVAL OF SECOND GYROSCOPE PACKAGE FROM HUBBLE PLAY


VIDEO: INSTALLATION OF FIRST GYROSCOPE INTO HUBBLE PLAY


VIDEO: REMOVAL OF FIRST GYROSCOPE PACKAGE FROM HUBBLE PLAY


VIDEO: NARRATED PREVIEW OF SPACEWALK NO. 2 PLAY


VIDEO: FLIGHT DIRECTOR'S PREVIEW OF MISSION'S DAY 5 PLAY



VIDEO: FLIGHT DAY 4 HIGHLIGHTS MOVIE PLAY


VIDEO: THURSDAY NIGHT UPDATE FROM HST CONTROL CENTER PLAY


VIDEO: THURSDAY'S MISSION STATUS BRIEFING PLAY


VIDEO: SOFT CAPTURE MECHANISM PUT ON HUBBLE PLAY


VIDEO: SCIENCE INSTRUMENT COMMAND & DATA HANDLING UNIT PLAY


VIDEO: PARTIALLY FAILED SIC&DH UNIT REMOVED FROM HST PLAY


VIDEO: WFPC2 CAMERA STOWED IN ATLANTIS FOR RETURN PLAY


VIDEO: OVERVIEW OF WIDE FIELD CAMERA 3 INSTRUMENT PLAY


VIDEO: SPACEWALKERS INSTALL THE WIDE FIELD CAMERA 3 PLAY


VIDEO: NEW WIDE FIELD CAMERA 3 PREPPED FOR INSTALLATION PLAY


VIDEO: 16-YEAR-OLD WFPC2 CAMERA REMOVED FROM HUBBLE PLAY


VIDEO: LATCHING BOLT ON WPFC2 FINALLY RELEASED PLAY


VIDEO: FIGHTING WITH TROUBLESOME BOLT ON WPFC2 PLAY


VIDEO: FEUSTEL INSTALLS HANDLE ONTO WPFC2 FOR REMOVAL PLAY


VIDEO: HANDLING FIXTURE DEPLOYED TO HOLD OLD CAMERA PLAY


VIDEO: GRUNSFELD INSTALLS SUPPORT POSTS UNDER HST PLAY


VIDEO: FEUSTEL OPENS LATCHES ON INSTRUMENT CARRIER PLAY


VIDEO: ASTRONAUTS EXIT AIRLOCK TO START EVA NO. 1 PLAY


VIDEO: NARRATED PREVIEW OF SPACEWALK NO. 1 PLAY



VIDEO: FLIGHT DAY 3 HIGHLIGHTS MOVIE PLAY


VIDEO: WEDNESDAY NIGHT UPDATE FROM HST CONTROL CENTER PLAY


VIDEO: WEDNESDAY'S MISSION MANAGEMENT TEAM UPDATE PLAY


VIDEO: WEDNESDAY'S MISSION STATUS BRIEFING PLAY


VIDEO: TIME-LAPSE OF MOVING HUBBLE INTO PAYLOAD BAY PLAY


VIDEO: SHUTTLE ATLANTIS' ROBOT ARM CAPTURES HUBBLE PLAY


VIDEO: FIRST UP CLOSE VIEWS OF HUBBLE IN 7 YEARS PLAY


VIDEO: SHUTTLE ENGINE FIRING TO CIRCULARIZE ORBIT PLAY


VIDEO: INSIGHTFUL OVERVIEW OF ATLANTIS' MISSION PLAY


VIDEO: NARRATED PREVIEW ANIMATION OF HUBBLE RENDEZVOUS PLAY



VIDEO: FLIGHT DAY 2 HIGHLIGHTS MOVIE PLAY


VIDEO: TUESDAY NIGHT UPDATE FROM HST CONTROL CENTER PLAY


VIDEO: TUESDAY'S MISSION MANAGEMENT TEAM UPDATE PLAY


VIDEO: SLOW-MOTION OF DEBRIS THAT APPARENTLY HIT TILES PLAY


VIDEO: TILE DAMAGE FOUND DURING INSPECTIONS PLAY


VIDEO: CAPCOM CALLS CREW ABOUT MINOR DAMAGE PLAY


VIDEO: TUESDAY'S MISSION STATUS BRIEFING PLAY


VIDEO: PREVIEW ANIMATION OF HEAT SHIELD INSPECTIONS PLAY



VIDEO: FLIGHT DAY 1 HIGHLIGHTS MOVIE PLAY


VIDEO: THE FULL STS-125 LAUNCH EXPERIENCE PLAY


VIDEO: LAUNCH REPLAY: EXTERNAL TANK CAMERA PLAY


VIDEO: FOOTAGE OF FUEL TANK AFTER JETTISON PLAY



VIDEO: LAUNCH REPLAY: FRONT CAMERA PLAY


VIDEO: LAUNCH REPLAY: BEACH TRACKER PLAY


VIDEO: LAUNCH REPLAY: PAD PERIMETER PLAY | HI-DEF


VIDEO: LAUNCH REPLAY: UCS-23 TRACKER PLAY


VIDEO: LAUNCH REPLAY: CAMERA CS-1 PLAY


VIDEO: LAUNCH REPLAY: CAMERA CS-2 PLAY


VIDEO: LAUNCH REPLAY: CAMERA CS-6 PLAY


VIDEO: LAUNCH REPLAY: VAB ROOF PLAY


VIDEO: LAUNCH REPLAY: PRESS SITE PLAY


VIDEO: LAUNCH REPLAY: WEST TOWER PLAY


VIDEO: LAUNCH REPLAY: CAMERA 009 PLAY


VIDEO: LAUNCH REPLAY: CAMERA 041 PLAY


VIDEO: LAUNCH REPLAY: CAMERA 049 PLAY


VIDEO: LAUNCH REPLAY: CAMERA 050 PLAY


VIDEO: LAUNCH REPLAY: CAMERA 051 PLAY


VIDEO: LAUNCH REPLAY: CAMERA 060 PLAY


VIDEO: LAUNCH REPLAY: CAMERA 061 PLAY


VIDEO: LAUNCH REPLAY: CAMERA 063 PLAY


VIDEO: LAUNCH REPLAY: CAMERA 070 PLAY


VIDEO: LAUNCH REPLAY: CAMERA 071 PLAY



VIDEO: SPACE SHUTTLE ATLANTIS BLASTS OFF! PLAY | HI-DEF


VIDEO: STS-125 POST-LAUNCH NEWS CONFERENCE PLAY


VIDEO: INSIDE MISSION CONTROL DURING LAUNCH PLAY


VIDEO: NARRATED ANIMATION OF DAY 1 INSPECTIONS PLAY



VIDEO: FINAL PRE-LAUNCH READINESS POLLS CONDUCTED PLAY


VIDEO: SHUTTLE'S CREW MODULE HATCH CLOSED FOR FLIGHT PLAY


VIDEO: MISSION SPECIALIST MEGAN MCARTHUR BOARDS PLAY


VIDEO: PILOT GREG JOHNSON BOARDS ATLANTIS PLAY


VIDEO: MISSION SPECIALIST JOHN GRUNSFELD BOARDS PLAY


VIDEO: SHUTTLE COMMANDER SCOTT ALTMAN BOARDS PLAY


VIDEO: CREW DEPARTS QUARTERS FOR LAUNCH PAD PART 1 | PART 2


VIDEO: ASTRONAUTS DON SPACESUITS FOR LAUNCH PLAY


VIDEO: TIME-LAPSE OF LAUNCH PAD GANTRY ROLLBACK PLAY



VIDEO: HUBBLE'S FUTURE AFTER ATLANTIS SERVICING PLAY


VIDEO: TOP DISCOVERIES MADE BY HUBBLE TELESCOPE PLAY


VIDEO: THE ROLLERCOASTER LIFE OF HUBBLE PLAY


VIDEO: WHAT IS HUBBLE'S PLACE IN HISTORY? PLAY


VIDEO: ENTERTAINING LOOK AT ATLANTIS' CREW PLAY


VIDEO: HUBBLE SPACE TELESCOPE HISTORY MOVIE PLAY


VIDEO: A TRIBUTE TO THE CAMERA THAT SAVED HUBBLE PLAY


VIDEO: HUBBLE TELESCOPE PROGRAM BRIEFING FROM SUNDAY PLAY



VIDEO: SUNDAY'S COUNTDOWN STATUS AND WEATHER UPDATE PLAY


VIDEO: THE STS-125 PRE-LAUNCH NEWS CONFERENCE PLAY


VIDEO: SATURDAY'S COUNTDOWN STATUS AND WEATHER UPDATE PLAY


VIDEO: ASTRONAUTS ARRIVE AT THE CAPE FOR LAUNCH PLAY


VIDEO: FRIDAY'S COUNTDOWN STATUS AND WEATHER UPDATE PLAY



VIDEO: NEWS BRIEFING FOLLOWING FLIGHT READINESS REVIEW PLAY



VIDEO: REFRESHER BRIEFING: THE STS-125 MISSION PLAY


VIDEO: REFRESHER BRIEFING: HUBBLE SPACE TELESCOPE PLAY


VIDEO: REFRESHER BRIEFING: THE SEVEN ASTRONAUTS PLAY



VIDEO: BIOGRAPHY MOVIE OF ATLANTIS' CREW PLAY


VIDEO: INTERVIEW WITH COMMANDER SCOTT ALTMAN PLAY | '09 UPDATE


VIDEO: INTERVIEW WITH PILOT GREG JOHNSON PLAY


VIDEO: INTERVIEW WITH MS1 MIKE GOOD PLAY


VIDEO: INTERVIEW WITH MS2 MEGAN MCARTHUR PLAY


VIDEO: INTERVIEW WITH MS3 JOHN GRUNSFELD PLAY | '09 UPDATE


VIDEO: INTERVIEW WITH MS4 MIKE MASSIMINO PLAY | '09 UPDATE


VIDEO: INTERVIEW WITH MS5 DREW FEUSTEL PLAY | '09 UPDATE



VIDEO: SHUTTLE ATLANTIS ARRIVES AT LAUNCH PAD 39A PLAY | HI-DEF


VIDEO: THE SUN RISES ON ATLANTIS DURING ROLLOUT PLAY | HI-DEF


VIDEO: ATLANTIS EMERGES FROM ASSEMBLY BUILDING PLAY | HI-DEF


VIDEO: ORBITER VERTICAL FOR MATING TO FUEL TANK PLAY | HI-DEF


VIDEO: ATLANTIS MOVES BACK TO ASSEMBLY BUILDING PLAY | HI-DEF



VIDEO: ATLANTIS LEAVES LAUNCH PAD 39A IN OCT. PLAY


VIDEO: TIMELAPSE OF THE ROLLBACK GETTING UNDERWAY PLAY



VIDEO: ASTRONAUTS REHEARSE QUICK SHUTTLE EXIT PLAY


VIDEO: CREW BOARDS ATLANTIS FOR MOCK COUNTDOWN PLAY


VIDEO: ASTRONAUTS DON SUITS FOR PRACTICE COUNTDOWN PLAY


VIDEO: CREW'S TRAINING ON ESCAPE BASKETS AND BUNKER PLAY


VIDEO: ASTRONAUTS CHAT WITH PRESS AT LAUNCH PAD PLAY


VIDEO: CREW TEST DRIVES EMERGENCY PAD ESCAPE VEHICLE PLAY


VIDEO: COMMANDER AND PILOT PRACTICE LANDING APPROACHES PLAY


VIDEO: CREW ARRIVES AT CAPE FOR PRACTICE COUNTDOWN PLAY


VIDEO: COMMENTS FROM COMMANDER AFTER ARRIVING PLAY



VIDEO: AERIAL VIEWS OF ATLANTIS AND ENDEAVOUR PLAY | HI-DEF



VIDEO: PRE-FLIGHT BRIEFING: THE STS-125 MISSION PLAY


VIDEO: PRE-FLIGHT BRIEFING: THE FIVE SPACEWALKS PLAY


VIDEO: PRE-FLIGHT BRIEFING: THE SEVEN ASTRONAUTS PLAY


VIDEO: PRE-FLIGHT BRIEFING: NASA LEADERSHIP PLAY


VIDEO: PRE-FLIGHT BRIEFING: SHUTTLE PROGRAM BOSS PLAY


VIDEO: PRE-FLIGHT BRIEFING: HUBBLE OVERVIEW PLAY


VIDEO: PRE-FLIGHT BRIEFING: HUBBLE SCIENCE PLAY



VIDEO: SHUTTLE ARRIVES ATOP PAD 39A PLAY


VIDEO: ATLANTIS EMERGES FROM VEHICLE ASSEMBLY BUILDING PLAY


VIDEO: TIME-LAPSE MOVIE OF ATLANTIS' ROLLOUT TO LAUNCH PAD PLAY



VIDEO: ATLANTIS ROLLS FROM HANGAR TO VAB PLAY


VIDEO: ATLANTIS LIFTED INTO PLACE FOR ATTACHMENT PLAY


MORE: STS-125 VIDEO COVERAGE


NEW! HIGH DEFINITION VIDEO


SUBSCRIBE NOW