President Obama hails successful Hubble repair
BY WILLIAM HARWOOD
STORY WRITTEN FOR CBS NEWS "SPACE PLACE" & USED WITH PERMISSION
Posted: May 20, 2009


President Barack Obama called the crew of the shuttle Atlantis late Wednesday and congratulated the astronauts on the successful overhaul of the Hubble Space Telescope. He also promised to name a new NASA administrator soon, although he provided no clues as to who might get the nod.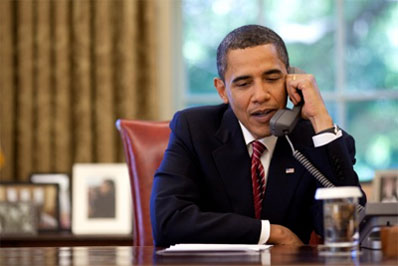 President Barack Obama talks on the telephone to the crew of Atlantis from the Oval Office. Credit: Official White House photo by Pete Souza



"We're soon going to have a new NASA administrator," Obama told the astronauts. "I can't disclose it to you because I've got to have some hoopla on the announcement back here on Earth. But I can assure you that it's a high priority of mine to restore that sense of wonder that space can provide and to make sure we've got a strong sense of mission, not just within NASA but to the country as a whole."

Atlantis commander Scott Altman jokingly asked the president, "just so we're sure, the new administrator's not any of us on the flight deck right now, is it?"

Obama laughed, and said "I'm not going to give you any hints."

"Thank you very much, fair enough, sir," Altman said.

Charles F. Bolden Jr., a former fighter pilot, Marine Corps major general and veteran space shuttle commander, is widely rumored to be the top candidate for the job. Bolden met with Obama at the White House on Tuesday.

During today's phone call to the Atlantis astronauts, Obama said "I wanted to personally tell you how proud I am of all of you and everything that you've accomplished."

"Like a lot of Americans, I've been watching with amazement the gorgeous images you've been sending back and the incredible repair mission you've been making in space," he said. "I think you're providing a wonderful example of the kind of dedication and commitment to exploration that represents America and the space program generally. These are traits that have always made this country strong and all of you personify them."

"Well thank you very much, sir," Altman replied. "I think you are exactly right, this mission has been an example of what our country can do as we work together. It's been the teamwork of all the folks on the ground, in addition to the folks outside spacewalking, making this all come together and work for us."

The president said watching the Hubble repair spacewalks was "amazing, and Dr. Grunsfeld, I was moved by your observation that the Hubble is more than just a satellite, but an iconic symbol of our quest for knowldge. I thought that captures accurately the work that you guys are doing."

Lead spacewalker John Grunsfeld told Obama "it's almost impossible to go into any K-through-12 classroom these days and not see Hubble images on the walls, inspiring kids to do great things and maybe some of them to become astronauts some day and push our frontiers even further."

"Well, I know you've excited my 10-year-old and my 7-year-old," Obama said. "By allowing Hubble to continue on its journey, you've really allowed all of us to continue on our journey of growth and exploration. You know, here in Washington, there's a lot of talk about clarifying our focus, our vision for where the country needs to go. And I really think that what you guys represent is an example of what 'vision' means.

"The space program's always described our willingness to stretch beyond current boundaries and to look at things in new ways," Obama said. "So in that way, you inspire us all and I'm hoping you guys recognize how important your mission is to the world as well as to this country."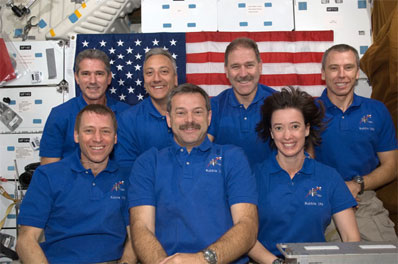 The Atlantis' crew in-orbit portrait taken Wednesday. Credit: NASA



NASA's Mission Management Team, meanwhile, completed a detailed review of imagery and laser scans from a late inspection of the shuttle Atlantis' heat shield Tuesday. MMT Chairman LeRoy Cain said the team gave Atlantis a clean bill of health and cleared the ship for re-entry and landing Friday, weather permitting.

"In the Mission Management Team (meeting) today, we had the opportunity to review the results," said MMT Chairman LeRoy Cain. "As you know, yesterday the crew performed the late inspection of the wing leading edge and the reinforced carbon carbon of the nose cap. They pored over all that data throughout the evening and this morning, and at the Mission Management Team today, they reviewed that data with us and the results are we don't have any issues as it relates to the thermal protection system ... So we have cleared the TPS and the vehicle for safe deorbit, entry and landing. That was a great milestone for us."

Landing currently is targeted for 10:01 a.m. Friday at the Kennedy Space Center. But forecasters are predicting a chance of low clouds and rain in the area and as a precaution, the astronauts were asked to power down non-essential equipment Wednesday to conserve hydrogen and oxygen used by the shuttle's fuel cell system to generate electricity.

As it now stands, the crew will have enough supplies to remain in orbit three days beyond Friday. NASA does not plan to staff its backup landing site at Edwards Air Force Base, Calif., on Friday, but depending on the weather, backup sites could be activated Saturday if necessary.

At the Kennedy Space Center, engineers are continuing to work through a countdown to ready the shuttle Endeavour for launch on an emergency rescue mission if a major problem crops up that might prevent a safe re-entry.

Because the Atlantis astronauts cannot reach the International Space Station for "safe haven," Endeavour has been prepped for a quick-response launch if needed.

Going into the Hubble Space Telescope repair mission, NASA managers planned to release Endeavour from rescue stand by duty after Atlantis' heat shield was cleared for entry.

But Cain said he decided to keep Endeavour on standby at least through Thursday and possibly as late as Atlantis' deorbit rocket firing Friday "because I can, and it doesn't affect (Endeavour's next flight in June)."

"I was willing to go as late as deorbit on Friday," he said. "I'm going to evaluate that again tomorrow."

Because Atlantis is near the end of its mission, most of its on-board supplies have been used up and even with the power downs implemented today, the crew will run out of oxygen for its fuel cells by some point late Monday or Tuesday. For Endeavour to have any chance of reaching the crew in time, should something prevent a normal re-entry, the rescue shuttle would have to take off by Saturday or Sunday at the latest.

Cain said mission managers do not anticipate any such problems and expect Atlantis to make a normal re-entry on its own. But in the meantime, NASA is protecting its options as planned.


Additional coverage for subscribers:


VIDEO: PRESIDENT OBAMA CALLS THE ATLANTIS ASTRONAUTS PLAY


VIDEO: ATLANTIS' HEAT SHIELD OFFICIALLY CLEARED FOR ENTRY PLAY


VIDEO: SHIP-TO-SHIP CALL BETWEEN ATLANTIS AND STATION PLAY


VIDEO: CREW'S IN-FLIGHT NEWS CONFERENCE PLAY



VIDEO: STATION CREW'S WATER TASTE-TEST CEREMONY PLAY



VIDEO: FLIGHT DAY 9 HIGHLIGHTS MOVIE PLAY


VIDEO: HST SCIENTIST CRITICIZES SHUTTLE RETIREMENT PLAY


VIDEO: HUBBLE DEPLOYED FROM THE SPACE SHUTTLE PLAY


VIDEO: TUESDAY'S MISSION STATUS BRIEFING PLAY


VIDEO: COMMANDER SCOTT ALTMAN'S COMMENTS AFTER DEPLOY PLAY


VIDEO: HUBBLE IS HOISTED OUT OF THE PAYLOAD BAY PLAY


VIDEO: ATLANTIS' ROBOT ARM GRAPPLES THE TELESCOPE PLAY


VIDEO: PREVIEW OF HST DEPLOY AND ATLANTIS INSPECTIONS PLAY



VIDEO: FLIGHT DAY 8 HIGHLIGHTS MOVIE PLAY


VIDEO: MONDAY NIGHT UPDATE FROM HST CONTROL CENTER PLAY


VIDEO: MONDAY'S MISSION STATUS BRIEFING PLAY


VIDEO: HUBBLE'S HIGH-GAIN ANTENNA BOOMS UNFOLDED PLAY


VIDEO: COVER PUT ON HUBBLE ANTENNA AS EVA CONCLUDES PLAY


VIDEO: REFLECTING ON THE MISSION AS SPACEWALK NEARS END PLAY


VIDEO: SHEET OF THERMAL COVERING ADDED TO BAY 7 DOOR PLAY


VIDEO: NEW THERMAL SHIELDING PANEL PUT ON BAY 8 DOOR PLAY


VIDEO: DEGRADED THERMAL BLANKET PEELED OFF BAY 5 DOOR PLAY


VIDEO: THE OLD FINE GUIDANCE SENSOR STOWED FOR LANDING PLAY


VIDEO: UPGRADED FINE GUIDANCE SENSOR INSTALLED IN HUBBLE PLAY


VIDEO: OLD FINE GUIDANCE SENSOR REMOVED FROM TELESCOPE PLAY


VIDEO: SPACEWALKERS STRUGGLE WITH BOLTS AND LATCHES PLAY


VIDEO: REPLACEMENT OF HUBBLE'S 19-YEAR-OLD BATTERIES PLAY


VIDEO: SPACEWALKERS EMERGE FROM AIRLOCK TO START EVA PLAY


VIDEO: NARRATED PREVIEW OF SPACEWALK NO. 5 PLAY



VIDEO: FLIGHT DAY 7 HIGHLIGHTS MOVIE PLAY


VIDEO: SUNDAY NIGHT UPDATE FROM HST CONTROL CENTER PLAY


VIDEO: SUNDAY'S MISSION STATUS BRIEFING PLAY


VIDEO: SPACE TELESCOPE IMAGING SPECTROGRAPH WORK DONE PLAY


VIDEO: OPENING COVER ON THE ELECTRONICS MODULE ON STIS PLAY


VIDEO: SPACEWALKER MIKE MASSIMINO REMOVES TINY SCREWS PLAY


VIDEO: TRIP FROM AIRLOCK BACK WITH SPARE POWER TOOL PLAY


VIDEO: CAPTURE PLATE MOUNTED ONTO STIS POWER MODULE PLAY


VIDEO: MASSIMINO FIGHTS WITH STUCK BOLT ON HANDRAIL PLAY


VIDEO: SPACEWALKERS GET ORGANIZED FOR STIS REPAIR PLAY


VIDEO: NARRATED PREVIEW OF SPACEWALK NO. 4 PLAY


VIDEO: FLIGHT DIRECTOR'S PREVIEW OF MISSION'S DAY 7 PLAY



VIDEO: FLIGHT DAY 6 HIGHLIGHTS MOVIE PLAY


VIDEO: SATURDAY NIGHT UPDATE FROM HST CONTROL CENTER PLAY


VIDEO: SATURDAY'S MISSION STATUS BRIEFING PLAY


VIDEO: REPAIR OF ADVANCED CAMERA FOR SURVEYS FINISHED PLAY


VIDEO: WATCH AS GRUNSFELD REPAIRS HUBBLE CAMERA PLAY


VIDEO: COSTAR STOWED IN ATLANTIS' PAYLOAD BAY PLAY


VIDEO: UMBILICALS HOOKED UP TO NEW INSTRUMENT PLAY


VIDEO: COSMIC ORIGINS SPECTROGRAPH INSTALLED PLAY


VIDEO: SPECTROGRAPH PREPPED IN LAUNCH CARRIER PLAY


VIDEO: COSTAR OPTICS PACKAGE REMOVED FROM HUBBLE PLAY


VIDEO: SPACEWALKERS OPEN SHROUD DOORS ON TELESCOPE PLAY


VIDEO: NARRATED PREVIEW OF SPACEWALK NO. 3 PLAY


VIDEO: FLIGHT DIRECTOR'S PREVIEW OF MISSION'S DAY 6 PLAY



VIDEO: FLIGHT DAY 5 HIGHLIGHTS MOVIE PLAY


VIDEO: FRIDAY NIGHT UPDATE FROM HST CONTROL CENTER PLAY


VIDEO: FRIDAY'S MISSION STATUS BRIEFING PLAY


VIDEO: SPARE GYRO UNIT INSTALLED INTO THIRD POSITION PLAY


VIDEO: ANOTHER GYROSCOPE UNIT PUT INTO SECOND SLOT PLAY


VIDEO: TROUBLE INSTALLING SECOND GYROSCOPE PACKAGE PLAY


VIDEO: REMOVAL OF SECOND GYROSCOPE PACKAGE FROM HUBBLE PLAY


VIDEO: INSTALLATION OF FIRST GYROSCOPE INTO HUBBLE PLAY


VIDEO: REMOVAL OF FIRST GYROSCOPE PACKAGE FROM HUBBLE PLAY


VIDEO: NARRATED PREVIEW OF SPACEWALK NO. 2 PLAY


VIDEO: FLIGHT DIRECTOR'S PREVIEW OF MISSION'S DAY 5 PLAY



VIDEO: FLIGHT DAY 4 HIGHLIGHTS MOVIE PLAY


VIDEO: THURSDAY NIGHT UPDATE FROM HST CONTROL CENTER PLAY


VIDEO: THURSDAY'S MISSION STATUS BRIEFING PLAY


VIDEO: SOFT CAPTURE MECHANISM PUT ON HUBBLE PLAY


VIDEO: SCIENCE INSTRUMENT COMMAND & DATA HANDLING UNIT PLAY


VIDEO: PARTIALLY FAILED SIC&DH UNIT REMOVED FROM HST PLAY


VIDEO: WFPC2 CAMERA STOWED IN ATLANTIS FOR RETURN PLAY


VIDEO: OVERVIEW OF WIDE FIELD CAMERA 3 INSTRUMENT PLAY


VIDEO: SPACEWALKERS INSTALL THE WIDE FIELD CAMERA 3 PLAY


VIDEO: NEW WIDE FIELD CAMERA 3 PREPPED FOR INSTALLATION PLAY


VIDEO: 16-YEAR-OLD WFPC2 CAMERA REMOVED FROM HUBBLE PLAY


VIDEO: LATCHING BOLT ON WPFC2 FINALLY RELEASED PLAY


VIDEO: FIGHTING WITH TROUBLESOME BOLT ON WPFC2 PLAY


VIDEO: FEUSTEL INSTALLS HANDLE ONTO WPFC2 FOR REMOVAL PLAY


VIDEO: HANDLING FIXTURE DEPLOYED TO HOLD OLD CAMERA PLAY


VIDEO: GRUNSFELD INSTALLS SUPPORT POSTS UNDER HST PLAY


VIDEO: FEUSTEL OPENS LATCHES ON INSTRUMENT CARRIER PLAY


VIDEO: ASTRONAUTS EXIT AIRLOCK TO START EVA NO. 1 PLAY


VIDEO: NARRATED PREVIEW OF SPACEWALK NO. 1 PLAY



VIDEO: FLIGHT DAY 3 HIGHLIGHTS MOVIE PLAY


VIDEO: WEDNESDAY NIGHT UPDATE FROM HST CONTROL CENTER PLAY


VIDEO: WEDNESDAY'S MISSION MANAGEMENT TEAM UPDATE PLAY


VIDEO: WEDNESDAY'S MISSION STATUS BRIEFING PLAY


VIDEO: TIME-LAPSE OF MOVING HUBBLE INTO PAYLOAD BAY PLAY


VIDEO: SHUTTLE ATLANTIS' ROBOT ARM CAPTURES HUBBLE PLAY


VIDEO: FIRST UP CLOSE VIEWS OF HUBBLE IN 7 YEARS PLAY


VIDEO: SHUTTLE ENGINE FIRING TO CIRCULARIZE ORBIT PLAY


VIDEO: INSIGHTFUL OVERVIEW OF ATLANTIS' MISSION PLAY


VIDEO: NARRATED PREVIEW ANIMATION OF HUBBLE RENDEZVOUS PLAY



VIDEO: FLIGHT DAY 2 HIGHLIGHTS MOVIE PLAY


VIDEO: TUESDAY NIGHT UPDATE FROM HST CONTROL CENTER PLAY


VIDEO: TUESDAY'S MISSION MANAGEMENT TEAM UPDATE PLAY


VIDEO: SLOW-MOTION OF DEBRIS THAT APPARENTLY HIT TILES PLAY


VIDEO: TILE DAMAGE FOUND DURING INSPECTIONS PLAY


VIDEO: CAPCOM CALLS CREW ABOUT MINOR DAMAGE PLAY


VIDEO: TUESDAY'S MISSION STATUS BRIEFING PLAY


VIDEO: PREVIEW ANIMATION OF HEAT SHIELD INSPECTIONS PLAY



VIDEO: FLIGHT DAY 1 HIGHLIGHTS MOVIE PLAY


VIDEO: THE FULL STS-125 LAUNCH EXPERIENCE PLAY


VIDEO: LAUNCH REPLAY: EXTERNAL TANK CAMERA PLAY


VIDEO: FOOTAGE OF FUEL TANK AFTER JETTISON PLAY



VIDEO: LAUNCH REPLAY: FRONT CAMERA PLAY


VIDEO: LAUNCH REPLAY: BEACH TRACKER PLAY


VIDEO: LAUNCH REPLAY: PAD PERIMETER PLAY | HI-DEF


VIDEO: LAUNCH REPLAY: UCS-23 TRACKER PLAY


VIDEO: LAUNCH REPLAY: CAMERA CS-1 PLAY


VIDEO: LAUNCH REPLAY: CAMERA CS-2 PLAY


VIDEO: LAUNCH REPLAY: CAMERA CS-6 PLAY


VIDEO: LAUNCH REPLAY: VAB ROOF PLAY


VIDEO: LAUNCH REPLAY: PRESS SITE PLAY


VIDEO: LAUNCH REPLAY: WEST TOWER PLAY


VIDEO: LAUNCH REPLAY: CAMERA 009 PLAY


VIDEO: LAUNCH REPLAY: CAMERA 041 PLAY


VIDEO: LAUNCH REPLAY: CAMERA 049 PLAY


VIDEO: LAUNCH REPLAY: CAMERA 050 PLAY


VIDEO: LAUNCH REPLAY: CAMERA 051 PLAY


VIDEO: LAUNCH REPLAY: CAMERA 060 PLAY


VIDEO: LAUNCH REPLAY: CAMERA 061 PLAY


VIDEO: LAUNCH REPLAY: CAMERA 063 PLAY


VIDEO: LAUNCH REPLAY: CAMERA 070 PLAY


VIDEO: LAUNCH REPLAY: CAMERA 071 PLAY



VIDEO: SPACE SHUTTLE ATLANTIS BLASTS OFF! PLAY | HI-DEF


VIDEO: STS-125 POST-LAUNCH NEWS CONFERENCE PLAY


VIDEO: INSIDE MISSION CONTROL DURING LAUNCH PLAY


VIDEO: NARRATED ANIMATION OF DAY 1 INSPECTIONS PLAY



VIDEO: FINAL PRE-LAUNCH READINESS POLLS CONDUCTED PLAY


VIDEO: SHUTTLE'S CREW MODULE HATCH CLOSED FOR FLIGHT PLAY


VIDEO: MISSION SPECIALIST MEGAN MCARTHUR BOARDS PLAY


VIDEO: PILOT GREG JOHNSON BOARDS ATLANTIS PLAY


VIDEO: MISSION SPECIALIST JOHN GRUNSFELD BOARDS PLAY


VIDEO: SHUTTLE COMMANDER SCOTT ALTMAN BOARDS PLAY


VIDEO: CREW DEPARTS QUARTERS FOR LAUNCH PAD PART 1 | PART 2


VIDEO: ASTRONAUTS DON SPACESUITS FOR LAUNCH PLAY


VIDEO: TIME-LAPSE OF LAUNCH PAD GANTRY ROLLBACK PLAY



VIDEO: HUBBLE'S FUTURE AFTER ATLANTIS SERVICING PLAY


VIDEO: TOP DISCOVERIES MADE BY HUBBLE TELESCOPE PLAY


VIDEO: THE ROLLERCOASTER LIFE OF HUBBLE PLAY


VIDEO: WHAT IS HUBBLE'S PLACE IN HISTORY? PLAY


VIDEO: ENTERTAINING LOOK AT ATLANTIS' CREW PLAY


VIDEO: HUBBLE SPACE TELESCOPE HISTORY MOVIE PLAY


VIDEO: A TRIBUTE TO THE CAMERA THAT SAVED HUBBLE PLAY


VIDEO: HUBBLE TELESCOPE PROGRAM BRIEFING FROM SUNDAY PLAY



VIDEO: SUNDAY'S COUNTDOWN STATUS AND WEATHER UPDATE PLAY


VIDEO: THE STS-125 PRE-LAUNCH NEWS CONFERENCE PLAY


VIDEO: SATURDAY'S COUNTDOWN STATUS AND WEATHER UPDATE PLAY


VIDEO: ASTRONAUTS ARRIVE AT THE CAPE FOR LAUNCH PLAY


VIDEO: FRIDAY'S COUNTDOWN STATUS AND WEATHER UPDATE PLAY



VIDEO: NEWS BRIEFING FOLLOWING FLIGHT READINESS REVIEW PLAY



VIDEO: REFRESHER BRIEFING: THE STS-125 MISSION PLAY


VIDEO: REFRESHER BRIEFING: HUBBLE SPACE TELESCOPE PLAY


VIDEO: REFRESHER BRIEFING: THE SEVEN ASTRONAUTS PLAY



VIDEO: BIOGRAPHY MOVIE OF ATLANTIS' CREW PLAY


VIDEO: INTERVIEW WITH COMMANDER SCOTT ALTMAN PLAY | '09 UPDATE


VIDEO: INTERVIEW WITH PILOT GREG JOHNSON PLAY


VIDEO: INTERVIEW WITH MS1 MIKE GOOD PLAY


VIDEO: INTERVIEW WITH MS2 MEGAN MCARTHUR PLAY


VIDEO: INTERVIEW WITH MS3 JOHN GRUNSFELD PLAY | '09 UPDATE


VIDEO: INTERVIEW WITH MS4 MIKE MASSIMINO PLAY | '09 UPDATE


VIDEO: INTERVIEW WITH MS5 DREW FEUSTEL PLAY | '09 UPDATE



VIDEO: SHUTTLE ATLANTIS ARRIVES AT LAUNCH PAD 39A PLAY | HI-DEF


VIDEO: THE SUN RISES ON ATLANTIS DURING ROLLOUT PLAY | HI-DEF


VIDEO: ATLANTIS EMERGES FROM ASSEMBLY BUILDING PLAY | HI-DEF


VIDEO: ORBITER VERTICAL FOR MATING TO FUEL TANK PLAY | HI-DEF


VIDEO: ATLANTIS MOVES BACK TO ASSEMBLY BUILDING PLAY | HI-DEF



VIDEO: ATLANTIS LEAVES LAUNCH PAD 39A IN OCT. PLAY


VIDEO: TIMELAPSE OF THE ROLLBACK GETTING UNDERWAY PLAY



VIDEO: ASTRONAUTS REHEARSE QUICK SHUTTLE EXIT PLAY


VIDEO: CREW BOARDS ATLANTIS FOR MOCK COUNTDOWN PLAY


VIDEO: ASTRONAUTS DON SUITS FOR PRACTICE COUNTDOWN PLAY


VIDEO: CREW'S TRAINING ON ESCAPE BASKETS AND BUNKER PLAY


VIDEO: ASTRONAUTS CHAT WITH PRESS AT LAUNCH PAD PLAY


VIDEO: CREW TEST DRIVES EMERGENCY PAD ESCAPE VEHICLE PLAY


VIDEO: COMMANDER AND PILOT PRACTICE LANDING APPROACHES PLAY


VIDEO: CREW ARRIVES AT CAPE FOR PRACTICE COUNTDOWN PLAY


VIDEO: COMMENTS FROM COMMANDER AFTER ARRIVING PLAY



VIDEO: AERIAL VIEWS OF ATLANTIS AND ENDEAVOUR PLAY | HI-DEF



VIDEO: PRE-FLIGHT BRIEFING: THE STS-125 MISSION PLAY


VIDEO: PRE-FLIGHT BRIEFING: THE FIVE SPACEWALKS PLAY


VIDEO: PRE-FLIGHT BRIEFING: THE SEVEN ASTRONAUTS PLAY


VIDEO: PRE-FLIGHT BRIEFING: NASA LEADERSHIP PLAY


VIDEO: PRE-FLIGHT BRIEFING: SHUTTLE PROGRAM BOSS PLAY


VIDEO: PRE-FLIGHT BRIEFING: HUBBLE OVERVIEW PLAY


VIDEO: PRE-FLIGHT BRIEFING: HUBBLE SCIENCE PLAY



VIDEO: SHUTTLE ARRIVES ATOP PAD 39A PLAY


VIDEO: ATLANTIS EMERGES FROM VEHICLE ASSEMBLY BUILDING PLAY


VIDEO: TIME-LAPSE MOVIE OF ATLANTIS' ROLLOUT TO LAUNCH PAD PLAY



VIDEO: ATLANTIS ROLLS FROM HANGAR TO VAB PLAY


VIDEO: ATLANTIS LIFTED INTO PLACE FOR ATTACHMENT PLAY


MORE: STS-125 VIDEO COVERAGE


NEW! HIGH DEFINITION VIDEO


SUBSCRIBE NOW