Crew conserving power in case weather delays landing
BY WILLIAM HARWOOD
STORY WRITTEN FOR CBS NEWS "SPACE PLACE" & USED WITH PERMISSION
Posted: May 20, 2009


With rainy weather possible in Florida on Friday, the Atlantis astronauts were asked to power down less-critical equipment Wednesday to conserve hydrogen and oxygen for the shuttle's fuel cell system in case landing is delayed. Touchdown currently is planned for 10:01 a.m. Friday, but additional opportunities on both coasts are available Saturday and Sunday.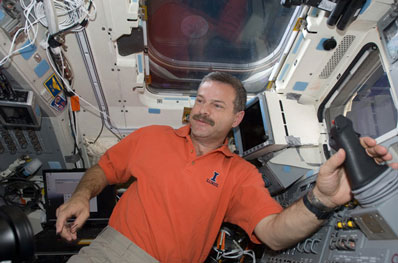 Commander Scott Altman. Credit: NASA



With the power downs, "that puts us about 21 hours above an 11 (days) plus two (extension days), which gives us a lot of margin down the road as we keep an eye on the weather," astronaut Dan Burbank radiod the crew. "Certainly, we're all hoping for the best here and that we'll get you home on Friday. That's still our hope."

The Spaceflight Meteorology Group at the Johnson Space Center in Houston is predicting scattered clouds at 4,000 feet at landing time Friday, a broken deck at 10,000 feet, a chance of broken clouds at 4,000 feet and a chance of thundershowers within 30 nautical miles of the shuttle runway.

NASA's Mission Management Team, meanwhile, is wrapping up analysis of a heat shield inspection carried out by the crew Tuesday. While the assessment was not yet officially complete, Burbank told commander Scott Altman there were no signs of trouble.

"We have one bit of good news," he reported. "All the imagery from the late inspection has been reviewed. Now, we still have to finish out the final reviews on it, but there are zero areas of interest."

"OK, copy, Houston, thanks. Zero areas of interest," Altman said.

During a traditional on-orbit crew news conference earlier Wednesday, Altman said he was confident Atlantis would be cleared for entry as is.

"We did a pretty complete survey yesterday," he told CBS News. "I was very happy with all the imagery and the activity that we had to make sure we got as good an inspection as possible. We used the sun to help us inspect both the wings to make sure we had better pictures of the leading edge of our wings for re-entry.

"So I feel very confident we have all the data that we need, I'm letting the experts crunch that (data) to make sure everything looks good. From our vantage point, we think it's probably looking very good for entry and we're looking forward to that."

LeRoy Cain, chairman of the MMT and deputy shuttle program manager at the Johnson Space Center, planned to brief reporters later today on the status of the on-going heat shield assessment and NASA's strategy for keeping the shuttle Endeavour on stand by for a possible rescue mission if any major problems are discovered between now and re-entry.

Endeavour has been poised atop pad 39B at the Kennedy Space Center, ready since Monday for the start of a three-day countdown to launch if needed. Early today, engineers protectively started a rescue mission countdown to preserve the option of launching Endeavour as soon as possible if problems develop.

Mission managers originally planned to release Endeavour from rescue stand-by duty after the final heat shield inspection, but they have decided to continue Endeavour's processing until Atlantis successfully fires its braking rockets to drop out of orbit. Given the prospects for bad weather Friday, that could happen as late as Saturday or Sunday, in a worst-case scenario, leaving NASA little time to launch Endeavour. Hence the decision to start conserving power.

Assuming the MMT clears Atlantis' heat shield for entry, an extended "hold" will be inserted in Endeavour's countdown before fuel cell loading early Thursday. No one expects a rescue mission to be needed, but NASA is keeping all options open until Atlantis successfully begins the trip home.

The Atlantis astronauts successfully overhauled and upgraded the Hubble Space Telescope during five back-to-back spacewalks, installing two new instruments, repairing two others, replacing six gyroscopes, six batteries, a star sensor and a science data computer. They also attached three new insulation panels to improve temperature control.

The telescope was released back into open space early Tuesday and the astronauts took the day off Wednesday to relax and enjoy the view from 350 miles up. Shortly after noon, flight controllers arranged for the shuttle astronauts to chat with the three-man crew of the International Space Station.

"Hello Atlantis, this is International Space Station, we're very glad to welcome you guys," station commander Gennady Padalka called from 220 miles above Europe.

"Hey, and greetings to you all," Altman replied as the shuttle sailed high above the central Atlantic Ocean.

"It's very wonderful to talk to you guys," called Japanese astronaut Koichi Wakata. "Congratulations on the wonderful (Hubble servicing) EVAs. You guys did an outstanding job."

Station flight engineer Michael Barrett said the lab crew had followed the exploits of the Hubble mission and "it's just the greatest thing to see these two remarkable machines made by such remarkable people coming together again, this time for the last time."

"We wanted to offer some heartfelt congratulations for a job well done," he said. "We also know how hard you guys have been training and how personally invested in this great telescope you've all been. I guess we all kind of envy you the chance to touch Hubble one final time and get her all commissioned for another several years of discovery. Again, we just think you guys have done an awesome job. It's great to hear laughter in the background, we know how intensively you've been working."

"Thanks, Mike, we've had a great time up here," shuttle robot arm operator Megan McArthur said. "It's really fun to be sharing space with you."

Late this afternoon, sources said, Altman and his crewmates may take a private phone call from President Obama.

Asked during their news conference what the crew would advise the president about NASA's future, Altman joked he would suggest making lead Hubble spacewalker John Grunsfeld the next NASA administrator.

Answering the question, Grunsfeld said he would tell the president that the "core mission of NASA is actually a pretty good one."

"When President Obama is briefed by the new (yet-to-be-named) administrator on all the things that NASA does, I think he'll be incredibly impressed by the breadth of things that we do in climate work, Earth observation, aeronautics, space science, all those things that have been our core strengths.

"And in human spaceflight, as much as we love low-Earth orbit, it's time to leave low-Earth orbit, go out and explore the cosmos. ... We have lots of places near by, near-Earth objects, the moon, Mars, it's a great solar system and it's time for humans to start moving out. And that's what we're (planning). What we have to do is get down to the business of actually doing it. And I think that's what I would say to President Obama."


Additional coverage for subscribers:


VIDEO: HST SCIENTIST CRITICIZES SHUTTLE RETIREMENT PLAY


VIDEO: HUBBLE DEPLOYED FROM THE SPACE SHUTTLE PLAY


VIDEO: TUESDAY'S MISSION STATUS BRIEFING PLAY


VIDEO: COMMANDER SCOTT ALTMAN'S COMMENTS AFTER DEPLOY PLAY


VIDEO: HUBBLE IS HOISTED OUT OF THE PAYLOAD BAY PLAY


VIDEO: ATLANTIS' ROBOT ARM GRAPPLES THE TELESCOPE PLAY


VIDEO: PREVIEW OF HST DEPLOY AND ATLANTIS INSPECTIONS PLAY



VIDEO: FLIGHT DAY 8 HIGHLIGHTS MOVIE PLAY


VIDEO: MONDAY NIGHT UPDATE FROM HST CONTROL CENTER PLAY


VIDEO: MONDAY'S MISSION STATUS BRIEFING PLAY


VIDEO: HUBBLE'S HIGH-GAIN ANTENNA BOOMS UNFOLDED PLAY


VIDEO: COVER PUT ON HUBBLE ANTENNA AS EVA CONCLUDES PLAY


VIDEO: REFLECTING ON THE MISSION AS SPACEWALK NEARS END PLAY


VIDEO: SHEET OF THERMAL COVERING ADDED TO BAY 7 DOOR PLAY


VIDEO: NEW THERMAL SHIELDING PANEL PUT ON BAY 8 DOOR PLAY


VIDEO: DEGRADED THERMAL BLANKET PEELED OFF BAY 5 DOOR PLAY


VIDEO: THE OLD FINE GUIDANCE SENSOR STOWED FOR LANDING PLAY


VIDEO: UPGRADED FINE GUIDANCE SENSOR INSTALLED IN HUBBLE PLAY


VIDEO: OLD FINE GUIDANCE SENSOR REMOVED FROM TELESCOPE PLAY


VIDEO: SPACEWALKERS STRUGGLE WITH BOLTS AND LATCHES PLAY


VIDEO: REPLACEMENT OF HUBBLE'S 19-YEAR-OLD BATTERIES PLAY


VIDEO: SPACEWALKERS EMERGE FROM AIRLOCK TO START EVA PLAY


VIDEO: NARRATED PREVIEW OF SPACEWALK NO. 5 PLAY



VIDEO: FLIGHT DAY 7 HIGHLIGHTS MOVIE PLAY


VIDEO: SUNDAY NIGHT UPDATE FROM HST CONTROL CENTER PLAY


VIDEO: SUNDAY'S MISSION STATUS BRIEFING PLAY


VIDEO: SPACE TELESCOPE IMAGING SPECTROGRAPH WORK DONE PLAY


VIDEO: OPENING COVER ON THE ELECTRONICS MODULE ON STIS PLAY


VIDEO: SPACEWALKER MIKE MASSIMINO REMOVES TINY SCREWS PLAY


VIDEO: TRIP FROM AIRLOCK BACK WITH SPARE POWER TOOL PLAY


VIDEO: CAPTURE PLATE MOUNTED ONTO STIS POWER MODULE PLAY


VIDEO: MASSIMINO FIGHTS WITH STUCK BOLT ON HANDRAIL PLAY


VIDEO: SPACEWALKERS GET ORGANIZED FOR STIS REPAIR PLAY


VIDEO: NARRATED PREVIEW OF SPACEWALK NO. 4 PLAY


VIDEO: FLIGHT DIRECTOR'S PREVIEW OF MISSION'S DAY 7 PLAY



VIDEO: FLIGHT DAY 6 HIGHLIGHTS MOVIE PLAY


VIDEO: SATURDAY NIGHT UPDATE FROM HST CONTROL CENTER PLAY


VIDEO: SATURDAY'S MISSION STATUS BRIEFING PLAY


VIDEO: REPAIR OF ADVANCED CAMERA FOR SURVEYS FINISHED PLAY


VIDEO: WATCH AS GRUNSFELD REPAIRS HUBBLE CAMERA PLAY


VIDEO: COSTAR STOWED IN ATLANTIS' PAYLOAD BAY PLAY


VIDEO: UMBILICALS HOOKED UP TO NEW INSTRUMENT PLAY


VIDEO: COSMIC ORIGINS SPECTROGRAPH INSTALLED PLAY


VIDEO: SPECTROGRAPH PREPPED IN LAUNCH CARRIER PLAY


VIDEO: COSTAR OPTICS PACKAGE REMOVED FROM HUBBLE PLAY


VIDEO: SPACEWALKERS OPEN SHROUD DOORS ON TELESCOPE PLAY


VIDEO: NARRATED PREVIEW OF SPACEWALK NO. 3 PLAY


VIDEO: FLIGHT DIRECTOR'S PREVIEW OF MISSION'S DAY 6 PLAY



VIDEO: FLIGHT DAY 5 HIGHLIGHTS MOVIE PLAY


VIDEO: FRIDAY NIGHT UPDATE FROM HST CONTROL CENTER PLAY


VIDEO: FRIDAY'S MISSION STATUS BRIEFING PLAY


VIDEO: SPARE GYRO UNIT INSTALLED INTO THIRD POSITION PLAY


VIDEO: ANOTHER GYROSCOPE UNIT PUT INTO SECOND SLOT PLAY


VIDEO: TROUBLE INSTALLING SECOND GYROSCOPE PACKAGE PLAY


VIDEO: REMOVAL OF SECOND GYROSCOPE PACKAGE FROM HUBBLE PLAY


VIDEO: INSTALLATION OF FIRST GYROSCOPE INTO HUBBLE PLAY


VIDEO: REMOVAL OF FIRST GYROSCOPE PACKAGE FROM HUBBLE PLAY


VIDEO: NARRATED PREVIEW OF SPACEWALK NO. 2 PLAY


VIDEO: FLIGHT DIRECTOR'S PREVIEW OF MISSION'S DAY 5 PLAY



VIDEO: FLIGHT DAY 4 HIGHLIGHTS MOVIE PLAY


VIDEO: THURSDAY NIGHT UPDATE FROM HST CONTROL CENTER PLAY


VIDEO: THURSDAY'S MISSION STATUS BRIEFING PLAY


VIDEO: SOFT CAPTURE MECHANISM PUT ON HUBBLE PLAY


VIDEO: SCIENCE INSTRUMENT COMMAND & DATA HANDLING UNIT PLAY


VIDEO: PARTIALLY FAILED SIC&DH UNIT REMOVED FROM HST PLAY


VIDEO: WFPC2 CAMERA STOWED IN ATLANTIS FOR RETURN PLAY


VIDEO: OVERVIEW OF WIDE FIELD CAMERA 3 INSTRUMENT PLAY


VIDEO: SPACEWALKERS INSTALL THE WIDE FIELD CAMERA 3 PLAY


VIDEO: NEW WIDE FIELD CAMERA 3 PREPPED FOR INSTALLATION PLAY


VIDEO: 16-YEAR-OLD WFPC2 CAMERA REMOVED FROM HUBBLE PLAY


VIDEO: LATCHING BOLT ON WPFC2 FINALLY RELEASED PLAY


VIDEO: FIGHTING WITH TROUBLESOME BOLT ON WPFC2 PLAY


VIDEO: FEUSTEL INSTALLS HANDLE ONTO WPFC2 FOR REMOVAL PLAY


VIDEO: HANDLING FIXTURE DEPLOYED TO HOLD OLD CAMERA PLAY


VIDEO: GRUNSFELD INSTALLS SUPPORT POSTS UNDER HST PLAY


VIDEO: FEUSTEL OPENS LATCHES ON INSTRUMENT CARRIER PLAY


VIDEO: ASTRONAUTS EXIT AIRLOCK TO START EVA NO. 1 PLAY


VIDEO: NARRATED PREVIEW OF SPACEWALK NO. 1 PLAY



VIDEO: FLIGHT DAY 3 HIGHLIGHTS MOVIE PLAY


VIDEO: WEDNESDAY NIGHT UPDATE FROM HST CONTROL CENTER PLAY


VIDEO: WEDNESDAY'S MISSION MANAGEMENT TEAM UPDATE PLAY


VIDEO: WEDNESDAY'S MISSION STATUS BRIEFING PLAY


VIDEO: TIME-LAPSE OF MOVING HUBBLE INTO PAYLOAD BAY PLAY


VIDEO: SHUTTLE ATLANTIS' ROBOT ARM CAPTURES HUBBLE PLAY


VIDEO: FIRST UP CLOSE VIEWS OF HUBBLE IN 7 YEARS PLAY


VIDEO: SHUTTLE ENGINE FIRING TO CIRCULARIZE ORBIT PLAY


VIDEO: INSIGHTFUL OVERVIEW OF ATLANTIS' MISSION PLAY


VIDEO: NARRATED PREVIEW ANIMATION OF HUBBLE RENDEZVOUS PLAY



VIDEO: FLIGHT DAY 2 HIGHLIGHTS MOVIE PLAY


VIDEO: TUESDAY NIGHT UPDATE FROM HST CONTROL CENTER PLAY


VIDEO: TUESDAY'S MISSION MANAGEMENT TEAM UPDATE PLAY


VIDEO: SLOW-MOTION OF DEBRIS THAT APPARENTLY HIT TILES PLAY


VIDEO: TILE DAMAGE FOUND DURING INSPECTIONS PLAY


VIDEO: CAPCOM CALLS CREW ABOUT MINOR DAMAGE PLAY


VIDEO: TUESDAY'S MISSION STATUS BRIEFING PLAY


VIDEO: PREVIEW ANIMATION OF HEAT SHIELD INSPECTIONS PLAY



VIDEO: FLIGHT DAY 1 HIGHLIGHTS MOVIE PLAY


VIDEO: THE FULL STS-125 LAUNCH EXPERIENCE PLAY


VIDEO: LAUNCH REPLAY: EXTERNAL TANK CAMERA PLAY


VIDEO: FOOTAGE OF FUEL TANK AFTER JETTISON PLAY



VIDEO: LAUNCH REPLAY: FRONT CAMERA PLAY


VIDEO: LAUNCH REPLAY: BEACH TRACKER PLAY


VIDEO: LAUNCH REPLAY: PAD PERIMETER PLAY | HI-DEF


VIDEO: LAUNCH REPLAY: UCS-23 TRACKER PLAY


VIDEO: LAUNCH REPLAY: CAMERA CS-1 PLAY


VIDEO: LAUNCH REPLAY: CAMERA CS-2 PLAY


VIDEO: LAUNCH REPLAY: CAMERA CS-6 PLAY


VIDEO: LAUNCH REPLAY: VAB ROOF PLAY


VIDEO: LAUNCH REPLAY: PRESS SITE PLAY


VIDEO: LAUNCH REPLAY: WEST TOWER PLAY


VIDEO: LAUNCH REPLAY: CAMERA 009 PLAY


VIDEO: LAUNCH REPLAY: CAMERA 041 PLAY


VIDEO: LAUNCH REPLAY: CAMERA 049 PLAY


VIDEO: LAUNCH REPLAY: CAMERA 050 PLAY


VIDEO: LAUNCH REPLAY: CAMERA 051 PLAY


VIDEO: LAUNCH REPLAY: CAMERA 060 PLAY


VIDEO: LAUNCH REPLAY: CAMERA 061 PLAY


VIDEO: LAUNCH REPLAY: CAMERA 063 PLAY


VIDEO: LAUNCH REPLAY: CAMERA 070 PLAY


VIDEO: LAUNCH REPLAY: CAMERA 071 PLAY



VIDEO: SPACE SHUTTLE ATLANTIS BLASTS OFF! PLAY | HI-DEF


VIDEO: STS-125 POST-LAUNCH NEWS CONFERENCE PLAY


VIDEO: INSIDE MISSION CONTROL DURING LAUNCH PLAY


VIDEO: NARRATED ANIMATION OF DAY 1 INSPECTIONS PLAY



VIDEO: FINAL PRE-LAUNCH READINESS POLLS CONDUCTED PLAY


VIDEO: SHUTTLE'S CREW MODULE HATCH CLOSED FOR FLIGHT PLAY


VIDEO: MISSION SPECIALIST MEGAN MCARTHUR BOARDS PLAY


VIDEO: PILOT GREG JOHNSON BOARDS ATLANTIS PLAY


VIDEO: MISSION SPECIALIST JOHN GRUNSFELD BOARDS PLAY


VIDEO: SHUTTLE COMMANDER SCOTT ALTMAN BOARDS PLAY


VIDEO: CREW DEPARTS QUARTERS FOR LAUNCH PAD PART 1 | PART 2


VIDEO: ASTRONAUTS DON SPACESUITS FOR LAUNCH PLAY


VIDEO: TIME-LAPSE OF LAUNCH PAD GANTRY ROLLBACK PLAY



VIDEO: HUBBLE'S FUTURE AFTER ATLANTIS SERVICING PLAY


VIDEO: TOP DISCOVERIES MADE BY HUBBLE TELESCOPE PLAY


VIDEO: THE ROLLERCOASTER LIFE OF HUBBLE PLAY


VIDEO: WHAT IS HUBBLE'S PLACE IN HISTORY? PLAY


VIDEO: ENTERTAINING LOOK AT ATLANTIS' CREW PLAY


VIDEO: HUBBLE SPACE TELESCOPE HISTORY MOVIE PLAY


VIDEO: A TRIBUTE TO THE CAMERA THAT SAVED HUBBLE PLAY


VIDEO: HUBBLE TELESCOPE PROGRAM BRIEFING FROM SUNDAY PLAY



VIDEO: SUNDAY'S COUNTDOWN STATUS AND WEATHER UPDATE PLAY


VIDEO: THE STS-125 PRE-LAUNCH NEWS CONFERENCE PLAY


VIDEO: SATURDAY'S COUNTDOWN STATUS AND WEATHER UPDATE PLAY


VIDEO: ASTRONAUTS ARRIVE AT THE CAPE FOR LAUNCH PLAY


VIDEO: FRIDAY'S COUNTDOWN STATUS AND WEATHER UPDATE PLAY



VIDEO: NEWS BRIEFING FOLLOWING FLIGHT READINESS REVIEW PLAY



VIDEO: REFRESHER BRIEFING: THE STS-125 MISSION PLAY


VIDEO: REFRESHER BRIEFING: HUBBLE SPACE TELESCOPE PLAY


VIDEO: REFRESHER BRIEFING: THE SEVEN ASTRONAUTS PLAY



VIDEO: BIOGRAPHY MOVIE OF ATLANTIS' CREW PLAY


VIDEO: INTERVIEW WITH COMMANDER SCOTT ALTMAN PLAY | '09 UPDATE


VIDEO: INTERVIEW WITH PILOT GREG JOHNSON PLAY


VIDEO: INTERVIEW WITH MS1 MIKE GOOD PLAY


VIDEO: INTERVIEW WITH MS2 MEGAN MCARTHUR PLAY


VIDEO: INTERVIEW WITH MS3 JOHN GRUNSFELD PLAY | '09 UPDATE


VIDEO: INTERVIEW WITH MS4 MIKE MASSIMINO PLAY | '09 UPDATE


VIDEO: INTERVIEW WITH MS5 DREW FEUSTEL PLAY | '09 UPDATE



VIDEO: SHUTTLE ATLANTIS ARRIVES AT LAUNCH PAD 39A PLAY | HI-DEF


VIDEO: THE SUN RISES ON ATLANTIS DURING ROLLOUT PLAY | HI-DEF


VIDEO: ATLANTIS EMERGES FROM ASSEMBLY BUILDING PLAY | HI-DEF


VIDEO: ORBITER VERTICAL FOR MATING TO FUEL TANK PLAY | HI-DEF


VIDEO: ATLANTIS MOVES BACK TO ASSEMBLY BUILDING PLAY | HI-DEF



VIDEO: ATLANTIS LEAVES LAUNCH PAD 39A IN OCT. PLAY


VIDEO: TIMELAPSE OF THE ROLLBACK GETTING UNDERWAY PLAY



VIDEO: ASTRONAUTS REHEARSE QUICK SHUTTLE EXIT PLAY


VIDEO: CREW BOARDS ATLANTIS FOR MOCK COUNTDOWN PLAY


VIDEO: ASTRONAUTS DON SUITS FOR PRACTICE COUNTDOWN PLAY


VIDEO: CREW'S TRAINING ON ESCAPE BASKETS AND BUNKER PLAY


VIDEO: ASTRONAUTS CHAT WITH PRESS AT LAUNCH PAD PLAY


VIDEO: CREW TEST DRIVES EMERGENCY PAD ESCAPE VEHICLE PLAY


VIDEO: COMMANDER AND PILOT PRACTICE LANDING APPROACHES PLAY


VIDEO: CREW ARRIVES AT CAPE FOR PRACTICE COUNTDOWN PLAY


VIDEO: COMMENTS FROM COMMANDER AFTER ARRIVING PLAY



VIDEO: AERIAL VIEWS OF ATLANTIS AND ENDEAVOUR PLAY | HI-DEF



VIDEO: PRE-FLIGHT BRIEFING: THE STS-125 MISSION PLAY


VIDEO: PRE-FLIGHT BRIEFING: THE FIVE SPACEWALKS PLAY


VIDEO: PRE-FLIGHT BRIEFING: THE SEVEN ASTRONAUTS PLAY


VIDEO: PRE-FLIGHT BRIEFING: NASA LEADERSHIP PLAY


VIDEO: PRE-FLIGHT BRIEFING: SHUTTLE PROGRAM BOSS PLAY


VIDEO: PRE-FLIGHT BRIEFING: HUBBLE OVERVIEW PLAY


VIDEO: PRE-FLIGHT BRIEFING: HUBBLE SCIENCE PLAY



VIDEO: SHUTTLE ARRIVES ATOP PAD 39A PLAY


VIDEO: ATLANTIS EMERGES FROM VEHICLE ASSEMBLY BUILDING PLAY


VIDEO: TIME-LAPSE MOVIE OF ATLANTIS' ROLLOUT TO LAUNCH PAD PLAY



VIDEO: ATLANTIS ROLLS FROM HANGAR TO VAB PLAY


VIDEO: ATLANTIS LIFTED INTO PLACE FOR ATTACHMENT PLAY


MORE: STS-125 VIDEO COVERAGE


NEW! HIGH DEFINITION VIDEO


SUBSCRIBE NOW