Astronauts set for one last Hubble spacewalk
BY WILLIAM HARWOOD
STORY WRITTEN FOR CBS NEWS "SPACE PLACE" & USED WITH PERMISSION
Posted: May 18, 2009


Running ahead of schedule, astronauts John Grunsfeld and Andrew Feustel are suiting up for the Atlantis crew's fifth and final spacewalk today, a six-hour excursion to equip the Hubble Space Telescope with a second three-battery power pack, a refurbished fine guidance sensor and fresh equipment bay insulation panels. One panel was deferred from a spacewalk Sunday when the crew ran out of time. Grunsfeld and Feustel plan to install it today if time is available.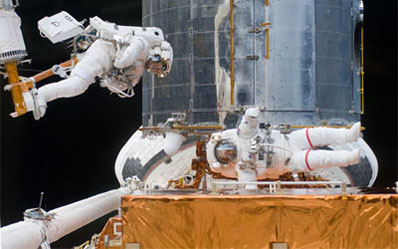 Today's EVA is the fifth and final for the Atlantis crew. Credit: NASA



Barring a future mission to drive Hubble safely out of orbit at the end of its life, this is the last time any astronauts will touch the space telescope and the end of today's spacewalk promises to be an emotional moment for Grunsfeld, an astronomer-astronaut and self-described "Hubble hugger" making his third visit to the iconic observatory.

In a news conference before launch, asked he he planned to "leave his mark" on Hubble, Grunsfeld said yes, "I think we all plan to leave our mark. And it's Wide Field Camera 3, it's Cosmic Origins Spectrograph, RSUs, batteries, fine guidance sensor." Then he joked that robot arm operator Megan McArthur "hopes to leave no marks at all on the telescope with the arm."

But given Grunsfeld's long history with Hubble, his role as NASA's chief scientist when he had to support former Administrator Sean O'Keefe's controversial decision to cancel this final servicing mission and his subsequent assignment to the crew when the flight was reinstated, NASA's most experienced Hubble astronaut almost certainly will have something memorable to say before returning to Atlantis' airlock.

Today's spacewalk is scheduled to begin around 9:16 a.m., although the crew was running well ahead of schedule and hoped to get out the door early. For identification, Grunsfeld, call sign EV-1, will be wearing a spacesuit with red stripes around the legs. Feustel, call sign EV-2, will be wearing an unmarked suit. In a reversal of roles from their earlier spacewalks, Grunsfeld will ride the shuttle's robot arm while Feustel will free float.

One of the top priorities of Atlantis' servicing mission was to install six fresh nickel-hydrogen batteries to replace a degraded set that has been in place since launch in 1990. The first three-battery power module was installed in equipment bay 2 during the crew's second spacewalk Friday.

Today, the final power module will be installed in bay 3. Feustel will prepare the new battery pack for removal from its transport container, removing 12 bolts holding it in place, while Grunsfeld, on the end of the shuttle's robot arm, opens the bay 3 door on Hubble and removes the old batteries, releasing 14 bolts and six electrical cables.

McArthur, operating the robot arm, will move Grunsfeld back down to the cargo bay to swap battery packs with Feustel, who will store the old set for return to Earth while Grunsfeld installs the new set on the telescope.

The next item on the agenda is installation of a refurbished fine guidance sensor, one of three that provides data to the telescope's computer system to help lock onto and track its astronomical targets.

"There are lots of ways that the pointing system on Hubble acquires targets, locks in on those targets, and then allows the science to be produced," Grunsfeld said in a NASA interview. "It has some eyeballs on the outside of the telescope, which are the fixed head star trackers, and they kind of give Hubble that 'Snoopy' look. They acquire the general orientation of the telescope just as the ancient mariners did by looking up at the sky as they were crossing the ocean.

"Once you get into the vicinity of where you want to look the fixed head star trackers' job is done and the fine guidance sensors take over. And what they do is they steal a little bit of light from the primary mirror. The light goes up from the primary mirror to the secondary and through a hole in the middle of the primary mirror, and the fine guidance sensors take that light, look at stars, identify them, lock onto them, and that's how the telescope points in the right place in the sky. And then the rate sensor units take care of all the little oscillations and disturbances. All these parts work together."

Grunsfeld and Feustel first will remove the old FGS 2, opening an access door, attaching a handling fixture, disconnecting electrical cables and attachment clamps and pulling the 900-pound unit out along its guide rails.

The old FGS will be temporarily mounted on an access platform along the left wall of the payload bay. The replacement FGS then will be removed from its transport container and moved to Hubble for installation. After bolting it in place and making the required electrical connections, Grunsfeld and Feustel will retrieve the old FGS and mount it in the transport container for return to Earth.

The flight plan originally called for installation of a new outer blanket layer - NOBL - insulation panel on equipment bay 8 Sunday, during the crew's fourth spacewalk, followed by a NOBL panel for bay 5 today. But the NOBL 8 panel was deferred Sunday when work to repair Hubble's Space Telescope Imaging Spectrograph ran longer than expected.

The spacewalkers hope to install both NOBLs today, on equipment bays 5 and 8, if time is available.

Grunsfeld described the NOBL panels as "big pizza sheets that we're going to put on the outside of the telescope where the insulation has become damaged and is peeling up and the stuff inside is either getting too hot or too cold. So we're going to fix those items."

Because this is the crew's fifth spacewalk in a row, flight controllers do not want it to run long because of concern about crew fatigue. Grunsfeld said Sunday, however, that the crew is in good shape and eager to complete the work.

Here is an updated timeline of today's activity (in EDT and mission elapsed time; includes revision F of the NASA television schedule):

EDT........DD...HH...MM...EVENT

05:31 AM...06...15...30...Crew wakeup
06:46 AM...06...16...45...EVA-5: Preparations begin
08:16 AM...06...18...15...EVA-5: Spacesuit purge
08:26 AM...06...18...25...EVA-5: Spacesuit pre-breathe
09:06 AM...06...19...05...EVA-5: Airlock depressurization
09:16 AM...06...19...15...EVA-5: Spacesuits to battery power
09:21 AM...06...19...20...EVA-5: Airlock egress and setup
09:46 AM...06...19...45...EVA-5: Bay 3 battery R&R
11:06 AM...06...21...05...HST: Battery aliveness test
11:16 AM...06...21...15...EVA-5: FGS-2 replacement
12:41 PM...06...22...40...HST: FGS-2 aliveness test
01:16 PM...06...23...15...EVA-5: NOBL 5 (NOBL8 if time is available)
01:46 PM...06...23...45...EVA-5: Cleanup and airlock ingress
02:46 PM...07...00...45...HST high gain antenna deploy (1)
03:01 PM...07...01...00...EVA-5: Airlock repressurization
03:11 PM...07...00...10...Spacesuit servicing
03:21 PM...07...01...20...HST: Solar arrays slewed to 90 degrees
03:41 PM...07...01...40...HST: Battery functional test
04:00 PM...07...01...59...Mission status briefing on NTV
04:16 PM...07...02...15...LIOH and battery config
04:26 PM...07...02...25...Spacesuit swap
05:11 PM...07...03...10...HST high gain antenna deploy (2)
05:11 PM...07...03...10...Rendezvous tools checkout
05:56 PM...07...03...55...HST: FGS-2 functional test
06:16 PM...07...04...15...HD downlink opportunithy
08:31 PM...07...06...30...Crew sleep begins
08:45 PM...07...06...44...HST update on NTV
09:00 PM...07...06...59...Daily highlights reel on NTV
10:01 PM...07...08...00...HST: SSR engineering playback



Additional coverage for subscribers:


VIDEO: NARRATED PREVIEW OF SPACEWALK NO. 5 PLAY



VIDEO: FLIGHT DAY 7 HIGHLIGHTS MOVIE PLAY


VIDEO: SUNDAY NIGHT UPDATE FROM HST CONTROL CENTER PLAY


VIDEO: SUNDAY'S MISSION STATUS BRIEFING PLAY


VIDEO: SPACE TELESCOPE IMAGING SPECTROGRAPH WORK DONE PLAY


VIDEO: OPENING COVER ON THE ELECTRONICS MODULE ON STIS PLAY


VIDEO: SPACEWALKER MIKE MASSIMINO REMOVES TINY SCREWS PLAY


VIDEO: TRIP FROM AIRLOCK BACK WITH SPARE POWER TOOL PLAY


VIDEO: CAPTURE PLATE MOUNTED ONTO STIS POWER MODULE PLAY


VIDEO: MASSIMINO FIGHTS WITH STUCK BOLT ON HANDRAIL PLAY


VIDEO: SPACEWALKERS GET ORGANIZED FOR STIS REPAIR PLAY


VIDEO: NARRATED PREVIEW OF SPACEWALK NO. 4 PLAY


VIDEO: FLIGHT DIRECTOR'S PREVIEW OF MISSION'S DAY 7 PLAY



VIDEO: FLIGHT DAY 6 HIGHLIGHTS MOVIE PLAY


VIDEO: SATURDAY NIGHT UPDATE FROM HST CONTROL CENTER PLAY


VIDEO: SATURDAY'S MISSION STATUS BRIEFING PLAY


VIDEO: REPAIR OF ADVANCED CAMERA FOR SURVEYS FINISHED PLAY


VIDEO: WATCH AS GRUNSFELD REPAIRS HUBBLE CAMERA PLAY


VIDEO: COSTAR STOWED IN ATLANTIS' PAYLOAD BAY PLAY


VIDEO: UMBILICALS HOOKED UP TO NEW INSTRUMENT PLAY


VIDEO: COSMIC ORIGINS SPECTROGRAPH INSTALLED PLAY


VIDEO: SPECTROGRAPH PREPPED IN LAUNCH CARRIER PLAY


VIDEO: COSTAR OPTICS PACKAGE REMOVED FROM HUBBLE PLAY


VIDEO: SPACEWALKERS OPEN SHROUD DOORS ON TELESCOPE PLAY


VIDEO: NARRATED PREVIEW OF SPACEWALK NO. 3 PLAY


VIDEO: FLIGHT DIRECTOR'S PREVIEW OF MISSION'S DAY 6 PLAY



VIDEO: FLIGHT DAY 5 HIGHLIGHTS MOVIE PLAY


VIDEO: FRIDAY NIGHT UPDATE FROM HST CONTROL CENTER PLAY


VIDEO: FRIDAY'S MISSION STATUS BRIEFING PLAY


VIDEO: SPARE GYRO UNIT INSTALLED INTO THIRD POSITION PLAY


VIDEO: ANOTHER GYROSCOPE UNIT PUT INTO SECOND SLOT PLAY


VIDEO: TROUBLE INSTALLING SECOND GYROSCOPE PACKAGE PLAY


VIDEO: REMOVAL OF SECOND GYROSCOPE PACKAGE FROM HUBBLE PLAY


VIDEO: INSTALLATION OF FIRST GYROSCOPE INTO HUBBLE PLAY


VIDEO: REMOVAL OF FIRST GYROSCOPE PACKAGE FROM HUBBLE PLAY


VIDEO: NARRATED PREVIEW OF SPACEWALK NO. 2 PLAY


VIDEO: FLIGHT DIRECTOR'S PREVIEW OF MISSION'S DAY 5 PLAY



VIDEO: FLIGHT DAY 4 HIGHLIGHTS MOVIE PLAY


VIDEO: THURSDAY NIGHT UPDATE FROM HST CONTROL CENTER PLAY


VIDEO: THURSDAY'S MISSION STATUS BRIEFING PLAY


VIDEO: SOFT CAPTURE MECHANISM PUT ON HUBBLE PLAY


VIDEO: SCIENCE INSTRUMENT COMMAND & DATA HANDLING UNIT PLAY


VIDEO: PARTIALLY FAILED SIC&DH UNIT REMOVED FROM HST PLAY


VIDEO: WFPC2 CAMERA STOWED IN ATLANTIS FOR RETURN PLAY


VIDEO: OVERVIEW OF WIDE FIELD CAMERA 3 INSTRUMENT PLAY


VIDEO: SPACEWALKERS INSTALL THE WIDE FIELD CAMERA 3 PLAY


VIDEO: NEW WIDE FIELD CAMERA 3 PREPPED FOR INSTALLATION PLAY


VIDEO: 16-YEAR-OLD WFPC2 CAMERA REMOVED FROM HUBBLE PLAY


VIDEO: LATCHING BOLT ON WPFC2 FINALLY RELEASED PLAY


VIDEO: FIGHTING WITH TROUBLESOME BOLT ON WPFC2 PLAY


VIDEO: FEUSTEL INSTALLS HANDLE ONTO WPFC2 FOR REMOVAL PLAY


VIDEO: HANDLING FIXTURE DEPLOYED TO HOLD OLD CAMERA PLAY


VIDEO: GRUNSFELD INSTALLS SUPPORT POSTS UNDER HST PLAY


VIDEO: FEUSTEL OPENS LATCHES ON INSTRUMENT CARRIER PLAY


VIDEO: ASTRONAUTS EXIT AIRLOCK TO START EVA NO. 1 PLAY


VIDEO: NARRATED PREVIEW OF SPACEWALK NO. 1 PLAY



VIDEO: FLIGHT DAY 3 HIGHLIGHTS MOVIE PLAY


VIDEO: WEDNESDAY NIGHT UPDATE FROM HST CONTROL CENTER PLAY


VIDEO: WEDNESDAY'S MISSION MANAGEMENT TEAM UPDATE PLAY


VIDEO: WEDNESDAY'S MISSION STATUS BRIEFING PLAY


VIDEO: TIME-LAPSE OF MOVING HUBBLE INTO PAYLOAD BAY PLAY


VIDEO: SHUTTLE ATLANTIS' ROBOT ARM CAPTURES HUBBLE PLAY


VIDEO: FIRST UP CLOSE VIEWS OF HUBBLE IN 7 YEARS PLAY


VIDEO: SHUTTLE ENGINE FIRING TO CIRCULARIZE ORBIT PLAY


VIDEO: INSIGHTFUL OVERVIEW OF ATLANTIS' MISSION PLAY


VIDEO: NARRATED PREVIEW ANIMATION OF HUBBLE RENDEZVOUS PLAY



VIDEO: FLIGHT DAY 2 HIGHLIGHTS MOVIE PLAY


VIDEO: TUESDAY NIGHT UPDATE FROM HST CONTROL CENTER PLAY


VIDEO: TUESDAY'S MISSION MANAGEMENT TEAM UPDATE PLAY


VIDEO: SLOW-MOTION OF DEBRIS THAT APPARENTLY HIT TILES PLAY


VIDEO: TILE DAMAGE FOUND DURING INSPECTIONS PLAY


VIDEO: CAPCOM CALLS CREW ABOUT MINOR DAMAGE PLAY


VIDEO: TUESDAY'S MISSION STATUS BRIEFING PLAY


VIDEO: PREVIEW ANIMATION OF HEAT SHIELD INSPECTIONS PLAY



VIDEO: FLIGHT DAY 1 HIGHLIGHTS MOVIE PLAY


VIDEO: THE FULL STS-125 LAUNCH EXPERIENCE PLAY


VIDEO: LAUNCH REPLAY: EXTERNAL TANK CAMERA PLAY


VIDEO: FOOTAGE OF FUEL TANK AFTER JETTISON PLAY



VIDEO: LAUNCH REPLAY: FRONT CAMERA PLAY


VIDEO: LAUNCH REPLAY: BEACH TRACKER PLAY


VIDEO: LAUNCH REPLAY: PAD PERIMETER PLAY | HI-DEF


VIDEO: LAUNCH REPLAY: UCS-23 TRACKER PLAY


VIDEO: LAUNCH REPLAY: CAMERA CS-1 PLAY


VIDEO: LAUNCH REPLAY: CAMERA CS-2 PLAY


VIDEO: LAUNCH REPLAY: CAMERA CS-6 PLAY


VIDEO: LAUNCH REPLAY: VAB ROOF PLAY


VIDEO: LAUNCH REPLAY: PRESS SITE PLAY


VIDEO: LAUNCH REPLAY: WEST TOWER PLAY


VIDEO: LAUNCH REPLAY: CAMERA 009 PLAY


VIDEO: LAUNCH REPLAY: CAMERA 041 PLAY


VIDEO: LAUNCH REPLAY: CAMERA 049 PLAY


VIDEO: LAUNCH REPLAY: CAMERA 050 PLAY


VIDEO: LAUNCH REPLAY: CAMERA 051 PLAY


VIDEO: LAUNCH REPLAY: CAMERA 060 PLAY


VIDEO: LAUNCH REPLAY: CAMERA 061 PLAY


VIDEO: LAUNCH REPLAY: CAMERA 063 PLAY


VIDEO: LAUNCH REPLAY: CAMERA 070 PLAY


VIDEO: LAUNCH REPLAY: CAMERA 071 PLAY



VIDEO: SPACE SHUTTLE ATLANTIS BLASTS OFF! PLAY | HI-DEF


VIDEO: STS-125 POST-LAUNCH NEWS CONFERENCE PLAY


VIDEO: INSIDE MISSION CONTROL DURING LAUNCH PLAY


VIDEO: NARRATED ANIMATION OF DAY 1 INSPECTIONS PLAY



VIDEO: FINAL PRE-LAUNCH READINESS POLLS CONDUCTED PLAY


VIDEO: SHUTTLE'S CREW MODULE HATCH CLOSED FOR FLIGHT PLAY


VIDEO: MISSION SPECIALIST MEGAN MCARTHUR BOARDS PLAY


VIDEO: PILOT GREG JOHNSON BOARDS ATLANTIS PLAY


VIDEO: MISSION SPECIALIST JOHN GRUNSFELD BOARDS PLAY


VIDEO: SHUTTLE COMMANDER SCOTT ALTMAN BOARDS PLAY


VIDEO: CREW DEPARTS QUARTERS FOR LAUNCH PAD PART 1 | PART 2


VIDEO: ASTRONAUTS DON SPACESUITS FOR LAUNCH PLAY


VIDEO: TIME-LAPSE OF LAUNCH PAD GANTRY ROLLBACK PLAY



VIDEO: HUBBLE'S FUTURE AFTER ATLANTIS SERVICING PLAY


VIDEO: TOP DISCOVERIES MADE BY HUBBLE TELESCOPE PLAY


VIDEO: THE ROLLERCOASTER LIFE OF HUBBLE PLAY


VIDEO: WHAT IS HUBBLE'S PLACE IN HISTORY? PLAY


VIDEO: ENTERTAINING LOOK AT ATLANTIS' CREW PLAY


VIDEO: HUBBLE SPACE TELESCOPE HISTORY MOVIE PLAY


VIDEO: A TRIBUTE TO THE CAMERA THAT SAVED HUBBLE PLAY


VIDEO: HUBBLE TELESCOPE PROGRAM BRIEFING FROM SUNDAY PLAY



VIDEO: SUNDAY'S COUNTDOWN STATUS AND WEATHER UPDATE PLAY


VIDEO: THE STS-125 PRE-LAUNCH NEWS CONFERENCE PLAY


VIDEO: SATURDAY'S COUNTDOWN STATUS AND WEATHER UPDATE PLAY


VIDEO: ASTRONAUTS ARRIVE AT THE CAPE FOR LAUNCH PLAY


VIDEO: FRIDAY'S COUNTDOWN STATUS AND WEATHER UPDATE PLAY



VIDEO: NEWS BRIEFING FOLLOWING FLIGHT READINESS REVIEW PLAY



VIDEO: REFRESHER BRIEFING: THE STS-125 MISSION PLAY


VIDEO: REFRESHER BRIEFING: HUBBLE SPACE TELESCOPE PLAY


VIDEO: REFRESHER BRIEFING: THE SEVEN ASTRONAUTS PLAY



VIDEO: BIOGRAPHY MOVIE OF ATLANTIS' CREW PLAY


VIDEO: INTERVIEW WITH COMMANDER SCOTT ALTMAN PLAY | '09 UPDATE


VIDEO: INTERVIEW WITH PILOT GREG JOHNSON PLAY


VIDEO: INTERVIEW WITH MS1 MIKE GOOD PLAY


VIDEO: INTERVIEW WITH MS2 MEGAN MCARTHUR PLAY


VIDEO: INTERVIEW WITH MS3 JOHN GRUNSFELD PLAY | '09 UPDATE


VIDEO: INTERVIEW WITH MS4 MIKE MASSIMINO PLAY | '09 UPDATE


VIDEO: INTERVIEW WITH MS5 DREW FEUSTEL PLAY | '09 UPDATE



VIDEO: SHUTTLE ATLANTIS ARRIVES AT LAUNCH PAD 39A PLAY | HI-DEF


VIDEO: THE SUN RISES ON ATLANTIS DURING ROLLOUT PLAY | HI-DEF


VIDEO: ATLANTIS EMERGES FROM ASSEMBLY BUILDING PLAY | HI-DEF


VIDEO: ORBITER VERTICAL FOR MATING TO FUEL TANK PLAY | HI-DEF


VIDEO: ATLANTIS MOVES BACK TO ASSEMBLY BUILDING PLAY | HI-DEF



VIDEO: ATLANTIS LEAVES LAUNCH PAD 39A IN OCT. PLAY


VIDEO: TIMELAPSE OF THE ROLLBACK GETTING UNDERWAY PLAY



VIDEO: ASTRONAUTS REHEARSE QUICK SHUTTLE EXIT PLAY


VIDEO: CREW BOARDS ATLANTIS FOR MOCK COUNTDOWN PLAY


VIDEO: ASTRONAUTS DON SUITS FOR PRACTICE COUNTDOWN PLAY


VIDEO: CREW'S TRAINING ON ESCAPE BASKETS AND BUNKER PLAY


VIDEO: ASTRONAUTS CHAT WITH PRESS AT LAUNCH PAD PLAY


VIDEO: CREW TEST DRIVES EMERGENCY PAD ESCAPE VEHICLE PLAY


VIDEO: COMMANDER AND PILOT PRACTICE LANDING APPROACHES PLAY


VIDEO: CREW ARRIVES AT CAPE FOR PRACTICE COUNTDOWN PLAY


VIDEO: COMMENTS FROM COMMANDER AFTER ARRIVING PLAY



VIDEO: AERIAL VIEWS OF ATLANTIS AND ENDEAVOUR PLAY | HI-DEF



VIDEO: PRE-FLIGHT BRIEFING: THE STS-125 MISSION PLAY


VIDEO: PRE-FLIGHT BRIEFING: THE FIVE SPACEWALKS PLAY


VIDEO: PRE-FLIGHT BRIEFING: THE SEVEN ASTRONAUTS PLAY


VIDEO: PRE-FLIGHT BRIEFING: NASA LEADERSHIP PLAY


VIDEO: PRE-FLIGHT BRIEFING: SHUTTLE PROGRAM BOSS PLAY


VIDEO: PRE-FLIGHT BRIEFING: HUBBLE OVERVIEW PLAY


VIDEO: PRE-FLIGHT BRIEFING: HUBBLE SCIENCE PLAY



VIDEO: SHUTTLE ARRIVES ATOP PAD 39A PLAY


VIDEO: ATLANTIS EMERGES FROM VEHICLE ASSEMBLY BUILDING PLAY


VIDEO: TIME-LAPSE MOVIE OF ATLANTIS' ROLLOUT TO LAUNCH PAD PLAY



VIDEO: ATLANTIS ROLLS FROM HANGAR TO VAB PLAY


VIDEO: ATLANTIS LIFTED INTO PLACE FOR ATTACHMENT PLAY


MORE: STS-125 VIDEO COVERAGE


NEW! HIGH DEFINITION VIDEO


SUBSCRIBE NOW