Today's EVA to install new instrument, repair another
BY WILLIAM HARWOOD
STORY WRITTEN FOR CBS NEWS "SPACE PLACE" & USED WITH PERMISSION
Posted: May 16, 2009


Astronauts John Grunsfeld and Andrew Feustel are preparing for the most challenging - and uncertain - spacewalk of the crew's Hubble Space Telescope servicing mission: installation of a new spectrograph and the attempted repair of a broken camera that was not designed to be serviced in space.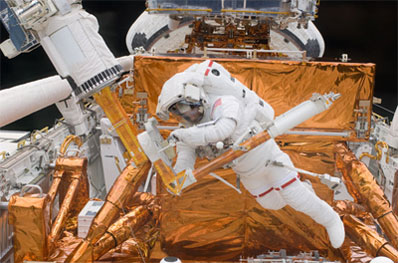 Credit: NASA



The Advanced Camera for Surveys, or ACS, suffered multiple electrical failures in 2006 and 2007 that knocked two of its three cameras out of action. To fix them, Grunsfeld must install an external power supply and replace four circuit boards, The surgery, if successful, will re-route power through the instrument, reviving one of two command and data channels and restoring its ability to take wide-field and high-resolution photographs.

The complex job originally was spread out over two spacewalks. But the failure of a science data computer aboard Hubble last September, and the addition of a replacement to the Atlantis mission, forced flight planners to compress the ACS work into a single spacewalk.

"Basically, I have to cut an electromagnetic grid off that's kind of like a screen," Grunsfeld said before launch. "Then I have to remove No. 4 fasteners, these tiny little Torx-head screws. I have 32 of those, plus a few other screws, to remove a cover plate. Then I have to pull four circuit cards out and then we're going to replace that electronics with new electronics. Instead of putting cards back, we're just going to put a big box in and a new power supply. Our goal is to finish that, complete, in one EVA.

"The challenge for me, of course, is ... the location of the electronics box on the ACS is not right in front of me, but it's sort of around a corner. So I'm kind of working as if I'm underneath a car trying to remove some screws that I can't see. And some of the screws, in fact, I can't see, I have to go by feel with a little manual screwdriver. We've practiced this over and over again in the (water) tank. ... We've tried to make this feel routine. But I would say ... this repair is different from previous repairs I've done on Hubble, (it) has not yet become routine. I think this is going to be a nail biter all the way up until we actually do the repair."

Because the crew's second spacewalk, by Michael Massimino and Michael Good, ran long Friday, the crew was given an extra hour to unwind Friday night and wakeup today was delayed an hour. As a result, Grunsfeld and Feustel plan to begin today's spacewalk one hour later than originally planned, around 9:16 a.m.

This will be the 21st spacewalk devoted to Hubble servicing over four missions, the third of five planned for the Atlantis astronauts, the seventh overall for Grunsfeld and the second for Feustel. Going into today's excursion, 16 astronauts had logged 144 hours and 26 minutes of Hubble spacewalk time, including 15 hours and 16 minutes during spacewalks Thursday and Friday.

Grunsfeld currently is eighth on the list of most experienced spacewalkers with 44 horus and 52 minutes of EVA time. With today's spacewalk, he is expected to move up to No. 4, behind cosmonaut Anatoly Solovyev and astronauts Mike Lopez-Alegria and Jerry Ross.

For identification purposes, Grunsfeld, call sign EV-1, will be wearing a suit with red stripes on the legs while Feustel, EV-2, will be wearing a suit with no stripes.

The first item on the agenda after exiting the airlock and setting up tools and tethers is to remove the COSTAR instrument from Hubble to make way for the new Cosmic Origins Spectrograph. COSTAR, the Corrective Optics Space Telescope Axial Replacement, was installed in 1993 during the first Hubble servicing mission. It was equipped with small mirrors that were ground to a shape that exactly counteracted the spherical aberration marring Hubble's primary mirror. COSTAR routed corrected light to all of Hubble's instruments except the Wide Field Planetary Camera 2, which had its own built-in corrective optics.

Grunsfeld and Feustel will remove COSTAR and temporarily mount it on the side of the shuttle's cargo bay. After pulling the Cosmic Origins Spectrograph from its storage container, the astronauts will slide it into COSTAR's place in the Hubble Space Telescope. COSTAR then will be stored to the spectrograph's payload bay container for return to Earth.

"We haven't said a lot about COS and it's sort of the quiet instrument back in the background waiting to come out and be a super star," said Hubble Project Scientist David Leckrone. "COS is the most sensitive spectrograph ever to fly in space. A spectrograph is kind of a poor relative to a camera, it doesn't take pretty pictures, it merely produces precise, quantitative astrophysical data on everything in the sky that we point it to: What is something made of, how hot is is, how dense is it, how fast is it moving through space, etc."

Unlike Hubble's broken Space Telescope Imaging Spectrograph, which Massimino and Good will attempt to repair Sunday, "COS is focusing particularly on ultraviolet wavelengths whereas STIS, which we hope to get repaired, can go all the way up into the visible. COS is a medium-resolution spectrograph, STIS is a high-resolution spectrograph. STIS can take imaging spectra, two dimensional spectra of an exteneded object like a nebula, COS is a point source spectrograph. So they're quite different and they're very complementary to each other.

"But COS is very much more sensitive than STIS in the ultraviolet," Leckrone said. "So it wants to go as deep out in space, as far back in time as it can, as fast as it can."

With COS in place, the astronauts will turn their attention to the Advanced Camera for Surveys, which is located in the same equipment bay.

Grunsfeld, anchored to a foot restraint on the telescope, first must cut away the camera's electromagnetic shielding using a special tool called a grid cutter. He then will remove a cover plate held in place by 32 non-captive fasteners. To make sure the screws don't float away, Grunsfeld will attach a fastener capture fixture over the cover plate that will trap the fasteners as they are backed out. Then he can remove the capture device and cover plate as one piece, exposing the camera's internal electronics.

Using a circuit card extraction tool, Grunsfeld will pull out four blown circuit board. He then will attach a new set of cards in their own carrier, bypassing the camera's original equipment. A new low-voltage power supply also will be wired into the ACS system to complete the repair.

"I have high confidence going into it that we'll be able to finish it in one EVA day, maybe a slightly extended EVA day, but that's in the absence of any surprises," Grunsfeld told CBS News before launch. "And one thing I've learned from the first two missions and involvement in all the Hubble missions is, Hubble is always full of surprises. So we'll have to see on the day we get there."

For minimum mission success, the astronauts must successfully repair at least one of the broken instruments. If the ACS repair is not successful but the STIS repair is, NASA will not add any additional ACS repair work to the crew's fifth and final spacewalk Monday. If the STIS repair is not successful, however, installation of a refurbished fine guidance sensor Monday will be deleted and the astronauts will continue with whichever repair job shows the most promise of success.

"It's important to understand that achieving success in restoring the operation of STIS and ACS is much less certain than the other activities we will be performing on SM-4," said Preston Burch, Hubble program manager at NASA's Goddard Space Flight Center. "The problems were diagnosed on the ground. Normally, if you're going to repair electronics, you like to take the electronics box into a shop where you have a lot of test equipment and parts and personnel who can work on it in a shirt sleeves-type environment.

"We don't have the luxury of doing that. What we are using here are basically clues that we have received from the telemetry to solve a puzzle. I think this is sort of similar to these crime scene investigation shows that are so popular on TV. I like to refer to Goddard as 'CSI: Goddard' when we start getting into the forensics of trying to figure out what has caused a piece of equipment to fail.

"There are uncertainties in the knowledge of the cause of the particular failure. the electrical and mechanical interfaces or things we are not used to working on in space. We'll be using a lot of new tools and procedures for the first time and these tasks are very complex. Another important point is we'll only going to be able to repair one side of each of these instruments. In other words, the STIS instrument had a primary and a redundant electronics side. We've incurred failures in both of those sides. We only have time on this mission to repair one side on each of those instruments. So we will not be restoring full redundancy.

"We need to think about the repair of these instruments as really kind of an experiment, because this will be the first time we've attempted something like this and it's very challenging work," Burch said.

Here is an updated timeline of today's activity (in EDT and mission elapsed time; includes revision D of the NASA television schedule):

EDT........DD...HH...MM...EVENT

05/16/09
03:26 AM...04...13...25...HST: SSR engineering playback
05:31 AM...04...15...30...Crew wakeup
06:46 AM...04...16...45...EVA-3: Preparations begin
08:16 AM...04...18...15...EVA-3: Spacesuit purge
08:26 AM...04...18...25...EVA-3: Spacesuit pre-breathe
09:06 AM...04...19...05...EVA-3: Airlock depressurization
09:16 AM...04...19...15...EVA-3: Spacesuits to battery power
09:21 AM...04...19...20...EVA-3: Airlock egress and setup
09:46 AM...04...19...45...EVA-3: Cosmic Origins Spectrograph
11:46 AM...04...21...45...HST: COS aliveness test
12:36 PM...04...22...35...EVA-3: ACS repair (part 1)
03:01 PM...05...01...00...EVA-3: Cleanup and airlock ingress
03:46 PM...05...01...45...EVA-3: Airlock repressurization
03:46 PM...05...01...45...HST: COS functional test
03:56 PM...05...01...55...Spacesuit servicing
04:45 PM...05...02...44...Mission status briefing on NTV
05:01 PM...05...03...00...EVA-4: Tools configured
05:01 PM...05...03...00...LIOH and battery config
05:21 PM...05...03...20...Spacesuit swap
06:16 PM...05...04...15...HD downlink opportunity
06:21 PM...05...04...20...EVA-4: Procedures review
09:31 PM...05...07...30...Crew sleep begins
09:45 PM...05...07...44...HST Update on NTV
10:00 PM...05...07...59...Daily highlights reel on NTV
11:01 PM...05...09...00...HST: SSR engineering playback

For readers interested in a bit more detail about today's ACS repair work, here is an explanation provided by Burch in an earlier interview with CBS News. He said engineers initially were "pretty negative" about attempting any sort of ACS repair.

"We knew how long it was taking us to get the STIS repair done," he said. "That took us over three years to get that done. And when ACS failed, we didn't have the luxury of three years to get that together. That kind of told us this was going to be a huge challenge. Second of all, we had failures on both sides of the main electronics box, 1 and 2, which we had on STIS also. But the problem was that on ... one of the sides (of the ACS), we couldn't get into the box because it was blocked by the NICMOS cooling system and we'd have had to disassemble that partially to get in there and nobody wanted to do that. The other side that was accessible was difficult to get at and if you got it open, we were concerned about a contamination risk because of the catastrophic nature of the failure. So much current went through there that we we thought there was the potential for a lot of collateral damage and you open that box up and it's like Pandora's box, you don't know what's coming out of there and we didn't think that was a healthy scenario.

"So we had to come up with a whole new approach to repairing ACS," he said. "We can't get into either of the low-voltage power supplies on ACS. So our approach is, we're going to provide an additional low-voltage power supply and we'll just hang it on the outside of the instrument and we'll tap into the power connector coming into the instrument. So we'll kind of T off the power to that. Ideally, we'd like to restore both the wide-field channel and the high-resolution channel on the ACS. It turns out, even though the high-resolution channel, as the name implie,s provides the best, the deepest pictures, the most sensitive and the highest resolved pictures, it was not the most popular channel by the astronomers because of its very narrow field of view. They found the wide-field channel very useful for the majority of observations that they wanted to make. So the wide-field channel was used a very high percentage of the time, it was on the order of 70 some odd percent whereas the high-res channel was maybe 20 percent or less and the solar blind channel was like 5 percent.

"So we said OK, let's look at how we might do this. And the technique that we came up with, it turns out you can get access to the CCD electronics box that powers each of those channels, you can gain access to those somewhat conveniently going in through the outside of the instrument.

"You don't have to take off a bunch of covers and go through a lot of stuff to get at them. but it's not real easy, either. There are two CCD electronics boxes, one for the wide-field channel and one for the high-res channel. In order to get access to them, you have to cut off an EMI grid. There's like this screen, this very coarse screen on the outside. So we came up with a special cutter tool that cuts that screen away and it cuts the individual wires. There's roughly a dozen wires or so that need to be cut. Once you've done that, you're now looking at a plate that needs to be removed and it's got 30 some odd screws in it. So you put a fastener-capture plate on that and remove the screws and once you pull that plate out, you're now looking at four printed circuit boards in each of those cavities that contain the electronics that power and control the CCD for each of those channels.

"So the idea is, pull those boards out and put in a new set of boards but wire them up in a way that they bypass or ignore the damaged areas coming from the existing main electronic box. This new module that would go in that replaces those four boards, it'll be powered by the external low voltage power supply that you've just attached to the outside of the instrument and it in turn will provide the power and control signals to the CCD using the existing wires that are in there, but it can be done in a way that avoids the damaged areas in the main electronics box.

"The downside here is we just didn't have the time and the money to replace the electronics in both the wide-field channel's CCD electronics box and the high-resolution channel's CCD box. So we came up with a scheme, it turns out there are shared copper paths between the electronics for both of those channels. So what we said was, hey, why don't we get to the high-res channel through the electronics path that are connected to the wide-field channel? We'll just back power the existing printed circuit boards that are in the high-resolution channel CCD. We tested that on the ground and sure enough, it turns out to be feasible to do that. The only question mark is the status of the low voltage power supply on the MED 1 and MED 2 sides. In other words, it's possible that if there's damage on the sides of the interpoint converters, the secondary sides that are powering the high-resolution channel, it's possible there are some short circuits there that will prevent this scheme from working. Particularly on the one side that suffered the major damage. That may not work very well.

"In any event, what we decided to do is, we're providing an additional built-in power supply that will try to rejuvenate, or bring back to life, the high-resolution channel by back powering the high-res channel through these shared copper paths that connect to the wide-field channel," Burch said. "I won't say it's a long shot. It IS somewhat of a long shot, but people need to understand that this doesn't have the same degree of rigor as, let's say, building a brand new science instrument or a new black box that we're hooking up to standard interfaces that already exist on the telescope. This is really a bit of an experiment."

Even if ACS is revived, engineers would face yet another hurdle: "tuning" the CCD control electronics to get optimum performance.

"They go to great pains on the ground to tune the electronics to get optimum performance out of these things to get the best sensitivity," Burch said. "Unfortunately, the detectors are up there and we're down here and we don't have that opportunity. So the question is, well, how do you make that happen? What we did was, we borrowed some technology from James Webb Space Telescope. We have employed the use of an ASIC chip, an application specific integrated circuit known as a sidecar, which is basically a video processing chip. And this chip is going to be key to enabling us to fine tune the control electronics, the new electronics we're putting in for the wide field channel so that we can get the lowest possible read noise out of the system when it's installed on orbit and operating.

"We're very fortunate that we have an excellent flight spare detector for ACS right here on the ground. Actually, we have several and we've experimented with those and saved our final testing for the best chip. And so we were able to put this into a dewar, get the temperature down to what it's experiencing on orbit and we've been able to fine tune the electronics with the software to demonstrate that this technique works and that we can get the kind of performance that we're looking to achieve. As a matter of fact, I probably shouldn't say this, if it works out up there the way it's worked out on the ground we'll be getting better pictures out of the ACS wide field channel than before the failure occurred."

Developing the ACS repair concept and perfecting the techniques required has required "a super human effort," Burch said.

"This is fine work using new tools, this is stuff that hasn't been done before, getting access to this ACS CCD electronics box area is very, very difficult because it's up near the top of the instrument, there's some structure that's in the way that makes getting direct viewing of this area exceedingly difficult. We've had to build and modify tooling to get in there. It's going to be tough. With the bulky suits and gloves, it's going to be tough work."

But "if these instrument repairs don't go well, they won't do any harm to the observatory so we won't be any worse off for not having tried."

For his part, Grunsfeld said hešs confident the astronauts can successfully repair both broken instruments.

"The extra time we've had with the flight delay has allowed us to practice over and over again the removal of these tiny screws," he told CBS News. "For both the STIS repair, with Mike Massimino at the screw driver, and myself for the Advanced Camera for Surveys repair, we've really honed it to the maximum efficiency. As a result, I have high confidence going into it that we'll be able to finish it in the EVA day, maybe a slightly extended EVA day, but that's in the absence of any surprises. And one thing I've learned from the first two missions and involvement in all the Hubble missions is, Hubble is always full of surprises. So we'll have to see on the day we get there."

Burch said he believes "the odds are better than 50-50 for ACS and I think they're much better than 80 percent for STIS. But I hope I don't have to eat my words after this mission."


Additional coverage for subscribers:


VIDEO: FRIDAY'S MISSION STATUS BRIEFING PLAY


VIDEO: SPARE GYRO UNIT INSTALLED INTO THIRD POSITION PLAY


VIDEO: ANOTHER GYROSCOPE UNIT PUT INTO SECOND SLOT PLAY


VIDEO: TROUBLE INSTALLING SECOND GYROSCOPE PACKAGE PLAY


VIDEO: REMOVAL OF SECOND GYROSCOPE PACKAGE FROM HUBBLE PLAY


VIDEO: INSTALLATION OF FIRST GYROSCOPE INTO HUBBLE PLAY


VIDEO: REMOVAL OF FIRST GYROSCOPE PACKAGE FROM HUBBLE PLAY


VIDEO: NARRATED PREVIEW OF SPACEWALK NO. 2 PLAY


VIDEO: FLIGHT DIRECTOR'S PREVIEW OF MISSION'S DAY 5 PLAY



VIDEO: FLIGHT DAY 4 HIGHLIGHTS MOVIE PLAY


VIDEO: THURSDAY NIGHT UPDATE FROM HST CONTROL CENTER PLAY


VIDEO: THURSDAY'S MISSION STATUS BRIEFING PLAY


VIDEO: SOFT CAPTURE MECHANISM PUT ON HUBBLE PLAY


VIDEO: SCIENCE INSTRUMENT COMMAND & DATA HANDLING UNIT PLAY


VIDEO: PARTIALLY FAILED SIC&DH UNIT REMOVED FROM HST PLAY


VIDEO: WFPC2 CAMERA STOWED IN ATLANTIS FOR RETURN PLAY


VIDEO: OVERVIEW OF WIDE FIELD CAMERA 3 INSTRUMENT PLAY


VIDEO: SPACEWALKERS INSTALL THE WIDE FIELD CAMERA 3 PLAY


VIDEO: NEW WIDE FIELD CAMERA 3 PREPPED FOR INSTALLATION PLAY


VIDEO: 16-YEAR-OLD WFPC2 CAMERA REMOVED FROM HUBBLE PLAY


VIDEO: LATCHING BOLT ON WPFC2 FINALLY RELEASED PLAY


VIDEO: FIGHTING WITH TROUBLESOME BOLT ON WPFC2 PLAY


VIDEO: FEUSTEL INSTALLS HANDLE ONTO WPFC2 FOR REMOVAL PLAY


VIDEO: HANDLING FIXTURE DEPLOYED TO HOLD OLD CAMERA PLAY


VIDEO: GRUNSFELD INSTALLS SUPPORT POSTS UNDER HST PLAY


VIDEO: FEUSTEL OPENS LATCHES ON INSTRUMENT CARRIER PLAY


VIDEO: ASTRONAUTS EXIT AIRLOCK TO START EVA NO. 1 PLAY


VIDEO: NARRATED PREVIEW OF SPACEWALK NO. 1 PLAY



VIDEO: FLIGHT DAY 3 HIGHLIGHTS MOVIE PLAY


VIDEO: WEDNESDAY NIGHT UPDATE FROM HST CONTROL CENTER PLAY


VIDEO: WEDNESDAY'S MISSION MANAGEMENT TEAM UPDATE PLAY


VIDEO: WEDNESDAY'S MISSION STATUS BRIEFING PLAY


VIDEO: TIME-LAPSE OF MOVING HUBBLE INTO PAYLOAD BAY PLAY


VIDEO: SHUTTLE ATLANTIS' ROBOT ARM CAPTURES HUBBLE PLAY


VIDEO: FIRST UP CLOSE VIEWS OF HUBBLE IN 7 YEARS PLAY


VIDEO: SHUTTLE ENGINE FIRING TO CIRCULARIZE ORBIT PLAY


VIDEO: INSIGHTFUL OVERVIEW OF ATLANTIS' MISSION PLAY


VIDEO: NARRATED PREVIEW ANIMATION OF HUBBLE RENDEZVOUS PLAY



VIDEO: FLIGHT DAY 2 HIGHLIGHTS MOVIE PLAY


VIDEO: TUESDAY NIGHT UPDATE FROM HST CONTROL CENTER PLAY


VIDEO: TUESDAY'S MISSION MANAGEMENT TEAM UPDATE PLAY


VIDEO: SLOW-MOTION OF DEBRIS THAT APPARENTLY HIT TILES PLAY


VIDEO: TILE DAMAGE FOUND DURING INSPECTIONS PLAY


VIDEO: CAPCOM CALLS CREW ABOUT MINOR DAMAGE PLAY


VIDEO: TUESDAY'S MISSION STATUS BRIEFING PLAY


VIDEO: PREVIEW ANIMATION OF HEAT SHIELD INSPECTIONS PLAY



VIDEO: FLIGHT DAY 1 HIGHLIGHTS MOVIE PLAY


VIDEO: THE FULL STS-125 LAUNCH EXPERIENCE PLAY


VIDEO: LAUNCH REPLAY: EXTERNAL TANK CAMERA PLAY


VIDEO: FOOTAGE OF FUEL TANK AFTER JETTISON PLAY



VIDEO: LAUNCH REPLAY: FRONT CAMERA PLAY


VIDEO: LAUNCH REPLAY: BEACH TRACKER PLAY


VIDEO: LAUNCH REPLAY: PAD PERIMETER PLAY | HI-DEF


VIDEO: LAUNCH REPLAY: UCS-23 TRACKER PLAY


VIDEO: LAUNCH REPLAY: CAMERA CS-1 PLAY


VIDEO: LAUNCH REPLAY: CAMERA CS-2 PLAY


VIDEO: LAUNCH REPLAY: CAMERA CS-6 PLAY


VIDEO: LAUNCH REPLAY: VAB ROOF PLAY


VIDEO: LAUNCH REPLAY: PRESS SITE PLAY


VIDEO: LAUNCH REPLAY: WEST TOWER PLAY


VIDEO: LAUNCH REPLAY: CAMERA 009 PLAY


VIDEO: LAUNCH REPLAY: CAMERA 041 PLAY


VIDEO: LAUNCH REPLAY: CAMERA 049 PLAY


VIDEO: LAUNCH REPLAY: CAMERA 050 PLAY


VIDEO: LAUNCH REPLAY: CAMERA 051 PLAY


VIDEO: LAUNCH REPLAY: CAMERA 060 PLAY


VIDEO: LAUNCH REPLAY: CAMERA 061 PLAY


VIDEO: LAUNCH REPLAY: CAMERA 063 PLAY


VIDEO: LAUNCH REPLAY: CAMERA 070 PLAY


VIDEO: LAUNCH REPLAY: CAMERA 071 PLAY



VIDEO: SPACE SHUTTLE ATLANTIS BLASTS OFF! PLAY | HI-DEF


VIDEO: STS-125 POST-LAUNCH NEWS CONFERENCE PLAY


VIDEO: INSIDE MISSION CONTROL DURING LAUNCH PLAY


VIDEO: NARRATED ANIMATION OF DAY 1 INSPECTIONS PLAY



VIDEO: FINAL PRE-LAUNCH READINESS POLLS CONDUCTED PLAY


VIDEO: SHUTTLE'S CREW MODULE HATCH CLOSED FOR FLIGHT PLAY


VIDEO: MISSION SPECIALIST MEGAN MCARTHUR BOARDS PLAY


VIDEO: PILOT GREG JOHNSON BOARDS ATLANTIS PLAY


VIDEO: MISSION SPECIALIST JOHN GRUNSFELD BOARDS PLAY


VIDEO: SHUTTLE COMMANDER SCOTT ALTMAN BOARDS PLAY


VIDEO: CREW DEPARTS QUARTERS FOR LAUNCH PAD PART 1 | PART 2


VIDEO: ASTRONAUTS DON SPACESUITS FOR LAUNCH PLAY


VIDEO: TIME-LAPSE OF LAUNCH PAD GANTRY ROLLBACK PLAY



VIDEO: HUBBLE'S FUTURE AFTER ATLANTIS SERVICING PLAY


VIDEO: TOP DISCOVERIES MADE BY HUBBLE TELESCOPE PLAY


VIDEO: THE ROLLERCOASTER LIFE OF HUBBLE PLAY


VIDEO: WHAT IS HUBBLE'S PLACE IN HISTORY? PLAY


VIDEO: ENTERTAINING LOOK AT ATLANTIS' CREW PLAY


VIDEO: HUBBLE SPACE TELESCOPE HISTORY MOVIE PLAY


VIDEO: A TRIBUTE TO THE CAMERA THAT SAVED HUBBLE PLAY


VIDEO: HUBBLE TELESCOPE PROGRAM BRIEFING FROM SUNDAY PLAY



VIDEO: SUNDAY'S COUNTDOWN STATUS AND WEATHER UPDATE PLAY


VIDEO: THE STS-125 PRE-LAUNCH NEWS CONFERENCE PLAY


VIDEO: SATURDAY'S COUNTDOWN STATUS AND WEATHER UPDATE PLAY


VIDEO: ASTRONAUTS ARRIVE AT THE CAPE FOR LAUNCH PLAY


VIDEO: FRIDAY'S COUNTDOWN STATUS AND WEATHER UPDATE PLAY



VIDEO: NEWS BRIEFING FOLLOWING FLIGHT READINESS REVIEW PLAY



VIDEO: REFRESHER BRIEFING: THE STS-125 MISSION PLAY


VIDEO: REFRESHER BRIEFING: HUBBLE SPACE TELESCOPE PLAY


VIDEO: REFRESHER BRIEFING: THE SEVEN ASTRONAUTS PLAY



VIDEO: BIOGRAPHY MOVIE OF ATLANTIS' CREW PLAY


VIDEO: INTERVIEW WITH COMMANDER SCOTT ALTMAN PLAY | '09 UPDATE


VIDEO: INTERVIEW WITH PILOT GREG JOHNSON PLAY


VIDEO: INTERVIEW WITH MS1 MIKE GOOD PLAY


VIDEO: INTERVIEW WITH MS2 MEGAN MCARTHUR PLAY


VIDEO: INTERVIEW WITH MS3 JOHN GRUNSFELD PLAY | '09 UPDATE


VIDEO: INTERVIEW WITH MS4 MIKE MASSIMINO PLAY | '09 UPDATE


VIDEO: INTERVIEW WITH MS5 DREW FEUSTEL PLAY | '09 UPDATE



VIDEO: SHUTTLE ATLANTIS ARRIVES AT LAUNCH PAD 39A PLAY | HI-DEF


VIDEO: THE SUN RISES ON ATLANTIS DURING ROLLOUT PLAY | HI-DEF


VIDEO: ATLANTIS EMERGES FROM ASSEMBLY BUILDING PLAY | HI-DEF


VIDEO: ORBITER VERTICAL FOR MATING TO FUEL TANK PLAY | HI-DEF


VIDEO: ATLANTIS MOVES BACK TO ASSEMBLY BUILDING PLAY | HI-DEF



VIDEO: ATLANTIS LEAVES LAUNCH PAD 39A IN OCT. PLAY


VIDEO: TIMELAPSE OF THE ROLLBACK GETTING UNDERWAY PLAY



VIDEO: ASTRONAUTS REHEARSE QUICK SHUTTLE EXIT PLAY


VIDEO: CREW BOARDS ATLANTIS FOR MOCK COUNTDOWN PLAY


VIDEO: ASTRONAUTS DON SUITS FOR PRACTICE COUNTDOWN PLAY


VIDEO: CREW'S TRAINING ON ESCAPE BASKETS AND BUNKER PLAY


VIDEO: ASTRONAUTS CHAT WITH PRESS AT LAUNCH PAD PLAY


VIDEO: CREW TEST DRIVES EMERGENCY PAD ESCAPE VEHICLE PLAY


VIDEO: COMMANDER AND PILOT PRACTICE LANDING APPROACHES PLAY


VIDEO: CREW ARRIVES AT CAPE FOR PRACTICE COUNTDOWN PLAY


VIDEO: COMMENTS FROM COMMANDER AFTER ARRIVING PLAY



VIDEO: AERIAL VIEWS OF ATLANTIS AND ENDEAVOUR PLAY | HI-DEF



VIDEO: PRE-FLIGHT BRIEFING: THE STS-125 MISSION PLAY


VIDEO: PRE-FLIGHT BRIEFING: THE FIVE SPACEWALKS PLAY


VIDEO: PRE-FLIGHT BRIEFING: THE SEVEN ASTRONAUTS PLAY


VIDEO: PRE-FLIGHT BRIEFING: NASA LEADERSHIP PLAY


VIDEO: PRE-FLIGHT BRIEFING: SHUTTLE PROGRAM BOSS PLAY


VIDEO: PRE-FLIGHT BRIEFING: HUBBLE OVERVIEW PLAY


VIDEO: PRE-FLIGHT BRIEFING: HUBBLE SCIENCE PLAY



VIDEO: SHUTTLE ARRIVES ATOP PAD 39A PLAY


VIDEO: ATLANTIS EMERGES FROM VEHICLE ASSEMBLY BUILDING PLAY


VIDEO: TIME-LAPSE MOVIE OF ATLANTIS' ROLLOUT TO LAUNCH PAD PLAY



VIDEO: ATLANTIS ROLLS FROM HANGAR TO VAB PLAY


VIDEO: ATLANTIS LIFTED INTO PLACE FOR ATTACHMENT PLAY


MORE: STS-125 VIDEO COVERAGE


NEW! HIGH DEFINITION VIDEO


SUBSCRIBE NOW