Today's Hubble spacewalk to replace gyros and batteries
BY WILLIAM HARWOOD
STORY WRITTEN FOR CBS NEWS "SPACE PLACE" & USED WITH PERMISSION
Posted: May 15, 2009


Astronauts Michael Massimino and Michael "Bueno" Good are preparing for a six-and-a-half-hour spacewalk to swap out the Hubble Space Telescope's six stabilizing gyroscopes - the top priority of Servicing Mission 4 - and three of its aging nickel-hydrogen batteries, now operating at half their original capacity.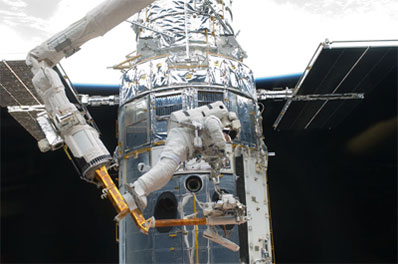 Mission's first spacewalk was successfully completed yesterday. Credit: NASA



"They are 20 years old," said Hubble Program Manager Preston Burch. "They were built a couple of years before we launched in '90. We're so far beyond the design lifetime it's anybody's guess as to how long they could continue to go. We know it's not infinite. So our best judgment is we should go ahead and still change them out."

Hubble's gyroscopes, which help it lock onto and track its targets, are an even more pressing concern. The telescope was designed with redundancy in mind and while it was equipped with six gyros, only three were required for science operations. But gyros 2, 3 and 5 have failed and gyro 6 exhibits symptoms of a problem that eventually could knock it out of action.

"We're flying on one and six," Burch said. "Four is in reserve, However, six, you may recall, has some flaky characteristics that were detected not too long after it was installed on servicing mission 3A (in 1999). We suspect it has to do with the suspension system in it. When you slew the observatory, the drift rate on the gyro changes significantly on it. That's the bad news. The good news is, it changes in a very predictable way. We cleverly put some flight software on board that enables us to use gyro 6 and not be confused or whatever by the shift in the gyro drift bias.

"Now gyro one recently had a sudden surge in its motor current which is indicative of a temporary rotor restriction event. And this has happened (several) times. The current has gone up, but it's come back down. But it's still running at a value slightly higher than normal. So our best experts and our past experience tell us one is living on borrowed time and it could go at any time. Gyro four, although it's off and held in reserve, was used for a long time and has a lot of run time on it. It's up there, it's up around the 50 percent point in terms of probability of failure. It's not clear how long gyro four could last if and when we had to turn it on and use it.

"So the bottom line is, all three of the remaining gyros have got liens against them if you will," Burch said. "Six because of the flaky suspension, one because of the flaky motor current and four because it's got a lot of run time on it. So you ask, how much longer can you guys keep going on gyros, even with a one-gyro science mode, and that becomes highly speculative. ... Our previous calculations showed we could probably get through 2009 with the gyros that we have. I think getting much past 2010 would be a bit of a stretch."

Today's spacewalk was scheduled to begin at 8:16 a.m. Massimino and Good plan to change out all six gyros and to replace three of the telescope's six batteries. The other three, in a different location, will be swapped out during a spacewalk Monday.

During preparations early today, flight controllers informed the astronauts that the new $132 million Wide Field Camera 3, installed during the crew's first spacewalk Thursday, had passed an overnight "functional test.

"Hey, while I've got you guys, the Goddard (Space Flight Center) team reports we got a good functional test on Wide Field 3," astronaut Dan Burbank called from Houston.

"That's great news, Dan," Massimino replied.

For identification, Massimino, call sign EV-3, will be wearing a spacesuit with horizontal broken stripes while Good, EV-4, will use a suit with barber pole stripes. Massimino will be the designated "free floater" while Good will spend much of the day anchored to the end of the shuttle's 50-foot-long robot arm.

This will be the 20th spacewalk devoted to Hubble servicing, the second of five planned for Atlantis' mission, the third for Massimino, veteran of the most recent previous Hubble servicing mission in 2002, and the first for Good. Going into todays's EVA, 15 astronauts have logged 136 hours and 30 minutes working on the space telescope, including seven hours and 20 minutes logged Thursday by Atlantis astronauts John Grunsfeld and Andrew Feustel.

Replacing the gyro packages is not overly complex - each two-gyro rate sensor unit is held in place by three bolts and two electrical connectors - but it requires an astronaut to float well inside the telescope, within inches of delicate equipment that could be damaged by an inadvertent movement.

"The access to the RSUs is really the hard part," said Tomas Gonzales-Torres, the lead spacewalk officer at the Johnson Space Center. "The task itself is a couple of connectors and some bolts and you take a box out. But it's really the access inside of the telescope that makes it difficult."

Massimino described the work as "one of the more challenging (tasks) that we do."

"Mike Good is on the robot arm," he said. "I'm going to get inside the telescope and then more or less I'll stop at one point and he has to rotate me on my back. And then put my feet in the foot restraint - we have a PFR (portable foot restraint) set up inside the telescope - because if I was to try to get in myself there's a good chance I would knock something I'm not supposed to. So pretty much go inside and act like a statute ... and let the other guy control you, move your body around and get your feet in the foot restraint.

"And then, once I'm inside there, I get pretty close to the star trackers, which are the things you don't want to hit. ... My chest will come up within an inch or so of the star trackers. If you damage it, it's kind of like game over. It's the likely end of the telescope. if you just nudge it a little bit, it's not the end of the world but you'd have to recalibrate everything. Because those are the things, part of the system that works with the RSUs that help point the telescope really accurately."

After the rate sensor units are replaced, Massimino and Good will turn their attention to replacing three batteries, in one box, in equipment bay 2. The battery module is mounted on the equipment bay door, held in place by 14 bolts and six electrical connectors.

"Each battery has 22 cells in series along with heaters, heater controllers, pressure measurement transducers and electronics, and temperature-measuring devices and their associated electronics," according to the NASA/Lockheed Martin Servicing Mission 4 media guide. "Three batteries are packaged into a module measuring roughly 36 x 36 x 10 inches and weighing about 475 pounds. Each module is equipped with two large yellow handles that astronauts use to maneuverthe module in and out of the telescope."

Good, on the end of the shuttle's robot arm, will remove the old bay 2 battery module and hand it off to Massimino, who will hand him a new unit. While Massimino stores the old battery pack for return to Earth, Good will move back up to equipment bay 2 and install the replacement.

Here is an updated timeline of today's activity (in EDT and mission elapsed time; includes revision C of the NASA television schedule):

EDT........DD...HH...MM...EVENT

05/15/09

04:31 AM...03...14...30...Crew wakeup
05:46 AM...03...15...45...EVA-2: Preparations begin
07:01 AM...03...17...00...Tile inspection
07:16 AM...03...17...15...EVA-2: Spacesuit purge
07:26 AM...03...17...25...EVA-2: Spacesuit pre-breathe
08:06 AM...03...18...05...EVA-2: Airlock depressurization
08:16 AM...03...18...15...EVA-2: Spacesuits to battery power
08:21 AM...03...18...20...EVA-2: Airlock egress and setup
09:01 AM...03...19...00...EVA-2: Rate sensing unit replacement
12:21 PM...03...22...20...EVA-2: Bay 2 battery pack
01:56 PM...03...23...55...EVA-2: Cleanup and airlock ingress
02:01 PM...04...00...00...HST: Battery aliveness test
02:36 PM...04...00...35...HST: Solar arrays slewed to 90 degrees
02:41 PM...04...00...40...EVA-2: Airlock repressurization
02:51 PM...04...00...50...Spacesuit servicing
03:01 PM...04...01...00...HST: Battery functional test
03:30 PM...04...01...29...Mission status briefing on NTV
03:56 PM...04...01...55...EVA-3: Tools configured
03:56 PM...04...01...55...LIOH and battery config
04:16 PM...04...02...15...Spacesuit swap
04:21 PM...04...02...20...HST: Solar arrays slewed to 0 degrees
04:41 PM...04...02...40...HST: RSU functional test
05:06 PM...04...03...05...HD crew choice downlink
05:11 PM...04...03...10...EVA-3: Procedures review
08:31 PM...04...06...30...Crew sleep begins
08:45 PM...04...06...44...HST update on NTV
09:00 PM...04...06...59...Daily highlights reel
09:01 PM...04...07...00...HST: SSR engineering playback
11:00 PM...04...08...59...ISS-20 pre-launch activities

Here is a description of today's spacewalk from NASA's STS-125 press kit:

"For their first spacewalk of the STS-125 mission, Massimino and Good will spend the bulk of their time replacing three rate sensor units. Each unit is part of a rate gyro assembly, which sense vehicle motion and provide rate data for the telescope. The replacement units will be stored inside a protective enclosure inside the shuttle's cargo bay. Massimino will open the lid of the enclosure to allow Good, who will be riding the space shuttle's robotic arm for the spacewalk, to retrieve the first unit and carry it to the telescope. Massimino will also retrieve a gripper tool that Good will use to maneuver the units into place.

"At the telescope, Good will retract two fixed head star tracker seals, allowing the doors on the telescope bay that the crew will be working in to open. Once open, Good will move a cross aft shroud harness inside the telescope to make room for the foot restraint Massimino will be using. Massimino will retrieve the foot restraint for Good to install, then Good will help Massimino into it. To remove the old rate sensor units, Massimino will disconnect two electrical connectors, while Good removes three bolts. The same connectors and bolts will need to be connected and tightened to install the replacement unit.

"The two spacewalkers will repeat this process two more times as they replace the remaining two rate sensor units. If time permits, Massimino and Good will do some get-ahead work for the third spacewalk of the mission by installing a power input element harness for the Advanced Camera for Surveys before they move the cross aft shroud harness back into place and close the doors on the worksite.

"After the new rate sensor units are installed, Massimino and Good are scheduled to perform the first half of the mission's battery replacement work. They'll be working in the telescope's Bay 2 to replace the first of two batteries. Good will retrieve the old battery by disconnecting six electrical connectors and unscrewing 14 bolts, while Massimino retrieves the new battery from its stowage location inside the shuttle's super lightweight interchangeable carrier. He'll have to unscrew 12 bolts to remove it. The two astronauts will swap batteries at the carrier, and Good will transport the new battery to the telescope for installation, while Massimino stows the old."


Additional coverage for subscribers:


VIDEO: NARRATED PREVIEW OF SPACEWALK NO. 2 PLAY


VIDEO: FLIGHT DIRECTOR'S PREVIEW OF MISSION'S DAY 5 PLAY



VIDEO: FLIGHT DAY 4 HIGHLIGHTS MOVIE PLAY


VIDEO: THURSDAY NIGHT UPDATE FROM HST CONTROL CENTER PLAY


VIDEO: THURSDAY'S MISSION STATUS BRIEFING PLAY


VIDEO: SOFT CAPTURE MECHANISM PUT ON HUBBLE PLAY


VIDEO: SCIENCE INSTRUMENT COMMAND & DATA HANDLING UNIT PLAY


VIDEO: PARTIALLY FAILED SIC&DH UNIT REMOVED FROM HST PLAY


VIDEO: WFPC2 CAMERA STOWED IN ATLANTIS FOR RETURN PLAY


VIDEO: OVERVIEW OF WIDE FIELD CAMERA 3 INSTRUMENT PLAY


VIDEO: SPACEWALKERS INSTALL THE WIDE FIELD CAMERA 3 PLAY


VIDEO: NEW WIDE FIELD CAMERA 3 PREPPED FOR INSTALLATION PLAY


VIDEO: 16-YEAR-OLD WFPC2 CAMERA REMOVED FROM HUBBLE PLAY


VIDEO: LATCHING BOLT ON WPFC2 FINALLY RELEASED PLAY


VIDEO: FIGHTING WITH TROUBLESOME BOLT ON WPFC2 PLAY


VIDEO: FEUSTEL INSTALLS HANDLE ONTO WPFC2 FOR REMOVAL PLAY


VIDEO: HANDLING FIXTURE DEPLOYED TO HOLD OLD CAMERA PLAY


VIDEO: GRUNSFELD INSTALLS SUPPORT POSTS UNDER HST PLAY


VIDEO: FEUSTEL OPENS LATCHES ON INSTRUMENT CARRIER PLAY


VIDEO: ASTRONAUTS EXIT AIRLOCK TO START EVA NO. 1 PLAY


VIDEO: NARRATED PREVIEW OF SPACEWALK NO. 1 PLAY



VIDEO: FLIGHT DAY 3 HIGHLIGHTS MOVIE PLAY


VIDEO: WEDNESDAY NIGHT UPDATE FROM HST CONTROL CENTER PLAY


VIDEO: WEDNESDAY'S MISSION MANAGEMENT TEAM UPDATE PLAY


VIDEO: WEDNESDAY'S MISSION STATUS BRIEFING PLAY


VIDEO: TIME-LAPSE OF MOVING HUBBLE INTO PAYLOAD BAY PLAY


VIDEO: SHUTTLE ATLANTIS' ROBOT ARM CAPTURES HUBBLE PLAY


VIDEO: FIRST UP CLOSE VIEWS OF HUBBLE IN 7 YEARS PLAY


VIDEO: SHUTTLE ENGINE FIRING TO CIRCULARIZE ORBIT PLAY


VIDEO: INSIGHTFUL OVERVIEW OF ATLANTIS' MISSION PLAY


VIDEO: NARRATED PREVIEW ANIMATION OF HUBBLE RENDEZVOUS PLAY



VIDEO: FLIGHT DAY 2 HIGHLIGHTS MOVIE PLAY


VIDEO: TUESDAY NIGHT UPDATE FROM HST CONTROL CENTER PLAY


VIDEO: TUESDAY'S MISSION MANAGEMENT TEAM UPDATE PLAY


VIDEO: SLOW-MOTION OF DEBRIS THAT APPARENTLY HIT TILES PLAY


VIDEO: TILE DAMAGE FOUND DURING INSPECTIONS PLAY


VIDEO: CAPCOM CALLS CREW ABOUT MINOR DAMAGE PLAY


VIDEO: TUESDAY'S MISSION STATUS BRIEFING PLAY


VIDEO: PREVIEW ANIMATION OF HEAT SHIELD INSPECTIONS PLAY



VIDEO: FLIGHT DAY 1 HIGHLIGHTS MOVIE PLAY


VIDEO: THE FULL STS-125 LAUNCH EXPERIENCE PLAY


VIDEO: LAUNCH REPLAY: EXTERNAL TANK CAMERA PLAY


VIDEO: FOOTAGE OF FUEL TANK AFTER JETTISON PLAY



VIDEO: LAUNCH REPLAY: FRONT CAMERA PLAY


VIDEO: LAUNCH REPLAY: BEACH TRACKER PLAY


VIDEO: LAUNCH REPLAY: PAD PERIMETER PLAY | HI-DEF


VIDEO: LAUNCH REPLAY: UCS-23 TRACKER PLAY


VIDEO: LAUNCH REPLAY: CAMERA CS-1 PLAY


VIDEO: LAUNCH REPLAY: CAMERA CS-2 PLAY


VIDEO: LAUNCH REPLAY: CAMERA CS-6 PLAY


VIDEO: LAUNCH REPLAY: VAB ROOF PLAY


VIDEO: LAUNCH REPLAY: PRESS SITE PLAY


VIDEO: LAUNCH REPLAY: WEST TOWER PLAY


VIDEO: LAUNCH REPLAY: CAMERA 009 PLAY


VIDEO: LAUNCH REPLAY: CAMERA 041 PLAY


VIDEO: LAUNCH REPLAY: CAMERA 049 PLAY


VIDEO: LAUNCH REPLAY: CAMERA 050 PLAY


VIDEO: LAUNCH REPLAY: CAMERA 051 PLAY


VIDEO: LAUNCH REPLAY: CAMERA 060 PLAY


VIDEO: LAUNCH REPLAY: CAMERA 061 PLAY


VIDEO: LAUNCH REPLAY: CAMERA 063 PLAY


VIDEO: LAUNCH REPLAY: CAMERA 070 PLAY


VIDEO: LAUNCH REPLAY: CAMERA 071 PLAY



VIDEO: SPACE SHUTTLE ATLANTIS BLASTS OFF! PLAY | HI-DEF


VIDEO: STS-125 POST-LAUNCH NEWS CONFERENCE PLAY


VIDEO: INSIDE MISSION CONTROL DURING LAUNCH PLAY


VIDEO: NARRATED ANIMATION OF DAY 1 INSPECTIONS PLAY



VIDEO: FINAL PRE-LAUNCH READINESS POLLS CONDUCTED PLAY


VIDEO: SHUTTLE'S CREW MODULE HATCH CLOSED FOR FLIGHT PLAY


VIDEO: MISSION SPECIALIST MEGAN MCARTHUR BOARDS PLAY


VIDEO: PILOT GREG JOHNSON BOARDS ATLANTIS PLAY


VIDEO: MISSION SPECIALIST JOHN GRUNSFELD BOARDS PLAY


VIDEO: SHUTTLE COMMANDER SCOTT ALTMAN BOARDS PLAY


VIDEO: CREW DEPARTS QUARTERS FOR LAUNCH PAD PART 1 | PART 2


VIDEO: ASTRONAUTS DON SPACESUITS FOR LAUNCH PLAY


VIDEO: TIME-LAPSE OF LAUNCH PAD GANTRY ROLLBACK PLAY



VIDEO: HUBBLE'S FUTURE AFTER ATLANTIS SERVICING PLAY


VIDEO: TOP DISCOVERIES MADE BY HUBBLE TELESCOPE PLAY


VIDEO: THE ROLLERCOASTER LIFE OF HUBBLE PLAY


VIDEO: WHAT IS HUBBLE'S PLACE IN HISTORY? PLAY


VIDEO: ENTERTAINING LOOK AT ATLANTIS' CREW PLAY


VIDEO: HUBBLE SPACE TELESCOPE HISTORY MOVIE PLAY


VIDEO: A TRIBUTE TO THE CAMERA THAT SAVED HUBBLE PLAY


VIDEO: HUBBLE TELESCOPE PROGRAM BRIEFING FROM SUNDAY PLAY



VIDEO: SUNDAY'S COUNTDOWN STATUS AND WEATHER UPDATE PLAY


VIDEO: THE STS-125 PRE-LAUNCH NEWS CONFERENCE PLAY


VIDEO: SATURDAY'S COUNTDOWN STATUS AND WEATHER UPDATE PLAY


VIDEO: ASTRONAUTS ARRIVE AT THE CAPE FOR LAUNCH PLAY


VIDEO: FRIDAY'S COUNTDOWN STATUS AND WEATHER UPDATE PLAY



VIDEO: NEWS BRIEFING FOLLOWING FLIGHT READINESS REVIEW PLAY



VIDEO: REFRESHER BRIEFING: THE STS-125 MISSION PLAY


VIDEO: REFRESHER BRIEFING: HUBBLE SPACE TELESCOPE PLAY


VIDEO: REFRESHER BRIEFING: THE SEVEN ASTRONAUTS PLAY



VIDEO: BIOGRAPHY MOVIE OF ATLANTIS' CREW PLAY


VIDEO: INTERVIEW WITH COMMANDER SCOTT ALTMAN PLAY | '09 UPDATE


VIDEO: INTERVIEW WITH PILOT GREG JOHNSON PLAY


VIDEO: INTERVIEW WITH MS1 MIKE GOOD PLAY


VIDEO: INTERVIEW WITH MS2 MEGAN MCARTHUR PLAY


VIDEO: INTERVIEW WITH MS3 JOHN GRUNSFELD PLAY | '09 UPDATE


VIDEO: INTERVIEW WITH MS4 MIKE MASSIMINO PLAY | '09 UPDATE


VIDEO: INTERVIEW WITH MS5 DREW FEUSTEL PLAY | '09 UPDATE



VIDEO: SHUTTLE ATLANTIS ARRIVES AT LAUNCH PAD 39A PLAY | HI-DEF


VIDEO: THE SUN RISES ON ATLANTIS DURING ROLLOUT PLAY | HI-DEF


VIDEO: ATLANTIS EMERGES FROM ASSEMBLY BUILDING PLAY | HI-DEF


VIDEO: ORBITER VERTICAL FOR MATING TO FUEL TANK PLAY | HI-DEF


VIDEO: ATLANTIS MOVES BACK TO ASSEMBLY BUILDING PLAY | HI-DEF



VIDEO: ATLANTIS LEAVES LAUNCH PAD 39A IN OCT. PLAY


VIDEO: TIMELAPSE OF THE ROLLBACK GETTING UNDERWAY PLAY



VIDEO: ASTRONAUTS REHEARSE QUICK SHUTTLE EXIT PLAY


VIDEO: CREW BOARDS ATLANTIS FOR MOCK COUNTDOWN PLAY


VIDEO: ASTRONAUTS DON SUITS FOR PRACTICE COUNTDOWN PLAY


VIDEO: CREW'S TRAINING ON ESCAPE BASKETS AND BUNKER PLAY


VIDEO: ASTRONAUTS CHAT WITH PRESS AT LAUNCH PAD PLAY


VIDEO: CREW TEST DRIVES EMERGENCY PAD ESCAPE VEHICLE PLAY


VIDEO: COMMANDER AND PILOT PRACTICE LANDING APPROACHES PLAY


VIDEO: CREW ARRIVES AT CAPE FOR PRACTICE COUNTDOWN PLAY


VIDEO: COMMENTS FROM COMMANDER AFTER ARRIVING PLAY



VIDEO: AERIAL VIEWS OF ATLANTIS AND ENDEAVOUR PLAY | HI-DEF



VIDEO: PRE-FLIGHT BRIEFING: THE STS-125 MISSION PLAY


VIDEO: PRE-FLIGHT BRIEFING: THE FIVE SPACEWALKS PLAY


VIDEO: PRE-FLIGHT BRIEFING: THE SEVEN ASTRONAUTS PLAY


VIDEO: PRE-FLIGHT BRIEFING: NASA LEADERSHIP PLAY


VIDEO: PRE-FLIGHT BRIEFING: SHUTTLE PROGRAM BOSS PLAY


VIDEO: PRE-FLIGHT BRIEFING: HUBBLE OVERVIEW PLAY


VIDEO: PRE-FLIGHT BRIEFING: HUBBLE SCIENCE PLAY



VIDEO: SHUTTLE ARRIVES ATOP PAD 39A PLAY


VIDEO: ATLANTIS EMERGES FROM VEHICLE ASSEMBLY BUILDING PLAY


VIDEO: TIME-LAPSE MOVIE OF ATLANTIS' ROLLOUT TO LAUNCH PAD PLAY



VIDEO: ATLANTIS ROLLS FROM HANGAR TO VAB PLAY


VIDEO: ATLANTIS LIFTED INTO PLACE FOR ATTACHMENT PLAY


MORE: STS-125 VIDEO COVERAGE


NEW! HIGH DEFINITION VIDEO


SUBSCRIBE NOW