After high-stakes drama, crew removes old camera
BY WILLIAM HARWOOD
STORY WRITTEN FOR CBS NEWS "SPACE PLACE" & USED WITH PERMISSION
Posted: May 14, 2009


In a make-or-break attempt to free a stuck bolt holding an old camera in place on the Hubble Space Telescope, astronaut Andrew Feustel, anchored to the end of the shuttle Atlantis' robot arm, used old-fashioned elbow grease to save the day, releasing the bolt and clearing the way for installation of a powerful new camera.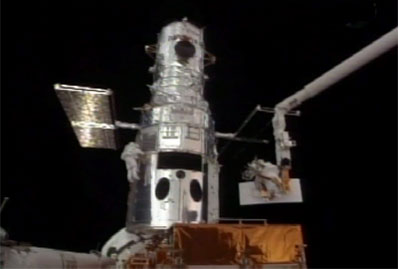 Riding on the end of Atlantis' robot arm, Feustel carries the old WFPC2 away from Hubble. Credit: NASA TV



If the bolt had snapped - and that was a possibility - the astronauts would have been unable to remove the 16-year-old Wide Field Planetary Camera 2. In that case, the new $126 Wide Field Camera 3 would have been returned to Earth aboard Atlantis in a major disappointment for the Hubble team.

But after removing a torque limiter from his wrench and applying more muscle power, Feustel was able to loosen the bolt to the relief of concerned flight controllers. He and partner John Grunsfeld then removed the old camera without incident.

Dubbed "the camera that saved Hubble" by project scientists, WFPC 2 took most of the spectacular photos that have made Hubble a national icon since it was installed in the telescope during the first servicing mission in 1993.

"It's been in there for 16 years, Drew, and it didn't want to come out," Grunsfeld said.

Feustel first attempted to back off the bolt using the torque limiter and was unsuccessful. Grunsfeld returned to the shuttle airlock, retrieved additional tools and sockets and Feustel tried again. And again, he was unsuccessful.

"Drew, do you have any other suggestions before I check with Houston?" astronaut Mike Massimino called from inside the shuttle.

"No, I'm afraid I don't. I'm out," Feustel said.

Working through a contingency checklist, Feustel then removed the torque limiter from his wrench - the device that was limiting the applied torque to 45 inch pounds - before trying to apply more elbow grease directly to the stuck bolt.

"Houston, Atlantis ... we know the failure torque on this bolt is 57.1 foot pounds," Massimino radioed. "He had the MTL (multi-setting torque limiter) set at 45. What the crib sheet says if we don't get it to break (loose) here, we're going to reconnect the ground strap and blind mate connector. So I guess Drew's just wondering how hard he should try on this A latch? If you have any words for us, we'd appreciate it."

"Atlantis, Houston, we copy that. And thanks for asking," replied Dan Burbank in mission control. "There's actually no issue with having the latch taken all the way to the failure point. The instrument should still function. So Drew can have at it, and you're correct, if we get to that point, we will need to reconnect the ground strap blind mate connector and we'll just leave it as is."

"So in other words, he can use what he needs from his strength to try to break the torque, is that what you're telling us?" Massimino asked.

"That's exactly right," Burbank said. "And as soon as he does, if he's successful, starts to have some motion in the latch, we'd like to go ahead and stop at that point."

"OK, thanks, Dan."

"OK, but I think we understand if it breaks, then Wide Field (Planetary Camera 2) stays in," Grunsfeld chimed in, verifying the make-or-break nature of the next step.

"What john said is correct," Burbank confirmed.

"OK, here we go," Feustel said, attaching the socket, sans torque limiter, to the attach bolt. Then, a moment later: "I think I got it! It turned, it definitely turned. And it's turning easily now."

"OK, Atlantis, Houston, for EVA, we copy, that's great news," Burbank said.

A few minutes later, Feustel attached a power wrench and backed the bolt out all the way to free the camera.

"Woo hoo, it's moving out" he said.

"That's great news," Massimino said. "That's awesome."

With astronaut Megan McArthur operating the robot arm from inside the shuttle's crew cabin, Feustel carefully pulled WFPC 2 out of the space telescope at just before 11 a.m. to accomplish the first primary objective of today's spacewalk. After securing the camera on the side of the payload bay, he and Grunsfeld will retrieve the new Wide Field Camera 3 from its storage container in the shuttle's cargo bay so it can be installed in the telescope in place of WFPC 2.

Earlier today, Feustel provided a brief report on contamination that was spotted on the WFC 3 carrier box after launch.

"For you in Houston, just looking at the front of the W-SIPE (Wide Field Camera scientific instrument protective enclosure), I don't really see any of those particles, there's maybe a really small amount of what kind of looks like dust, but it's pretty minor," Feustel reported. "It's almost imperceivable. I can see some few particles on the front of the W-SIPE, little, whitish, grey looking, real small. It's low density, too."


Additional coverage for subscribers:


VIDEO: WEDNESDAY NIGHT UPDATE FROM HST CONTROL CENTER PLAY


VIDEO: WEDNESDAY'S MISSION MANAGEMENT TEAM UPDATE PLAY


VIDEO: WEDNESDAY'S MISSION STATUS BRIEFING PLAY


VIDEO: TIME-LAPSE OF MOVING HUBBLE INTO PAYLOAD BAY PLAY


VIDEO: SHUTTLE ATLANTIS' ROBOT ARM CAPTURES HUBBLE PLAY


VIDEO: FIRST UP CLOSE VIEWS OF HUBBLE IN 7 YEARS PLAY


VIDEO: SHUTTLE ENGINE FIRING TO CIRCULARIZE ORBIT PLAY


VIDEO: INSIGHTFUL OVERVIEW OF ATLANTIS' MISSION PLAY


VIDEO: NARRATED PREVIEW ANIMATION OF HUBBLE RENDEZVOUS PLAY



VIDEO: FLIGHT DAY 2 HIGHLIGHTS MOVIE PLAY


VIDEO: TUESDAY NIGHT UPDATE FROM HST CONTROL CENTER PLAY


VIDEO: TUESDAY'S MISSION MANAGEMENT TEAM UPDATE PLAY


VIDEO: SLOW-MOTION OF DEBRIS THAT APPARENTLY HIT TILES PLAY


VIDEO: TILE DAMAGE FOUND DURING INSPECTIONS PLAY


VIDEO: CAPCOM CALLS CREW ABOUT MINOR DAMAGE PLAY


VIDEO: TUESDAY'S MISSION STATUS BRIEFING PLAY


VIDEO: PREVIEW ANIMATION OF HEAT SHIELD INSPECTIONS PLAY



VIDEO: FLIGHT DAY 1 HIGHLIGHTS MOVIE PLAY


VIDEO: THE FULL STS-125 LAUNCH EXPERIENCE PLAY


VIDEO: LAUNCH REPLAY: EXTERNAL TANK CAMERA PLAY


VIDEO: FOOTAGE OF FUEL TANK AFTER JETTISON PLAY



VIDEO: LAUNCH REPLAY: FRONT CAMERA PLAY


VIDEO: LAUNCH REPLAY: BEACH TRACKER PLAY


VIDEO: LAUNCH REPLAY: PAD PERIMETER PLAY | HI-DEF


VIDEO: LAUNCH REPLAY: UCS-23 TRACKER PLAY


VIDEO: LAUNCH REPLAY: CAMERA CS-1 PLAY


VIDEO: LAUNCH REPLAY: CAMERA CS-2 PLAY


VIDEO: LAUNCH REPLAY: CAMERA CS-6 PLAY


VIDEO: LAUNCH REPLAY: VAB ROOF PLAY


VIDEO: LAUNCH REPLAY: PRESS SITE PLAY


VIDEO: LAUNCH REPLAY: WEST TOWER PLAY


VIDEO: LAUNCH REPLAY: CAMERA 009 PLAY


VIDEO: LAUNCH REPLAY: CAMERA 041 PLAY


VIDEO: LAUNCH REPLAY: CAMERA 049 PLAY


VIDEO: LAUNCH REPLAY: CAMERA 050 PLAY


VIDEO: LAUNCH REPLAY: CAMERA 051 PLAY


VIDEO: LAUNCH REPLAY: CAMERA 060 PLAY


VIDEO: LAUNCH REPLAY: CAMERA 061 PLAY


VIDEO: LAUNCH REPLAY: CAMERA 063 PLAY


VIDEO: LAUNCH REPLAY: CAMERA 070 PLAY


VIDEO: LAUNCH REPLAY: CAMERA 071 PLAY



VIDEO: SPACE SHUTTLE ATLANTIS BLASTS OFF! PLAY | HI-DEF


VIDEO: STS-125 POST-LAUNCH NEWS CONFERENCE PLAY


VIDEO: INSIDE MISSION CONTROL DURING LAUNCH PLAY


VIDEO: NARRATED ANIMATION OF DAY 1 INSPECTIONS PLAY



VIDEO: FINAL PRE-LAUNCH READINESS POLLS CONDUCTED PLAY


VIDEO: SHUTTLE'S CREW MODULE HATCH CLOSED FOR FLIGHT PLAY


VIDEO: MISSION SPECIALIST MEGAN MCARTHUR BOARDS PLAY


VIDEO: PILOT GREG JOHNSON BOARDS ATLANTIS PLAY


VIDEO: MISSION SPECIALIST JOHN GRUNSFELD BOARDS PLAY


VIDEO: SHUTTLE COMMANDER SCOTT ALTMAN BOARDS PLAY


VIDEO: CREW DEPARTS QUARTERS FOR LAUNCH PAD PART 1 | PART 2


VIDEO: ASTRONAUTS DON SPACESUITS FOR LAUNCH PLAY


VIDEO: TIME-LAPSE OF LAUNCH PAD GANTRY ROLLBACK PLAY



VIDEO: HUBBLE'S FUTURE AFTER ATLANTIS SERVICING PLAY


VIDEO: TOP DISCOVERIES MADE BY HUBBLE TELESCOPE PLAY


VIDEO: THE ROLLERCOASTER LIFE OF HUBBLE PLAY


VIDEO: WHAT IS HUBBLE'S PLACE IN HISTORY? PLAY


VIDEO: ENTERTAINING LOOK AT ATLANTIS' CREW PLAY


VIDEO: HUBBLE SPACE TELESCOPE HISTORY MOVIE PLAY


VIDEO: A TRIBUTE TO THE CAMERA THAT SAVED HUBBLE PLAY


VIDEO: HUBBLE TELESCOPE PROGRAM BRIEFING FROM SUNDAY PLAY



VIDEO: SUNDAY'S COUNTDOWN STATUS AND WEATHER UPDATE PLAY


VIDEO: THE STS-125 PRE-LAUNCH NEWS CONFERENCE PLAY


VIDEO: SATURDAY'S COUNTDOWN STATUS AND WEATHER UPDATE PLAY


VIDEO: ASTRONAUTS ARRIVE AT THE CAPE FOR LAUNCH PLAY


VIDEO: FRIDAY'S COUNTDOWN STATUS AND WEATHER UPDATE PLAY



VIDEO: NEWS BRIEFING FOLLOWING FLIGHT READINESS REVIEW PLAY



VIDEO: REFRESHER BRIEFING: THE STS-125 MISSION PLAY


VIDEO: REFRESHER BRIEFING: HUBBLE SPACE TELESCOPE PLAY


VIDEO: REFRESHER BRIEFING: THE SEVEN ASTRONAUTS PLAY



VIDEO: BIOGRAPHY MOVIE OF ATLANTIS' CREW PLAY


VIDEO: INTERVIEW WITH COMMANDER SCOTT ALTMAN PLAY | '09 UPDATE


VIDEO: INTERVIEW WITH PILOT GREG JOHNSON PLAY


VIDEO: INTERVIEW WITH MS1 MIKE GOOD PLAY


VIDEO: INTERVIEW WITH MS2 MEGAN MCARTHUR PLAY


VIDEO: INTERVIEW WITH MS3 JOHN GRUNSFELD PLAY | '09 UPDATE


VIDEO: INTERVIEW WITH MS4 MIKE MASSIMINO PLAY | '09 UPDATE


VIDEO: INTERVIEW WITH MS5 DREW FEUSTEL PLAY | '09 UPDATE



VIDEO: SHUTTLE ATLANTIS ARRIVES AT LAUNCH PAD 39A PLAY | HI-DEF


VIDEO: THE SUN RISES ON ATLANTIS DURING ROLLOUT PLAY | HI-DEF


VIDEO: ATLANTIS EMERGES FROM ASSEMBLY BUILDING PLAY | HI-DEF


VIDEO: ORBITER VERTICAL FOR MATING TO FUEL TANK PLAY | HI-DEF


VIDEO: ATLANTIS MOVES BACK TO ASSEMBLY BUILDING PLAY | HI-DEF



VIDEO: ATLANTIS LEAVES LAUNCH PAD 39A IN OCT. PLAY


VIDEO: TIMELAPSE OF THE ROLLBACK GETTING UNDERWAY PLAY



VIDEO: ASTRONAUTS REHEARSE QUICK SHUTTLE EXIT PLAY


VIDEO: CREW BOARDS ATLANTIS FOR MOCK COUNTDOWN PLAY


VIDEO: ASTRONAUTS DON SUITS FOR PRACTICE COUNTDOWN PLAY


VIDEO: CREW'S TRAINING ON ESCAPE BASKETS AND BUNKER PLAY


VIDEO: ASTRONAUTS CHAT WITH PRESS AT LAUNCH PAD PLAY


VIDEO: CREW TEST DRIVES EMERGENCY PAD ESCAPE VEHICLE PLAY


VIDEO: COMMANDER AND PILOT PRACTICE LANDING APPROACHES PLAY


VIDEO: CREW ARRIVES AT CAPE FOR PRACTICE COUNTDOWN PLAY


VIDEO: COMMENTS FROM COMMANDER AFTER ARRIVING PLAY



VIDEO: AERIAL VIEWS OF ATLANTIS AND ENDEAVOUR PLAY | HI-DEF



VIDEO: PRE-FLIGHT BRIEFING: THE STS-125 MISSION PLAY


VIDEO: PRE-FLIGHT BRIEFING: THE FIVE SPACEWALKS PLAY


VIDEO: PRE-FLIGHT BRIEFING: THE SEVEN ASTRONAUTS PLAY


VIDEO: PRE-FLIGHT BRIEFING: NASA LEADERSHIP PLAY


VIDEO: PRE-FLIGHT BRIEFING: SHUTTLE PROGRAM BOSS PLAY


VIDEO: PRE-FLIGHT BRIEFING: HUBBLE OVERVIEW PLAY


VIDEO: PRE-FLIGHT BRIEFING: HUBBLE SCIENCE PLAY



VIDEO: SHUTTLE ARRIVES ATOP PAD 39A PLAY


VIDEO: ATLANTIS EMERGES FROM VEHICLE ASSEMBLY BUILDING PLAY


VIDEO: TIME-LAPSE MOVIE OF ATLANTIS' ROLLOUT TO LAUNCH PAD PLAY



VIDEO: ATLANTIS ROLLS FROM HANGAR TO VAB PLAY


VIDEO: ATLANTIS LIFTED INTO PLACE FOR ATTACHMENT PLAY


MORE: STS-125 VIDEO COVERAGE


NEW! HIGH DEFINITION VIDEO


SUBSCRIBE NOW