Astronauts gear up for first Hubble spacewalk
BY WILLIAM HARWOOD
STORY WRITTEN FOR CBS NEWS "SPACE PLACE" & USED WITH PERMISSION
Posted: May 14, 2009


Astronauts John Grunsfeld and Andrew Feustel are gearing up for a planned six-and-a-half-hour spacewalk today to equip the Hubble Space Telescope with a powerful new camera and a replacement data processing computer. The spacewalkers also plan to install new handles on Hubble equipment bay doors to improve access and a grapple fixture that will permit future astronauts, or a robotic spacecraft, to latch onto the telescope so it can be driven out of orbit at the end of its life.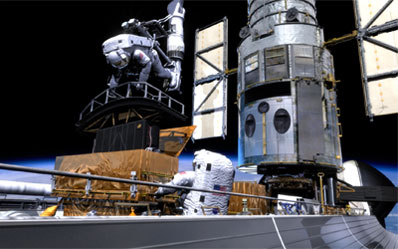 An artist's concept shows astronauts removing new wide field camera from launch carrier. Credit: NASA



Floating in the shuttle Atlantis' airlock, Grunsfeld, making his sixth spacewalk, and Feustel, making his first, plan to switch their spacesuits to internal battery power at 8:16 a.m. to officially kick off today's excursion. Commander Scott Altman said Wednesday, however, the crew may begin the spacewalk early if preparations go smoothly.

This will be the 19th spacewalk devoted to Hubble servicing and the first of five planned for Atlantis' mission. Going into todays's EVA, 14 astronauts have logged 129 hours and 10 minutes working on the space telescope during four previous servicing missions in 1993, 1997, 1999 and 2002.

For identification purposes, Grunsfeld, call sign EV-1, will be wearing a suit with red stripes on the legs while Feustel, EV-2, will be wearing a suit with no stripes. Grunsfeld will be the designated 'free floater" while Feustel will be anchored to a foot restraint on the shuttle's 50-foot-long robot arm for much of today's spacewalk.

"The moment I'm most looking forward to is the instant that I come out of the airlock, because we'll be, payload bay facing the Earth, and I'm anticipating the moment of peeking out with my head facing towards the Earth and just seeing the ... Earth 300 miles below me," Feustel said in a NASA interview. "I'm very excited about that, I'm hoping I don't lose myself in the moment and am able to continue, but it's going to be really exciting."

After exiting the airlock, hooking onto safety tethers, breaking out tools and installing the foot restraint on the robot arm, the astronauts will focus on replacing Hubble's current Wide Field Planetary Camera 2, installed during the first Hubble servicing mission in 1993, with the new Wife Field Camera 3.

While Feustel familiarizes himself with moving about in weightlessness - and trying not to get lost in the moment - Grunsfeld will deploy a platform toward the rear of the payload bay, on the left wall, where the astronauts can temporarily stow the old camera while the new Wide Field Camera 3 is installed.

After Feustel retrieves a handling fixture, Megan McArthur, operating the shuttle's robot arm, will move him up to the camera work site in the side of the telescope. Feustel will install the hand rail on the WFPC-2, open latches and carefully slide the camera out. He and Grunsfeld will then mount it on the temporary platform Grunsfeld deployed earlier.

Both spacewalkers then will move to the WFC 3 storage container, open it and install a handling fixture, careful not to disturb any of the fine dust-like particulate that was discovered on the box earlier. Engineers are not sure what the white material might be, but they suspect it shook free from forward payload bay bulkhead insulation blankets during launch.

Feustel will pull the 900-pound WFC 3 from its container and McArthur will moved them both back to the side of the telescope. Both astronauts then will slide the camera into position using guide rails and lock it in place.

"Wide field is a pretty straight-forward task," said lead spacewalk officer Tomas Gonzales-Torres. "You drive one bolt to release it, remove a ground strap and pull the entire instrument out and that's it. It's a big box. The problem again is in the details, making sure you control it just right (during installation). Any little jitter that is left over after we leave is going to impact science."

After installing WFC 3, Grunsfeld and Feustel will move the old camera from its temporary mounting point and put it into the container used to carry WFC 3 into space.

The crew's second major task is replacement of Hubble's science instrument command and data handling system computer, which formats and routes science data to the ground. Last September, just three weeks before Atlantis' original launch date, one of the two data channels in the SIC&DH failed, leaving Hubble with no redundancy in a critical system. Mission managers decided to delay the shuttle launch to give engineers time to prepare a replacement in order to restore full redundancy.

The 136-pound SIC&DH is made up of six major components mounted on a single plate that will be attached to the inside of the door to equipment bay 10 by 10 bolts and a single cable connector.

"It's a relatively straight forward task, involving removal of bolts on a door, removing a connector, which he'll do by cranking a bolt, taking it off," Grunsfeld said. "We'll go down and swap it, he'll bring the new one back up and put it on. There are a number of subtleties, as there are on every task on Hubble where if you do something wrong you can screw it up. But it's a pretty high priority task to get that done given the failure in October. But it's pretty straight forward."

Assuming time is available, the spacewalkers will install equipment bay door handles to improve access and attach a grapple fixture on the base of the telescope.

"The idea is to make revisiting Hubble less risky and, hopefully, less costly," said Program Manager Preston Burch. "(Former Administrator) Mike Griffin said he did not want to preclude an option for a subsequent administrator to want to go back to Hubble. The idea would be most likely a robotic mission to attach a deorbit propulsion system. But we're using the low-impact docking system technology from the international space station so it would be compatible, potentially, with an Orion capsule."

Here is an updated timeline of today's activity (in EDT and mission elapsed time; includes revision B of the NASA television schedule):

EDT........DD...HH...MM...EVENT

05/14/09
03:01 AM...02...13...00...HST: SSR engineering playback
04:31 AM...02...14...30...Crew wakeup
05:46 AM...02...15...45...EVA-1: Preparations begin
07:16 AM...02...17...15...EVA-1: Spacesuit purge
07:26 AM...02...17...25...EVA-1: Spacesuit pre-breathe
08:06 AM...02...18...05...EVA-1: Airlock depressurization
08:16 AM...02...18...15...EVA-1: Spacesuits to battery power
08:21 AM...02...18...20...EVA-1: Airlock egress and setup
09:21 AM...02...19...20...EVA-1: WFC 3 installation
09:21 AM...02...19...20...HST: WFC3 aliveness test
11:36 AM...02...21...35...EVA-1: SI C&DH installation
12:56 PM...02...22...55...HST: SI C&DH aliveness test
01:01 PM...02...23...00...HST: SI C&DH functional test
01:06 PM...02...23...05...EVA-1: SCM and locks
02:01 PM...03...00...00...EVA-1: Cleanup and airlock ingress
02:46 PM...03...00...45...EVA-1: Airlock repressurization
02:56 PM...03...00...55...Spacesuit servicing
03:30 PM...03...01...29...Mission status briefing on NTV
03:36 PM...03...01...35...HST: WFC3 functional test
04:01 PM...03...02...00...EVA-2: Tools configured
04:01 PM...03...02...00...Spacesuit swap
04:51 PM...03...02...50...HD TV downlink opportunity
05:01 PM...03...03...00...EVA-2: Procedures review
08:31 PM...03...06...30...Crew sleep begins
08:45 PM...03...06...44...Space telescope update on NTV
09:00 PM...03...06...59...Daily highlights reel on NTV
10:01 PM...03...08...00...HST: SSR engineering playback

For many members of the Hubble team, removal of the Wide Field Planetary Camera 2 will be a bittersweet moment. Dubbed "the camera that saved Hubble," WFPC 2 was equipped with corrective optics to counteract the spherical aberration that prevented the telescope's primary mirror from bringing starlight to a sharp focus. The camera was a huge success, taking most of the spectacular pictures familiar to the public.

"The Wide Field 2 camera, that was put in on the first servicing mission, was put in for a couple of reasons, but the primary one was that built into Wide Field Camera 2 was a little mirror that corrected the aberrated optics of Hubble, which was the big catastrophe when Hubble was launched," Grunsfeld said in a NASA interview.

"The technology that went into that camera was state of the art at the time, but we're talking about 1990. Imagine what kind of digital camera you could buy in 1990 - they weren't on the market yet. Well, nowadays, of course, you can go out and buy phenomenal cameras, and the astronomy community can create even better cameras for astronomical research with very large sensors, with lots and lots of pixels that can see over a wider range of frequencies.

"So Wide Field Camera 3 also will contain that little mirror that corrects the optics, but it will also have an infrared camera that can see light that's much longer (wavelength) than our eyes can see but is very important for astronomy, and visible and ultraviolet in another channel. So it has this infrared and this ultraviolet/visible channel, all of which have better detectors, more sensitive, that can see much, much dimmer things than the previous cameras could see, on any part of the telescope.

"Plus, it's a wide-field telescope, as it name sounds, so it can see larger extended objects," Grunsfeld said. "What kind of things are we talking about? Well, we're looking at everything from planets in our solar system, the moon even, out to perhaps the most distant galaxy that will ever have been seen, because of this increased sensitivity and because of the infrared part of the Wide Field Camera 3. As you look further and further back in time, because of the expansion of the universe, objects get redder and redder, they get red-shifted. And so this new Wide Field 3 camera promises, with the sensitivity of Hubble's optical system and the detector, to see further back in time, closer to the big-bang, than we've ever been able to see before."


Additional coverage for subscribers:


VIDEO: WEDNESDAY NIGHT UPDATE FROM HST CONTROL CENTER PLAY


VIDEO: WEDNESDAY'S MISSION MANAGEMENT TEAM UPDATE PLAY


VIDEO: WEDNESDAY'S MISSION STATUS BRIEFING PLAY


VIDEO: TIME-LAPSE OF MOVING HUBBLE INTO PAYLOAD BAY PLAY


VIDEO: SHUTTLE ATLANTIS' ROBOT ARM CAPTURES HUBBLE PLAY


VIDEO: FIRST UP CLOSE VIEWS OF HUBBLE IN 7 YEARS PLAY


VIDEO: SHUTTLE ENGINE FIRING TO CIRCULARIZE ORBIT PLAY


VIDEO: INSIGHTFUL OVERVIEW OF ATLANTIS' MISSION PLAY


VIDEO: NARRATED PREVIEW ANIMATION OF HUBBLE RENDEZVOUS PLAY



VIDEO: FLIGHT DAY 2 HIGHLIGHTS MOVIE PLAY


VIDEO: TUESDAY NIGHT UPDATE FROM HST CONTROL CENTER PLAY


VIDEO: TUESDAY'S MISSION MANAGEMENT TEAM UPDATE PLAY


VIDEO: SLOW-MOTION OF DEBRIS THAT APPARENTLY HIT TILES PLAY


VIDEO: TILE DAMAGE FOUND DURING INSPECTIONS PLAY


VIDEO: CAPCOM CALLS CREW ABOUT MINOR DAMAGE PLAY


VIDEO: TUESDAY'S MISSION STATUS BRIEFING PLAY


VIDEO: PREVIEW ANIMATION OF HEAT SHIELD INSPECTIONS PLAY



VIDEO: FLIGHT DAY 1 HIGHLIGHTS MOVIE PLAY


VIDEO: THE FULL STS-125 LAUNCH EXPERIENCE PLAY


VIDEO: LAUNCH REPLAY: EXTERNAL TANK CAMERA PLAY


VIDEO: FOOTAGE OF FUEL TANK AFTER JETTISON PLAY



VIDEO: LAUNCH REPLAY: FRONT CAMERA PLAY


VIDEO: LAUNCH REPLAY: BEACH TRACKER PLAY


VIDEO: LAUNCH REPLAY: PAD PERIMETER PLAY | HI-DEF


VIDEO: LAUNCH REPLAY: UCS-23 TRACKER PLAY


VIDEO: LAUNCH REPLAY: CAMERA CS-1 PLAY


VIDEO: LAUNCH REPLAY: CAMERA CS-2 PLAY


VIDEO: LAUNCH REPLAY: CAMERA CS-6 PLAY


VIDEO: LAUNCH REPLAY: VAB ROOF PLAY


VIDEO: LAUNCH REPLAY: PRESS SITE PLAY


VIDEO: LAUNCH REPLAY: WEST TOWER PLAY


VIDEO: LAUNCH REPLAY: CAMERA 009 PLAY


VIDEO: LAUNCH REPLAY: CAMERA 041 PLAY


VIDEO: LAUNCH REPLAY: CAMERA 049 PLAY


VIDEO: LAUNCH REPLAY: CAMERA 050 PLAY


VIDEO: LAUNCH REPLAY: CAMERA 051 PLAY


VIDEO: LAUNCH REPLAY: CAMERA 060 PLAY


VIDEO: LAUNCH REPLAY: CAMERA 061 PLAY


VIDEO: LAUNCH REPLAY: CAMERA 063 PLAY


VIDEO: LAUNCH REPLAY: CAMERA 070 PLAY


VIDEO: LAUNCH REPLAY: CAMERA 071 PLAY



VIDEO: SPACE SHUTTLE ATLANTIS BLASTS OFF! PLAY | HI-DEF


VIDEO: STS-125 POST-LAUNCH NEWS CONFERENCE PLAY


VIDEO: INSIDE MISSION CONTROL DURING LAUNCH PLAY


VIDEO: NARRATED ANIMATION OF DAY 1 INSPECTIONS PLAY



VIDEO: FINAL PRE-LAUNCH READINESS POLLS CONDUCTED PLAY


VIDEO: SHUTTLE'S CREW MODULE HATCH CLOSED FOR FLIGHT PLAY


VIDEO: MISSION SPECIALIST MEGAN MCARTHUR BOARDS PLAY


VIDEO: PILOT GREG JOHNSON BOARDS ATLANTIS PLAY


VIDEO: MISSION SPECIALIST JOHN GRUNSFELD BOARDS PLAY


VIDEO: SHUTTLE COMMANDER SCOTT ALTMAN BOARDS PLAY


VIDEO: CREW DEPARTS QUARTERS FOR LAUNCH PAD PART 1 | PART 2


VIDEO: ASTRONAUTS DON SPACESUITS FOR LAUNCH PLAY


VIDEO: TIME-LAPSE OF LAUNCH PAD GANTRY ROLLBACK PLAY



VIDEO: HUBBLE'S FUTURE AFTER ATLANTIS SERVICING PLAY


VIDEO: TOP DISCOVERIES MADE BY HUBBLE TELESCOPE PLAY


VIDEO: THE ROLLERCOASTER LIFE OF HUBBLE PLAY


VIDEO: WHAT IS HUBBLE'S PLACE IN HISTORY? PLAY


VIDEO: ENTERTAINING LOOK AT ATLANTIS' CREW PLAY


VIDEO: HUBBLE SPACE TELESCOPE HISTORY MOVIE PLAY


VIDEO: A TRIBUTE TO THE CAMERA THAT SAVED HUBBLE PLAY


VIDEO: HUBBLE TELESCOPE PROGRAM BRIEFING FROM SUNDAY PLAY



VIDEO: SUNDAY'S COUNTDOWN STATUS AND WEATHER UPDATE PLAY


VIDEO: THE STS-125 PRE-LAUNCH NEWS CONFERENCE PLAY


VIDEO: SATURDAY'S COUNTDOWN STATUS AND WEATHER UPDATE PLAY


VIDEO: ASTRONAUTS ARRIVE AT THE CAPE FOR LAUNCH PLAY


VIDEO: FRIDAY'S COUNTDOWN STATUS AND WEATHER UPDATE PLAY



VIDEO: NEWS BRIEFING FOLLOWING FLIGHT READINESS REVIEW PLAY



VIDEO: REFRESHER BRIEFING: THE STS-125 MISSION PLAY


VIDEO: REFRESHER BRIEFING: HUBBLE SPACE TELESCOPE PLAY


VIDEO: REFRESHER BRIEFING: THE SEVEN ASTRONAUTS PLAY



VIDEO: BIOGRAPHY MOVIE OF ATLANTIS' CREW PLAY


VIDEO: INTERVIEW WITH COMMANDER SCOTT ALTMAN PLAY | '09 UPDATE


VIDEO: INTERVIEW WITH PILOT GREG JOHNSON PLAY


VIDEO: INTERVIEW WITH MS1 MIKE GOOD PLAY


VIDEO: INTERVIEW WITH MS2 MEGAN MCARTHUR PLAY


VIDEO: INTERVIEW WITH MS3 JOHN GRUNSFELD PLAY | '09 UPDATE


VIDEO: INTERVIEW WITH MS4 MIKE MASSIMINO PLAY | '09 UPDATE


VIDEO: INTERVIEW WITH MS5 DREW FEUSTEL PLAY | '09 UPDATE



VIDEO: SHUTTLE ATLANTIS ARRIVES AT LAUNCH PAD 39A PLAY | HI-DEF


VIDEO: THE SUN RISES ON ATLANTIS DURING ROLLOUT PLAY | HI-DEF


VIDEO: ATLANTIS EMERGES FROM ASSEMBLY BUILDING PLAY | HI-DEF


VIDEO: ORBITER VERTICAL FOR MATING TO FUEL TANK PLAY | HI-DEF


VIDEO: ATLANTIS MOVES BACK TO ASSEMBLY BUILDING PLAY | HI-DEF



VIDEO: ATLANTIS LEAVES LAUNCH PAD 39A IN OCT. PLAY


VIDEO: TIMELAPSE OF THE ROLLBACK GETTING UNDERWAY PLAY



VIDEO: ASTRONAUTS REHEARSE QUICK SHUTTLE EXIT PLAY


VIDEO: CREW BOARDS ATLANTIS FOR MOCK COUNTDOWN PLAY


VIDEO: ASTRONAUTS DON SUITS FOR PRACTICE COUNTDOWN PLAY


VIDEO: CREW'S TRAINING ON ESCAPE BASKETS AND BUNKER PLAY


VIDEO: ASTRONAUTS CHAT WITH PRESS AT LAUNCH PAD PLAY


VIDEO: CREW TEST DRIVES EMERGENCY PAD ESCAPE VEHICLE PLAY


VIDEO: COMMANDER AND PILOT PRACTICE LANDING APPROACHES PLAY


VIDEO: CREW ARRIVES AT CAPE FOR PRACTICE COUNTDOWN PLAY


VIDEO: COMMENTS FROM COMMANDER AFTER ARRIVING PLAY



VIDEO: AERIAL VIEWS OF ATLANTIS AND ENDEAVOUR PLAY | HI-DEF



VIDEO: PRE-FLIGHT BRIEFING: THE STS-125 MISSION PLAY


VIDEO: PRE-FLIGHT BRIEFING: THE FIVE SPACEWALKS PLAY


VIDEO: PRE-FLIGHT BRIEFING: THE SEVEN ASTRONAUTS PLAY


VIDEO: PRE-FLIGHT BRIEFING: NASA LEADERSHIP PLAY


VIDEO: PRE-FLIGHT BRIEFING: SHUTTLE PROGRAM BOSS PLAY


VIDEO: PRE-FLIGHT BRIEFING: HUBBLE OVERVIEW PLAY


VIDEO: PRE-FLIGHT BRIEFING: HUBBLE SCIENCE PLAY



VIDEO: SHUTTLE ARRIVES ATOP PAD 39A PLAY


VIDEO: ATLANTIS EMERGES FROM VEHICLE ASSEMBLY BUILDING PLAY


VIDEO: TIME-LAPSE MOVIE OF ATLANTIS' ROLLOUT TO LAUNCH PAD PLAY



VIDEO: ATLANTIS ROLLS FROM HANGAR TO VAB PLAY


VIDEO: ATLANTIS LIFTED INTO PLACE FOR ATTACHMENT PLAY


MORE: STS-125 VIDEO COVERAGE


NEW! HIGH DEFINITION VIDEO


SUBSCRIBE NOW