Atlantis retrieves Hubble Space Telescope for servicing
BY WILLIAM HARWOOD
STORY WRITTEN FOR CBS NEWS "SPACE PLACE" & USED WITH PERMISSION
Posted: May 13, 2009


The Hubble Space Telescope, hobbled by old age and years of post-Columbia neglect, was plucked out of open space by the crew of the shuttle Atlantis today, setting the stage for a final five-spacewalk overhaul to give the iconic observatory an extended lease on life.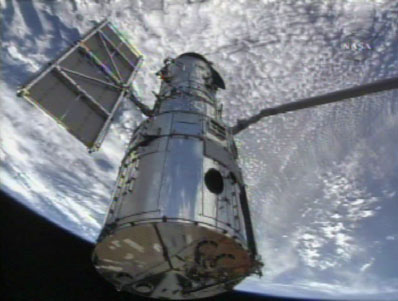 Atlantis captures Hubble. Credit: NASA TV



Commander Scott Altman, who flew an F-14 jet in the movie "Top Gun," deftly maneuvered the orbiter to within a few dozen feet of the 24,500-pound telescope as the two spacecraft sailed through space in lockstep, covering 84 football fields per second high above western Australia.

Astronaut Megan McArthur, operating the shuttle's 50-foot-long robot arm with easy grace, then grappled the huge observatory at 1:14 p.m. to wrap up a two-day rendezvous.

"Houston, Atlantis, Hubble has arrived on board," Altman exclaimed.

"Atlantis, Houston, we copy. Nice job, Megan, nice job on the prox ops flying as well," astronaut Dan Burbank replied from mission control. "It's great to be back with the telescope."

"Thank you, Houston, appreciate the support getting us here," Altman said.

Added lead spacewalker self-described "Hubble hugger" John Grunsfeld: "We're very excited up here, I can tell you."

The only problem during today's approach was a malfunction in a component aboard the shuttle that blocked one channel of command link between the telescope and Atlantis. The astronauts had no problems working around the glitch, easily compensating for a commanding delay that resulted in a slight misalignment between the two spacecraft.

The issue delayed the grapple by about 25 minutes and additional steps were required after capture to make sure ground commands could reach the telescope.

After confirming final commands had, in fact, gotten through, McArthur was cleared to begin maneuvers to mount Hubble on a rotating service platform at the back of Atlantis' payload bay. Once locked in place, the astronauts will carry out a detailed photo survey to document the condition of Hubble's protective insulation and to look for signs of impact damage from micrometeoroids and space debris.

Seen for the first time since a pre-Columbia service call in early 2002, the space telescope appeared to be in remarkably good condition given its 19 years in the harsh environment of space, with no immediately obvious problems with its insulation panels or other exterior components.

"Just looking out the window here, and it's an unbelievably beautiful sight, amazingly, the exterior of Hubble, an old man of 19 years in space, still looks in fantastic shape," Grunsfeld radioed.

If all goes well, an electrical cable in the servicing platform will be remotely extended and plugged into a receptacle at the base of the telescope to provide shuttle power for the duration of the overhaul.

The first of five back-to-back spacewalks is on tap Thursday, starting around 8:16 a.m. Over the course of the mission, the astronauts plan to install two new science instruments, repair two others, swap out a science data computer and install new batteries, gyroscopes, a refurbished fine guidance sensor and new insulation panels.

The goal is to extend Hubble's life by at least five years.


Additional coverage for subscribers:


VIDEO: SHUTTLE ENGINE FIRING TO CIRCULARIZE ORBIT PLAY


VIDEO: INSIGHTFUL OVERVIEW OF ATLANTIS' MISSION PLAY


VIDEO: NARRATED PREVIEW ANIMATION OF HUBBLE RENDEZVOUS PLAY



VIDEO: FLIGHT DAY 2 HIGHLIGHTS MOVIE PLAY


VIDEO: TUESDAY NIGHT UPDATE FROM HST CONTROL CENTER PLAY


VIDEO: TUESDAY'S MISSION MANAGEMENT TEAM UPDATE PLAY


VIDEO: SLOW-MOTION OF DEBRIS THAT APPARENTLY HIT TILES PLAY


VIDEO: TILE DAMAGE FOUND DURING INSPECTIONS PLAY


VIDEO: CAPCOM CALLS CREW ABOUT MINOR DAMAGE PLAY


VIDEO: TUESDAY'S MISSION STATUS BRIEFING PLAY


VIDEO: PREVIEW ANIMATION OF HEAT SHIELD INSPECTIONS PLAY



VIDEO: FLIGHT DAY 1 HIGHLIGHTS MOVIE PLAY


VIDEO: THE FULL STS-125 LAUNCH EXPERIENCE PLAY


VIDEO: LAUNCH REPLAY: EXTERNAL TANK CAMERA PLAY


VIDEO: FOOTAGE OF FUEL TANK AFTER JETTISON PLAY



VIDEO: LAUNCH REPLAY: FRONT CAMERA PLAY


VIDEO: LAUNCH REPLAY: BEACH TRACKER PLAY


VIDEO: LAUNCH REPLAY: PAD PERIMETER PLAY | HI-DEF


VIDEO: LAUNCH REPLAY: UCS-23 TRACKER PLAY


VIDEO: LAUNCH REPLAY: CAMERA CS-1 PLAY


VIDEO: LAUNCH REPLAY: CAMERA CS-2 PLAY


VIDEO: LAUNCH REPLAY: CAMERA CS-6 PLAY


VIDEO: LAUNCH REPLAY: VAB ROOF PLAY


VIDEO: LAUNCH REPLAY: PRESS SITE PLAY


VIDEO: LAUNCH REPLAY: WEST TOWER PLAY


VIDEO: LAUNCH REPLAY: CAMERA 009 PLAY


VIDEO: LAUNCH REPLAY: CAMERA 041 PLAY


VIDEO: LAUNCH REPLAY: CAMERA 049 PLAY


VIDEO: LAUNCH REPLAY: CAMERA 050 PLAY


VIDEO: LAUNCH REPLAY: CAMERA 051 PLAY


VIDEO: LAUNCH REPLAY: CAMERA 060 PLAY


VIDEO: LAUNCH REPLAY: CAMERA 061 PLAY


VIDEO: LAUNCH REPLAY: CAMERA 063 PLAY


VIDEO: LAUNCH REPLAY: CAMERA 070 PLAY


VIDEO: LAUNCH REPLAY: CAMERA 071 PLAY



VIDEO: SPACE SHUTTLE ATLANTIS BLASTS OFF! PLAY | HI-DEF


VIDEO: STS-125 POST-LAUNCH NEWS CONFERENCE PLAY


VIDEO: INSIDE MISSION CONTROL DURING LAUNCH PLAY


VIDEO: NARRATED ANIMATION OF DAY 1 INSPECTIONS PLAY



VIDEO: FINAL PRE-LAUNCH READINESS POLLS CONDUCTED PLAY


VIDEO: SHUTTLE'S CREW MODULE HATCH CLOSED FOR FLIGHT PLAY


VIDEO: MISSION SPECIALIST MEGAN MCARTHUR BOARDS PLAY


VIDEO: PILOT GREG JOHNSON BOARDS ATLANTIS PLAY


VIDEO: MISSION SPECIALIST JOHN GRUNSFELD BOARDS PLAY


VIDEO: SHUTTLE COMMANDER SCOTT ALTMAN BOARDS PLAY


VIDEO: CREW DEPARTS QUARTERS FOR LAUNCH PAD PART 1 | PART 2


VIDEO: ASTRONAUTS DON SPACESUITS FOR LAUNCH PLAY


VIDEO: TIME-LAPSE OF LAUNCH PAD GANTRY ROLLBACK PLAY



VIDEO: HUBBLE'S FUTURE AFTER ATLANTIS SERVICING PLAY


VIDEO: TOP DISCOVERIES MADE BY HUBBLE TELESCOPE PLAY


VIDEO: THE ROLLERCOASTER LIFE OF HUBBLE PLAY


VIDEO: WHAT IS HUBBLE'S PLACE IN HISTORY? PLAY


VIDEO: ENTERTAINING LOOK AT ATLANTIS' CREW PLAY


VIDEO: HUBBLE SPACE TELESCOPE HISTORY MOVIE PLAY


VIDEO: A TRIBUTE TO THE CAMERA THAT SAVED HUBBLE PLAY


VIDEO: HUBBLE TELESCOPE PROGRAM BRIEFING FROM SUNDAY PLAY



VIDEO: SUNDAY'S COUNTDOWN STATUS AND WEATHER UPDATE PLAY


VIDEO: THE STS-125 PRE-LAUNCH NEWS CONFERENCE PLAY


VIDEO: SATURDAY'S COUNTDOWN STATUS AND WEATHER UPDATE PLAY


VIDEO: ASTRONAUTS ARRIVE AT THE CAPE FOR LAUNCH PLAY


VIDEO: FRIDAY'S COUNTDOWN STATUS AND WEATHER UPDATE PLAY



VIDEO: NEWS BRIEFING FOLLOWING FLIGHT READINESS REVIEW PLAY



VIDEO: REFRESHER BRIEFING: THE STS-125 MISSION PLAY


VIDEO: REFRESHER BRIEFING: HUBBLE SPACE TELESCOPE PLAY


VIDEO: REFRESHER BRIEFING: THE SEVEN ASTRONAUTS PLAY



VIDEO: BIOGRAPHY MOVIE OF ATLANTIS' CREW PLAY


VIDEO: INTERVIEW WITH COMMANDER SCOTT ALTMAN PLAY | '09 UPDATE


VIDEO: INTERVIEW WITH PILOT GREG JOHNSON PLAY


VIDEO: INTERVIEW WITH MS1 MIKE GOOD PLAY


VIDEO: INTERVIEW WITH MS2 MEGAN MCARTHUR PLAY


VIDEO: INTERVIEW WITH MS3 JOHN GRUNSFELD PLAY | '09 UPDATE


VIDEO: INTERVIEW WITH MS4 MIKE MASSIMINO PLAY | '09 UPDATE


VIDEO: INTERVIEW WITH MS5 DREW FEUSTEL PLAY | '09 UPDATE



VIDEO: SHUTTLE ATLANTIS ARRIVES AT LAUNCH PAD 39A PLAY | HI-DEF


VIDEO: THE SUN RISES ON ATLANTIS DURING ROLLOUT PLAY | HI-DEF


VIDEO: ATLANTIS EMERGES FROM ASSEMBLY BUILDING PLAY | HI-DEF


VIDEO: ORBITER VERTICAL FOR MATING TO FUEL TANK PLAY | HI-DEF


VIDEO: ATLANTIS MOVES BACK TO ASSEMBLY BUILDING PLAY | HI-DEF



VIDEO: ATLANTIS LEAVES LAUNCH PAD 39A IN OCT. PLAY


VIDEO: TIMELAPSE OF THE ROLLBACK GETTING UNDERWAY PLAY



VIDEO: ASTRONAUTS REHEARSE QUICK SHUTTLE EXIT PLAY


VIDEO: CREW BOARDS ATLANTIS FOR MOCK COUNTDOWN PLAY


VIDEO: ASTRONAUTS DON SUITS FOR PRACTICE COUNTDOWN PLAY


VIDEO: CREW'S TRAINING ON ESCAPE BASKETS AND BUNKER PLAY


VIDEO: ASTRONAUTS CHAT WITH PRESS AT LAUNCH PAD PLAY


VIDEO: CREW TEST DRIVES EMERGENCY PAD ESCAPE VEHICLE PLAY


VIDEO: COMMANDER AND PILOT PRACTICE LANDING APPROACHES PLAY


VIDEO: CREW ARRIVES AT CAPE FOR PRACTICE COUNTDOWN PLAY


VIDEO: COMMENTS FROM COMMANDER AFTER ARRIVING PLAY



VIDEO: AERIAL VIEWS OF ATLANTIS AND ENDEAVOUR PLAY | HI-DEF



VIDEO: PRE-FLIGHT BRIEFING: THE STS-125 MISSION PLAY


VIDEO: PRE-FLIGHT BRIEFING: THE FIVE SPACEWALKS PLAY


VIDEO: PRE-FLIGHT BRIEFING: THE SEVEN ASTRONAUTS PLAY


VIDEO: PRE-FLIGHT BRIEFING: NASA LEADERSHIP PLAY


VIDEO: PRE-FLIGHT BRIEFING: SHUTTLE PROGRAM BOSS PLAY


VIDEO: PRE-FLIGHT BRIEFING: HUBBLE OVERVIEW PLAY


VIDEO: PRE-FLIGHT BRIEFING: HUBBLE SCIENCE PLAY



VIDEO: SHUTTLE ARRIVES ATOP PAD 39A PLAY


VIDEO: ATLANTIS EMERGES FROM VEHICLE ASSEMBLY BUILDING PLAY


VIDEO: TIME-LAPSE MOVIE OF ATLANTIS' ROLLOUT TO LAUNCH PAD PLAY



VIDEO: ATLANTIS ROLLS FROM HANGAR TO VAB PLAY


VIDEO: ATLANTIS LIFTED INTO PLACE FOR ATTACHMENT PLAY


MORE: STS-125 VIDEO COVERAGE


NEW! HIGH DEFINITION VIDEO


SUBSCRIBE NOW