Spaceflight Now +





Subscribe to Spaceflight Now Plus for access to our extensive video collections!
How do I sign up?
Video archive

STS-125: The mission

A detailed step-by-step preview of space shuttle Atlantis' STS-125 mission to extend the life and vision of the Hubble Space Telescope.

Play

STS-125: The EVAs

The lead spacewalk officer provides indepth explanations of the five EVAs to service Hubble during Atlantis' flight.

Play

STS-125: The crew

The seven shuttle Atlantis astronauts hold a press conference one month before their planned launch to Hubble.

Play

STS-125: NASA leaders

The leaders of NASA's Space Operations and Science directorates give their insights into the upcoming shuttle mission to the Hubble Space Telescope.

Play

STS-125: Shuttle boss

The head of NASA's space shuttle program discusses the risks and plans for Atlantis' trek to Hubble.

Play

The Hubble program

An overview of the Hubble Space Telescope program and the planning that has gone into the final servicing mission.

Play

Hubble's future science

The new instruments to be installed into Hubble and the future science objectives for the observatory are previewed.

Play

Meet the Hubble crew

Meet the crew launching on Atlantis' STS-125 mission to service the Hubble Space Telescope and learn how each became an astronaut in this special biography movie.

Play

Become a subscriber
More video







Miles O'Brien to anchor interactive coverage of shuttle launch to Hubble
SPACEFLIGHT NOW NEWS RELEASE
Posted: May 10, 2009


CAPE CANAVERAL, Fla. -- Miles O'Brien, CNN's former space reporter and anchor for 16 years, returns to the Cape to anchor Spaceflight Now's historic coverage of the final Space Shuttle to Hubble.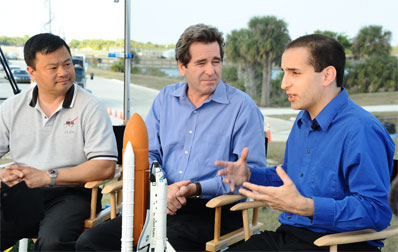 Miles O'Brien (center) will anchor launch coverage with astronaut Leroy Chiao (left) and journalist David Waters (right). Credit: Gene Blevins/LA Daily News



Miles will unveil new technologies that allow our viewers to do more than watch the launch. Viewers can interact with our stellar guest line-up, from Hubble astronauts, scientists, and astronomers, to Sean O'Keefe, the NASA Administrator who originally cancelled this mission, and astronaut Scott Parazynski live from the Himalayas where he is preparing to scale Mt. Everest. "This is such a powerful tool. Journalism will never be the same -- and that is a good thing," said O'Brien.

O'Brien is joined by David Waters, a television journalist who covered Kennedy Space Center and also worked in the shuttle program before joining Spaceflight Now to help create this new kind of show that became a social media breakthrough during the first shuttle launch this year. "Why just watch America launch a space shuttle, when you can join the conversation and be part of the experience," said Waters.

Veteran Space Station Commander Leroy Chiao will provide insight into the tricky spacewalks ahead. Chiao is a veteran astronaut with 229 days in orbit, including spacewalks and his work as Chief of the Astronaut Office EVA Branch.

Spaceflight Now's stellar Hubble guest lineup also includes astronaut Loren Shriver, who commanded the shuttle that deployed Hubble, and astronaut Jeff Hoffman, who repaired the telescope during the first servicing mission. Bob Crippen, the first ever pilot of a Space Shuttle, and a man who knows a thing or two about high profile missions, tells us his thoughts on this historic day that is being watched around the world.

NWS certified TV meteorologist Julie Broughton will provide live weather updates and show us the big crowds watching the long-awaited launch from the beaches of Cape Canaveral.

Meanwhile, in our chat window, NASA will help field your questions along with former Houston Chronicle space reporter Mark Carreau, the most experienced space team on the planet, and space program workers and experts around the world.

Join the conversation live on Monday, May 11, from 8:30 a.m. to 3:30 p.m. Eastern time on SpaceflightNow.com

Founded in 1999, Spaceflight Now has built a reputation as the leading source of space news and video coverage. Based in Brevard County, Fla., Spaceflight Now's correspondents include former Aviation Week & Space Technology senior aerospace editor Craig Covault and pioneering Web editor Justin Ray, who has been providing live coverage of space launches worldwide for more than a decade. Visit Spaceflight Now on the web at http://spaceflightnow.com.


Additional coverage for subscribers:


VIDEO: TIME-LAPSE OF LAUNCH PAD GANTRY ROLLBACK PLAY



VIDEO: ENTERTAINING LOOK AT ATLANTIS' CREW PLAY


VIDEO: HUBBLE SPACE TELESCOPE HISTORY MOVIE PLAY


VIDEO: A TRIBUTE TO THE CAMERA THAT SAVED HUBBLE PLAY


VIDEO: HUBBLE TELESCOPE PROGRAM BRIEFING FROM SUNDAY PLAY


VIDEO: THE STS-125 PRE-LAUNCH NEWS CONFERENCE PLAY


VIDEO: SATURDAY'S COUNTDOWN STATUS AND WEATHER UPDATE PLAY


VIDEO: ASTRONAUTS ARRIVE AT THE CAPE FOR LAUNCH PLAY


VIDEO: FRIDAY'S COUNTDOWN STATUS AND WEATHER UPDATE PLAY



VIDEO: NEWS BRIEFING FOLLOWING FLIGHT READINESS REVIEW PLAY



VIDEO: REFRESHER BRIEFING: THE STS-125 MISSION PLAY


VIDEO: REFRESHER BRIEFING: HUBBLE SPACE TELESCOPE PLAY


VIDEO: REFRESHER BRIEFING: THE SEVEN ASTRONAUTS PLAY



VIDEO: BIOGRAPHY MOVIE OF ATLANTIS' CREW PLAY


VIDEO: INTERVIEW WITH COMMANDER SCOTT ALTMAN PLAY | '09 UPDATE


VIDEO: INTERVIEW WITH PILOT GREG JOHNSON PLAY


VIDEO: INTERVIEW WITH MS1 MIKE GOOD PLAY


VIDEO: INTERVIEW WITH MS2 MEGAN MCARTHUR PLAY


VIDEO: INTERVIEW WITH MS3 JOHN GRUNSFELD PLAY | '09 UPDATE


VIDEO: INTERVIEW WITH MS4 MIKE MASSIMINO PLAY | '09 UPDATE


VIDEO: INTERVIEW WITH MS5 DREW FEUSTEL PLAY | '09 UPDATE



VIDEO: SHUTTLE ATLANTIS ARRIVES AT LAUNCH PAD 39A PLAY | HI-DEF


VIDEO: THE SUN RISES ON ATLANTIS DURING ROLLOUT PLAY | HI-DEF


VIDEO: ATLANTIS EMERGES FROM ASSEMBLY BUILDING PLAY | HI-DEF


VIDEO: ORBITER VERTICAL FOR MATING TO FUEL TANK PLAY | HI-DEF


VIDEO: ATLANTIS MOVES BACK TO ASSEMBLY BUILDING PLAY | HI-DEF



VIDEO: ATLANTIS LEAVES LAUNCH PAD 39A IN OCT. PLAY


VIDEO: TIMELAPSE OF THE ROLLBACK GETTING UNDERWAY PLAY



VIDEO: ASTRONAUTS REHEARSE QUICK SHUTTLE EXIT PLAY


VIDEO: CREW BOARDS ATLANTIS FOR MOCK COUNTDOWN PLAY


VIDEO: ASTRONAUTS DON SUITS FOR PRACTICE COUNTDOWN PLAY


VIDEO: CREW'S TRAINING ON ESCAPE BASKETS AND BUNKER PLAY


VIDEO: ASTRONAUTS CHAT WITH PRESS AT LAUNCH PAD PLAY


VIDEO: CREW TEST DRIVES EMERGENCY PAD ESCAPE VEHICLE PLAY


VIDEO: COMMANDER AND PILOT PRACTICE LANDING APPROACHES PLAY


VIDEO: CREW ARRIVES AT CAPE FOR PRACTICE COUNTDOWN PLAY


VIDEO: COMMENTS FROM COMMANDER AFTER ARRIVING PLAY



VIDEO: AERIAL VIEWS OF ATLANTIS AND ENDEAVOUR PLAY | HI-DEF



VIDEO: PRE-FLIGHT BRIEFING: THE STS-125 MISSION PLAY


VIDEO: PRE-FLIGHT BRIEFING: THE FIVE SPACEWALKS PLAY


VIDEO: PRE-FLIGHT BRIEFING: THE SEVEN ASTRONAUTS PLAY


VIDEO: PRE-FLIGHT BRIEFING: NASA LEADERSHIP PLAY


VIDEO: PRE-FLIGHT BRIEFING: SHUTTLE PROGRAM BOSS PLAY


VIDEO: PRE-FLIGHT BRIEFING: HUBBLE OVERVIEW PLAY


VIDEO: PRE-FLIGHT BRIEFING: HUBBLE SCIENCE PLAY



VIDEO: SHUTTLE ARRIVES ATOP PAD 39A PLAY


VIDEO: ATLANTIS EMERGES FROM VEHICLE ASSEMBLY BUILDING PLAY


VIDEO: TIME-LAPSE MOVIE OF ATLANTIS' ROLLOUT TO LAUNCH PAD PLAY



VIDEO: ATLANTIS ROLLS FROM HANGAR TO VAB PLAY


VIDEO: ATLANTIS LIFTED INTO PLACE FOR ATTACHMENT PLAY


MORE: STS-125 VIDEO COVERAGE


NEW! HIGH DEFINITION VIDEO


SUBSCRIBE NOW