Astronauts arrive as shuttle countdown starts ticking
BY WILLIAM HARWOOD
STORY WRITTEN FOR CBS NEWS "SPACE PLACE" & USED WITH PERMISSION
Posted: May 8, 2009;
Updated with count start and crew arrival


Engineers late Friday started the shuttle Atlantis' countdown to blastoff Monday on a long-awaited fifth and final mission to service the Hubble Space Telescope. There are no technical problems of any significance at pad 39A and forecasters are predicting an 80 percent chance of good weather.

"All of our systems are in great shape," said NASA Test Director Jeremy Graeber. "We don't have any issues to report."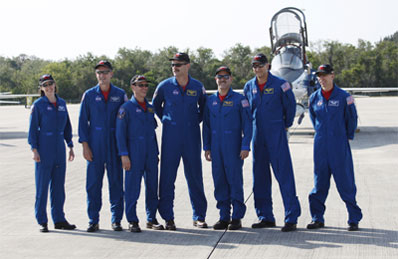 Astronauts pose for photographers after arriving at Kennedy Space Center. Credit: NASA-KSC



Engineers in Firing Room 4 at the Kennedy Space Center started the shuttle's countdown at 4 p.m., setting up a launch attempt at 2:01:49 p.m. Monday, 20 minutes after the opening of the Hubble launch window.

Atlantis commander Scott Altman, pilot Gregory C. Johnson, flight engineer Megan McArthur and spacewalkers John Grunsfeld, Michael Massimino, Andrew Feustel and Michael Good arrived at the spaceport around 5 p.m. to prepare for launch.

"Hello, Florida, it's great to be here at last!" Altman said on the runway after a flight from Houston. "It's been a long road to get here, we're all thrilled."

Originally scheduled for launch last October, the flight was put on hold when one of two channels in a critical data router aboard Hubble broke down three weeks before takeoff. Spare hardware was checked out, certified for flight and added to the crew's five-spacewalk mission, setting the stage for another launch try Monday.

"It's really cool for us to be here," Massimino said. "We've been training together for over two-and-a-half years. Our crew's gotten to know each other really well, we've become more like a family. For us to come down here and get a chance to get on the space shuttle in a couple of days and experience the dream of going into space and working on the Hubble together is something that we're really looking forward to."

Altman summed up the crew's feelings with an enthusiastic hand pump, saying "we are ready! Let's launch Atlantis!"

While the Florida forecast is favorable Monday, the weather in Spain could cause problems for NASA. Because of the trajectory Atlantis must fly to reach the space telescope, only one of NASA's three emergency runways in Europe is available in case of an engine failure or some other problem that might crop up during ascent.

At the designated trans-Atlantic landing site near Moron, Spain, forecasters are predicting a chance of showers within 20 nautical miles.

"There's a frontal boundary that's off to the west of the area there and pre-frontal weather tends to give you some showers," said shuttle weather officer Kathy Winters. "That is a concern for this launch. ... There is a decent chance of getting an isolated shower in the area."

NASA only has three days to get Atlantis off the pad or the flight will slip to May 22 because of an upcoming military operation on the U.S. Air Force Eastern Range that provides tracking and telemetry support for all rockets launched from Florida.

The forecast for Tuesday and Wednesday calls for a 60 percent chance of acceptable weather at the Kennedy Space Center, with conditions improving both days at Moron.


Additional coverage for subscribers:


VIDEO: ASTRONAUTS ARRIVE AT THE CAPE FOR LAUNCH PLAY


VIDEO: FRIDAY'S COUNTDOWN STATUS AND WEATHER UPDATE PLAY



VIDEO: NEWS BRIEFING FOLLOWING FLIGHT READINESS REVIEW PLAY



VIDEO: REFRESHER BRIEFING: THE STS-125 MISSION PLAY


VIDEO: REFRESHER BRIEFING: HUBBLE SPACE TELESCOPE PLAY


VIDEO: REFRESHER BRIEFING: THE SEVEN ASTRONAUTS PLAY



VIDEO: BIOGRAPHY MOVIE OF ATLANTIS' CREW PLAY


VIDEO: INTERVIEW WITH COMMANDER SCOTT ALTMAN PLAY | '09 UPDATE


VIDEO: INTERVIEW WITH PILOT GREG JOHNSON PLAY


VIDEO: INTERVIEW WITH MS1 MIKE GOOD PLAY


VIDEO: INTERVIEW WITH MS2 MEGAN MCARTHUR PLAY


VIDEO: INTERVIEW WITH MS3 JOHN GRUNSFELD PLAY | '09 UPDATE


VIDEO: INTERVIEW WITH MS4 MIKE MASSIMINO PLAY | '09 UPDATE


VIDEO: INTERVIEW WITH MS5 DREW FEUSTEL PLAY | '09 UPDATE



VIDEO: SHUTTLE ATLANTIS ARRIVES AT LAUNCH PAD 39A PLAY | HI-DEF


VIDEO: THE SUN RISES ON ATLANTIS DURING ROLLOUT PLAY | HI-DEF


VIDEO: ATLANTIS EMERGES FROM ASSEMBLY BUILDING PLAY | HI-DEF


VIDEO: ORBITER VERTICAL FOR MATING TO FUEL TANK PLAY | HI-DEF


VIDEO: ATLANTIS MOVES BACK TO ASSEMBLY BUILDING PLAY | HI-DEF



VIDEO: ATLANTIS LEAVES LAUNCH PAD 39A IN OCT. PLAY


VIDEO: TIMELAPSE OF THE ROLLBACK GETTING UNDERWAY PLAY



VIDEO: ASTRONAUTS REHEARSE QUICK SHUTTLE EXIT PLAY


VIDEO: CREW BOARDS ATLANTIS FOR MOCK COUNTDOWN PLAY


VIDEO: ASTRONAUTS DON SUITS FOR PRACTICE COUNTDOWN PLAY


VIDEO: CREW'S TRAINING ON ESCAPE BASKETS AND BUNKER PLAY


VIDEO: ASTRONAUTS CHAT WITH PRESS AT LAUNCH PAD PLAY


VIDEO: CREW TEST DRIVES EMERGENCY PAD ESCAPE VEHICLE PLAY


VIDEO: COMMANDER AND PILOT PRACTICE LANDING APPROACHES PLAY


VIDEO: CREW ARRIVES AT CAPE FOR PRACTICE COUNTDOWN PLAY


VIDEO: COMMENTS FROM COMMANDER AFTER ARRIVING PLAY



VIDEO: AERIAL VIEWS OF ATLANTIS AND ENDEAVOUR PLAY | HI-DEF



VIDEO: PRE-FLIGHT BRIEFING: THE STS-125 MISSION PLAY


VIDEO: PRE-FLIGHT BRIEFING: THE FIVE SPACEWALKS PLAY


VIDEO: PRE-FLIGHT BRIEFING: THE SEVEN ASTRONAUTS PLAY


VIDEO: PRE-FLIGHT BRIEFING: NASA LEADERSHIP PLAY


VIDEO: PRE-FLIGHT BRIEFING: SHUTTLE PROGRAM BOSS PLAY


VIDEO: PRE-FLIGHT BRIEFING: HUBBLE OVERVIEW PLAY


VIDEO: PRE-FLIGHT BRIEFING: HUBBLE SCIENCE PLAY



VIDEO: SHUTTLE ARRIVES ATOP PAD 39A PLAY


VIDEO: ATLANTIS EMERGES FROM VEHICLE ASSEMBLY BUILDING PLAY


VIDEO: TIME-LAPSE MOVIE OF ATLANTIS' ROLLOUT TO LAUNCH PAD PLAY



VIDEO: ATLANTIS ROLLS FROM HANGAR TO VAB PLAY


VIDEO: ATLANTIS LIFTED INTO PLACE FOR ATTACHMENT PLAY


MORE: STS-125 VIDEO COVERAGE


NEW! HIGH DEFINITION VIDEO


SUBSCRIBE NOW