Shuttle Atlantis could launch a day sooner than planned
BY WILLIAM HARWOOD
STORY WRITTEN FOR CBS NEWS "SPACE PLACE" & USED WITH PERMISSION
Posted: April 22, 2009


NASA managers are debating whether to move up launch of the shuttle Atlantis one day, from May 12 to May 11, to get as many launch opportunities as possible before standing down to make way for a military operation that requires support from the Air Force Eastern Range starting May 14, officials said Wednesday.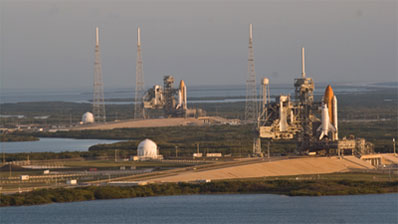 Endeavour stands atop pad 39B (left) as rescue vehicle for Atlantis' launch from pad 39A (right). Credit: NASA



The Eastern Range provides tracking and telemetry support for all rockets launched from Florida, as well as countdown dress rehearsals and other launch-related operations by NASA, the Department of Defense and commercial launch providers.

NASA is gearing up to launch the shuttle Atlantis on a fifth and final mission to service and upgrade the Hubble Space Telescope. The agency is aiming for a launch at 1:31 p.m. on May 12, but a military operation on the range, NASA sources say, will prevent any shuttle launch attempts for about a week starting May 14.

As a result, NASA is looking into moving the shuttle launch date up one day, which would give the agency three opportunities in a row if needed.

Shuttle managers held a program-level flight readiness review Tuesday. Another meeting was held Wednesday to discuss launch date options and managers decided to meet again Friday for additional discussions. An executive-level FRR is scheduled for next week to review launch processing and to set an official launch date.

Sources say Atlantis can support a May 11 launch, but it's not yet clear if Hubble engineers can complete pre-launch tests in time to support an accelerated schedule.

NASA is hoping to get Atlantis off as soon as possible to avoid any problems for the next shuttle mission, a space station assembly flight by shuttle Endeavour. Endeavour currently is mounted atop launch pad 39B at the Kennedy Space Center, on stand by for launch on an emergency rescue mission if the Atlantis astronauts run into any problems that might prevent a safe re-entry.

Assuming a rescue flight is not needed, Endeavour will be moved to pad 39A and prepared for launch June 13 on the station assembly flight. But NASA will only have one week to get Endeavour off the ground. A so-called "beta angle cutout" will kick in June 21, preventing any shuttle visits to the station until after July 11 because of temperature constraints related to the angle between the sun and the plane of the space station's orbit.

Moving up the Atlantis launch date by one day would buy one more day of insurance to get the Hubble mission off ahead of the military range operation and at the same time, provide more cushion for the June mission. If the Atlantis flight slips behind the range operation, Endeavour's flight would face a delay to mid July.


Additional coverage for subscribers:


VIDEO: SHUTTLE ATLANTIS ARRIVES AT LAUNCH PAD 39A PLAY | HI-DEF


VIDEO: THE SUN RISES ON ATLANTIS DURING ROLLOUT PLAY | HI-DEF


VIDEO: ATLANTIS EMERGES FROM ASSEMBLY BUILDING PLAY | HI-DEF


VIDEO: ORBITER VERTICAL FOR MATING TO FUEL TANK PLAY | HI-DEF


VIDEO: ATLANTIS MOVES BACK TO ASSEMBLY BUILDING PLAY | HI-DEF



VIDEO: ATLANTIS LEAVES LAUNCH PAD 39A IN OCT. PLAY


VIDEO: TIMELAPSE OF THE ROLLBACK GETTING UNDERWAY PLAY



VIDEO: ASTRONAUTS REHEARSE QUICK SHUTTLE EXIT PLAY


VIDEO: CREW BOARDS ATLANTIS FOR MOCK COUNTDOWN PLAY


VIDEO: ASTRONAUTS DON SUITS FOR PRACTICE COUNTDOWN PLAY


VIDEO: CREW'S TRAINING ON ESCAPE BASKETS AND BUNKER PLAY


VIDEO: ASTRONAUTS CHAT WITH PRESS AT LAUNCH PAD PLAY


VIDEO: CREW TEST DRIVES EMERGENCY PAD ESCAPE VEHICLE PLAY


VIDEO: COMMANDER AND PILOT PRACTICE LANDING APPROACHES PLAY


VIDEO: CREW ARRIVES AT CAPE FOR PRACTICE COUNTDOWN PLAY


VIDEO: COMMENTS FROM COMMANDER AFTER ARRIVING PLAY



VIDEO: AERIAL VIEWS OF ATLANTIS AND ENDEAVOUR PLAY | HI-DEF



VIDEO: PRE-FLIGHT BRIEFING: THE STS-125 MISSION PLAY


VIDEO: PRE-FLIGHT BRIEFING: THE FIVE SPACEWALKS PLAY


VIDEO: PRE-FLIGHT BRIEFING: THE SEVEN ASTRONAUTS PLAY


VIDEO: PRE-FLIGHT BRIEFING: NASA LEADERSHIP PLAY


VIDEO: PRE-FLIGHT BRIEFING: SHUTTLE PROGRAM BOSS PLAY


VIDEO: PRE-FLIGHT BRIEFING: HUBBLE OVERVIEW PLAY


VIDEO: PRE-FLIGHT BRIEFING: HUBBLE SCIENCE PLAY



VIDEO: SHUTTLE ARRIVES ATOP PAD 39A PLAY


VIDEO: ATLANTIS EMERGES FROM VEHICLE ASSEMBLY BUILDING PLAY


VIDEO: TIME-LAPSE MOVIE OF ATLANTIS' ROLLOUT TO LAUNCH PAD PLAY



VIDEO: ATLANTIS ROLLS FROM HANGAR TO VAB PLAY


VIDEO: ATLANTIS LIFTED INTO PLACE FOR ATTACHMENT PLAY



VIDEO: BIOGRAPHY MOVIE OF ATLANTIS' CREW PLAY


VIDEO: INTERVIEW WITH COMMANDER SCOTT ALTMAN PLAY


VIDEO: INTERVIEW WITH PILOT GREG JOHNSON PLAY


VIDEO: INTERVIEW WITH MS1 MIKE GOOD PLAY


VIDEO: INTERVIEW WITH MS2 MEGAN MCARTHUR PLAY


VIDEO: INTERVIEW WITH MS3 JOHN GRUNSFELD PLAY


VIDEO: INTERVIEW WITH MS4 MIKE MASSIMINO PLAY


VIDEO: INTERVIEW WITH MS5 DREW FEUSTEL PLAY


MORE: STS-125 VIDEO COVERAGE


NEW! HIGH DEFINITION VIDEO


SUBSCRIBE NOW