Commander says crew needs to make up lost training
BY WILLIAM HARWOOD
STORY WRITTEN FOR CBS NEWS "SPACE PLACE" & USED WITH PERMISSION
Posted: September 23, 2008


Reviewing emergency procedures at the Kennedy Space Center, Atlantis commander Scott Altman said today his crew lost a week of training time because of Hurricane Ike, "so you come to the question of either slipping the launch or cutting out events."

"We're still working with the whole system to balance that," he told reporters at the launch pad. "In the end, I think we're going to try to do most of our training and that, of course, may mean a bit of a slip. But it's being evaluated and we're kind of standing by."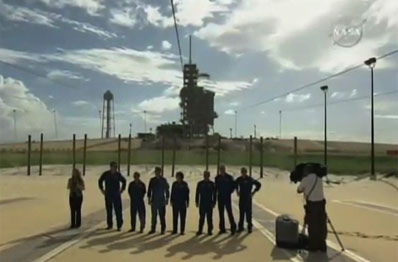 The Atlantis crew holds a news conference at the launch pad today. Credit: NASA TV



Atlantis is targeted for launch at 12:43:35 a.m. on Oct. 10 to kick off a long-awaited flight to service and upgrade the Hubble Space Telescope. Five back-to-back spacewalks are planned to install two new instruments, to repair two others and to install new gyroscopes, batteries, a fine guidance sensor and insulation.

Altman and his crewmates - pilot Gregory C. Johnson, flight engineer Megan McArthur and spacewalkers John Grunsfeld, Michael Massimino, Andrew Feustel and Michael Good - flew to Florida on Sunday to review launch pad emergency procedures and to participate in a dress-rehearsal countdown Friday.

While that exercise is proceeding, shuttle program managers will meet to discuss a wide variety of issues, from Atlantis' processing and work to ready shuttle Endeavour for a possible rescue flight to the increased threat posed by orbital debris at Hubble's high altitude. They also will review crew training and the impact of Hurricane Ike, which forced NASA to shut down the Johnson Space Center last week. The campus-like facility escaped major damage, but critical training time was lost for the crew, flight controllers and Hubble engineers at the Goddard Space Flight Center in Greenbelt, Md.

Sources say launch is expected to slip a few days, but no final decisions have been made. A recommendation will be forwarded to an executive-level flight readiness review scheduled for Oct. 2 and 3.

"It was seven days, seven events," Altman said of the interrupted training. "Basically four NBL (Neutral Buoyancy Laboratory) runs, practicing the spacewalks; two large-scale integrated simulations with both Goddard and Houston playing together while we trained EVA-5 and rendezvous day. And then we missed an ascent integrated sim where we practice the whole launch routine and how we respond to emergencies. So a lot of important stuff. ... We had a little bit of room in the final couple of weeks, but all that stuff needs to be done and we have to make it happen before we fly.

"We'd like to have all the training as planned. There are a couple of things that I think we could still launch into space without and be fully trained and ready to carry out a successful mission. There are things the crew doesn't need, but the control team on the ground and at Goddard needs to make sure they're fully up to speed. So we're looking at balancing that, who plays when, is the crew involved in everything or do we try to do things a little creatively?"

The two runs in NASA's spacewalk training pool were intended to rehearse complex repairs needed by two instruments aboard Hubble, the Advanced Camera for Surveys and the Space Telescope Infrared Spectrograph. Neither instrument was designed to be serviced in space and the work is considered especially challenging.

Altman, Grunsfeld and Massimino visited Hubble in 2002 as members of the STS-109/Servicing Mission 3B crew. At the time, STS-109 was considered one of the most complex missions ever attempted by a shuttle crew. But Grunsfeld said today Servicing Mission 4 aboard Atlantis will be even more demanding, highlighting the importance of crew training.

"The bottom line to me is this mission is really hard," Grunsfeld said. "After 109, I thought we'd really maxed out what we could do on a space mission. ... This time, we've added a lot of content with (heat shield) inspections. From an EVA standpoint, we've gone from doing heart surgery on Hubble to what is comparable to doing brain surgery on Hubble with the instrument repairs. So this is going to be a very complex mission, it's going to be very hard."

Massimino said the crew will be ready, despite the impact of Hurricane Ike.

"We've been training hard and long and I feel pretty confident we're going to be able to pull those two repairs off," he said. "I think we're ready for them and it's just to be fresh, have it fresh in your mind, we're going to hopefully recover those NBL runs and do a little more training in the simulator. But I think we're as ready as we're ever going to be to do that. Hopefully it'll go as we expect it to. There'll probably be some surprises in there that we didn't anticipate. But I think we're going to be ready to react to those as well."


Additional coverage for subscribers:


VIDEO: ASTRONAUTS CHAT WITH PRESS AT LAUNCH PAD PLAY


VIDEO: CREW ARRIVES AT CAPE FOR PRACTICE COUNTDOWN PLAY


VIDEO: COMMENTS FROM COMMANDER AFTER ARRIVING PLAY



VIDEO: AERIAL VIEWS OF ATLANTIS AND ENDEAVOUR PLAY | HI-DEF



VIDEO: PRE-FLIGHT BRIEFING: THE STS-125 MISSION PLAY


VIDEO: PRE-FLIGHT BRIEFING: THE FIVE SPACEWALKS PLAY


VIDEO: PRE-FLIGHT BRIEFING: THE SEVEN ASTRONAUTS PLAY


VIDEO: PRE-FLIGHT BRIEFING: NASA LEADERSHIP PLAY


VIDEO: PRE-FLIGHT BRIEFING: SHUTTLE PROGRAM BOSS PLAY


VIDEO: PRE-FLIGHT BRIEFING: HUBBLE OVERVIEW PLAY


VIDEO: PRE-FLIGHT BRIEFING: HUBBLE SCIENCE PLAY



VIDEO: SHUTTLE ARRIVES ATOP PAD 39A PLAY


VIDEO: ATLANTIS EMERGES FROM VEHICLE ASSEMBLY BUILDING PLAY


VIDEO: TIME-LAPSE MOVIE OF ATLANTIS' ROLLOUT TO LAUNCH PAD PLAY



VIDEO: ATLANTIS ROLLS FROM HANGAR TO VAB PLAY


VIDEO: ATLANTIS LIFTED INTO PLACE FOR ATTACHMENT PLAY



VIDEO: BIOGRAPHY MOVIE OF ATLANTIS' CREW PLAY


VIDEO: INTERVIEW WITH COMMANDER SCOTT ALTMAN PLAY


VIDEO: INTERVIEW WITH PILOT GREG JOHNSON PLAY


VIDEO: INTERVIEW WITH MS1 MIKE GOOD PLAY


VIDEO: INTERVIEW WITH MS2 MEGAN MCARTHUR PLAY


VIDEO: INTERVIEW WITH MS3 JOHN GRUNSFELD PLAY


VIDEO: INTERVIEW WITH MS4 MIKE MASSIMINO PLAY


VIDEO: INTERVIEW WITH MS5 DREW FEUSTEL PLAY


MORE: STS-125 VIDEO COVERAGE


NEW! HIGH DEFINITION VIDEO


SUBSCRIBE NOW