Hurricane Hanna delays shuttle's move to pad
BY WILLIAM HARWOOD
STORY WRITTEN FOR CBS NEWS "SPACE PLACE" & USED WITH PERMISSION
Posted: September 1, 2008


Already running four days late because of Tropical Storm Fay and another three because of a technical snag, the shuttle Atlantis' move to launch pad 39A was held up another 24 hours today, from Tuesday to at least Wednesday, because of uncertainty about the possible impact of Hurricane Hanna.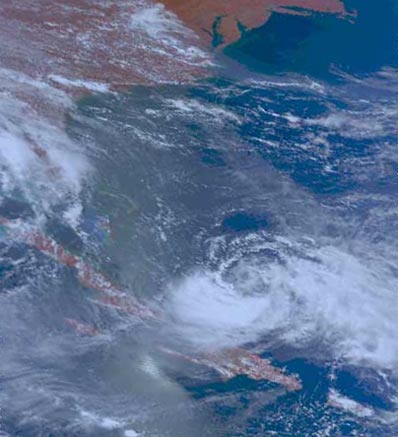 NASA's Aqua satellite captured this image of Hanna near the Bahamas on Sunday. Credit: NASA/JPL



The National Hurricane Center predicts Hanna will pass relatively close to the Kennedy Space Center as it moves along a track 100 miles or so to the east overnight Thursday and Friday before slamming into the mainland near Savannah, Ga. The decision to delay rollout by 24 hours will give NASA managers another day to assess Hanna's track and its potential impact on the space center.

Hurricane Gustav, meanwhile, roared ashore in Louisiana earlier today, passing to the southwest of New Orleans and Lockheed Martin's Michoud Assembly Facility where space shuttle external tanks are built. While company officials have not yet carried out a detailed inspection, NASA sources say the sprawling facility appears to have come through in relatively good shape.

As if dodging two hurricanes was not enough to worry about, NASA managers also are tracking the development of tropical storm Ike in the mid Atlantic Ocean. Ike is expected to strengthen to hurricane status and while it doesn't appear to threaten Florida's east coast, it's too soon to say where the storm might eventually go.

NASA hopes to launch Atlantis around Oct. 8 on the agency's fifth and final mission to service the Hubble Space Telescope. Even with the delays to date, shuttle workers still have several days of on-pad contingency time to handle unexpected problems.

But engineers preparing Hubble hardware for launch also fell behind because of Fay and unlike their shuttle colleagues, they do not have any on-pad contingency time left. As of late last week, the Hubble team was two to three days behind schedule, raising the prospect of a launch delay to Oct. 10 or 11, regardless of the rollout delay.

NASA plans to follow Atlantis' mission by launching the shuttle Endeavour around Nov. 10 on a space station assembly flight. But the agency only has two weeks to get Endeavour off the pad before the angle between the sun and the lab complex reaches a point that precludes shuttle visits because of temperature constraints.

In that case, Endeavour's launching likely would slip into early next year, triggering downstream delays for subsequent flights. As a result, NASA managers want to preserve Endeavour's Nov. 10 launch target if at all possible to ensure an adequate cushion to handle weather or unexpected technical problems.

Endeavour is being processed in parallel to serve as an emergency rescue vehicle in case Atlantis suffers any damage that might prevent a safe re-entry. Just how much cushion Endeavour ends up with depends in part on when Atlantis gets off the ground and when Endeavour is cleared of its launch-on-need obligations.

Regardless of the threat of any subsequent delays, NASA managers plan to stick with the current flight sequence. There has been talk in recent days about a possible mission flip flop - delaying Atlantis to early next year to ensure Endeavour gets off in November - if the Hubble flight falls too far behind. But officials said today they plan to stay in order, launching Atlantis first, then Endeavour.


Additional coverage for subscribers:


VIDEO: ATLANTIS ROLLS FROM HANGAR TO VAB PLAY


VIDEO: ATLANTIS LIFTED INTO PLACE FOR ATTACHMENT PLAY


VIDEO: BIOGRAPHY MOVIE OF ATLANTIS' CREW PLAY


VIDEO: INTERVIEW WITH COMMANDER SCOTT ALTMAN PLAY


VIDEO: INTERVIEW WITH PILOT GREG JOHNSON PLAY


VIDEO: INTERVIEW WITH MS1 MIKE GOOD PLAY


VIDEO: INTERVIEW WITH MS2 MEGAN MCARTHUR PLAY


VIDEO: INTERVIEW WITH MS3 JOHN GRUNSFELD PLAY


VIDEO: INTERVIEW WITH MS4 MIKE MASSIMINO PLAY


VIDEO: INTERVIEW WITH MS5 DREW FEUSTEL PLAY


MORE: STS-125 VIDEO COVERAGE


NEW! HIGH DEFINITION VIDEO


SUBSCRIBE NOW