Space shuttle pad repair options being debated
BY WILLIAM HARWOOD
STORY WRITTEN FOR CBS NEWS "SPACE PLACE" & USED WITH PERMISSION
Posted: June 16, 2008


Engineers assessing extensive damage to launch pad 39A during the shuttle Discovery's May 31 takeoff said Monday they are confident the "flame trench" that diverts exhaust to either side can be repaired in time for NASA's next mission, the Oct. 8 launch of shuttle Atlantis on a flight to service the Hubble Space Telescope.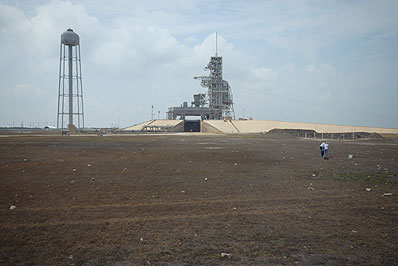 The news media was given a close-up tour of the pad damage on Monday. Credit: Ben Cooper/Spaceflight Now
SEE MORE IMAGES FROM MONDAY HERE | EARLIER GALLERY HERE



Repair options will be presented to shuttle Program Manager John Shannon on June 26, leaving about two months to complete the pad rehab before the planned Aug. 29 rollout of Atlantis.

"We feel we're on the right path for a design solution and we're working to get there," Perry Becker, chief of NASA's structural systems branch at the Kennedy Space Center, told reporters Monday. "We're working very extensively with a few vendors in industry, we're starting to put that plan together. ... We're confident, regardless of the scope of the work here, that we can repair this pad in time and support the rollout."

During Discovery's takeoff, some 5,300 heat-resistant bricks lining the northeast wall of the flame trench under the shuttle's mobile launch platform were blown away, some blasted more than 1,800 feet, heavily damaging a security fence around the pad perimeter. The interlocking bricks, held in place by epoxy and metal clips anchored in concrete, are used to protect an underlying 3-foot-thick concrete wall that helps form the structural backbone of the pad.

The missing bricks exposed an irregular area of the concrete wall measuring roughly 20 feet by 75 feet. New bricks cannot be manufactured in time to support the Hubble mission, but Becker said engineers believe the trench can be repaired by stripping away additional bricks around the damage area, erecting a steel mesh framework and then spraying on a thick coating of a refractory material like Fondu Fyre.

A five-inch-thick coating of Fondu Fyre currently covers the inverted V-shaped flame deflector that diverts main engine exhaust to one side of the pad and booster exhaust to the other. About 20 feet of the flame trench extending from the deflector on the booster side already is covered by Fondu Fyre, giving way to bricks. The idea would be to extend that coating to cover the areas damaged during Discovery's launching.

"We're certainly looking strongly at Fondu Fyre, we've got a history with it out here, we know its properties," Becker said. "There are a couple of other materials on the market that we're looking at, so we haven't down selected that definitively. But it is a leading candidate."

Despite the intense heat and pressure produced by the shuttle's solid-fuel boosters, Becker said the Fondu Fyre coating the flame deflector holds up well to the extreme heat and pressures produced by the shuttle's huge solid-fuel boosters.

"The erosion rate we would expect on the side walls (of the flame trench) would be very, very minimal based on some Fondu Fyre that we have up near the main flame deflector itself," he said. "That has performed very well."

It is not yet known how many more bricks will need to be stripped away or how large an area might ultimately be covered by Fondu Fyre, assuming program managers approve that approach.

"I like to talk about it as if you're redoing tile in your bathroom at your house," said Ed Mango, launch director for the Hubble servicing mission. "One tile gets loose, then you've got to chase it. This is a similar thing. The tile in your shower is there to protect the wall behind it. We have the brick here to protect the concrete behind it. Of course, the over pressure and the amount of water is much worse!"

Looking at trowel marks on the exposed concrete, engineers believe the epoxy used to help hold the bricks to the wall was not uniformly applied. So-called "tap tests" have revealed possible voids behind other sections of the flame trench where bricks are still in place. Engineers also are taking core samples and performing "pull tests" to further characterize the remaining bricks.

"We have seen indications on the visibly damaged sections of trowel marks in some areas on the wall there that shows less than full engagement of the bricks to the back wall structure when it was originally manufactured," Becker said. "Certainly, that is one component of several possibilities of the root cause of failure."

Becker downplayed the question of whether the original construction was flawed, saying "there's no such thing as a perfectly vertical or smooth wall. So there are going to be voids and surface imperfections, that's common in the construction industry."

The Hubble crew cannot take advantage of "safe haven" aboard the international space station if Atlantis suffers any damage that might prevent a safe re-entry. As a result, NASA plans to have a second shuttle, Endeavour, ready for takeoff from nearby pad 39B if a rescue mission is required.

Both shuttle pads were built in the 1960s for the Apollo moon program and engineers are carrying out tests and inspections to assess the health of pad B.

"We're evaluating that state of pad B as we speak and if we find anything, we'll take the appropriate action," Becker said.

First used in 1967, pad 39A has withstood 12 Saturn 5 launchings, including the first Apollo moon landing mission, and 70 shuttle flights. Pad 39B, first used in 1969, supported one Saturn 5 launch, four Saturn 1B flights and 53 shuttle missions, including Challenger's final flight.


Additional coverage for subscribers:


VIDEO: SHUTTLE DISCOVERY'S LANDING AS SEEN LIVE PLAY


VIDEO: ASTRONAUTS' POST-LANDING PRESS CONFERENCE PLAY


VIDEO: LANDING REPLAY: VAB ROOF CAMERA PLAY


VIDEO: LANDING REPLAY: RUNWAY CLOSE-UP PLAY


VIDEO: LANDING REPLAY: RUNWAY WEST PLAY


VIDEO: LANDING REPLAY: RUNWAY EAST PLAY


VIDEO: LANDING REPLAY: INFRARED TRACKING CAMERA PLAY


VIDEO: LANDING REPLAY: CAMERA ON NORTH END OF RUNWAY PLAY



VIDEO: THE FLIGHT DAY 14 HIGHLIGHTS MOVIE PLAY


VIDEO: FRIDAY'S MISSION STATUS BRIEFING PLAY


VIDEO: CBS NEWS AND WCBS RADIO INTERVIEW THE CREW PLAY


VIDEO: HOUSTON GIVES CREW A REPORT ON OBJECT, TAIL PLAY


VIDEO: AREA OF INTEREST ON SHUTTLE TAIL FIN PLAY


VIDEO: OBJECT SEEN FLOATING AWAY FROM THE SHUTTLE PLAY



VIDEO: THE FLIGHT DAY 13 HIGHLIGHTS MOVIE PLAY


VIDEO: THURSDAY'S MISSION STATUS BRIEFING PLAY



VIDEO: THE FLIGHT DAY 12 HIGHLIGHTS MOVIE PLAY


VIDEO: WEDNESDAY'S MISSION STATUS BRIEFING PLAY


VIDEO: WEDNESDAY'S FLIGHT DIRECTOR INTERVIEW PLAY


VIDEO: NARRATED PREVIEW OF HEAT-SHIELD INSPECTIONS PLAY


VIDEO: NARRATED PREVIEW OF DISCOVERY'S UNDOCKING PLAY



VIDEO: THE FLIGHT DAY 11 HIGHLIGHTS MOVIE PLAY


VIDEO: TUESDAY'S MISSION STATUS BRIEFING PLAY


VIDEO: FAREWELL CEREMONY BETWEEN SHUTTLE AND ISS CREWS PLAY


VIDEO: TUESDAY'S FLIGHT DIRECTOR INTERVIEW PLAY


VIDEO: THE FLIGHT DAY 10 HIGHLIGHTS MOVIE PLAY


VIDEO: MONDAY'S MISSION STATUS BRIEFING PLAY


VIDEO: JOINT CREW IN-FLIGHT NEWS CONFERENCE PLAY


VIDEO: KIBO LAB'S ROBOT ARM EXTENDED AND CHECKED OUT PLAY


VIDEO: NARRATED PREVIEW OF ROBOT ARM DEPLOYMENT PLAY


VIDEO: MONDAY'S FLIGHT DIRECTOR INTERVIEW PLAY



VIDEO: THE FLIGHT DAY 9 HIGHLIGHTS MOVIE PLAY


VIDEO: SUNDAY'S MISSION STATUS BRIEFING PLAY


VIDEO: NARRATED PREVIEW OF SPACEWALK NO. 3 PLAY


VIDEO: ANIMATION OF NITROGEN TANK REPLACEMENT PLAY


VIDEO: SUNDAY'S FLIGHT DIRECTOR INTERVIEW PLAY



VIDEO: THE FLIGHT DAY 8 HIGHLIGHTS MOVIE PLAY


VIDEO: JAPANESE VIP CALL TO STATION PLAY


VIDEO: SATURDAY'S MISSION STATUS BRIEFING PLAY


VIDEO: MEDIA INTERVIEWS WITH SHUTTLE AND ISS CREWS PLAY


VIDEO: KIBO LAB'S ROBOTIC ARM FLEXES FOR FIRST TIME PLAY


VIDEO: NARRATED PREVIEW OF ARM'S FIRST MOVEMENTS PLAY


VIDEO: SATURDAY'S FLIGHT DIRECTOR INTERVIEW PLAY


VIDEO: CREW'S DOWNLINKED REPLAY OF LOGISTICS MODULE MOVE PLAY



VIDEO: LEFT-HAND BOOSTER CAMERA LOOKING UPWARD PLAY


VIDEO: LEFT-HAND BOOSTER CAMERA LOOKING INBOARD PLAY


VIDEO: LEFT-HAND BOOSTER CAMERA LOOKING DOWNWARD PLAY


VIDEO: RIGHT-HAND BOOSTER CAMERA LOOKING UPWARD PLAY


VIDEO: RIGHT-HAND BOOSTER CAMERA LOOKING DOWNWARD PLAY



VIDEO: THE FLIGHT DAY 7 HIGHLIGHTS MOVIE PLAY


VIDEO: FRIDAY'S MISSION STATUS BRIEFING PLAY


VIDEO: SHUTTLE CREW ASKED TO TAKE PHOTOS OF WING PANELS PLAY


VIDEO: JAPANESE LOGISTICS MODULE MOVED TO KIBO LAB'S ROOF PLAY


VIDEO: STATION'S ROBOT ARM GRAPPLES LOGISTICS MODULE PLAY


VIDEO: MEDIA INTERVIEWS WITH SHUTTLE AND ISS COMMANDERS PLAY


VIDEO: FRIDAY'S FLIGHT DIRECTOR INTERVIEW PLAY


VIDEO: NARRATED PREVIEW OF LOGISTICS MODULE MOVE PLAY



VIDEO: THE FLIGHT DAY 6 HIGHLIGHTS MOVIE PLAY


VIDEO: BUZZ LIGHTYEAR TOY ON THE LOOSE IN SPACE PLAY


VIDEO: ASTRONAUTS INVITE VIEWERS TO DINNER PLAY


VIDEO: THURSDAY'S MISSION STATUS BRIEFING PLAY


VIDEO: INSPECTION OF THE PORT-SIDE SOLAR ROTARY JOINT PLAY


VIDEO: FAULTY TV CAMERA REMOVED FROM STATION PORT TRUSS PLAY


VIDEO: THERMAL SLEEVE PLACED ON KIBO TRUNNION PIN PLAY


VIDEO: LAUNCH LOCKS RELEASED ON KIBO'S UPPER PORT PLAY


VIDEO: SPACEWALKERS INSTALL PAIR OF TV CAMERAS ON KIBO PLAY


VIDEO: MIKE FOSSUM EMERGES FROM AIRLOCK FOR EVA NO. 2 PLAY


VIDEO: NARRATED PREVIEW OF SPACEWALK NO. 2 PLAY


VIDEO: THURSDAY'S FLIGHT DIRECTOR INTERVIEW PLAY



VIDEO: THE FLIGHT DAY 5 HIGHLIGHTS MOVIE PLAY


VIDEO: WEDNESDAY'S MISSION STATUS BRIEFING PLAY


VIDEO: ASTRONAUTS ENTER THE KIBO MODULE FOR FIRST TIME PLAY


VIDEO: CEREMONY BEFORE KIBO HATCH OPENING PLAY



VIDEO: THE FLIGHT DAY 4 HIGHLIGHTS MOVIE PLAY


VIDEO: TUESDAY'S MISSION STATUS BRIEFING PLAY


VIDEO: KIBO SCIENCE LAB ATTACHED TO THE SPACE STATION PLAY


VIDEO: KIBO MODULE UNBERTHED FROM SHUTTLE PAYLOAD BAY PLAY


VIDEO: CLOSEUP INSPECTION OF STATION'S SOLAR ROTARY JOINT PLAY


VIDEO: FOSSUM UNBOLTS LOCKS ON KIBO'S WINDOW COVERINGS PLAY


VIDEO: SPACEWALKERS REMOVE COVERS ON KIBO'S PORT PLAY


VIDEO: SHUTTLE POWER UMBILICALS UNHOOKED FROM KIBO PLAY


VIDEO: SHUTTLE INSPECTION BOOM RETRIEVED FROM THE STATION PLAY


VIDEO: SPACEWALKER RON GARAN REMOVES COVER ON BOOM PLAY


VIDEO: SPACEWALKER MIKE FOSSUM FREES ARM'S ELBOW CAMERA PLAY


VIDEO: ANIMATION OF KIBO MODULE INSTALLATION PLAY


VIDEO: ANIMATION OF INSPECTION BOOM RETRIEVAL PLAY


VIDEO: NARRATED PREVIEW OF SPACEWALK NO. 1 PLAY


VIDEO: TUESDAY'S FLIGHT DIRECTOR INTERVIEW PLAY



VIDEO: THE FLIGHT DAY 3 HIGHLIGHTS MOVIE PLAY


VIDEO: CREW'S REMARKABLE CAMCORDER FOOTAGE FROM MONDAY PLAY


VIDEO: MONDAY'S MISSION STATUS BRIEFING PLAY


VIDEO: SHUTTLE CREW WELCOMED INTO STATION PLAY


VIDEO: DISCOVERY DOCKS TO SPACE STATION PLAY


VIDEO: SHUTTLE PERFORMS RENDEZVOUS BACKFLIP PLAY


VIDEO: NARRATED ANIMATION OF PREVIEWING THE DOCKING PLAY



VIDEO: THE FLIGHT DAY 2 HIGHLIGHTS MOVIE PLAY


VIDEO: CREW'S CAMCORDER FOOTAGE FROM FLIGHT DAY 2 PLAY


VIDEO: SUNDAY'S MISSION STATUS BRIEFING PLAY


VIDEO: ANIMATION OF THE HEAT SHIELD INSPECTIONS PLAY


VIDEO: NARRATED TOUR OF DISCOVERY'S PAYLOAD BAY PLAY



VIDEO: THE FLIGHT DAY 1 HIGHLIGHTS MOVIE PLAY


VIDEO: EXTERNAL TANK SEEN AFTER SEPARATION PLAY


VIDEO: LAUNCH REPLAY: VAB ROOF PLAY


VIDEO: LAUNCH REPLAY: CAMERA CS-1 PLAY


VIDEO: LAUNCH REPLAY: CAMERA CS-2 PLAY


VIDEO: LAUNCH REPLAY: CAMERA CS-6 PLAY


VIDEO: LAUNCH REPLAY: FRONT CAMERA PLAY


VIDEO: LAUNCH REPLAY: BEACH TRACKER PLAY


VIDEO: LAUNCH REPLAY: PAD PERIMETER PLAY


VIDEO: LAUNCH REPLAY: UCS-12 TRACKER PLAY


VIDEO: LAUNCH REPLAY: UCS-23 TRACKER PLAY


VIDEO: LAUNCH REPLAY: PLAYALINDA BEACH PLAY


VIDEO: LAUNCH REPLAY: PATRICK AIR FORCE BASE PLAY


VIDEO: LAUNCH REPLAY: PRESS SITE PLAY


VIDEO: LAUNCH REPLAY: WEST TOWER PLAY


VIDEO: LAUNCH REPLAY: CAMERA 009 PLAY


VIDEO: LAUNCH REPLAY: CAMERA 041 PLAY


VIDEO: LAUNCH REPLAY: CAMERA 049 PLAY


VIDEO: LAUNCH REPLAY: CAMERA 050 PLAY


VIDEO: LAUNCH REPLAY: CAMERA 051 PLAY


VIDEO: LAUNCH REPLAY: CAMERA 054 PLAY


VIDEO: LAUNCH REPLAY: CAMERA 060 PLAY


VIDEO: LAUNCH REPLAY: CAMERA 061 PLAY


VIDEO: LAUNCH REPLAY: CAMERA 063 PLAY


VIDEO: LAUNCH REPLAY: CAMERA 070 PLAY


VIDEO: LAUNCH REPLAY: CAMERA 071 PLAY



VIDEO: LIFTOFF OF DISCOVERY WITH KIBO LAB! PLAY


VIDEO: ONBOARD CAMERA FOOTAGE OF TANK FOAM FALLING PLAY


VIDEO: INSIDE MISSION CONTROL DURING LAUNCH PLAY


VIDEO: POST-LAUNCH NEWS CONFERENCE PLAY



VIDEO: FINAL PRE-LAUNCH POLLS GIVE "GO" FOR LIFTOFF PLAY


VIDEO: ASTRONAUTS ARRIVE AT LAUNCH PAD 39A PLAY


VIDEO: CREW DEPARTS QUARTERS FOR LAUNCH PAD PLAY


VIDEO: ASTRONAUTS DON SPACESUITS FOR LAUNCH PLAY


VIDEO: NARRATED RECAP OF KIBO LAB'S PRE-FLIGHT CAMPAIGN PLAY


VIDEO: NARRATED RECAP OF DISCOVERY'S PRE-FLIGHT CAMPAIGN PLAY


VIDEO: LAUNCH PAD GANTRY RETRACTED FRIDAY NIGHT PLAY


VIDEO: TIME-LAPSE OF GANTRY ROLLBACK PLAY


VIDEO: FRIDAY'S COUNTDOWN STATUS BRIEFING PLAY


VIDEO: PRE-LAUNCH NEWS CONFERENCE PLAY


VIDEO: BRIEFING ON KIBO LABORATORY FACILITY PLAY


VIDEO: ASTRONAUTS ARRIVE AT THE CAPE FOR LAUNCH PLAY


VIDEO: WEDNESDAY'S COUNTDOWN AND WEATHER BRIEFING PLAY


VIDEO: NARRATED MISSION PREVIEW MOVIE PLAY



VIDEO: NEWS BRIEFING FOLLOWING FLIGHT READINESS REVIEW PLAY



VIDEO: INTERVIEW WITH COMMANDER MARK KELLY PLAY


VIDEO: INTERVIEW WITH PILOT KEN HAM PLAY


VIDEO: INTERVIEW WITH MS1 KAREN NYBERG PLAY


VIDEO: INTERVIEW WITH MS2 RON GARAN PLAY


VIDEO: INTERVIEW WITH MS3 MIKE FOSSUM PLAY


VIDEO: INTERVIEW WITH MS4 AKIHIKO HOSHIDE PLAY



VIDEO: ASTRONAUTS PRACTICE EVACUATION OF SHUTTLE PLAY


VIDEO: CREW BOARDS DISCOVERY FOR PRACTICE COUNTDOWN PLAY


VIDEO: TRAINING SESSIONS AT LAUNCH PAD AND BUNKER PLAY


VIDEO: CREW NEWS CONFERENCE AT LAUNCH PAD 39A PLAY


VIDEO: ASTRONAUTS ARRIVE FOR PRACTICE COUNTDOWN PLAY



VIDEO: TIME-LAPSE OF GANTRY ENCLOSING DISCOVERY PLAY


VIDEO: PAD'S ORBITER ACCESS ARM SWUNG INTO POSITION PLAY


VIDEO: TIME-LAPSE OF CRAWLER RETREATING AFTER ROLLOUT PLAY


VIDEO: SHUTTLE DISCOVERY ROLLED TO PAD 39A PLAY



VIDEO: SHUTTLE AND STATION PROGRAM BRIEFING PLAY


VIDEO: STS-124 MISSION OVERVIEW PART 1 | PART 2


VIDEO: PREVIEW BRIEFING ON MISSION'S SPACEWALKS PLAY


VIDEO: THE ASTRONAUTS' PRE-FLIGHT NEWS BRIEFING PLAY



VIDEO: KIBO LABORATORY TRAVELS TO THE LAUNCH PAD PLAY


VIDEO: TRANSPORT CANISTER WITH KIBO ROTATED UPRIGHT PLAY


VIDEO: CRANE PLACES KIBO MODULE INTO TRANSPORT CANISTER PLAY



VIDEO: DISCOVERY HOISTED FOR ATTACHMENT TO FUEL TANK PLAY


VIDEO: THE SHUTTLE MOVES TO THE VEHICLE ASSEMBLY BUILDING PLAY


MORE: STS-124 VIDEO COVERAGE


SUBSCRIBE NOW