Discovery back on Earth
BY WILLIAM HARWOOD
STORY WRITTEN FOR CBS NEWS "SPACE PLACE" & USED WITH PERMISSION
Posted: June 14, 2008


Commander Mark Kelly guided the space shuttle Discovery to a sun-drenched Florida landing today, setting down on runway 15 at the Kennedy Space Center to close out a virtually flawless space station assembly mission, leaving a new Japanese lab module behind and bringing flight engineer Garrett Reisman back to Earth after 95 days in space.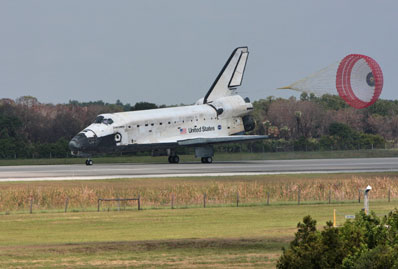 Credit: Chris Miller/Spaceflight Now



Strapped into a reclining seat on Discovery's lower deck, Reisman endured the uncomfortable return to the tug of Earth's gravity as Kelly deftly piloted Discovery to a tire-smoking touchdown at 11:15:19 a.m. Barreling down the 300-foot-wide runway at more than 200 mph, Kelly brought the nose down, Ham released a red-and-white braking parachute and the orbiter coasted to a halt on the runway centerline.

"Houston, Discovery, wheels stopped," Kelly radioed in a traditional call to mission control.

"Roger wheels stopped, Discovery," replied astronaut Terry Virts in Houston. "Beautiful landing, Mark, and congratulations on a great mission."

"OK, Terry, thanks, great to be back," Kelly said. "It was great for all of us to be part of a big team that made the station a little bit bigger and a little bit more capable."

Mission duration was 13 days 18 hours 13 minutes and seven seconds, covering 217 complete orbits and 5.7 million miles since blastoff May 31 from nearby pad 39A.

"What an awesome sight to be able to watch the space shuttle land live here on board the space station," Gregory Chamitoff, Reisman's replacement, called down from orbit. "And What a beautiful landing! Congratulations to the entire team. It was a spectacular mission from end to end, practically flawless. We have a new 'hope,' the Kibo module, here on the space station and it's a great success."

With Discovery safety home, NASA will set its sights on readying the shuttle Atlantis for blastoff Oct. 8 on a long-awaited flight to service and repair the Hubble Space Telescope. It will be NASA's final visit to Hubble, launched from Discovery 18 years ago, and the only mission in the 10 remaining shuttle flights that doesn't go to the space station.

Key to making the Oct. 8 launch target is repairing the "flame trench" at pad 39A, which was heavily damaged during Discovery's liftoff.

NASA managers are optimistic the work can be done, but engineers have not yet completed their assessment of the damage. More than 5,300 Apollo-era firebricks lining the flame trench under the shuttle's boosters were blown out during Discovery's takeoff and the walls must be shored up before Atlantis can take off.

Because the Hubble crew cannot take advantage of "safe haven" aboard the space station if the shuttle suffers damage that might prevent a safe re-entry, the shuttle Endeavour will be processed for launch from nearby pad 39B to serve as a rescue vehicle if needed.

Assuming all goes well with Atlantis, however, Endeavour will be hauled to pad 39A and launched Nov. 10 on the year's final shuttle flight, a space station assembly mission to deliver critical supplies and Chamitoff's replacement, astronaut Sandy Magnus. Chamitoff will return to Earth aboard Endeavour after a six-month stay in space.

But for now, NASA managers, engineers and technicians were focused on welcoming Discovery's crew back to Earth after a virtually trouble-free mission.

Kelly, Ham, Reisman and their crewmates - flight engineer Ronald Garan, Karen Nyberg, Michael Fossum and Japanese astronaut Akihiko Hoshide - doffed their pressure suits and met managers and technicians on the runway about an hour and 45 minutes after touchdown. All looked fit and in good spirits, although Nyberg appeared a bit shaky as she readjusted to gravity.

"It's great to be here on the runway in sunny Florida and it's great to bring Discovery back in good shape," Kelly said. "We had a really exciting mission that from our point of view was very successful. We're really glad to have been involved in making the space station a bigger and more capable place."

Returning space station astronauts typically do not attempt to walk around on the runway after landing, but Reisman showed up in a blue flight suit, smiling and chatting with well wishers, moving carefully but looking relatively fit after three months in space.

"I've been very diligent about keeping up with the exercise regimen we use as our primary countermeasure for keeping our bones and muscles healthy," Reisman said last week. "Of course, vestibular effects, balance and stuff, it's a little more difficult to predict how that's going to hit me. I'm cautiously optimistic on the basis of anecdotal evidence because I'm short. So my sensory organs are a little closer to my center of gravity and my heart has a little less distance to pump to my brain. I've been waiting my whole life and finally I think being short is going to come in handy!"

It typically takes returning station astronauts a month or so to get their land legs back and up to a full year to completely recover from the effects of weightlessness on bones and muscles.

"I would love to have a good slice of pizza," Reisman said. "But the truth is, adjusting back to gravity is not so easy. Just like adjusting to weightlessness takes some time, adjusting to gravity takes some time, too. So even though I have visions of stepping off the shuttle and chowing down on a giant T-bone steak or something, that's not going to happen. But eventually it will, and I'm looking forward to that day where I can enjoy my favorite foods and do some of the things I love to do that I haven't been able to do from up here."

But his top priority is seeing his wife, Simone.

"When I look out the window at the planet," he said from the station, "I'm usually thinking about just one of all those billions of people. And that's definitely who I'm looking forward to seeing the most."

Reisman was launched to the station in March. He was replaced by Chamitoff, who joined Expedition 17 commander Sergei Volkov and Oleg Kononenko the day Discovery docked with the lab complex.

Along with swapping out the two U.S. flight engineers, Discovery's crew also delivered and installed Japan's 15-ton Kibo laboratory module and carried out three spacewalks by Fossum and Garan to outfit the lab; retrieve a shuttle heat shield inspection boom; install a nitrogen tank needed by the station's cooling system; and test techniques for cleaning contamination from a critical solar array drive gear.


Additional coverage for subscribers:


VIDEO: SHUTTLE DISCOVERY'S LANDING AS SEEN LIVE PLAY


VIDEO:


THE FLIGHT DAY 14 HIGHLIGHTS MOVIE PLAY


VIDEO: FRIDAY'S MISSION STATUS BRIEFING PLAY


VIDEO: CBS NEWS AND WCBS RADIO INTERVIEW THE CREW PLAY


VIDEO: HOUSTON GIVES CREW A REPORT ON OBJECT, TAIL PLAY


VIDEO: AREA OF INTEREST ON SHUTTLE TAIL FIN PLAY


VIDEO: OBJECT SEEN FLOATING AWAY FROM THE SHUTTLE PLAY



VIDEO: THE FLIGHT DAY 13 HIGHLIGHTS MOVIE PLAY


VIDEO: THURSDAY'S MISSION STATUS BRIEFING PLAY



VIDEO: THE FLIGHT DAY 12 HIGHLIGHTS MOVIE PLAY


VIDEO: WEDNESDAY'S MISSION STATUS BRIEFING PLAY


VIDEO: WEDNESDAY'S FLIGHT DIRECTOR INTERVIEW PLAY


VIDEO: NARRATED PREVIEW OF HEAT-SHIELD INSPECTIONS PLAY


VIDEO: NARRATED PREVIEW OF DISCOVERY'S UNDOCKING PLAY



VIDEO: THE FLIGHT DAY 11 HIGHLIGHTS MOVIE PLAY


VIDEO: TUESDAY'S MISSION STATUS BRIEFING PLAY


VIDEO: FAREWELL CEREMONY BETWEEN SHUTTLE AND ISS CREWS PLAY


VIDEO: TUESDAY'S FLIGHT DIRECTOR INTERVIEW PLAY


VIDEO: THE FLIGHT DAY 10 HIGHLIGHTS MOVIE PLAY


VIDEO: MONDAY'S MISSION STATUS BRIEFING PLAY


VIDEO: JOINT CREW IN-FLIGHT NEWS CONFERENCE PLAY


VIDEO: KIBO LAB'S ROBOT ARM EXTENDED AND CHECKED OUT PLAY


VIDEO: NARRATED PREVIEW OF ROBOT ARM DEPLOYMENT PLAY


VIDEO: MONDAY'S FLIGHT DIRECTOR INTERVIEW PLAY



VIDEO: THE FLIGHT DAY 9 HIGHLIGHTS MOVIE PLAY


VIDEO: SUNDAY'S MISSION STATUS BRIEFING PLAY


VIDEO: NARRATED PREVIEW OF SPACEWALK NO. 3 PLAY


VIDEO: ANIMATION OF NITROGEN TANK REPLACEMENT PLAY


VIDEO: SUNDAY'S FLIGHT DIRECTOR INTERVIEW PLAY



VIDEO: THE FLIGHT DAY 8 HIGHLIGHTS MOVIE PLAY


VIDEO: JAPANESE VIP CALL TO STATION PLAY


VIDEO: SATURDAY'S MISSION STATUS BRIEFING PLAY


VIDEO: MEDIA INTERVIEWS WITH SHUTTLE AND ISS CREWS PLAY


VIDEO: KIBO LAB'S ROBOTIC ARM FLEXES FOR FIRST TIME PLAY


VIDEO: NARRATED PREVIEW OF ARM'S FIRST MOVEMENTS PLAY


VIDEO: SATURDAY'S FLIGHT DIRECTOR INTERVIEW PLAY


VIDEO: CREW'S DOWNLINKED REPLAY OF LOGISTICS MODULE MOVE PLAY



VIDEO: LEFT-HAND BOOSTER CAMERA LOOKING UPWARD PLAY


VIDEO: LEFT-HAND BOOSTER CAMERA LOOKING INBOARD PLAY


VIDEO: LEFT-HAND BOOSTER CAMERA LOOKING DOWNWARD PLAY


VIDEO: RIGHT-HAND BOOSTER CAMERA LOOKING UPWARD PLAY


VIDEO: RIGHT-HAND BOOSTER CAMERA LOOKING DOWNWARD PLAY



VIDEO: THE FLIGHT DAY 7 HIGHLIGHTS MOVIE PLAY


VIDEO: FRIDAY'S MISSION STATUS BRIEFING PLAY


VIDEO: SHUTTLE CREW ASKED TO TAKE PHOTOS OF WING PANELS PLAY


VIDEO: JAPANESE LOGISTICS MODULE MOVED TO KIBO LAB'S ROOF PLAY


VIDEO: STATION'S ROBOT ARM GRAPPLES LOGISTICS MODULE PLAY


VIDEO: MEDIA INTERVIEWS WITH SHUTTLE AND ISS COMMANDERS PLAY


VIDEO: FRIDAY'S FLIGHT DIRECTOR INTERVIEW PLAY


VIDEO: NARRATED PREVIEW OF LOGISTICS MODULE MOVE PLAY



VIDEO: THE FLIGHT DAY 6 HIGHLIGHTS MOVIE PLAY


VIDEO: BUZZ LIGHTYEAR TOY ON THE LOOSE IN SPACE PLAY


VIDEO: ASTRONAUTS INVITE VIEWERS TO DINNER PLAY


VIDEO: THURSDAY'S MISSION STATUS BRIEFING PLAY


VIDEO: INSPECTION OF THE PORT-SIDE SOLAR ROTARY JOINT PLAY


VIDEO: FAULTY TV CAMERA REMOVED FROM STATION PORT TRUSS PLAY


VIDEO: THERMAL SLEEVE PLACED ON KIBO TRUNNION PIN PLAY


VIDEO: LAUNCH LOCKS RELEASED ON KIBO'S UPPER PORT PLAY


VIDEO: SPACEWALKERS INSTALL PAIR OF TV CAMERAS ON KIBO PLAY


VIDEO: MIKE FOSSUM EMERGES FROM AIRLOCK FOR EVA NO. 2 PLAY


VIDEO: NARRATED PREVIEW OF SPACEWALK NO. 2 PLAY


VIDEO: THURSDAY'S FLIGHT DIRECTOR INTERVIEW PLAY



VIDEO: THE FLIGHT DAY 5 HIGHLIGHTS MOVIE PLAY


VIDEO: WEDNESDAY'S MISSION STATUS BRIEFING PLAY


VIDEO: ASTRONAUTS ENTER THE KIBO MODULE FOR FIRST TIME PLAY


VIDEO: CEREMONY BEFORE KIBO HATCH OPENING PLAY



VIDEO: THE FLIGHT DAY 4 HIGHLIGHTS MOVIE PLAY


VIDEO: TUESDAY'S MISSION STATUS BRIEFING PLAY


VIDEO: KIBO SCIENCE LAB ATTACHED TO THE SPACE STATION PLAY


VIDEO: KIBO MODULE UNBERTHED FROM SHUTTLE PAYLOAD BAY PLAY


VIDEO: CLOSEUP INSPECTION OF STATION'S SOLAR ROTARY JOINT PLAY


VIDEO: FOSSUM UNBOLTS LOCKS ON KIBO'S WINDOW COVERINGS PLAY


VIDEO: SPACEWALKERS REMOVE COVERS ON KIBO'S PORT PLAY


VIDEO: SHUTTLE POWER UMBILICALS UNHOOKED FROM KIBO PLAY


VIDEO: SHUTTLE INSPECTION BOOM RETRIEVED FROM THE STATION PLAY


VIDEO: SPACEWALKER RON GARAN REMOVES COVER ON BOOM PLAY


VIDEO: SPACEWALKER MIKE FOSSUM FREES ARM'S ELBOW CAMERA PLAY


VIDEO: ANIMATION OF KIBO MODULE INSTALLATION PLAY


VIDEO: ANIMATION OF INSPECTION BOOM RETRIEVAL PLAY


VIDEO: NARRATED PREVIEW OF SPACEWALK NO. 1 PLAY


VIDEO: TUESDAY'S FLIGHT DIRECTOR INTERVIEW PLAY



VIDEO: THE FLIGHT DAY 3 HIGHLIGHTS MOVIE PLAY


VIDEO: CREW'S REMARKABLE CAMCORDER FOOTAGE FROM MONDAY PLAY


VIDEO: MONDAY'S MISSION STATUS BRIEFING PLAY


VIDEO: SHUTTLE CREW WELCOMED INTO STATION PLAY


VIDEO: DISCOVERY DOCKS TO SPACE STATION PLAY


VIDEO: SHUTTLE PERFORMS RENDEZVOUS BACKFLIP PLAY


VIDEO: NARRATED ANIMATION OF PREVIEWING THE DOCKING PLAY



VIDEO: THE FLIGHT DAY 2 HIGHLIGHTS MOVIE PLAY


VIDEO: CREW'S CAMCORDER FOOTAGE FROM FLIGHT DAY 2 PLAY


VIDEO: SUNDAY'S MISSION STATUS BRIEFING PLAY


VIDEO: ANIMATION OF THE HEAT SHIELD INSPECTIONS PLAY


VIDEO: NARRATED TOUR OF DISCOVERY'S PAYLOAD BAY PLAY



VIDEO: THE FLIGHT DAY 1 HIGHLIGHTS MOVIE PLAY


VIDEO: EXTERNAL TANK SEEN AFTER SEPARATION PLAY


VIDEO: LAUNCH REPLAY: VAB ROOF PLAY


VIDEO: LAUNCH REPLAY: CAMERA CS-1 PLAY


VIDEO: LAUNCH REPLAY: CAMERA CS-2 PLAY


VIDEO: LAUNCH REPLAY: CAMERA CS-6 PLAY


VIDEO: LAUNCH REPLAY: FRONT CAMERA PLAY


VIDEO: LAUNCH REPLAY: BEACH TRACKER PLAY


VIDEO: LAUNCH REPLAY: PAD PERIMETER PLAY


VIDEO: LAUNCH REPLAY: UCS-12 TRACKER PLAY


VIDEO: LAUNCH REPLAY: UCS-23 TRACKER PLAY


VIDEO: LAUNCH REPLAY: PLAYALINDA BEACH PLAY


VIDEO: LAUNCH REPLAY: PATRICK AIR FORCE BASE PLAY


VIDEO: LAUNCH REPLAY: PRESS SITE PLAY


VIDEO: LAUNCH REPLAY: WEST TOWER PLAY


VIDEO: LAUNCH REPLAY: CAMERA 009 PLAY


VIDEO: LAUNCH REPLAY: CAMERA 041 PLAY


VIDEO: LAUNCH REPLAY: CAMERA 049 PLAY


VIDEO: LAUNCH REPLAY: CAMERA 050 PLAY


VIDEO: LAUNCH REPLAY: CAMERA 051 PLAY


VIDEO: LAUNCH REPLAY: CAMERA 054 PLAY


VIDEO: LAUNCH REPLAY: CAMERA 060 PLAY


VIDEO: LAUNCH REPLAY: CAMERA 061 PLAY


VIDEO: LAUNCH REPLAY: CAMERA 063 PLAY


VIDEO: LAUNCH REPLAY: CAMERA 070 PLAY


VIDEO: LAUNCH REPLAY: CAMERA 071 PLAY



VIDEO: LIFTOFF OF DISCOVERY WITH KIBO LAB! PLAY


VIDEO: ONBOARD CAMERA FOOTAGE OF TANK FOAM FALLING PLAY


VIDEO: INSIDE MISSION CONTROL DURING LAUNCH PLAY


VIDEO: POST-LAUNCH NEWS CONFERENCE PLAY



VIDEO: FINAL PRE-LAUNCH POLLS GIVE "GO" FOR LIFTOFF PLAY


VIDEO: ASTRONAUTS ARRIVE AT LAUNCH PAD 39A PLAY


VIDEO: CREW DEPARTS QUARTERS FOR LAUNCH PAD PLAY


VIDEO: ASTRONAUTS DON SPACESUITS FOR LAUNCH PLAY


VIDEO: NARRATED RECAP OF KIBO LAB'S PRE-FLIGHT CAMPAIGN PLAY


VIDEO: NARRATED RECAP OF DISCOVERY'S PRE-FLIGHT CAMPAIGN PLAY


VIDEO: LAUNCH PAD GANTRY RETRACTED FRIDAY NIGHT PLAY


VIDEO: TIME-LAPSE OF GANTRY ROLLBACK PLAY


VIDEO: FRIDAY'S COUNTDOWN STATUS BRIEFING PLAY


VIDEO: PRE-LAUNCH NEWS CONFERENCE PLAY


VIDEO: BRIEFING ON KIBO LABORATORY FACILITY PLAY


VIDEO: ASTRONAUTS ARRIVE AT THE CAPE FOR LAUNCH PLAY


VIDEO: WEDNESDAY'S COUNTDOWN AND WEATHER BRIEFING PLAY


VIDEO: NARRATED MISSION PREVIEW MOVIE PLAY



VIDEO: NEWS BRIEFING FOLLOWING FLIGHT READINESS REVIEW PLAY



VIDEO: INTERVIEW WITH COMMANDER MARK KELLY PLAY


VIDEO: INTERVIEW WITH PILOT KEN HAM PLAY


VIDEO: INTERVIEW WITH MS1 KAREN NYBERG PLAY


VIDEO: INTERVIEW WITH MS2 RON GARAN PLAY


VIDEO: INTERVIEW WITH MS3 MIKE FOSSUM PLAY


VIDEO: INTERVIEW WITH MS4 AKIHIKO HOSHIDE PLAY



VIDEO: ASTRONAUTS PRACTICE EVACUATION OF SHUTTLE PLAY


VIDEO: CREW BOARDS DISCOVERY FOR PRACTICE COUNTDOWN PLAY


VIDEO: TRAINING SESSIONS AT LAUNCH PAD AND BUNKER PLAY


VIDEO: CREW NEWS CONFERENCE AT LAUNCH PAD 39A PLAY


VIDEO: ASTRONAUTS ARRIVE FOR PRACTICE COUNTDOWN PLAY



VIDEO: TIME-LAPSE OF GANTRY ENCLOSING DISCOVERY PLAY


VIDEO: PAD'S ORBITER ACCESS ARM SWUNG INTO POSITION PLAY


VIDEO: TIME-LAPSE OF CRAWLER RETREATING AFTER ROLLOUT PLAY


VIDEO: SHUTTLE DISCOVERY ROLLED TO PAD 39A PLAY



VIDEO: SHUTTLE AND STATION PROGRAM BRIEFING PLAY


VIDEO: STS-124 MISSION OVERVIEW PART 1 | PART 2


VIDEO: PREVIEW BRIEFING ON MISSION'S SPACEWALKS PLAY


VIDEO: THE ASTRONAUTS' PRE-FLIGHT NEWS BRIEFING PLAY



VIDEO: KIBO LABORATORY TRAVELS TO THE LAUNCH PAD PLAY


VIDEO: TRANSPORT CANISTER WITH KIBO ROTATED UPRIGHT PLAY


VIDEO: CRANE PLACES KIBO MODULE INTO TRANSPORT CANISTER PLAY



VIDEO: DISCOVERY HOISTED FOR ATTACHMENT TO FUEL TANK PLAY


VIDEO: THE SHUTTLE MOVES TO THE VEHICLE ASSEMBLY BUILDING PLAY


MORE: STS-124 VIDEO COVERAGE


SUBSCRIBE NOW