Crew reports object near shuttle, protrusion on tail fin
BY WILLIAM HARWOOD
STORY WRITTEN FOR CBS NEWS "SPACE PLACE" & USED WITH PERMISSION
Posted: June 13, 2008


The Discovery astronauts tested the shuttle's re-entry systems today and packed up for landing Saturday at the Kennedy Space Center. The tests went well, but the crew reported seeing a piece of debris of some sort floating away from the shuttle a few minutes later. They also called attention to a small protrusion on the shuttle's rudder/speed brake where a bit of insulation might have been displaced. It did not appear serious, but flight controllers are discussing whether any additional observations might be required.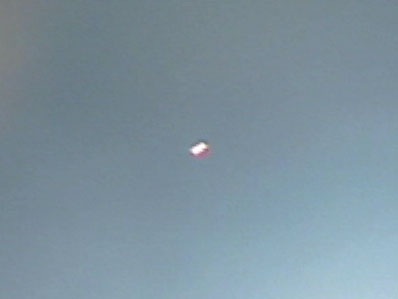 Credit: NASA TV



The astronauts have two landing opportunities Saturday, at 11:15 a.m. and 12:50 p.m., and with good weather expected, NASA is not staffing its backup landing site at Edwards Air Force Base, Calif.

The astronauts were awakened at 3:02 a.m. today by a recording of "Baby Won't You Please Come Home" by Louis Prima and Keely Smith. The song was beamed up from mission control for space station flight engineer Garrett Reisman, who is returning to Earth after 95 days in space.

"Good morning, Houston. And a special good morning to Simone, my favorite earthling," Reisman radioed to his wife. "Get ready, doll face. Discovery's coming home!"

Commander Mark Kelly, pilot Kenneth Ham and flight engineer Ronald Garan began testing the shuttle's re-entry systems around 6:30 a.m., firing up one of three hydraulic power units and exercising the ship's control surfaces. Reisman, Karen Nyberg, Michael Fossum and Japanese astronaut Akihiko Hoshide spent the morning packing up and readying the shuttle for entry.

The flight control system checkout went smoothly, but around 7:35 a.m. Kelly called down and told mission control the crew had spotted an apparent piece of debris of some sort floating away from the shuttle.

"We observed an object depart aft of the starboard wing," Kelly said. "Looked like, and obviously it's hard to tell dimensions and size looking out the aft windows, but it looked like it might have been a foot to a foot and a half in width. And we've got a pretty reasonable image of it."

The crew managed to capture a few seconds of video showing a rectangular object floating away to the left of the shuttle's tail fin, flashing with reflected sunlight as it slowly tumbled.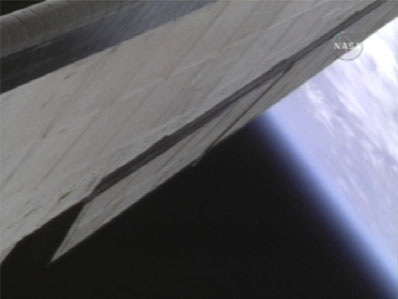 Credit: NASA TV



The astronauts also called attention to a small protrusion toward the back of the shuttle's big rudder/speed brake. It was barely visible and not an obvious problem, but the crew offered to take a closer look with the shuttle's robot arm. Flight controllers said they would consider that option.

This afternoon, the astronauts will set up a special reclining seat on Discovery's lower deck that Reisman will use Saturday to provide extra support as he returns to the uncomfortable tug of gravity after three months in space.

CBS News, WCBS Radio and WINS Radio will interview the astronauts starting at 11:52 a.m. Entry Flight Director Richard Jones plans to brief reporters on landing plans at 2 p.m.

Here is an updated timeline of today's activity (in EDT and mission elapsed time; includes revision P of the NASA television schedule):

EDT........DD...HH...MM...EVENT

06/13/08
03:02 AM...12...10...00...Crew wakeup
06:07 AM...12...13...05...Cabin stow begins
06:37 AM...12...13...35...Flight control system checkout
07:47 AM...12...14...45...Reaction control system hotfire
09:37 AM...12...16...35...Landing simulator practice
10:22 AM...12...17...20...Deorbit review
10:52 AM...12...17...50...Crew meal
11:52 AM...12...18...50...CBS News crew interview
12:12 PM...12...19...10...Cabin stow resumes
12:12 PM...12...19...10...Landing comm checks
01:42 PM...12...20...40...Ergometer teardown
01:57 PM...12...20...55...Recumbent seat setup
02:00 PM...12...20...58...Mission status briefing on NTV
02:27 PM...12...21...25...Launch/entry suit checkout
03:00 PM...12...21...58...Mars Phoenix lander briefing on NTV
03:02 PM...12...22...00...KU antenna stow
06:32 PM...13...01...30...Crew sleep begins
07:00 PM...13...01...58...Daily video highlights reel on NTV

06/14/08
02:32 AM...13...09...30...Crew wakeup
05:12 AM...13...12...10...Group B computer powerup
05:27 AM...13...12...25...Inertial measurement unit alignment
06:10 AM...13...13...08...Deorbit timeline begins
07:30 AM...13...14...28...Payload bay door closing
10:10 AM...13...17...08...Deorbit ignition (rev. 217)
11:02 AM...13...18...00...C-band radar acquisition
11:15 AM...13...18...13...Landing



Additional coverage for subscribers:


VIDEO: THE FLIGHT DAY 12 HIGHLIGHTS MOVIE PLAY


VIDEO: WEDNESDAY'S MISSION STATUS BRIEFING PLAY


VIDEO: WEDNESDAY'S FLIGHT DIRECTOR INTERVIEW PLAY


VIDEO: NARRATED PREVIEW OF HEAT-SHIELD INSPECTIONS PLAY


VIDEO: NARRATED PREVIEW OF DISCOVERY'S UNDOCKING PLAY



VIDEO: THE FLIGHT DAY 11 HIGHLIGHTS MOVIE PLAY


VIDEO: TUESDAY'S MISSION STATUS BRIEFING PLAY


VIDEO: FAREWELL CEREMONY BETWEEN SHUTTLE AND ISS CREWS PLAY


VIDEO: TUESDAY'S FLIGHT DIRECTOR INTERVIEW PLAY


VIDEO: THE FLIGHT DAY 10 HIGHLIGHTS MOVIE PLAY


VIDEO: MONDAY'S MISSION STATUS BRIEFING PLAY


VIDEO: JOINT CREW IN-FLIGHT NEWS CONFERENCE PLAY


VIDEO: KIBO LAB'S ROBOT ARM EXTENDED AND CHECKED OUT PLAY


VIDEO: NARRATED PREVIEW OF ROBOT ARM DEPLOYMENT PLAY


VIDEO: MONDAY'S FLIGHT DIRECTOR INTERVIEW PLAY



VIDEO: THE FLIGHT DAY 9 HIGHLIGHTS MOVIE PLAY


VIDEO: SUNDAY'S MISSION STATUS BRIEFING PLAY


VIDEO: NARRATED PREVIEW OF SPACEWALK NO. 3 PLAY


VIDEO: ANIMATION OF NITROGEN TANK REPLACEMENT PLAY


VIDEO: SUNDAY'S FLIGHT DIRECTOR INTERVIEW PLAY



VIDEO: THE FLIGHT DAY 8 HIGHLIGHTS MOVIE PLAY


VIDEO: JAPANESE VIP CALL TO STATION PLAY


VIDEO: SATURDAY'S MISSION STATUS BRIEFING PLAY


VIDEO: MEDIA INTERVIEWS WITH SHUTTLE AND ISS CREWS PLAY


VIDEO: KIBO LAB'S ROBOTIC ARM FLEXES FOR FIRST TIME PLAY


VIDEO: NARRATED PREVIEW OF ARM'S FIRST MOVEMENTS PLAY


VIDEO: SATURDAY'S FLIGHT DIRECTOR INTERVIEW PLAY


VIDEO: CREW'S DOWNLINKED REPLAY OF LOGISTICS MODULE MOVE PLAY



VIDEO: LEFT-HAND BOOSTER CAMERA LOOKING UPWARD PLAY


VIDEO: LEFT-HAND BOOSTER CAMERA LOOKING INBOARD PLAY


VIDEO: LEFT-HAND BOOSTER CAMERA LOOKING DOWNWARD PLAY


VIDEO: RIGHT-HAND BOOSTER CAMERA LOOKING UPWARD PLAY


VIDEO: RIGHT-HAND BOOSTER CAMERA LOOKING DOWNWARD PLAY



VIDEO: THE FLIGHT DAY 7 HIGHLIGHTS MOVIE PLAY


VIDEO: FRIDAY'S MISSION STATUS BRIEFING PLAY


VIDEO: SHUTTLE CREW ASKED TO TAKE PHOTOS OF WING PANELS PLAY


VIDEO: JAPANESE LOGISTICS MODULE MOVED TO KIBO LAB'S ROOF PLAY


VIDEO: STATION'S ROBOT ARM GRAPPLES LOGISTICS MODULE PLAY


VIDEO: MEDIA INTERVIEWS WITH SHUTTLE AND ISS COMMANDERS PLAY


VIDEO: FRIDAY'S FLIGHT DIRECTOR INTERVIEW PLAY


VIDEO: NARRATED PREVIEW OF LOGISTICS MODULE MOVE PLAY



VIDEO: THE FLIGHT DAY 6 HIGHLIGHTS MOVIE PLAY


VIDEO: BUZZ LIGHTYEAR TOY ON THE LOOSE IN SPACE PLAY


VIDEO: ASTRONAUTS INVITE VIEWERS TO DINNER PLAY


VIDEO: THURSDAY'S MISSION STATUS BRIEFING PLAY


VIDEO: INSPECTION OF THE PORT-SIDE SOLAR ROTARY JOINT PLAY


VIDEO: FAULTY TV CAMERA REMOVED FROM STATION PORT TRUSS PLAY


VIDEO: THERMAL SLEEVE PLACED ON KIBO TRUNNION PIN PLAY


VIDEO: LAUNCH LOCKS RELEASED ON KIBO'S UPPER PORT PLAY


VIDEO: SPACEWALKERS INSTALL PAIR OF TV CAMERAS ON KIBO PLAY


VIDEO: MIKE FOSSUM EMERGES FROM AIRLOCK FOR EVA NO. 2 PLAY


VIDEO: NARRATED PREVIEW OF SPACEWALK NO. 2 PLAY


VIDEO: THURSDAY'S FLIGHT DIRECTOR INTERVIEW PLAY



VIDEO: THE FLIGHT DAY 5 HIGHLIGHTS MOVIE PLAY


VIDEO: WEDNESDAY'S MISSION STATUS BRIEFING PLAY


VIDEO: ASTRONAUTS ENTER THE KIBO MODULE FOR FIRST TIME PLAY


VIDEO: CEREMONY BEFORE KIBO HATCH OPENING PLAY



VIDEO: THE FLIGHT DAY 4 HIGHLIGHTS MOVIE PLAY


VIDEO: TUESDAY'S MISSION STATUS BRIEFING PLAY


VIDEO: KIBO SCIENCE LAB ATTACHED TO THE SPACE STATION PLAY


VIDEO: KIBO MODULE UNBERTHED FROM SHUTTLE PAYLOAD BAY PLAY


VIDEO: CLOSEUP INSPECTION OF STATION'S SOLAR ROTARY JOINT PLAY


VIDEO: FOSSUM UNBOLTS LOCKS ON KIBO'S WINDOW COVERINGS PLAY


VIDEO: SPACEWALKERS REMOVE COVERS ON KIBO'S PORT PLAY


VIDEO: SHUTTLE POWER UMBILICALS UNHOOKED FROM KIBO PLAY


VIDEO: SHUTTLE INSPECTION BOOM RETRIEVED FROM THE STATION PLAY


VIDEO: SPACEWALKER RON GARAN REMOVES COVER ON BOOM PLAY


VIDEO: SPACEWALKER MIKE FOSSUM FREES ARM'S ELBOW CAMERA PLAY


VIDEO: ANIMATION OF KIBO MODULE INSTALLATION PLAY


VIDEO: ANIMATION OF INSPECTION BOOM RETRIEVAL PLAY


VIDEO: NARRATED PREVIEW OF SPACEWALK NO. 1 PLAY


VIDEO: TUESDAY'S FLIGHT DIRECTOR INTERVIEW PLAY



VIDEO: THE FLIGHT DAY 3 HIGHLIGHTS MOVIE PLAY


VIDEO: CREW'S REMARKABLE CAMCORDER FOOTAGE FROM MONDAY PLAY


VIDEO: MONDAY'S MISSION STATUS BRIEFING PLAY


VIDEO: SHUTTLE CREW WELCOMED INTO STATION PLAY


VIDEO: DISCOVERY DOCKS TO SPACE STATION PLAY


VIDEO: SHUTTLE PERFORMS RENDEZVOUS BACKFLIP PLAY


VIDEO: NARRATED ANIMATION OF PREVIEWING THE DOCKING PLAY



VIDEO: THE FLIGHT DAY 2 HIGHLIGHTS MOVIE PLAY


VIDEO: CREW'S CAMCORDER FOOTAGE FROM FLIGHT DAY 2 PLAY


VIDEO: SUNDAY'S MISSION STATUS BRIEFING PLAY


VIDEO: ANIMATION OF THE HEAT SHIELD INSPECTIONS PLAY


VIDEO: NARRATED TOUR OF DISCOVERY'S PAYLOAD BAY PLAY



VIDEO: THE FLIGHT DAY 1 HIGHLIGHTS MOVIE PLAY


VIDEO: EXTERNAL TANK SEEN AFTER SEPARATION PLAY


VIDEO: LAUNCH REPLAY: VAB ROOF PLAY


VIDEO: LAUNCH REPLAY: CAMERA CS-1 PLAY


VIDEO: LAUNCH REPLAY: CAMERA CS-2 PLAY


VIDEO: LAUNCH REPLAY: CAMERA CS-6 PLAY


VIDEO: LAUNCH REPLAY: FRONT CAMERA PLAY


VIDEO: LAUNCH REPLAY: BEACH TRACKER PLAY


VIDEO: LAUNCH REPLAY: PAD PERIMETER PLAY


VIDEO: LAUNCH REPLAY: UCS-12 TRACKER PLAY


VIDEO: LAUNCH REPLAY: UCS-23 TRACKER PLAY


VIDEO: LAUNCH REPLAY: PLAYALINDA BEACH PLAY


VIDEO: LAUNCH REPLAY: PATRICK AIR FORCE BASE PLAY


VIDEO: LAUNCH REPLAY: PRESS SITE PLAY


VIDEO: LAUNCH REPLAY: WEST TOWER PLAY


VIDEO: LAUNCH REPLAY: CAMERA 009 PLAY


VIDEO: LAUNCH REPLAY: CAMERA 041 PLAY


VIDEO: LAUNCH REPLAY: CAMERA 049 PLAY


VIDEO: LAUNCH REPLAY: CAMERA 050 PLAY


VIDEO: LAUNCH REPLAY: CAMERA 051 PLAY


VIDEO: LAUNCH REPLAY: CAMERA 054 PLAY


VIDEO: LAUNCH REPLAY: CAMERA 060 PLAY


VIDEO: LAUNCH REPLAY: CAMERA 061 PLAY


VIDEO: LAUNCH REPLAY: CAMERA 063 PLAY


VIDEO: LAUNCH REPLAY: CAMERA 070 PLAY


VIDEO: LAUNCH REPLAY: CAMERA 071 PLAY



VIDEO: LIFTOFF OF DISCOVERY WITH KIBO LAB! PLAY


VIDEO: ONBOARD CAMERA FOOTAGE OF TANK FOAM FALLING PLAY


VIDEO: INSIDE MISSION CONTROL DURING LAUNCH PLAY


VIDEO: POST-LAUNCH NEWS CONFERENCE PLAY



VIDEO: FINAL PRE-LAUNCH POLLS GIVE "GO" FOR LIFTOFF PLAY


VIDEO: ASTRONAUTS ARRIVE AT LAUNCH PAD 39A PLAY


VIDEO: CREW DEPARTS QUARTERS FOR LAUNCH PAD PLAY


VIDEO: ASTRONAUTS DON SPACESUITS FOR LAUNCH PLAY


VIDEO: NARRATED RECAP OF KIBO LAB'S PRE-FLIGHT CAMPAIGN PLAY


VIDEO: NARRATED RECAP OF DISCOVERY'S PRE-FLIGHT CAMPAIGN PLAY


VIDEO: LAUNCH PAD GANTRY RETRACTED FRIDAY NIGHT PLAY


VIDEO: TIME-LAPSE OF GANTRY ROLLBACK PLAY


VIDEO: FRIDAY'S COUNTDOWN STATUS BRIEFING PLAY


VIDEO: PRE-LAUNCH NEWS CONFERENCE PLAY


VIDEO: BRIEFING ON KIBO LABORATORY FACILITY PLAY


VIDEO: ASTRONAUTS ARRIVE AT THE CAPE FOR LAUNCH PLAY


VIDEO: WEDNESDAY'S COUNTDOWN AND WEATHER BRIEFING PLAY


VIDEO: NARRATED MISSION PREVIEW MOVIE PLAY



VIDEO: NEWS BRIEFING FOLLOWING FLIGHT READINESS REVIEW PLAY



VIDEO: INTERVIEW WITH COMMANDER MARK KELLY PLAY


VIDEO: INTERVIEW WITH PILOT KEN HAM PLAY


VIDEO: INTERVIEW WITH MS1 KAREN NYBERG PLAY


VIDEO: INTERVIEW WITH MS2 RON GARAN PLAY


VIDEO: INTERVIEW WITH MS3 MIKE FOSSUM PLAY


VIDEO: INTERVIEW WITH MS4 AKIHIKO HOSHIDE PLAY



VIDEO: ASTRONAUTS PRACTICE EVACUATION OF SHUTTLE PLAY


VIDEO: CREW BOARDS DISCOVERY FOR PRACTICE COUNTDOWN PLAY


VIDEO: TRAINING SESSIONS AT LAUNCH PAD AND BUNKER PLAY


VIDEO: CREW NEWS CONFERENCE AT LAUNCH PAD 39A PLAY


VIDEO: ASTRONAUTS ARRIVE FOR PRACTICE COUNTDOWN PLAY



VIDEO: TIME-LAPSE OF GANTRY ENCLOSING DISCOVERY PLAY


VIDEO: PAD'S ORBITER ACCESS ARM SWUNG INTO POSITION PLAY


VIDEO: TIME-LAPSE OF CRAWLER RETREATING AFTER ROLLOUT PLAY


VIDEO: SHUTTLE DISCOVERY ROLLED TO PAD 39A PLAY



VIDEO: SHUTTLE AND STATION PROGRAM BRIEFING PLAY


VIDEO: STS-124 MISSION OVERVIEW PART 1 | PART 2


VIDEO: PREVIEW BRIEFING ON MISSION'S SPACEWALKS PLAY


VIDEO: THE ASTRONAUTS' PRE-FLIGHT NEWS BRIEFING PLAY



VIDEO: KIBO LABORATORY TRAVELS TO THE LAUNCH PAD PLAY


VIDEO: TRANSPORT CANISTER WITH KIBO ROTATED UPRIGHT PLAY


VIDEO: CRANE PLACES KIBO MODULE INTO TRANSPORT CANISTER PLAY



VIDEO: DISCOVERY HOISTED FOR ATTACHMENT TO FUEL TANK PLAY


VIDEO: THE SHUTTLE MOVES TO THE VEHICLE ASSEMBLY BUILDING PLAY


MORE: STS-124 VIDEO COVERAGE


SUBSCRIBE NOW