Astronauts enter roomy Kibo laboratory module
BY WILLIAM HARWOOD
STORY WRITTEN FOR CBS NEWS "SPACE PLACE" & USED WITH PERMISSION
Posted: June 4, 2008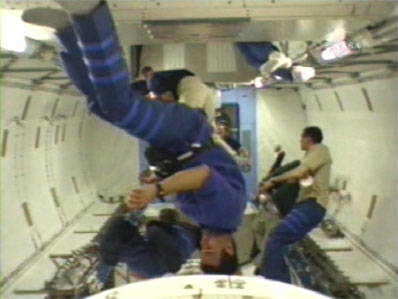 The shuttle and station crewmembers float into the newly-opened Kibo lab. Credit: NASA TV



The 10 astronauts aboard the shuttle-space station complex opened up the newly installed Japanese Kibo module today at 5:05 p.m., floated inside and literally bounced off the walls, enjoying a chance for some impromptu zero gravity acrobatics in the roomy new addition.

Floating in the middle of the brightly lighted module, Japanese astronaut Akihiko Hoshide held up a sign written in Japanese that, roughly translated, said "aerospace experiments - astronauts wanted."

Measuring 37 feet long and 14 feet wide, Kibo - "Hope" in Japanese - is so large it had to be launched with only a handful of experiment and control system racks in place. As such, the module was virtually empty when the crew floated inside, giving the astronauts and cosmonauts more than enough room to bounce and tumble about.

"This is a great moment for the Japanese folks," Hoshide said before floating inside. "We have the JPM (Japanese pressurized module), the Kibo module, installed yesterday. And now we have the hatch to be opened. I just want to thank all of the Japanese folks that have been working very, very hard. I know it's been like 20-plus years to get this module up in space. It's a beautiful module. We have a new 'hope' on the space station.

"It looks pretty empty because we don't have a lot of racks inside (yet)," he added before opening the main hatch. "But one engineer said down on Earth 'it looks really empty, but it's full of dreams.' And I really think that's what it is."

After addressing flight controllers and engineers at the Tsukuba Space Center in Japanese, a flight director praised the astronauts for reaching "this historical moment. Welcome to JEM! Enjoy your new module!"

"Thank you very much, Tsukuba," Hoshide replied. "This is an international program and with the help of the ground and the crew members up here, we're all a team and we couldn't have done this without everyone's help. So thank you very much."

He then unfurled a large, dark blue banner with "Kibo" written across it in large white letters.

"The Kibo module is open!" Hoshide exclaimed.

Kibo can accommodate 23 experiment and equipment racks, but it was launched with just four in place to keep the weight down to 16 tons. Another eight racks were launched in a smaller Japanese logistics module that was temporarily mounted atop the station's Harmony module in March.

The logistics module will be removed from Harmony and bolted to Kibo Friday. Equipment transfers will begin right away.


Additional coverage for subscribers:


VIDEO: KIBO SCIENCE LAB ATTACHED TO THE SPACE STATION PLAY


VIDEO: KIBO MODULE UNBERTHED FROM SHUTTLE PAYLOAD BAY PLAY


VIDEO: CLOSEUP INSPECTION OF STATION'S SOLAR ROTARY JOINT PLAY


VIDEO: FOSSUM UNBOLTS LOCKS ON KIBO'S WINDOW COVERINGS PLAY


VIDEO: SPACEWALKERS REMOVE COVERS ON KIBO'S PORT PLAY


VIDEO: SHUTTLE POWER UMBILICALS UNHOOKED FROM KIBO PLAY


VIDEO: SHUTTLE INSPECTION BOOM RETRIEVED FROM THE STATION PLAY


VIDEO: SPACEWALKER RON GARAN REMOVES COVER ON BOOM PLAY


VIDEO: SPACEWALKER MIKE FOSSUM FREES ARM'S ELBOW CAMERA PLAY


VIDEO: ANIMATION OF KIBO MODULE INSTALLATION PLAY


VIDEO: ANIMATION OF INSPECTION BOOM RETRIEVAL PLAY


VIDEO: NARRATED PREVIEW OF SPACEWALK NO. 1 PLAY


VIDEO: TUESDAY'S FLIGHT DIRECTOR INTERVIEW PLAY



VIDEO: THE FLIGHT DAY 3 HIGHLIGHTS MOVIE PLAY


VIDEO: CREW'S REMARKABLE CAMCORDER FOOTAGE FROM MONDAY PLAY


VIDEO: MONDAY'S MISSION STATUS BRIEFING PLAY


VIDEO: SHUTTLE CREW WELCOMED INTO STATION PLAY


VIDEO: DISCOVERY DOCKS TO SPACE STATION PLAY


VIDEO: SHUTTLE PERFORMS RENDEZVOUS BACKFLIP PLAY



VIDEO: THE FLIGHT DAY 2 HIGHLIGHTS MOVIE PLAY


VIDEO: CREW'S CAMCORDER FOOTAGE FROM FLIGHT DAY 2 PLAY


VIDEO: SUNDAY'S MISSION STATUS BRIEFING PLAY



VIDEO: THE FLIGHT DAY 1 HIGHLIGHTS MOVIE PLAY


VIDEO: EXTERNAL TANK SEEN AFTER SEPARATION PLAY


VIDEO: LAUNCH REPLAY: VAB ROOF PLAY


VIDEO: LAUNCH REPLAY: CAMERA CS-1 PLAY


VIDEO: LAUNCH REPLAY: CAMERA CS-2 PLAY


VIDEO: LAUNCH REPLAY: CAMERA CS-6 PLAY


VIDEO: LAUNCH REPLAY: FRONT CAMERA PLAY


VIDEO: LAUNCH REPLAY: BEACH TRACKER PLAY


VIDEO: LAUNCH REPLAY: PAD PERIMETER PLAY


VIDEO: LAUNCH REPLAY: UCS-12 TRACKER PLAY


VIDEO: LAUNCH REPLAY: UCS-23 TRACKER PLAY


VIDEO: LAUNCH REPLAY: PLAYALINDA BEACH PLAY


VIDEO: LAUNCH REPLAY: PATRICK AIR FORCE BASE PLAY


VIDEO: LAUNCH REPLAY: PRESS SITE PLAY


VIDEO: LAUNCH REPLAY: WEST TOWER PLAY


VIDEO: LAUNCH REPLAY: CAMERA 009 PLAY


VIDEO: LAUNCH REPLAY: CAMERA 041 PLAY


VIDEO: LAUNCH REPLAY: CAMERA 049 PLAY


VIDEO: LAUNCH REPLAY: CAMERA 050 PLAY


VIDEO: LAUNCH REPLAY: CAMERA 051 PLAY


VIDEO: LAUNCH REPLAY: CAMERA 054 PLAY


VIDEO: LAUNCH REPLAY: CAMERA 060 PLAY


VIDEO: LAUNCH REPLAY: CAMERA 061 PLAY


VIDEO: LAUNCH REPLAY: CAMERA 063 PLAY


VIDEO: LAUNCH REPLAY: CAMERA 070 PLAY


VIDEO: LAUNCH REPLAY: CAMERA 071 PLAY



VIDEO: LIFTOFF OF DISCOVERY WITH KIBO LAB! PLAY


VIDEO: ONBOARD CAMERA FOOTAGE OF TANK FOAM FALLING PLAY


VIDEO: INSIDE MISSION CONTROL DURING LAUNCH PLAY


VIDEO: POST-LAUNCH NEWS CONFERENCE PLAY



VIDEO: FINAL PRE-LAUNCH POLLS GIVE "GO" FOR LIFTOFF PLAY


VIDEO: ASTRONAUTS ARRIVE AT LAUNCH PAD 39A PLAY


VIDEO: CREW DEPARTS QUARTERS FOR LAUNCH PAD PLAY


VIDEO: ASTRONAUTS DON SPACESUITS FOR LAUNCH PLAY


VIDEO: NARRATED RECAP OF KIBO LAB'S PRE-FLIGHT CAMPAIGN PLAY


VIDEO: NARRATED RECAP OF DISCOVERY'S PRE-FLIGHT CAMPAIGN PLAY


VIDEO: LAUNCH PAD GANTRY RETRACTED FRIDAY NIGHT PLAY


VIDEO: TIME-LAPSE OF GANTRY ROLLBACK PLAY


VIDEO: FRIDAY'S COUNTDOWN STATUS BRIEFING PLAY


VIDEO: PRE-LAUNCH NEWS CONFERENCE PLAY


VIDEO: BRIEFING ON KIBO LABORATORY FACILITY PLAY


VIDEO: ASTRONAUTS ARRIVE AT THE CAPE FOR LAUNCH PLAY


VIDEO: WEDNESDAY'S COUNTDOWN AND WEATHER BRIEFING PLAY


VIDEO: NARRATED MISSION PREVIEW MOVIE PLAY



VIDEO: NEWS BRIEFING FOLLOWING FLIGHT READINESS REVIEW PLAY



VIDEO: INTERVIEW WITH COMMANDER MARK KELLY PLAY


VIDEO: INTERVIEW WITH PILOT KEN HAM PLAY


VIDEO: INTERVIEW WITH MS1 KAREN NYBERG PLAY


VIDEO: INTERVIEW WITH MS2 RON GARAN PLAY


VIDEO: INTERVIEW WITH MS3 MIKE FOSSUM PLAY


VIDEO: INTERVIEW WITH MS4 AKIHIKO HOSHIDE PLAY



VIDEO: ASTRONAUTS PRACTICE EVACUATION OF SHUTTLE PLAY


VIDEO: CREW BOARDS DISCOVERY FOR PRACTICE COUNTDOWN PLAY


VIDEO: TRAINING SESSIONS AT LAUNCH PAD AND BUNKER PLAY


VIDEO: CREW NEWS CONFERENCE AT LAUNCH PAD 39A PLAY


VIDEO: ASTRONAUTS ARRIVE FOR PRACTICE COUNTDOWN PLAY



VIDEO: TIME-LAPSE OF GANTRY ENCLOSING DISCOVERY PLAY


VIDEO: PAD'S ORBITER ACCESS ARM SWUNG INTO POSITION PLAY


VIDEO: TIME-LAPSE OF CRAWLER RETREATING AFTER ROLLOUT PLAY


VIDEO: SHUTTLE DISCOVERY ROLLED TO PAD 39A PLAY



VIDEO: SHUTTLE AND STATION PROGRAM BRIEFING PLAY


VIDEO: STS-124 MISSION OVERVIEW PART 1 | PART 2


VIDEO: PREVIEW BRIEFING ON MISSION'S SPACEWALKS PLAY


VIDEO: THE ASTRONAUTS' PRE-FLIGHT NEWS BRIEFING PLAY



VIDEO: KIBO LABORATORY TRAVELS TO THE LAUNCH PAD PLAY


VIDEO: TRANSPORT CANISTER WITH KIBO ROTATED UPRIGHT PLAY


VIDEO: CRANE PLACES KIBO MODULE INTO TRANSPORT CANISTER PLAY



VIDEO: DISCOVERY HOISTED FOR ATTACHMENT TO FUEL TANK PLAY


VIDEO: THE SHUTTLE MOVES TO THE VEHICLE ASSEMBLY BUILDING PLAY


MORE: STS-124 VIDEO COVERAGE


SUBSCRIBE NOW