Japan's science laboratory module added to station
BY WILLIAM HARWOOD
STORY WRITTEN FOR CBS NEWS "SPACE PLACE" & USED WITH PERMISSION
Posted: June 3, 2008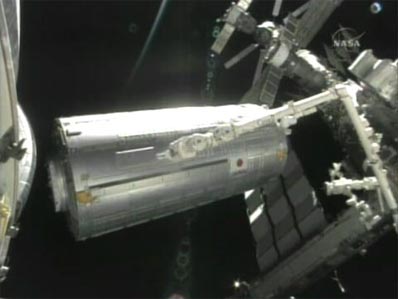 The Kibo lab is lifted out of the shuttle payload bay for attachment to the space station. Credit: NASA TV



The Discovery astronauts staged a successful spacewalk today, retrieving a shuttle heat shield inspection boom and testing techniques for cleaning metallic contamination from a critical solar array drive gear. They also prepared Japan's Kibo lab module for installation and Japanese astronaut Akihiko Hoshide, operating the station's robot arm, pulled the 15-ton module from Discovery's cargo bay and attached it to the station. If all goes well, the astronauts will enter the new module Wednesday to begin activating its myriad systems.

"Today we were extremely happy to see the Kibo pressurized module attached at its permanent location," said Tetsuro Yokoyama, deputy manager of the Kibo project for the Japanese space agency.

Floating in the Quest airlock module, the astronauts began repressurizing at 7:10 p.m. to officially end the six-hour 48-minute spacewalk, the first of three planned for the shuttle Discovery's mission.

"You guys did an awful lot of great work today," spacewalk coordinator Kenneth Ham, Discovery's pilot, called from the shuttle. "And it looked like you were having a lot of fun on the way."

"Oh yeah," Garan agreed.

"Nice job, quarterback," Fossum said.

This was the 110th spacewalk devoted to station assembly and maintenance since construction began in 1998, the 11th so far this year, pushing total EVA time to 692 hours and 52 minutes.

"Mike and Ron, it was a pleasure working with you today," astronaut Chris Ferguson radioed from mission control. "Today was the 43rd anniversary of the first U.S. EVA conducted by Ed White on Gemini 4. So I think it was appropriate we had two Air Force guys out the door today in honor of Ed White."

"Well, thank you very much," one spacewalker replied. "Thanks Chris, appreciate that," said the other.

As the spacewalk was winding down, Hoshide, assisted by Karen Nyberg and outgoing station flight engineer Garrett Reisman, were in the final stages of attaching the Kibo - "Hope" - laboratory module to Harmony's left-side port. The module was pulled out of Discovery's cargo bay just before 5 p.m. It took about an hour-and-a-half for the astronauts, operating the station's robot arm, to move the laboratory into place for attachment.

"Congratulations, especially (Japan's) Tsukuba (Space Center)," Hoshide radioed after motor-driven bolts locked the two modules together. "We have a new 'hope' on the international space station."

"It was an amazing day for the international space station program, an amazing day for our partnership," said Kirk Shireman, deputy manager of the space station program at the Johnson Space Center. "We're very pleased to have Kibo, the pressurized module of Kibo, on board the international space station (at) it's final home. It's been an amazing journey for Kibo. It arrived in the United States in May 2003, was launched in May 2008 and now it's at its permanent long-term home on the international space station."

LeRoy Cain, chairman of NASA's Mission Management Team, said analysis of launch and on-orbit imagery is ongoing and that a final verdict on the health of the shuttle's heat shield is not yet possible. But based on what engineers have seen to date, the MMT decided there was no need for a so-called "focused" inspection before Discovery undocks.

So far, Cain said, engineers have identified just four "areas of interest" on the shuttle's belly and all of them are small and no concern for re-entry.

"We're far enough along in our assessments ... to be able to say we don't have any requirement for a focused inspection," he said. "We do have a few areas on the tile we're looking at (but) we essentially cleared the vehicle for emergency deorbit purposes and within a day or two, we'll be able to go further than that. Overall, the performance has just been outstanding."

He said analysis of ascent imagery and close-up photographs taken by the station crew during Discovery's final approach before docking Monday showed that foam debris from the ship's external tank that was seen falling away during launch did not cause any damage to the shuttle's protective tiles."

One of the highlights of today's spacewalk was an inspection of the station's right-side solar alpha rotary joint, or SARJ, and an assessment of various techniques that may be used in the future to clean metallic contamination off the 10-foot-wide drive gear.

The motor-driven gear, which rotates outboard solar arrays to track the sun, is held in place by 12 trundle bearing assemblies that grip the ring on three faces. One of those surfaces has broken down, generating large amounts of metal shavings and debris.

During today's spacewalk, Fossum showed the debris can be cleaned up by applying a layer of grease to the contaminated surface and then using a scraper and wipes to remove it, along with trapped particles.

He also inspected a blemish on a different surface of the drive gear and discovered it is a depression, or pit, and not a buildup of debris as some engineers had hoped. A buildup could, in theory, be removed but a pit indicates a defect in the surface, possibly a starting point for the same type of degradation that generated the debris on the other face.

"We confirmed it was a divot," Shireman said. "Actually, most of us had been expecting that was really what it was because of the two options, that's the worst one. It says that surface has also sustained damage and it will most likely propagate as we continue to operate or rotate that SARJ. It doesn't go to the root cause, but it is another piece of data.

"So we'll factor that into our analysis. Certainly, the imagery we took today we'll use and we'll compare with the photos from (recent) EVAs and we'll determine if this spot is growing and what the rate of propagation is. We are continuing to minimize the amount of rotations on this ring, so we don't think it makes this situation any more grave than it was before. Just some additional data."

NASA managers hope to clean the contaminated drive gear enough to permit at least limited use before eventually switching to an undamaged backup gear. But they want to clean up the contamination before then to prevent any particles from migrating to the other wheel and causing additional damage.


Additional coverage for subscribers:


VIDEO: KIBO SCIENCE LAB ATTACHED TO THE SPACE STATION PLAY


VIDEO: KIBO MODULE UNBERTHED FROM SHUTTLE PAYLOAD BAY PLAY


VIDEO: CLOSEUP INSPECTION OF STATION'S SOLAR ROTARY JOINT PLAY


VIDEO: FOSSUM UNBOLTS LOCKS ON KIBO'S WINDOW COVERINGS PLAY


VIDEO: SPACEWALKERS REMOVE COVERS ON KIBO'S PORT PLAY


VIDEO: SHUTTLE POWER UMBILICALS UNHOOKED FROM KIBO PLAY


VIDEO: SHUTTLE INSPECTION BOOM RETRIEVED FROM THE STATION PLAY


VIDEO: SPACEWALKER RON GARAN REMOVES COVER ON BOOM PLAY


VIDEO: SPACEWALKER MIKE FOSSUM FREES ARM'S ELBOW CAMERA PLAY


VIDEO: ANIMATION OF KIBO MODULE INSTALLATION PLAY


VIDEO: ANIMATION OF INSPECTION BOOM RETRIEVAL PLAY


VIDEO: NARRATED PREVIEW OF SPACEWALK NO. 1 PLAY


VIDEO: TUESDAY'S FLIGHT DIRECTOR INTERVIEW PLAY



VIDEO: THE FLIGHT DAY 3 HIGHLIGHTS MOVIE PLAY


VIDEO: CREW'S REMARKABLE CAMCORDER FOOTAGE FROM MONDAY PLAY


VIDEO: MONDAY'S MISSION STATUS BRIEFING PLAY


VIDEO: SHUTTLE CREW WELCOMED INTO STATION PLAY


VIDEO: DISCOVERY DOCKS TO SPACE STATION PLAY


VIDEO: SHUTTLE PERFORMS RENDEZVOUS BACKFLIP PLAY



VIDEO: THE FLIGHT DAY 2 HIGHLIGHTS MOVIE PLAY


VIDEO: CREW'S CAMCORDER FOOTAGE FROM FLIGHT DAY 2 PLAY


VIDEO: SUNDAY'S MISSION STATUS BRIEFING PLAY



VIDEO: THE FLIGHT DAY 1 HIGHLIGHTS MOVIE PLAY


VIDEO: EXTERNAL TANK SEEN AFTER SEPARATION PLAY


VIDEO: LAUNCH REPLAY: VAB ROOF PLAY


VIDEO: LAUNCH REPLAY: CAMERA CS-1 PLAY


VIDEO: LAUNCH REPLAY: CAMERA CS-2 PLAY


VIDEO: LAUNCH REPLAY: CAMERA CS-6 PLAY


VIDEO: LAUNCH REPLAY: FRONT CAMERA PLAY


VIDEO: LAUNCH REPLAY: BEACH TRACKER PLAY


VIDEO: LAUNCH REPLAY: PAD PERIMETER PLAY


VIDEO: LAUNCH REPLAY: UCS-12 TRACKER PLAY


VIDEO: LAUNCH REPLAY: UCS-23 TRACKER PLAY


VIDEO: LAUNCH REPLAY: PLAYALINDA BEACH PLAY


VIDEO: LAUNCH REPLAY: PATRICK AIR FORCE BASE PLAY


VIDEO: LAUNCH REPLAY: PRESS SITE PLAY


VIDEO: LAUNCH REPLAY: WEST TOWER PLAY


VIDEO: LAUNCH REPLAY: CAMERA 009 PLAY


VIDEO: LAUNCH REPLAY: CAMERA 041 PLAY


VIDEO: LAUNCH REPLAY: CAMERA 049 PLAY


VIDEO: LAUNCH REPLAY: CAMERA 050 PLAY


VIDEO: LAUNCH REPLAY: CAMERA 051 PLAY


VIDEO: LAUNCH REPLAY: CAMERA 054 PLAY


VIDEO: LAUNCH REPLAY: CAMERA 060 PLAY


VIDEO: LAUNCH REPLAY: CAMERA 061 PLAY


VIDEO: LAUNCH REPLAY: CAMERA 063 PLAY


VIDEO: LAUNCH REPLAY: CAMERA 070 PLAY


VIDEO: LAUNCH REPLAY: CAMERA 071 PLAY



VIDEO: LIFTOFF OF DISCOVERY WITH KIBO LAB! PLAY


VIDEO: ONBOARD CAMERA FOOTAGE OF TANK FOAM FALLING PLAY


VIDEO: INSIDE MISSION CONTROL DURING LAUNCH PLAY


VIDEO: POST-LAUNCH NEWS CONFERENCE PLAY



VIDEO: FINAL PRE-LAUNCH POLLS GIVE "GO" FOR LIFTOFF PLAY


VIDEO: ASTRONAUTS ARRIVE AT LAUNCH PAD 39A PLAY


VIDEO: CREW DEPARTS QUARTERS FOR LAUNCH PAD PLAY


VIDEO: ASTRONAUTS DON SPACESUITS FOR LAUNCH PLAY


VIDEO: NARRATED RECAP OF KIBO LAB'S PRE-FLIGHT CAMPAIGN PLAY


VIDEO: NARRATED RECAP OF DISCOVERY'S PRE-FLIGHT CAMPAIGN PLAY


VIDEO: LAUNCH PAD GANTRY RETRACTED FRIDAY NIGHT PLAY


VIDEO: TIME-LAPSE OF GANTRY ROLLBACK PLAY


VIDEO: FRIDAY'S COUNTDOWN STATUS BRIEFING PLAY


VIDEO: PRE-LAUNCH NEWS CONFERENCE PLAY


VIDEO: BRIEFING ON KIBO LABORATORY FACILITY PLAY


VIDEO: ASTRONAUTS ARRIVE AT THE CAPE FOR LAUNCH PLAY


VIDEO: WEDNESDAY'S COUNTDOWN AND WEATHER BRIEFING PLAY


VIDEO: NARRATED MISSION PREVIEW MOVIE PLAY



VIDEO: NEWS BRIEFING FOLLOWING FLIGHT READINESS REVIEW PLAY



VIDEO: INTERVIEW WITH COMMANDER MARK KELLY PLAY


VIDEO: INTERVIEW WITH PILOT KEN HAM PLAY


VIDEO: INTERVIEW WITH MS1 KAREN NYBERG PLAY


VIDEO: INTERVIEW WITH MS2 RON GARAN PLAY


VIDEO: INTERVIEW WITH MS3 MIKE FOSSUM PLAY


VIDEO: INTERVIEW WITH MS4 AKIHIKO HOSHIDE PLAY



VIDEO: ASTRONAUTS PRACTICE EVACUATION OF SHUTTLE PLAY


VIDEO: CREW BOARDS DISCOVERY FOR PRACTICE COUNTDOWN PLAY


VIDEO: TRAINING SESSIONS AT LAUNCH PAD AND BUNKER PLAY


VIDEO: CREW NEWS CONFERENCE AT LAUNCH PAD 39A PLAY


VIDEO: ASTRONAUTS ARRIVE FOR PRACTICE COUNTDOWN PLAY



VIDEO: TIME-LAPSE OF GANTRY ENCLOSING DISCOVERY PLAY


VIDEO: PAD'S ORBITER ACCESS ARM SWUNG INTO POSITION PLAY


VIDEO: TIME-LAPSE OF CRAWLER RETREATING AFTER ROLLOUT PLAY


VIDEO: SHUTTLE DISCOVERY ROLLED TO PAD 39A PLAY



VIDEO: SHUTTLE AND STATION PROGRAM BRIEFING PLAY


VIDEO: STS-124 MISSION OVERVIEW PART 1 | PART 2


VIDEO: PREVIEW BRIEFING ON MISSION'S SPACEWALKS PLAY


VIDEO: THE ASTRONAUTS' PRE-FLIGHT NEWS BRIEFING PLAY



VIDEO: KIBO LABORATORY TRAVELS TO THE LAUNCH PAD PLAY


VIDEO: TRANSPORT CANISTER WITH KIBO ROTATED UPRIGHT PLAY


VIDEO: CRANE PLACES KIBO MODULE INTO TRANSPORT CANISTER PLAY



VIDEO: DISCOVERY HOISTED FOR ATTACHMENT TO FUEL TANK PLAY


VIDEO: THE SHUTTLE MOVES TO THE VEHICLE ASSEMBLY BUILDING PLAY


MORE: STS-124 VIDEO COVERAGE


SUBSCRIBE NOW