Discovery launches with Japan's science laboratory
BY WILLIAM HARWOOD
STORY WRITTEN FOR CBS NEWS "SPACE PLACE" & USED WITH PERMISSION
Posted: May 31, 2008; Updated with NASA comments on foam loss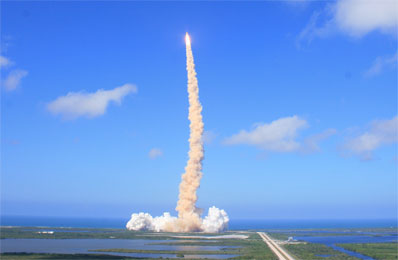 Credit: Chris Miller/Spaceflight Now



Right on time, the shuttle Discovery blasted into orbit Saturday, kicking off a two-week, three-spacewalk mission to attach Japan's huge Kibo laboratory module to the international space station and deliver a fresh flight engineer - Gregory Chamitoff - to replace outgoing station astronaut Garrett Reisman.

Discovery was equipped with the first external tank be built from the ground up with post-Columbia safety upgrades and camera views from a camera on the huge tank during the climb to space showed what appeared to be several relatively large but thin pieces of debris falling away after booster separation.

The first piece of debris appeared to separate from a point near a redesigned support fitting called an ice-frost ramp 18 seconds after booster separation. Another piece could be seen falling away around 34 seconds after jettison and a second, larger piece from the same area as the first fell away about three minutes and 30 seconds after liftoff.

By that point, Discovery was out of the dense lower atmosphere, which can slow debris quickly enough to pose a collision threat with the accelerating orbiter. But the debris seen today seemed more pronounced than what engineers have noted in recent launchings and it will take them several days to evaluate the performance of the tank and what, if any, damage it might have caused.

"We took a quick look at the ascent video and we saw maybe five pieces of foam come off the external tank," said Bill Gerstenmaier, chief of space flight for NASA. "We don't consider those a big deal to us. Again, this was kind of a learning experience for us in the foam world, they were all late, they were after the aerodynamically sensitive time. They looked thin, therefore they were lightweight, and they don't appear to be any impact to us at all. We'll review all the video and all the films later and see what happens."

That evaluation will be somewhat more difficult in Discovery's case because the shuttle is not equipped with a heat shield inspection boom. The Kibo module is so large, the orbiter boom sensor system the astronauts normally use to inspect the ship's thermal insulation for small-scale damage would not fit. So the crew of the last shuttle mission to visit the station in March left their boom behind for Discovery's crew.

But commander Mark Kelly and his crewmates will have to wait until after docking to retrieve the boom for any subsequent inspections. In the meantime, the astronauts already planned to use the shuttle's robot arm on its own to carry out a general inspection Sunday. That data will be combined with ascent video and camera views of the tank after separation in orbit, along with telephoto views of the shuttle's belly shot by the station crew during final approach Monday, to help determine the performance of the tank's insulation.

"We'll get some pictures of the tank, we'll see where (the debris) came from, we'll try to understand what this means to us," Gerstenmaier said. "Ultimately, we'd like to reduce the amount of foam that comes off the tank, I don't think we'll ever get it to zero but if we can get it so it occurs late just like we've seen on this tank, we're in a good configuration. We made some changes to this tank and we'll see what ultimately drove it. ... But right now, there's no concern at all and it's not an issue at all for this flight."

At least some of the debris appeared to originate at or near a redesigned fitting, called an ice-frost ramp, one of several used to hold pressurization lines and a cable tray to the tank's skin. The redesign uses less foam and is designed to improve the foam's ability to stay in place. The design performed well during an earlier test flight.

"We need to understand why it came off in these regions," Gerstenmaier said today. "We flew the basic design before, on STS-120, so we've seen this specific design, the way we lay the foam in, the underlying structure, we've seen it fly and it performed extremely well. So we're going to be curious as to why it performed slightly different on this flight. ... Again, the key thing is it was all late, which says it's consistent with what we've seen before, there's nothing new from a physics phenomenon standpoint that causes us any concern."

Liftoff occurred on time at 5:02:12 p.m. after a virtually problem-free countdown. Joining Kelly and Chamitoff aboard the orbiter were pilot Kenneth Ham, flight engineer Ronald Garan, Karen Nyberg, Michael Fossum and Japanese astronaut Akihiko Hoshide.

The installation of Kibo "is a big milestone for the Japanese community," Hoshide said before launch. "The Japanese pressurized module will be the U.S. lab-equivalent for Japan. A lot of people worked on this for 20-plus years. So this is really a mission to make the dream come true. ... After this, we will have experiments on board and operations and a lot of things going on. So this will definitely open up opportunities and possibilities."

Along with installing Kibo and replacing Reisman with Chamitoff, the Discovery astronauts also plan to deliver a tank of nitrogen to help pressurize the station's ammonia cooling loops, attempt to clean contamination off part of a solar array drive gear and deliver spare parts for the station's Russian toilet.

Located in the Russian Zvezda command module, the toilet's liquid waste system malfunctioned a week before launch, forcing the station crew to use the cramped toilet in the Soyuz re-entry vehicle while they attempted repairs. Expedition 17 commander Sergei Volkov and Oleg Kononenko replaced a suspect pump, but both on-board spares failed to work properly. While the station toilet toilet operated intermittently in a manual mode, the crew was forced to flush extra water through the system every three or four uses.

Engineers believe a common fault may be to blame and a new pump from a different manufacturing lot was rushed to the Kennedy Space Center from Moscow. An operational station toilet is not a constraint to launching the shuttle, but station managers, not to mention the crew, want to get it fixed as soon as possible to avoid downstream problem.

"We think the new pump will fix the problem," NASA Administrator Mike Griffin told CBS News earlier today. "If it doesn't, we're going to have to come up with something else."

Asked what might happen if the pump replacement doesn't solve the problem and whether the toilet could develop into an issue that might force the crew to return to Earth, Griffin said "we certainly hope not. We're many steps before we get to that place."

"But you're right, it is a big deal," he said. "We know it's a big deal. We are not minimizing it, we haven't minimized it, we know that hygiene is important. It's important on any closed, isolated vehicle. Ships and submarines have this problem, airplanes have this problem ... Any time you're in a closed environment like this, it's crucially important to maintain hygiene. And that's what we're going to figure out a way to do."

The new pump will be installed two days after Discovery docks with the station. After the shuttle departs, Volkov, Kononenko and Chamitoff will be on their own until an unmanned Progress supply ship arrives in September, followed by a Soyuz spacecraft carrying Expedition 18 commander Michael Fincke and flight engineer Yuri Lonchakov in October. The next shuttle assembly mission is scheduled for launch Nov. 10, after an October flight to service the Hubble Space Telescope.

The health of the Russian toilet, while potentially significant, is a relatively minor issue compared to the health of the Soyuz TMA-12 spacecraft currently docked to the station. The three-seat Soyuz serves as the station's lifeboat in the event of an emergency that might force Volkov, Kononenko and Chamitoff to abandon ship.

During the most recent Soyuz landing April 19, a malfunction prevented the spacecraft's propulsion module from cleanly separating from the crew module just before atmospheric entry. As a result, Soyuz commander Yuri Malenchenko, outgoing station commander Peggy Whitson and South Korean space tourist So-Yeon Yi were subjected to violent buffeting and higher deceleration than usual as the spacecraft followed a steep ballistic trajectory to an off-course landing in Kazakhstan.

It is not yet clear what might have gone wrong or whether the same problem might be lurking with the Soyuz TMA-12 spacecraft currently docked to the space station. Senior NASA managers, however, decided to go ahead with the Reisman/Chamitoff crew rotation, based on Russian assurances that the Soyuz has enough redundancy to be counted on in an emergency.

"If something comes out of the (Russian) investigation that says the Soyuz is not acceptable as a return vehicle, then we would go take some appropriate action," said Bill Gerstenmaier, NASA's chief of spaceflight operations. "But we haven't seen anything along those lines. For emergency return, Soyuz is OK.

"The Russians are working through it methodically, trying to identify if there's anything that would invalidate its use as an emergency return vehicle. As long as that doesn't occur, then we proceed with our normal plans. And I don't see anything between now and the 31st that's going to change any of that thinking."

The astronaut office at the Johnson Space Center, including Whitson and Chamitoff, supported the decision to proceed with Discovery 's launching. So did Griffin.

"They (the Russians) don't think, and we don't think, it could be a fundamental design error, it's been operating for 40 years and operating well," Griffin said today. "So manufacturing, assembly, integration, yeah, that's where folks are looking. But we think if we had to get in it and come to the ground, the guys would make it. And that's the important thing."

Discovery's liftoff was timed for roughly the moment when Earth's rotation carried launch pad 39A at the Kennedy Space Center into the plane of the space station's orbit. With an on-time launching, Kelly plans to guide the orbiter to a docking with pressurized mating adapter No. 2 on the front end of the Harmony module around 1:52 p.m. on Monday.

"We've got an exciting mission ahead of us," Kelly said during training. "I think we're pretty fortunate - well, just fortunate, period, to be part of the space shuttle program - but to carry one of the major elements to the space station, install it and check it out is really a great privilege for all of us. We've got a complicated, busy mission ahead of us."

Three spacewalks are planned by Fossum and Garan, on the fourth, sixth and ninth day of the mission. Reisman will join Discovery's crew for the trip home, undocking on flight day 12 - June 11 - and landing back at the Kennedy Space Center around 11:14 a.m. on Saturday, June 14.

The 15.9-ton Kibo lab, equipped with its own robot arm and an airlock to expose experiments and materials to the vacuum of space, is the largest pressurized module built for the international space station, measuring 36.7 feet long and 14.4 feet wide. The size of a large tour bus, Kibo is 9 feet longer than Destiny and 14 feet longer than the European Space Agency's Columbus module.

A smaller Japanese storage module, launched in March and temporarily mounted on Harmony's upward-facing port, is loaded with eight equipment and experiment racks that will be moved into Kibo during and after Discovery's mission. The logistics module itself will be unbolted from Harmony and attached to Kibo after the lab module is bolted to Harmony's left-side port on the fourth day of Discovery's mission.

"The Japanese lab is ... actually the biggest module on space station," Kelly said in a NASA interview. "It's pretty heavy, 32,000 pounds, longer than the U.S. lab, more system racks, more experiment racks. It's its own little spacecraft in the sense that it has an environmental system, electrical system, its own computer system, its own robotic arm. It's going to be used for fundamental chemistry, fluid physics, regular physics and biology experiments. Some of those will come up later. But it's going to be a world-class laboratory."

With Kibo's installation, the space station will be 71 percent complete by mass with 612,000 pounds of hardware in orbit.

Designed and built before the 2003 Columbia disaster, Kibo virtually fills the shuttle's cargo bay, leaving no room for the 50-foot-long heat-shield inspection boom normally used on the second day of a shuttle flight to look for signs of impact debris damage.

As a result, the crew of the most recent shuttle assembly mission left their boom behind on the station in March. The Discovery astronauts will retrieve the boom during their first spacewalk and use it later to carry out a detailed inspection of the shuttle's nose cap and wing leading edge panels.

Before docking, they'll have to settle for a more cursory inspection, using a camera mounted on the end of Discovery's robot arm that is not capable of reaching all critical areas or providing the sort of detail the boom's instruments can detect. Even so, mission managers say now-standard ascent photography, radar observations, data from sensors in Discovery's wings and close-up photos shot during the shuttle's final approach to the station will give engineers more than enough data to assess the shuttle's health.

"Given all that, we feel pretty good about our capabilities to see any kind of significant damage during those scans," said lead Flight Director Matt Abbott. "Moving on to the middle of the mission, we do have an opportunity for a focused inspection if necessary (with the recovered boom), if there are any areas of interest that have been determined up to that point.

Along with attaching the Kibo module, retrieving the orbiter boom sensor system and installing a new cooling system nitrogen tank, the astronauts also plan to find out whether they can successfully clean a contaminated solar array rotary joint.

The space station is equipped with two massive solar alpha rotary joints, or SARJs, on each side of the lab's main power truss. Ten-foot-wide motor-driven gears turn outboard solar arrays like paddle wheels to track the sun as the station circles the Earth, maximizing power production.

The left-side SARJ works normally in so-called "auto-track" mode, but the right-side unit has been used only sparingly since last fall because of extensive metallic contamination discovered during a spacewalk after engineers noticed high vibration levels and power usage.

Engineers now believe the contamination may have been caused by the breakdown of a super-hard "nitrited" outer layer. If cracks developed in that layer, the pressure exerted by the bearings the drive gears rolls through could cause additional damage, resulting in additional breakdown.

Whatever the cause, NASA would like to clean up the metal shavings if possible to permit engineers to rotate the outboard solar arrays as required to maximize power production.

During Discovery's flight, spacewalker Mike Fossum will try a decidedly low-tech solution - applying Braycote grease to a small section of the race ring and then simply wiping the grease and trapped contaminants away. If it works, future shuttle crews may be asked to clean the entire race ring, permitting resumption of at least partial operation.

But because of the damage already done and the higher-than-normal vibration it causes, NASA managers believe astronauts eventually will be forced to move the starboard SARJ's 12 bearing assemblies to a backup outboard drive gear. But that is something they do not want to do unless absolutely necessary to avoid losing redundancy.

"We just recently squeezed in the SARJ cleaning task," Fossum said. "It's really a test objective, to see what it would take to clan some of the metal that appears to be on the ring. We don't have a lot of information about it. So we're literally going out there with the kinds of tools you have in your garage.

"The first thing we're going to do is take a scraper to it and see if we can scrape some of that stuff off to make that surface a little more smooth for the rollers. Next, we're going to put down, literally, a little grease, it's a special space grease and then scrape on that and try to pick up material with it and wipe it off.

"And the third way is just putting down a little bit of this same grease and then taking a wipe, very much like a terry cloth towel, just to see if we can clean it up with this, knowing there's a very large ring out there and what we're trying to find is a technique that could be used to clean it up just a bit. But that's going to be a lot of work to go tackle the whole thing."

Getting the starboard SARJ back in auto-track mode is critical for the long-term health of the space station. Only by tracking the sun as the station swings around the planet can the arrays generate the electrical power needed to operate all of the station's life support systems and experiment facilities.

"Even if we're able to rotate and be comfortable that the drive system can drive through any high current events that might occur, we still have the vibration that takes life out of the structure," Suffredini said. "And so, that's one of the things we'll meter, how much we can rotate after we clean it up.

"So we've got a lot of forward work there to do. We've got to figure out how to clean this up even if we go to outboard ops, which I'm assuming is where we'll eventually end up, we need to clean a lot of this contamination off just so it doesn't liberate and find its way over (to the other drive gear) in the future."


Additional coverage for subscribers:


VIDEO: LIFTOFF OF DISCOVERY WITH KIBO LAB! PLAY


VIDEO: ONBOARD CAMERA FOOTAGE OF TANK FOAM FALLING PLAY


VIDEO: NARRATED RECAP OF KIBO LAB'S PRE-FLIGHT CAMPAIGN PLAY


VIDEO: NARRATED RECAP OF DISCOVERY'S PRE-FLIGHT CAMPAIGN PLAY


VIDEO: LAUNCH PAD GANTRY RETRACTED FRIDAY NIGHT PLAY


VIDEO: TIME-LAPSE OF GANTRY ROLLBACK PLAY


VIDEO: FRIDAY'S COUNTDOWN STATUS BRIEFING PLAY


VIDEO: PRE-LAUNCH NEWS CONFERENCE PLAY


VIDEO: BRIEFING ON KIBO LABORATORY FACILITY PLAY


VIDEO: ASTRONAUTS ARRIVE AT THE CAPE FOR LAUNCH PLAY


VIDEO: WEDNESDAY'S COUNTDOWN AND WEATHER BRIEFING PLAY


VIDEO: NARRATED MISSION PREVIEW MOVIE PLAY



VIDEO: NEWS BRIEFING FOLLOWING FLIGHT READINESS REVIEW PLAY



VIDEO: INTERVIEW WITH COMMANDER MARK KELLY PLAY


VIDEO: INTERVIEW WITH PILOT KEN HAM PLAY


VIDEO: INTERVIEW WITH MS1 KAREN NYBERG PLAY


VIDEO: INTERVIEW WITH MS2 RON GARAN PLAY


VIDEO: INTERVIEW WITH MS3 MIKE FOSSUM PLAY


VIDEO: INTERVIEW WITH MS4 AKIHIKO HOSHIDE PLAY



VIDEO: ASTRONAUTS PRACTICE EVACUATION OF SHUTTLE PLAY


VIDEO: CREW BOARDS DISCOVERY FOR PRACTICE COUNTDOWN PLAY


VIDEO: TRAINING SESSIONS AT LAUNCH PAD AND BUNKER PLAY


VIDEO: CREW NEWS CONFERENCE AT LAUNCH PAD 39A PLAY


VIDEO: ASTRONAUTS ARRIVE FOR PRACTICE COUNTDOWN PLAY



VIDEO: TIME-LAPSE OF GANTRY ENCLOSING DISCOVERY PLAY


VIDEO: PAD'S ORBITER ACCESS ARM SWUNG INTO POSITION PLAY


VIDEO: TIME-LAPSE OF CRAWLER RETREATING AFTER ROLLOUT PLAY


VIDEO: SHUTTLE DISCOVERY ROLLED TO PAD 39A PLAY



VIDEO: SHUTTLE AND STATION PROGRAM BRIEFING PLAY


VIDEO: STS-124 MISSION OVERVIEW PART 1 | PART 2


VIDEO: PREVIEW BRIEFING ON MISSION'S SPACEWALKS PLAY


VIDEO: THE ASTRONAUTS' PRE-FLIGHT NEWS BRIEFING PLAY



VIDEO: KIBO LABORATORY TRAVELS TO THE LAUNCH PAD PLAY


VIDEO: TRANSPORT CANISTER WITH KIBO ROTATED UPRIGHT PLAY


VIDEO: CRANE PLACES KIBO MODULE INTO TRANSPORT CANISTER PLAY



VIDEO: DISCOVERY HOISTED FOR ATTACHMENT TO FUEL TANK PLAY


VIDEO: THE SHUTTLE MOVES TO THE VEHICLE ASSEMBLY BUILDING PLAY


MORE: STS-124 VIDEO COVERAGE


SUBSCRIBE NOW