Russian toilet parts delivered for launch on shuttle
BY WILLIAM HARWOOD
STORY WRITTEN FOR CBS NEWS "SPACE PLACE" & USED WITH PERMISSION
Posted: May 29, 2008


A replacement pump and other equipment needed to repair the Russian toilet aboard the international space station was installed in the shuttle Discovery early today as engineers readied the ship for blastoff Saturday on a long-awaited flight to deliver Japan's huge Kibo laboratory module to the orbiting outpost.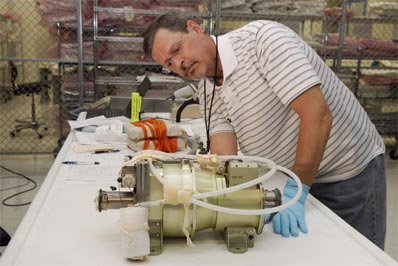 A technician inspects a replacement part for the space station toilet following its arrival at Kennedy Space Center. Credit: NASA-KSC



NASA's Mission Management Team met today to review launch processing and cleared the shuttle for launch on the year's third shuttle mission.

"We had just a very few minor items that were open from the time we did our flight readiness review," said MMT Chairman LeRoy Cain. "And all that work is complete, we're not carrying any constraints from here to launch on Saturday."

Shuttle weather officer Kathy Winters said she still expects an 80 percent chance of good weather Saturday, decreasing to 70 percent "go" Sunday and 60 percent favorable on Monday.

"The vehicle and the crew and the weather and the team are all ready to go so, we're really looking very good," Cain said. "We have a very important module for the space station program, the Japanese pressurized experiment module. ... We're extremely excited about it, in particular for our space station program and Japanese friends. The whole team is ready to go and we're excited to be here on Saturday."

If all goes well, commander Mark Kelly, pilot Kenneth Ham, flight engineer Ronald Garan, Michael Fossum, Japanese astronaut Akihiko Hoshide and space station flight engineer Gregory Chamitoff will begin strapping in for launch at pad 39A around 1:40 p.m. Saturday.

Along with installing the bus-size Kibo module, the astronauts also plan to retrieve a shuttle heat shield inspection boom; install a replacement nitrogen tank to help pressurize the station's ammonia coolant loops; and attempt to clean contamination from a critical solar array drive gear. Chamitoff will remain behind aboard the station when Discovery departs and outgoing flight engineer Garrett Reisman will return to Earth in his place.

Reisman's crewmates - Expedition 17 commander Sergei Volkov and Oleg Kononenko - have been struggling in recent days to repair the station's lone toilet, a Russian system located in the Zvezda command module. The toilet's solid waste collection system is working normally, but trouble with a pump has caused problems for the urine collection system.

The problem appears to involve a pump in the system that pulls liquids through the toilet. Two spares already were on board, but both failed to work properly. Russian engineers believe the pumps might share a common fault and a new pump from a different manufacturing lot number was rushed to Florida for launch aboard Discovery.

"The crew's been working tirelessly here these last few days to repair it," said Kirk Shireman, deputy manager of the space station program at the Johnson Space Center in Houston. "But in order to make it fully functional, we needed to ship some additional parts, some spare parts from Russia. Those parts arrived in the United States last night and actually the person who hand carried it over got off the airplane in Orlando and drove right over here."

As it now stands, the toilet is fully functional in that it can process both solid and liquid wastes. But because of the pump issue, the cosmonauts must carry out a procedure to cycle additional water through the system every three flushes or so.

"Today, the toilet is functioning," Shireman said. "It works for solid waste collection and it is working in a limited capacity for liquid waste collection. Right now, every three or four flushes it requires a manual procedure to go in and actually flush some additional water. It takes about 10 minutes and it takes two crew members. So it's quite inconvenient as you might imagine."

With three crew members aboard the station, that works out to "four to five times you'd have to go perform this manual procedure a day," he said. "It takes about 10 minutes and two crew members to perform. Insert that into your daily life and you can see that would be quite inconvenient. (But) you'd do it if that was your only option."

The cosmonauts will install the new pump within a few days of Discovery's arrival and Russian engineers are hopeful the problem will be resolved. But even if it's not, Shireman said the station crew can continue indefinitely with the toilet in its current configuration.


Additional coverage for subscribers:


VIDEO: ASTRONAUTS ARRIVE AT THE CAPE FOR LAUNCH PLAY


VIDEO: WEDNESDAY'S COUNTDOWN AND WEATHER BRIEFING PLAY


VIDEO: NARRATED MISSION PREVIEW MOVIE PLAY



VIDEO: NEWS BRIEFING FOLLOWING FLIGHT READINESS REVIEW PLAY



VIDEO: INTERVIEW WITH COMMANDER MARK KELLY PLAY


VIDEO: INTERVIEW WITH PILOT KEN HAM PLAY


VIDEO: INTERVIEW WITH MS1 KAREN NYBERG PLAY


VIDEO: INTERVIEW WITH MS2 RON GARAN PLAY


VIDEO: INTERVIEW WITH MS3 MIKE FOSSUM PLAY


VIDEO: INTERVIEW WITH MS4 AKIHIKO HOSHIDE PLAY



VIDEO: ASTRONAUTS PRACTICE EVACUATION OF SHUTTLE PLAY


VIDEO: CREW BOARDS DISCOVERY FOR PRACTICE COUNTDOWN PLAY


VIDEO: TRAINING SESSIONS AT LAUNCH PAD AND BUNKER PLAY


VIDEO: CREW NEWS CONFERENCE AT LAUNCH PAD 39A PLAY


VIDEO: ASTRONAUTS ARRIVE FOR PRACTICE COUNTDOWN PLAY



VIDEO: TIME-LAPSE OF GANTRY ENCLOSING DISCOVERY PLAY


VIDEO: PAD'S ORBITER ACCESS ARM SWUNG INTO POSITION PLAY


VIDEO: TIME-LAPSE OF CRAWLER RETREATING AFTER ROLLOUT PLAY


VIDEO: SHUTTLE DISCOVERY ROLLED TO PAD 39A PLAY



VIDEO: SHUTTLE AND STATION PROGRAM BRIEFING PLAY


VIDEO: STS-124 MISSION OVERVIEW PART 1 | PART 2


VIDEO: PREVIEW BRIEFING ON MISSION'S SPACEWALKS PLAY


VIDEO: THE ASTRONAUTS' PRE-FLIGHT NEWS BRIEFING PLAY



VIDEO: KIBO LABORATORY TRAVELS TO THE LAUNCH PAD PLAY


VIDEO: TRANSPORT CANISTER WITH KIBO ROTATED UPRIGHT PLAY


VIDEO: CRANE PLACES KIBO MODULE INTO TRANSPORT CANISTER PLAY



VIDEO: DISCOVERY HOISTED FOR ATTACHMENT TO FUEL TANK PLAY


VIDEO: THE SHUTTLE MOVES TO THE VEHICLE ASSEMBLY BUILDING PLAY


MORE: STS-124 VIDEO COVERAGE


SUBSCRIBE NOW