Shuttle crew flies to the Cape for start of countdown
BY WILLIAM HARWOOD
STORY WRITTEN FOR CBS NEWS "SPACE PLACE" & USED WITH PERMISSION
Posted: May 28, 2008;
Updated after countdown commenced


The shuttle Discovery's international crew flew to the Kennedy Space Center today for the afternoon start of their countdown to blastoff Saturday on a mission to attach Japan's huge Kibo lab module to the international space station.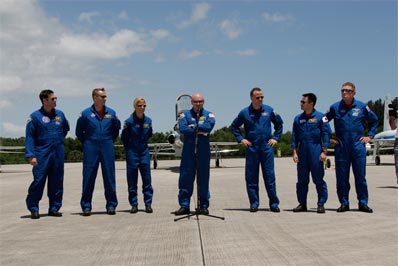 Credit: NASA-KSC



Commander Mark Kelly, pilot Kenneth Ham, Karen Nyberg, spacewalkers Ronald Garan and Michael Fossum, Japanese astronaut Akihiko Hoshide and space station flight engineer Gregory Chamitoff arrived at the shuttle runway after a flight from Houston shortly after noon.

"As you can tell, we're all very happy to be here," said Chamitoff, who will replace astronaut Garrett Reisman aboard the station. "I feel very lucky to be part of this crew and part of this mission. The attachment of the Japanese experiment module to the space station is going to be a real historical turning point for Japan. The Japanese people will, after that point, have a continuous presence to do research and operations off planet. So it's a real exciting time for Japan."

Discovery's countdown began at 3 p.m. today, setting the stage for launch from pad 39A at 5:02 p.m. Saturday. Shuttle weather officer Kathy Winters said good weather is expected, with an 80 percent chance of acceptable conditions Saturday and Sunday.

The goals of the two-week, three-spacewalk mission are to deliver and install the bus-size Kibo module; to install a replacement nitrogen tank to help pressurize the station's cooling system; to inspect and attempt to clean contamination from a solar array drive gear; to retrieve a shuttle heat shield inspection boom; and to rotate Chamitoff and Reisman.

"During this mission, Ronny Garan and I are going to be stepping out three times for the spacewalks, or EVAs, and that spacewalk team has had a lot of work getting us ready," Fossum said at the shuttle runway. "We've been in the (training pool) about 30 times, it's been a long year and I think everything is finally in place. Discovery's perched on the pad, Kibo is ready to go, the weather looks good and we're about as ready as we could possibly be. I think it's time to go fly!"

There are no technical problems of any significance at the launch pad, but problems with the Russian toilet aboard the space station have forced NASA to offload about 35 pounds of low-priority equipment to make room for spare parts being rushed to Florida in a diplomatic pouch.

"We have on the way to us right now on an aircraft coming from Russia, there is a gas-liquid separator pump and some ancillary hardware, weighs around 35 pounds," said shuttle payloads manager Scott Higginbotham. "It's scheduled to arrive tonight around 10 p.m. We have a crew that'll be on standby to get it received, inspected, packed and delivered to the pad for stowage in the middeck of Discovery early tomorrow morning.

"We are deleting a few items from our up manifest to make room for this higher priority Russian hardware. The items that are being deleted ... will be launched on a subsequent mission, they're not as critical for the on orbit activities. That includes an anti-microbial applicator for the thermal control loop in Columbus, there's a spare part for the oxygen generation system that removes hydrogen and we don't need that for another six months or so, and we also have some torque wrenches that we'll be leaving on the ground to make room for this Russian hardware."

The station's lone toilet is located in the Russian Zvezda command module. The part of the system that handles solid waste is working normally, but the urine processing equipment broke down late last week. Expedition 17 commander Sergei Volkov and flight engineer Oleg Kononenko attempted a variety of fixes, but the potty is only partially operational.

Station flight director Annette Hasbrook told CBS Radio today the astronauts are using the potty in "manual" mode. Instead of using suction to draw liquids into the system, "they're sort of doing a flushing technique with some extra flush water just to keep the fluids moving down through the system and into the receptacle."

Higginbotham said the decision on what equipment to bump from Discovery's manifest to make room for the Russian hardware "was based on priorities. We tried to look for the things we didn't have to have on orbit right away."

"Clearly, having a working toilet is a priority for us," he said. "So some of these things we didn't need for the next six months or so could wait until the next shuttle mission or the next resupply flight on a Progress."

In a worst-case scenario, the station astronauts can use so-called "Apollo bags" for waste disposal, but that it not a long-term solution because of stowage issues.

"As soon as we get a couple more spare parts that I'm sure some of you guys have heard about that are going to come into Orlando airport tonight, we're going to be all ready to go," Kelly told reporters at the shuttle runway. "My crew's ready. We've been training for a year, we're really looking forward to our launch on Saturday."


Additional coverage for subscribers:


VIDEO: ASTRONAUTS ARRIVE AT THE CAPE FOR LAUNCH PLAY


VIDEO: TODAY'S COUNTDOWN AND WEATHER BRIEFING PLAY


VIDEO: NARRATED MISSION PREVIEW MOVIE PLAY



VIDEO: NEWS BRIEFING FOLLOWING FLIGHT READINESS REVIEW PLAY



VIDEO: INTERVIEW WITH COMMANDER MARK KELLY PLAY


VIDEO: INTERVIEW WITH PILOT KEN HAM PLAY


VIDEO: INTERVIEW WITH MS1 KAREN NYBERG PLAY


VIDEO: INTERVIEW WITH MS2 RON GARAN PLAY


VIDEO: INTERVIEW WITH MS3 MIKE FOSSUM PLAY


VIDEO: INTERVIEW WITH MS4 AKIHIKO HOSHIDE PLAY



VIDEO: ASTRONAUTS PRACTICE EVACUATION OF SHUTTLE PLAY


VIDEO: CREW BOARDS DISCOVERY FOR PRACTICE COUNTDOWN PLAY


VIDEO: TRAINING SESSIONS AT LAUNCH PAD AND BUNKER PLAY


VIDEO: CREW NEWS CONFERENCE AT LAUNCH PAD 39A PLAY


VIDEO: ASTRONAUTS ARRIVE FOR PRACTICE COUNTDOWN PLAY



VIDEO: TIME-LAPSE OF GANTRY ENCLOSING DISCOVERY PLAY


VIDEO: PAD'S ORBITER ACCESS ARM SWUNG INTO POSITION PLAY


VIDEO: TIME-LAPSE OF CRAWLER RETREATING AFTER ROLLOUT PLAY


VIDEO: SHUTTLE DISCOVERY ROLLED TO PAD 39A PLAY



VIDEO: SHUTTLE AND STATION PROGRAM BRIEFING PLAY


VIDEO: STS-124 MISSION OVERVIEW PART 1 | PART 2


VIDEO: PREVIEW BRIEFING ON MISSION'S SPACEWALKS PLAY


VIDEO: THE ASTRONAUTS' PRE-FLIGHT NEWS BRIEFING PLAY



VIDEO: KIBO LABORATORY TRAVELS TO THE LAUNCH PAD PLAY


VIDEO: TRANSPORT CANISTER WITH KIBO ROTATED UPRIGHT PLAY


VIDEO: CRANE PLACES KIBO MODULE INTO TRANSPORT CANISTER PLAY



VIDEO: DISCOVERY HOISTED FOR ATTACHMENT TO FUEL TANK PLAY


VIDEO: THE SHUTTLE MOVES TO THE VEHICLE ASSEMBLY BUILDING PLAY


MORE: STS-124 VIDEO COVERAGE


SUBSCRIBE NOW