Astronauts board Discovery for countdown rehearsal
BY WILLIAM HARWOOD
STORY WRITTEN FOR CBS NEWS "SPACE PLACE" & USED WITH PERMISSION
Posted: May 9, 2008


The crew of the shuttle Discovery strapped in today for a dress-rehearsal countdown that sets the stage for launch May 31 on a long-awaited flight to deliver Japan's huge Kibo laboratory module to the international space station.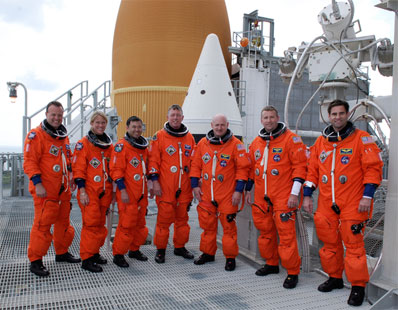 Credit: NASA-KSC



Commander Mark Kelly, pilot Kenneth Ham, flight engineer Ronald Garan, Karen Nyberg, Michael Fossum, Japanese astronaut Akihiko Hoshide and space station flight engineer Gregory Chamitoff began boarding the shuttle at pad 39A shortly after 8:15 a.m. The practice countdown ended at 11 a.m. with the simulated ignition and shutdown of the ship's main engines.

Shuttle program managers plan to hold a two-day flight readiness review May 13 and 14, followed by an executive-level review May 19. If all goes well, Kelly and company will fly back to the Kennedy Space Center on May 28 for the 7 p.m. start of their countdown to launch.

Liftoff currently is targeted for 5:02:09 p.m. on May 31, but that date depends in part on the delivery of replacement equipment needed by a NASA-supplied carbon dioxide removal system on the station. NASA wants to replace one of two CO2-scrubbing "beds" in the device that has been experiencing slightly higher pressures than usual.

The new component must be delivered to the Kennedy Space Center by May 28 to permit an on-time launch.

"We recently made a decision that we were going to go ahead and manifest another of the carbon dioxide removal assembly beds," space station Program Manager Mike Suffredini said last week. "We've changed out the two beds on what we refer to as the CDRA, we did that because of a design flaw that allowed some of the zeolites to leak around the screen on the bed and it was contaminating some of the valves.

"It turns out one of the beds we installed, the pressure has been rising on it over the last few months and it's not a condition that we expected to see. These are the beds, the same design beds, that are going to be in the second CDRA that we intend to fly to support a six-person crew, and so we need to understand the cause of this anomaly. While the CDRA actually does work, we're going to go ahead and R-and-R this bed and bring the old bed home so we can understand the root cause of this failure and if any other design mods are necessary."

On Thursday, NASA managers agreed to extend shuttle mission STS-124 by one day to give the crew time to replace spacesuit battery chargers in the station's Quest airlock module that are nearing the end of their operational lifetimes. The work will be done after Fossum and Garan complete three planned spacewalks.

Flight planners initially planned to insert the extra day as a new flight day 11, but they later decided to move the battery charger work up one day to flight day 10. Assuming an on-time launch on May 31, Discovery will return to Earth on June 14.


Additional coverage for subscribers:


VIDEO: ASTRONAUTS PRACTICE EVACUATION OF SHUTTLE PLAY


VIDEO: CREW BOARDS DISCOVERY FOR PRACTICE COUNTDOWN PLAY


VIDEO: TRAINING SESSIONS AT LAUNCH PAD AND BUNKER PLAY


VIDEO: CREW NEWS CONFERENCE AT LAUNCH PAD 39A PLAY


VIDEO: ASTRONAUTS ARRIVE FOR PRACTICE COUNTDOWN PLAY



VIDEO: TIME-LAPSE OF GANTRY ENCLOSING DISCOVERY PLAY


VIDEO: PAD'S ORBITER ACCESS ARM SWUNG INTO POSITION PLAY


VIDEO: TIME-LAPSE OF CRAWLER RETREATING AFTER ROLLOUT PLAY


VIDEO: SHUTTLE DISCOVERY ROLLED TO PAD 39A PLAY



VIDEO: SHUTTLE AND STATION PROGRAM BRIEFING PLAY


VIDEO: STS-124 MISSION OVERVIEW PART 1 | PART 2


VIDEO: PREVIEW BRIEFING ON MISSION'S SPACEWALKS PLAY


VIDEO: THE ASTRONAUTS' PRE-FLIGHT NEWS BRIEFING PLAY



VIDEO: KIBO LABORATORY TRAVELS TO THE LAUNCH PAD PLAY


VIDEO: TRANSPORT CANISTER WITH KIBO ROTATED UPRIGHT PLAY


VIDEO: CRANE PLACES KIBO MODULE INTO TRANSPORT CANISTER PLAY



VIDEO: DISCOVERY HOISTED FOR ATTACHMENT TO FUEL TANK PLAY


VIDEO: THE SHUTTLE MOVES TO THE VEHICLE ASSEMBLY BUILDING PLAY


MORE: STS-124 VIDEO COVERAGE


SUBSCRIBE NOW