Space shuttle Discovery rolls out to the launch pad
BY JUSTIN RAY
SPACEFLIGHT NOW
Posted: May 3, 2008


With four weeks until its planned launch to haul the Japanese science laboratory module up to the space station, shuttle Discovery traveled overnight from the Vehicle Assembly Building to pad 39A.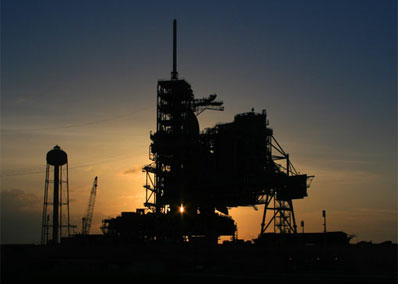 Credit: Chris Miller/Spaceflight Now
SEE MORE IMAGES HERE



Bolted to a giant external fuel tank and twin solid rocket boosters atop a mobile launching platform, Discovery embarked on the three-and-a-half-mile trip at 11:47 p.m. EDT.

An Apollo-era transporter carried the shuttle stack along the rock-covered crawlerway leading to the oceanfront launch complex at barely a walking pace. Powerful hydraulics jacked up the platform, keeping it level as the crawler ascended the pad's concrete incline in the predawn darkness.

A laser alignment system helped technicians precisely position the platform, then the crawler lowered it onto the pad's pedestals to complete Discovery's rollout at 6:06 a.m. EDT Saturday morning.



Stephanie Stilson, Discovery's flow director, at the launch pad Saturday morning.
Credit: Chris Miller/Spaceflight Now


"Weather was perfect, so no issues there, no technical issues, a very smooth transport from the VAB out to the launch pad," said Stephanie Stilson, Discovery's flow director.

Shortly after the sun rose, technicians moved the pad's swing arms into place as the transporter retreated away. The giant gantry-like rotating service structure then maneuvered to enclose Discovery in preparation for the opening of the shuttle's payload bay doors.

The mission's payload -- the Kibo laboratory -- has been waiting inside the gantry's cleanroom for the past few days. It is scheduled for installation into the Discovery's cargo bay on Monday.

"We are excited to have Kibo on this flight, proud to have it on Discovery," Stilson said.

Liftoff of Discovery on its 35th spaceflight is targeted for Saturday, May 31 at 5:02 p.m. EDT.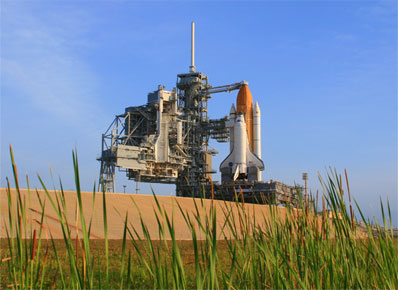 Credit: Chris Miller/Spaceflight Now
SEE MORE IMAGES HERE



Quick work readying the external tank in the VAB allowed NASA managers to accelerate plans for getting Discovery out to the launch pad. The remaining schedule through the planned launch date has substantial slack in case any problems crop up.

"We've actually got seven days of contingency in this flow, which is great," Stilson said.

"Our real goal is try to give everybody the Memorial Day holiday weekend off...That would be wonderful, give everybody a nice break, and then jump right into launch countdown for our Saturday launch."

Countdown clocks are scheduled to begin ticking at 7 p.m. EDT on Wednesday, May 28. The loading of Discovery's electricity-producing fuel cells would occur on Thursday, May 29, followed by retraction of the rotating service structure at 8:30 p.m. EDT on Friday, May 30, and filling the external fuel tank with a half-million gallons of cryogenic propellants shortly after 7:30 a.m. EDT on launch day, Saturday, May 31.

Commander Mark Kelly leads Discovery's seven-person crew that includes pilot Ken Ham, mission specialists Karen Nyberg, Ron Garan, Mike Fossum, Akihiko Hoshide and station-bound astronaut Greg Chamitoff.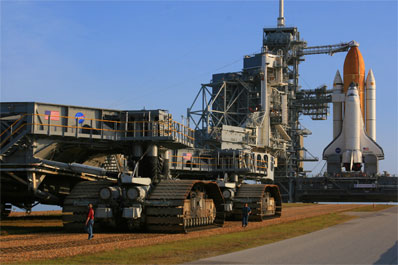 Credit: Chris Miller/Spaceflight Now
SEE MORE IMAGES HERE



Delivering the Kibo module is the main objective of the two-week shuttle flight to the space station.

"It's a huge module. It's beautiful, very well engineered and built. It's the largest single module that we're launching up to the space station and so our whole mission is about getting that laboratory installed on the station," Fossum said.

"It's pretty heavy, 32,000 pounds, longer than the U.S. lab, more systems' racks, more experiment racks. It's its own little spacecraft in the sense that it has an environmental system, electrical system, its own computer system, its own robotic arm," Kelly said.

"I'm hopeful that over years that laboratory produces significant discoveries in chemistry, physics, material science, life sciences. It certainly has that potential and I hope one day to be able to look at some new invention or new discovery that came from the laboratory that my crew installed on space station. That would be a great thing so I'm looking forward to that."


Additional coverage for subscribers:


VIDEO: TIME-LAPSE OF GANTRY ENCLOSING DISCOVERY PLAY


VIDEO: PAD'S ORBITER ACCESS ARM SWUNG INTO POSITION PLAY


VIDEO: TIME-LAPSE OF CRAWLER RETREATING AFTER ROLLOUT PLAY


VIDEO: SHUTTLE DISCOVERY ROLLED TO PAD 39A PLAY



VIDEO: SHUTTLE AND STATION PROGRAM BRIEFING PLAY


VIDEO: STS-124 MISSION OVERVIEW PART 1 | PART 2


VIDEO: PREVIEW BRIEFING ON MISSION'S SPACEWALKS PLAY


VIDEO: THE ASTRONAUTS' PRE-FLIGHT NEWS BRIEFING PLAY



VIDEO: KIBO LABORATORY TRAVELS TO THE LAUNCH PAD PLAY


VIDEO: TRANSPORT CANISTER WITH KIBO ROTATED UPRIGHT PLAY


VIDEO: CRANE PLACES KIBO MODULE INTO TRANSPORT CANISTER PLAY



VIDEO: DISCOVERY HOISTED FOR ATTACHMENT TO FUEL TANK PLAY


VIDEO: THE SHUTTLE MOVES TO THE VEHICLE ASSEMBLY BUILDING PLAY


SUBSCRIBE NOW