Shuttle moves to assembly building for May 31 launch
BY JUSTIN RAY
SPACEFLIGHT NOW
Posted: April 26, 2008


Shuttle Discovery was transferred from its hangar to the Vehicle Assembly Building this morning where the spacecraft will be hooked up to its external fuel tank and twin solid rocket boosters in preparation for rollout to the launch pad.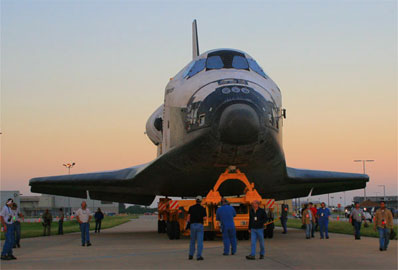 File image. Credit: Chris Miller/Spaceflight Now



Mounted atop a 76-wheel transporter, the shuttle was backed out of the space-age garage at 7:17 a.m. EDT (1117 GMT) for the quarter-mile drive into the cavernous VAB. The trip took about 45 minutes.

Over the next 24 hours, Discovery will be hoisted upright to point its nose skyward, gently maneuvered high into the rafters of the 52-story building and then lowered into the assembly bay for attachment to the shuttle's awaiting tank and boosters already put together atop the mobile launching platform.

Once Discovery is bolted to the tank, the combined shuttle system will undergo several days of testing before rollout to pad 39A next Saturday, May 3.

The three-and-a-half mile trek to the seaside pad is targeted to begin at 12:01 a.m. EDT (0401 GMT) and take about six hours to complete.

The seven astronauts for the STS-124 mission are scheduled to arrive at Kennedy Space Center at 5 p.m. EDT on Tuesday, May 6 for a countdown dress rehearsal and emergency training.

Led by commander Mark Kelly, the crew includes pilot Ken Ham, mission specialists Karen Nyberg, Ron Garan, Mike Fossum, Akihiko Hoshide and station-bound astronaut Greg Chamitoff.

The astronauts will hold an informal news conference at the pad around 8:30 a.m. EDT on Thursday, May 8. The next morning they will don their bright orange spacesuits and board Discovery for the final three hours of a launch day simulation.

NASA officials will select an official launch date at the conclusion of flight readiness review meetings on Monday, May 19. For now, liftoff remains targeted for Saturday, May 31 around 5:02 p.m. EDT (2102 GMT).

The two-week spaceflight will deliver Japan's massive Kibo science laboratory to the international space station. At 37 feet long and 14 feet wide, the module will be the station's largest research lab.


Additional coverage for subscribers:


VIDEO: DISCOVERY HOISTED FOR ATTACHMENT TO FUEL TANK PLAY


VIDEO: THE SHUTTLE MOVES TO THE VEHICLE ASSEMBLY BUILDING PLAY


SUBSCRIBE NOW