Shuttle Endeavour returns from space
BY WILLIAM HARWOOD
STORY WRITTEN FOR CBS NEWS "SPACE PLACE" & USED WITH PERMISSION
Posted: March 26, 2008;
Updated after post-landing news conference


Running one orbit late because of troublesome low clouds, the shuttle Endeavour plunged back to Earth Wednesday, dropping out of the night for a picture-perfect landing at the Kennedy Space Center to close out a marathon 16-day space station assembly mission. Joining the shuttle astronauts for the trip back to Earth was European Space Agency astronaut Leopold Eyharts, launched to the station in February and returning after 48 days in space.

"I can't imagine the mission could have gone any better," said NASA Administrator Mike Griffin. "They made it look easy."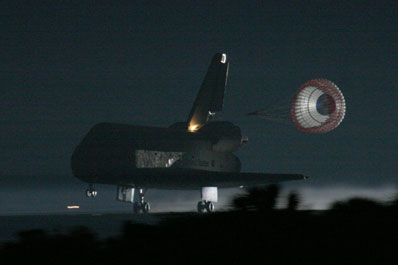 Credit: Ben Cooper/Spaceflight Now



Reflecting on the addition of the first of two Japanese modules and the assembly of a Canadian maintenance robot during Endeavour's five-spacewalk mission, Griffin said "if you look around, there really isn't, any more, a U.S. human spaceflight program or a Russian human spaceflight program. There is a world human spaceflight program, centered around the building and then later utilization of the international space station. And we hope when we get that under our belt, this partnership will return to the moon and later go on to Mars."

Flying upside down and backward over the Indian Ocean, commander Dominic Gorie and pilot Gregory Johnson fired Endeavour's twin braking rockets for two minutes and 48 seconds starting at 7:33:14 p.m., slowing the ship by about 206 mph and dropping the far side of the shuttle's orbit deep into the atmosphere.

After a half-hour free fall, Endeavour plunged back into the discernible atmosphere at 8:07 p.m. at an altitude of 76 miles above the south Pacific Ocean. Minutes later, the shuttle's heat shield was subjected to 3,000-degree temperatures as the spaceplane decelerated from its orbital velocity of 5 miles per second.

Crossing high above Central America's Yucatan Peninsula, Endeavour's flight computers guided the shuttle across the Gulf of Mexico and then over the west coast of Florida just south of Tampa, dropping through 84,000 feet at 1,700 mph seven minutes before touchdown.

Three minutes later, at an altitude of about 50,700 feet, Endeavour's speed dropped below Mach 1 and a double sonic boom rumbled across the space center. Gorie took over manual control a few seconds later and after letting Gregory get a few moments of "stick time, guided the shuttle through a sweeping 255-degree left overhead turn to line up on runway 15.

As Gorie pulled the shuttle's nose up just before touchdown, Johnson lowered Endeavour's landing gear and the orbiter settled to a tire-smoking touchdown at 8:39:08 p.m. as jets of flame from the exhaust ports of the ship's three hydraulic power units flared in the night.

"Houston, Endeavour. Wheels stopped," Gorie radioed as the shuttle rolled to a stop.

"Welcome home, Endeavour," astronaut James Dutton called from mission control. "Congrats to the entire crew, to JAXA and CSA (the Japanese and Canadian space agencies), on a very successful mission."

"Thanks, Jim," Gorie replied. "It was a super rewarding mission, exciting from the start to the ending and we just thank you for all your help. Looking forward to seeing you guys soon."

It was the 16th night landing at KSC and the 22nd in shuttle history. Mission duration was 15 days 18 hours 10 minutes and 54 seconds, covering 6.6 million miles and 249 complete orbits since blastoff March 11 from nearby launch complex 39A.

Observers were startled by the hydraulic power units' exhaust jetting from vents on either side of Endeavour's vertical tail fin. The exhaust is produced by the orbiter's three auxiliary power units, which provide the muscle needed to move the ship's wing flaps, speed brake, landing gear brakes and nose wheel steering. The exhaust appeared normal in infrared views, but was more pronounced than usual in NASA's visible-light camera. NASA spokesman Kyle Herring in mission control said the APUs were operating normally.

Gorie, Johnson and their shuttle crewmates - flight engineer Michael Foreman, Richard Linnehan, Robert Behnken and Japanese astronaut Takao Doi - doffed their pressure suits and joined technicians and NASA managers on the runway about an hour after landing for a traditional walk-around inspection.

Eyharts made the flight back to Earth resting on his back in a special recumbent seat on Endeavour's lower deck. As with all returning long-duration space station astronauts, a team of flight surgeons was standing by to monitor Eyharts as he began the long process of readjusting to Earth's gravity. The French air force general was replaced aboard the station by NASA astronaut Garrett Reisman, who hitched a ride the lab complex aboard Endeavour.

Eyharts and his shuttle crewmates are expected to fly back to the Johnson Space Center in Houston on Thursday.

Endeavour's 16-day mission was the longest yet for a space station assembly flight and the five spacewalks carried out by Linnehan, Behnken, Foreman and Reisman set another one-flight station assembly record of 33 hours and 28 minutes.

Endeavour took off March 11 and docked with the space station two days later. The day after that, Doi, operating the shuttle's robot arm, moved a Japanese storage module into position for attachment to the station while Linnehan and Reisman staged the mission's initial spacewalk.

During the next spacewalk, Linnehan and Behnken then began assembly of the Canadian Space Agency's special purpose dexterous manipulator, a maintenance robot known as Dextre. Attached to the end of the station's robot arm, Dextre can be used to replace components on the station that might otherwise require a spacewalk.

Along with mounting the Japanese module and building Dextre, the astronauts also transferred critical spare parts to the station and mounted Endeavour's heat shield inspection boom on the lab for use by the next shuttle crew. That shuttle, Discovery, is carrying Japan's huge Kibo lab module and does not have enough room for the inspection boom as well.

Liftoff had been scheduled for May 25 - minutes before NASA's Phoenix lander is scheduled to touch down on Mars - but Griffin confirmed Wednesday that launch will slip a few days because of late delivery of the shuttle's external fuel tank.

"You can go watch the Phoenix landing (at the Jet Propulsion Laboratory in Pasadena, Calif.)," Griffin told a reporter. "We're working on the exact date for STS-124." He said launch would take place within a few days of May 25, "but we know you'll be deconflicted enough that you can manage with a round-trip ticket. Because I'll tell you this, the landing day on Mars is fixed! It ain't moving."

NASA is still assessing its schedule for subsequent shuttle flights. Eleven more flights are planned before the shuttle fleet is retired in 2010, with four flights on tap this year, four in 2009 and three in 2010.

Along with Discovery's upcoming station flight, the shuttle Atlantis is scheduled for launch Aug. 28 on a final mission to service the Hubble Space Telescope. Endeavour returns to orbit in October for a space station resupply mission and Discovery closes out the year in December with a flight to deliver a final set of solar arrays to the international lab.

But external tank production problems at Lockheed Martin's Michoud Assembly Facility in New Orleans threaten delays for downstream flights. The tank needed by Discovery for the next mission reached the Kennedy Space Center behind schedule Wednesday and while that flight remains roughly on track, the Hubble mission could slip into October when all is said and done, triggering domino-like slips for subsequent flights.

NASA managers have not yet made any official changes. But Bill Gerstenmaier, chief of space operations for NASA, said Wednesday production of new tanks based on post-Columbia design modifications involves numerous changes and based on actual experience, it appears delays are likely.

"The tanks we're getting now, you can think of them as clean-build tanks, whereas before, the tanks we had were built before the Katrina hurricane and we were repairing and making modifications to those tanks," Gerstenmaier said. "So we're gaining some experience and seeing how long it takes to put those tanks together, how to fabricate them.

"And then HST is a little unique because we need to have two tanks down here ready to go support that mission, the tank for the flight itself and the tank for the contingency (rescue) flight. So we're off evaluating now what that production schedule looks like. We really don't have a good handle on that schedule yet. Once we understand a little bit better where that fits, we'll then announce where those flights are going, if they're going to move.

"But right now, it's a little early to look at that," Gerstenmaier said. "But we understand the work is a little bit different than we had before and we're going to have to have a different production schedule. So things will slip, probably, a little bit for those tanks."


Additional coverage for subscribers:


VIDEO: CREW'S POST-FLIGHT NEWS CONFERENCE PLAY


VIDEO: ENDEAVOUR'S LANDING AS SEEN LIVE PLAY


VIDEO: LANDING REPLAY: CAMERA LOOKING OUT PILOT'S WINDOW PLAY


VIDEO: LANDING REPLAY: OUR FOOTAGE FROM THE RUNWAY PLAY


VIDEO: LANDING REPLAY: INFRARED TRACKING CAMERA PLAY


VIDEO: LANDING REPLAY: VAB ROOF CAMERA PLAY


VIDEO: LANDING REPLAY: RUNWAY MID-FIELD PLAY


VIDEO: LANDING REPLAY: RUNWAY WEST PLAY


VIDEO: LANDING REPLAY: RUNWAY EAST PLAY


VIDEO: CREW EMERGES FOR POST-LANDING GREETINGS PLAY


VIDEO: NASA AND JAXA POST-LANDING NEWS CONFERENCE PLAY


VIDEO: BEHIND THE SCENES W/ENTRY TEAM IN MISSION CONTROL PLAY



VIDEO: CREW GIVEN THE "GO" FOR DEORBIT BURN PLAY


VIDEO: FIRST LANDING OPPORTUNITY CANCELLED PLAY


VIDEO: WEATHER RECONNAISSANCE PLANE TAKES OFF PLAY



VIDEO: THE FLIGHT DAY 16 HIGHLIGHTS MOVIE PLAY


VIDEO: TUESDAY NIGHT'S MISSION STATUS BRIEFING PLAY


VIDEO: MEDIA INTERVIEWS WITH CREW TUESDAY EVENING PLAY


VIDEO: ASTRONAUT LEOPOLD EYHARTS' FRENCH MEDIA EVENT PLAY


VIDEO: CREW TOLD OF WINDOW AND WING IMPACT ANALYSIS PLAY


VIDEO: ASTRONAUTS PLAY WITH JELLYBEANS ON FLIGHT DECK PLAY


VIDEO: PRE-ENTRY TEST OF AEROSURFACES AND THRUSTERS PLAY



VIDEO: THE FLIGHT DAY 15 HIGHLIGHTS MOVIE PLAY


VIDEO: STATION'S VIEW OF SHUTTLE WATER DUMP PLAY


VIDEO: UNDOCKING REPLAY FROM STATION CAMERA PLAY


VIDEO: UNDOCKING REPLAY FROM SHUTTLE CAMERAS PLAY


VIDEO: MONDAY NIGHT'S MISSION STATUS BRIEFING PLAY


VIDEO: SHUTTLE ENDEAVOUR UNDOCKS FROM THE STATION PLAY


VIDEO: SOLAR ARRAY LATCHING PROBLEM DELAYS UNDOCKING PLAY


VIDEO: HATCH CLOSED BETWEEN DOCKING PORT AND HARMONY PLAY


VIDEO: SHUTTLE AND STATION CREWS SAY THEIR FAREWELLS PLAY


VIDEO: MONDAY'S MISSION MANAGEMENT TEAM UPDATE PLAY


VIDEO: NARRATED ANIMATION OF UNDOCKING AND FLYAROUND PLAY



VIDEO: THE FLIGHT DAY 14 HIGHLIGHTS MOVIE PLAY


VIDEO: ARIZONA AND COLORADO SEEN FROM SPACE AT NIGHT PLAY


VIDEO: NEW YORK CITY AND BOSTON SEEN FROM SPACE AT NIGHT PLAY


VIDEO: BEAUTIFUL MOONSET SEEN FROM THE STATION PLAY


VIDEO: SUNDAY NIGHT'S MISSION STATUS BRIEFING PLAY


VIDEO: JOINT SHUTTLE AND STATION CREW NEWS CONFERENCE PLAY



VIDEO: THE FLIGHT DAY 13 HIGHLIGHTS MOVIE PLAY


VIDEO: SUNDAY MORNING'S MISSION STATUS BRIEFING PLAY


VIDEO: CONCLUSION OF MISSION'S FINAL SPACEWALK PLAY


VIDEO: HELMET-CAM SURVEY OF DEPLOYED EXPERIMENTS PLAY


VIDEO: SECOND EXPERIMENT PACKAGE RETRIEVED FROM SHUTTLE PLAY


VIDEO: MATERIALS EXPOSURE EXPERIMENT INSTALLED ON ISS PLAY


VIDEO: FURTHER EXAMINATION OF STATION'S ROTARY JOINT PLAY


VIDEO: PROTECTIVE COVER PLACED OVER BOOM SENSOR PACKAGE PLAY


VIDEO: HEAT SHIELD INSPECTION BOOM MOUNTED ON THE STATION PLAY


VIDEO: BOOM MOVED FOR SPACEWALKERS TO MANUALLY STOW PLAY


VIDEO: GOOD CONNECTION CONFIRMED FOR BOOM UMBILICAL PLAY


VIDEO: CRITICAL UMBILICAL FOR BOOM INSTALLED ON STATION PLAY


VIDEO: INSPECTION BOOM HANDED OFF BETWEEN ROBOT ARM PLAY


VIDEO: ASTRONAUTS EXIT AIRLOCK TO BEGIN EVA NO. 5 PLAY


VIDEO: NARRATED ANIMATION OF BOOM ATTACHMENT TO ISS PLAY


VIDEO: NARRATED PREVIEW OF SPACEWALK NO. 5 PLAY



VIDEO: THE FLIGHT DAY 12 HIGHLIGHTS MOVIE PLAY


VIDEO: FRIDAY NIGHT'S MISSION STATUS BRIEFING PLAY


VIDEO: SCIENCE GLOVEBOX FACILITY MOVED INTO COLUMBUS LAB PLAY


VIDEO: INSPECTION BOOM SURVEYS SHUTTLE WINGS AND NOSE PLAY


VIDEO: NARRATED ANIMATION OF LATE INSPECTION PROCESS PLAY



VIDEO: THE FLIGHT DAY 11 HIGHLIGHTS MOVIE PLAY


VIDEO: FRIDAY MORNING'S MISSION STATUS BRIEFING PLAY


VIDEO: BEHNKEN GIVES ANOTHER SHOT AT STUCK CONNECTOR PLAY


VIDEO: TILE SAMPLES AND DISPENSER STOWED IN PAYLOAD BAY PLAY


VIDEO: CLOSEUP VIEW OF THE 'REPAIRED' SHUTTLE TILES PLAY


VIDEO: SPACE SHUTTLE TILE REPAIR DEMONSTRATION - PART 2 PLAY


VIDEO: SPACE SHUTTLE TILE REPAIR DEMONSTRATION - PART 1 PLAY


VIDEO: TILE REPAIR DRY RUN PRACTICE WITH THE DISPENSER PLAY


VIDEO: SPACEWALKERS SET UP WORKSITE FOR TILE REPAIR TEST PLAY


VIDEO: FOREMAN FIGHTS WITH STUCK POWER CONNECTOR PLAY


VIDEO: ASTRONAUTS EGRESS AIRLOCK FOR EVA NO. 4 PLAY


VIDEO: TILE REPAIR DEMONSTRATION PREVIEW PLAY


VIDEO: NARRATED PREVIEW OF SPACEWALK NO. 4 PLAY


VIDEO: NARRATED ANIMATION OF FUTURE DEXTRE WORK PLAY


VIDEO: NARRATED ANIMATION OF JAPAN'S SECTION OF ISS PLAY



VIDEO: LAUNCH VIDEO FROM COCKPIT CAMERA W/INTERCOM PLAY



VIDEO: THE FLIGHT DAY 10 HIGHLIGHTS MOVIE PLAY


VIDEO: WEDNESDAY'S MISSION STATUS BRIEFING PLAY


VIDEO: CREW MEDIA INTERVIEWS WEDNESDAY NIGHT PLAY


VIDEO: JAPANESE VIP CALL TO STATION PLAY



VIDEO: THE FLIGHT DAY 9 HIGHLIGHTS MOVIE PLAY


VIDEO: TUESDAY NIGHT'S MISSION STATUS BRIEFING PLAY


VIDEO: LAUNCH CARRIER PALLET RETURNED TO SHUTTLE PLAY


VIDEO: DEXTRE ROBOT ATTACHED TO DESTINY LAB MODULE PLAY


VIDEO: NARRATED ANIMATION OF DEXTRE'S RELOCATION PLAY



VIDEO: THE FLIGHT DAY 8 HIGHLIGHTS MOVIE PLAY


VIDEO: TUESDAY MORNING'S MISSION STATUS BRIEFING PLAY


VIDEO: DEXTRE ROBOT FREED FROM LAUNCH PALLET PLAY


VIDEO: SECOND SPARE DCSU BOX PLACED ON THE STATION PLAY


VIDEO: SPACEWALKER UNABLE TO INSTALL MISSE EXPERIMENT PLAY


VIDEO: FIRST SPARE DCSU BOX PLACED ON THE STATION PLAY


VIDEO: SPARE YAW JOINT FOR STATION ARM TRANSFERRED PLAY


VIDEO: MOUNTING PLATE ATTACHED TO COLUMBUS PLAY


VIDEO: DEXTRE ROBOT FITTED WITH TOOL HOLDER PLAY


VIDEO: TOOL PLATFORM ATTACHED TO DEXTRE PLAY


VIDEO: NARRATED PREVIEW OF SPACEWALK NO. 3 PLAY



VIDEO: LEFT-HAND BOOSTER CAMERA LOOKING UPWARD PLAY


VIDEO: LEFT-HAND BOOSTER CAMERA LOOKING INBOARD PLAY


VIDEO: LEFT-HAND BOOSTER CAMERA LOOKING DOWNWARD PLAY


VIDEO: RIGHT-HAND BOOSTER CAMERA LOOKING UPWARD PLAY



VIDEO: THE FLIGHT DAY 7 HIGHLIGHTS MOVIE PLAY


VIDEO: DEXTRE MOVES ARMS FOR BRAKE TESTS PLAY


VIDEO: CREW MEDIA INTERVIEWS SUNDAY NIGHT PLAY


VIDEO: SUNDAY NIGHT'S MISSION STATUS BRIEFING PLAY



VIDEO: THE FLIGHT DAY 6 HIGHLIGHTS MOVIE PLAY


VIDEO: SUNDAY'S MISSION STATUS BRIEFING PLAY


VIDEO: SECOND ARM ATTACHED TO DEXTRE ROBOT PLAY


VIDEO: FIRST ARM ATTACHED TO THE DEXTRE ROBOT PLAY


VIDEO: SPACEWALKERS HELP DEXTRE DO A SIT-UP PLAY


VIDEO: SECOND DEXTRE ARM PULLED FROM LAUNCH CARRIER PLAY


VIDEO: FIRST ARM REMOVED FROM PALLET WITH FORCE PLAY


VIDEO: NARRATED PREVIEW OF SPACEWALK NO. 2 PLAY



VIDEO: THE FLIGHT DAY 5 HIGHLIGHTS MOVIE PLAY


VIDEO: SATURDAY MORNING MEDIA INTERVIEWS PLAY


VIDEO: STATION ARM GRAPPLES DEXTRE TO PROVIDE POWER PLAY


VIDEO: CEREMONY AT JAPANESE MODULE HATCH OPENING PLAY


VIDEO: SATURDAY'S MISSION STATUS BRIEFING PLAY


VIDEO: FRIDAY'S MISSION MANAGEMENT TEAM UPDATE PLAY



VIDEO: THURSDAY'S MISSION STATUS BRIEFING PLAY


VIDEO: THE FLIGHT DAY 4 HIGHLIGHTS MOVIE PLAY


VIDEO: NEW MODULE CONNECTED TO THE STATION PLAY


VIDEO: JAPANESE MODULE UNBERTHED FROM SHUTTLE PLAY


VIDEO: SPACEWALKER START ASSEMBLING DEXTRE ROBOT PLAY


VIDEO: JAPANESE MODULE PREPPED FOR UNBERTHING PLAY


VIDEO: HARMONY DOCKING PORT PREPPED PLAY


VIDEO: SPACEWALK NO. 1 BEGINS PLAY


VIDEO: NARRATED ANIMATION PREVIEWING JAPANESE JLP MODULE PLAY


VIDEO: NARRATED ANIMATION PREVIEWING MODULE MOVE PLAY


VIDEO: NARRATED PREVIEW OF SPACEWALK NO. 1 PLAY


VIDEO: THURSDAY'S MISSION MANAGEMENT TEAM UPDATE PLAY



VIDEO: THE FLIGHT DAY 3 HIGHLIGHTS MOVIE PLAY


VIDEO: DEXTRE PALLET MOVED FROM SHUTTLE TO STATION PLAY


VIDEO: NARRATED ANIMATION PREVIEWING DEXTRE ROBOT PLAY


VIDEO: NARRATED ANIMATION PREVIEWING PALLET MOVE PLAY


VIDEO: THURSDAY'S MISSION STATUS BRIEFING PLAY


VIDEO: SHUTTLE CREW WELCOMED ABOARD STATION PLAY


VIDEO: DOCKING REPLAY FROM OTHER TRUSS CAMERA PLAY


VIDEO: SHUTTLE ENDEAVOUR DOCKS TO SPACE STATION PLAY


VIDEO: ENDEAVOUR PERFORMS THE 360-DEGREE BACKFLIP PLAY


VIDEO: VIEWS OF THE SHUTTLE APPROACHING FROM BELOW PLAY


VIDEO: NARRATED ANIMATION OF PREVIEWING THE DOCKING PLAY


VIDEO: UPDATE FROM MISSION MANAGEMENT TEAM PLAY



VIDEO: THE FLIGHT DAY 2 HIGHLIGHTS MOVIE PLAY


VIDEO: WEDNESDAY'S MISSION STATUS BRIEFING PLAY


VIDEO: ANIMATION OF THE HEAT SHIELD INSPECTIONS PLAY


VIDEO: NARRATED TOUR OF ENDEAVOUR'S PAYLOAD BAY PLAY



VIDEO: THE FLIGHT DAY 1 HIGHLIGHTS MOVIE PLAY


VIDEO: INSIDE MISSION CONTROL DURING LAUNCH PLAY


VIDEO: THE FULL LAUNCH EXPERIENCE PLAY


VIDEO: SHUTTLE ENDEAVOUR BLASTS OFF! PLAY


VIDEO: THE POST-LAUNCH NEWS CONFERENCE PLAY


VIDEO: HIGHLIGHTS FROM ENDEAVOUR'S LAUNCH CAMPAIGN PLAY


VIDEO: HIGHLIGHTS OF THE PAYLOADS' LAUNCH CAMPAIGN PLAY



VIDEO: LAUNCH REPLAY: VAB ROOF PLAY


VIDEO: LAUNCH REPLAY: PAD FRONT PLAY


VIDEO: LAUNCH REPLAY: PRESS SITE PLAY


VIDEO: LAUNCH REPLAY: WEST TOWER PLAY


VIDEO: LAUNCH REPLAY: PAD PERIMETER PLAY


VIDEO: LAUNCH REPLAY: UCS-23 WIDESCREEN PLAY


VIDEO: LAUNCH REPLAY: CAMERA 009 PLAY


VIDEO: LAUNCH REPLAY: CAMERA 049 PLAY


VIDEO: LAUNCH REPLAY: CAMERA 050 PLAY


VIDEO: LAUNCH REPLAY: CAMERA 051 PLAY


VIDEO: LAUNCH REPLAY: CAMERA 054 PLAY


VIDEO: LAUNCH REPLAY: CAMERA 061 PLAY


VIDEO: LAUNCH REPLAY: CAMERA 063 PLAY


VIDEO: LAUNCH REPLAY: CAMERA 070 PLAY


VIDEO: LAUNCH REPLAY: CAMERA 071 PLAY


VIDEO: LAUNCH REPLAY: CAMERA CS-1 PLAY


VIDEO: LAUNCH REPLAY: CAMERA CS-2 PLAY


VIDEO: LAUNCH REPLAY: CAMERA CS-6 PLAY



VIDEO: FINAL PRE-LAUNCH POLLS GIVE "GO" FOR LIFTOFF PLAY


VIDEO: ENDEAVOUR'S CREW MODULE CLOSED FOR FLIGHT PLAY


VIDEO: ASTRONAUT DOI CLIMBS INTO HIS SEAT PLAY


VIDEO: PILOT JOHNSON CLIMBS INTO HIS SEAT PLAY


VIDEO: ASTRONAUT REISMAN CLIMBS INTO HIS SEAT PLAY


VIDEO: COMMANDER GORIE CLIMBS INTO HIS SEAT PLAY


VIDEO: ASTRONAUTS ARRIVE AT LAUNCH PAD 39A PLAY


VIDEO: CREW DEPARTS QUARTERS FOR LAUNCH PAD PLAY


VIDEO: ASTRONAUTS DON SPACESUITS FOR LAUNCH PLAY


VIDEO: TIME-LAPSE MOVIE OF SUNSET OVER PAD 39A PLAY


VIDEO: MORNING PREPARATIONS AT LAUNCH PAD 39A PLAY


VIDEO: PAD GANTRY RETRACTED FOR LAUNCH PLAY



VIDEO: OVERVIEW BRIEFING ON CANADA'S DEXTRE ROBOT PLAY


VIDEO: OVERVIEW BRIEFING ON JAPAN'S KIBO FACILITIES PLAY


VIDEO: SUNDAY'S COUNTDOWN STATUS BRIEFING PLAY


VIDEO: SATURDAY'S COUNTDOWN STATUS BRIEFING PLAY


VIDEO: CREW ARRIVES AT KENNEDY SPACE CENTER FOR LAUNCH PLAY


VIDEO: FRIDAY'S COUNTDOWN STATUS AND WEATHER BRIEFING PLAY



VIDEO: STS-123 ASTRONAUT BIOGRAPHY MOVIE PLAY


VIDEO: NARRATED SHORT FILM PREVIEW ENDEAVOUR'S FLIGHT PLAY



VIDEO: STS-123 MISSION OVERVIEW BRIEFING PLAY


VIDEO: BRIEFING ON THE SPACEWALKS PLAY


VIDEO: CREW'S PRE-FLIGHT BRIEFING PLAY


VIDEO: SHUTTLE AND ISS PROGRAM UPDATE PLAY



VIDEO: CREW INTERVIEW: COMMANDER DOM GORIE PLAY


VIDEO: CREW INTERVIEW: PILOT GREG JOHNSON PLAY


VIDEO: CREW INTERVIEW: MS1 BOB BEHNKEN PLAY


VIDEO: CREW INTERVIEW: MS2 MIKE FOREMAN PLAY


VIDEO: CREW INTERVIEW: MS3 TAKAO DOI PLAY


VIDEO: CREW INTERVIEW: MS4 RICK LINNEHAN PLAY



VIDEO: FLIGHT READINESS REVIEW NEWS BRIEFING PLAY


VIDEO: TCDT TRAINING HIGHLIGHTS PLAY


VIDEO: PRESS CHAT WITH CREW AT LAUNCH PAD PLAY


VIDEO: CREW ARRIVES AT KSC FOR PRACTICE COUNT PLAY


VIDEO: ENDEAVOUR ARRIVES AT PAD 39A PLAY | XL SIZE


VIDEO: SHUTTLE ROLLS TO THE VAB PLAY | XL SIZE


MORE: STS-123 VIDEO COVERAGE


SUBSCRIBE NOW