Hubble servicing mission's launch date threatened
BY WILLIAM HARWOOD
STORY WRITTEN FOR CBS NEWS "SPACE PLACE" & USED WITH PERMISSION
Posted: March 21, 2008


With the shuttle Endeavour's mission entering the home stretch, shuttle Discovery remains on track for blastoff May 25 to ferry a huge Japanese laboratory module to the international space station. But subsequent near-term flights, including a high-profile mission to service the Hubble Space Telescope, could be delayed, sources say, because of ongoing external tank production issues.

The tank used by Endeavour for its current mission was the last in the inventory of tanks built before the 2003 Columbia disaster and subsequently modified to reduce potentially dangerous losses of foam insulation. The tank slated for use with Discovery in late May, ET-128, is the first so-called "in-line" external tank built from the ground up with post-Columbia upgrades, including a new ice-frost ramp design and titanium oxygen line support brackets. Both improvements address areas of possible foam shedding.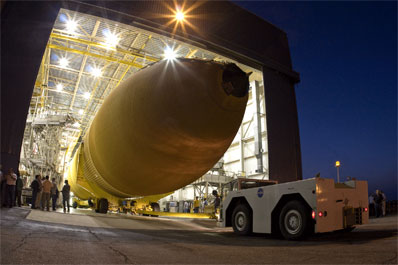 ET-128 for Discovery's upcoming mission leaves the Test and Check-out Building near New Orleans this week for the journey to Kennedy Space Center. Credit: Lockheed Martin



ET-128 departed Lockheed Martin's Michoud Assembly Facility in New Orleans Thursday for the 900-mile barge trip to the Kennedy Space Center in Florida.

But a backlog of work at Michoud is hampering downstream tank deliveries. The tank that would be needed for a rescue mission should some mishap strand Discovery's crew in orbit is not expected to reach the Kennedy Space Center until late summer. NASA managers say the space station has enough supplies on board to support a combined crew for more than three months if necessary and as of this writing, Discovery's launch remains on track.

But the picture is cloudier for NASA's next shuttle flight, a mission by the shuttle Atlantis to service the Hubble Space Telescope. Launch currently is targeted for Aug. 28. ET-127, the tank designated as the emergency backup for Discovery's May mission, is the prime tank for the Hubble flight.

Safe haven aboard the space station is not an option for Atlantis' crew if major heat shield damage occurs. The observatory and the station are in different orbits and the shuttle does not have the ability to move from one to the other. As a result, NASA Administrator Mike Griffin early on approved plans to have a second shuttle, Endeavour, ready for launch on a rescue mission just in case.

That means NASA needs two ready-to-fly external tanks for the Hubble mission, ET-127 and ET-129 respectively. Manpower and production issues, triggered in part by unplanned work to upgrade low-level hydrogen fuel sensors and other post-Columbia design upgrades, have slowed external tank manufacturing and sources say the Hubble mission faces a possible delay to October.

Senior program managers visited Michoud for a first-hand look earlier this week and a more realistic assessment of the tank production schedule is expected in the next week or so. For now, the Hubble mission remains officially targeted for launch Aug. 28.

Shuttle Program Manager John Shannon told CBS News Thursday that NASA has "added many new features to further ensure the safety of this tank and since these were the first in-line tanks, we took extra time to make sure we got it right."

"We have margin in the schedule to absorb small delays and we have learned a lot in the process of putting these tanks together so that the '09 and '10 tanks will flow much faster," he said.

Shannon did not address specific launch dates.

NASA plans to complete the space station and retire the shuttle by the end of fiscal 2010. The current manifest calls for four more flights this year - in May, August, October and December - four in 2009 and up to three in 2010.


Additional coverage for subscribers:


VIDEO: TILE REPAIR DEMONSTRATION PREVIEW PLAY


VIDEO: NARRATED PREVIEW OF SPACEWALK NO. 4 PLAY


VIDEO: NARRATED ANIMATION OF FUTURE DEXTRE WORK PLAY


VIDEO: NARRATED ANIMATION OF JAPAN'S SECTION OF ISS PLAY



VIDEO: LAUNCH VIDEO FROM COCKPIT CAMERA W/INTERCOM PLAY



VIDEO: THE FLIGHT DAY 10 HIGHLIGHTS MOVIE PLAY


VIDEO: WEDNESDAY'S MISSION STATUS BRIEFING PLAY


VIDEO: CREW MEDIA INTERVIEWS WEDNESDAY NIGHT PLAY


VIDEO: JAPANESE VIP CALL TO STATION PLAY



VIDEO: THE FLIGHT DAY 9 HIGHLIGHTS MOVIE PLAY


VIDEO: TUESDAY NIGHT'S MISSION STATUS BRIEFING PLAY


VIDEO: LAUNCH CARRIER PALLET RETURNED TO SHUTTLE PLAY


VIDEO: DEXTRE ROBOT ATTACHED TO DESTINY LAB MODULE PLAY


VIDEO: NARRATED ANIMATION OF DEXTRE'S RELOCATION PLAY



VIDEO: THE FLIGHT DAY 8 HIGHLIGHTS MOVIE PLAY


VIDEO: TUESDAY MORNING'S MISSION STATUS BRIEFING PLAY


VIDEO: DEXTRE ROBOT FREED FROM LAUNCH PALLET PLAY


VIDEO: SECOND SPARE DCSU BOX PLACED ON THE STATION PLAY


VIDEO: SPACEWALKER UNABLE TO INSTALL MISSE EXPERIMENT PLAY


VIDEO: FIRST SPARE DCSU BOX PLACED ON THE STATION PLAY


VIDEO: SPARE YAW JOINT FOR STATION ARM TRANSFERRED PLAY


VIDEO: MOUNTING PLATE ATTACHED TO COLUMBUS PLAY


VIDEO: DEXTRE ROBOT FITTED WITH TOOL HOLDER PLAY


VIDEO: TOOL PLATFORM ATTACHED TO DEXTRE PLAY


VIDEO: NARRATED PREVIEW OF SPACEWALK NO. 3 PLAY



VIDEO: LEFT-HAND BOOSTER CAMERA LOOKING UPWARD PLAY


VIDEO: LEFT-HAND BOOSTER CAMERA LOOKING INBOARD PLAY


VIDEO: LEFT-HAND BOOSTER CAMERA LOOKING DOWNWARD PLAY


VIDEO: RIGHT-HAND BOOSTER CAMERA LOOKING UPWARD PLAY



VIDEO: THE FLIGHT DAY 7 HIGHLIGHTS MOVIE PLAY


VIDEO: DEXTRE MOVES ARMS FOR BRAKE TESTS PLAY


VIDEO: CREW MEDIA INTERVIEWS SUNDAY NIGHT PLAY


VIDEO: SUNDAY NIGHT'S MISSION STATUS BRIEFING PLAY



VIDEO: THE FLIGHT DAY 6 HIGHLIGHTS MOVIE PLAY


VIDEO: SUNDAY'S MISSION STATUS BRIEFING PLAY


VIDEO: SECOND ARM ATTACHED TO DEXTRE ROBOT PLAY


VIDEO: FIRST ARM ATTACHED TO THE DEXTRE ROBOT PLAY


VIDEO: SPACEWALKERS HELP DEXTRE DO A SIT-UP PLAY


VIDEO: SECOND DEXTRE ARM PULLED FROM LAUNCH CARRIER PLAY


VIDEO: FIRST ARM REMOVED FROM PALLET WITH FORCE PLAY


VIDEO: NARRATED PREVIEW OF SPACEWALK NO. 2 PLAY



VIDEO: THE FLIGHT DAY 5 HIGHLIGHTS MOVIE PLAY


VIDEO: SATURDAY MORNING MEDIA INTERVIEWS PLAY


VIDEO: STATION ARM GRAPPLES DEXTRE TO PROVIDE POWER PLAY


VIDEO: CEREMONY AT JAPANESE MODULE HATCH OPENING PLAY


VIDEO: SATURDAY'S MISSION STATUS BRIEFING PLAY


VIDEO: FRIDAY'S MISSION MANAGEMENT TEAM UPDATE PLAY



VIDEO: THURSDAY'S MISSION STATUS BRIEFING PLAY


VIDEO: THE FLIGHT DAY 4 HIGHLIGHTS MOVIE PLAY


VIDEO: NEW MODULE CONNECTED TO THE STATION PLAY


VIDEO: JAPANESE MODULE UNBERTHED FROM SHUTTLE PLAY


VIDEO: SPACEWALKER START ASSEMBLING DEXTRE ROBOT PLAY


VIDEO: JAPANESE MODULE PREPPED FOR UNBERTHING PLAY


VIDEO: HARMONY DOCKING PORT PREPPED PLAY


VIDEO: SPACEWALK NO. 1 BEGINS PLAY


VIDEO: NARRATED ANIMATION PREVIEWING JAPANESE JLP MODULE PLAY


VIDEO: NARRATED ANIMATION PREVIEWING MODULE MOVE PLAY


VIDEO: NARRATED PREVIEW OF SPACEWALK NO. 1 PLAY


VIDEO: THURSDAY'S MISSION MANAGEMENT TEAM UPDATE PLAY



VIDEO: THE FLIGHT DAY 3 HIGHLIGHTS MOVIE PLAY


VIDEO: DEXTRE PALLET MOVED FROM SHUTTLE TO STATION PLAY


VIDEO: NARRATED ANIMATION PREVIEWING DEXTRE ROBOT PLAY


VIDEO: NARRATED ANIMATION PREVIEWING PALLET MOVE PLAY


VIDEO: THURSDAY'S MISSION STATUS BRIEFING PLAY


VIDEO: SHUTTLE CREW WELCOMED ABOARD STATION PLAY


VIDEO: DOCKING REPLAY FROM OTHER TRUSS CAMERA PLAY


VIDEO: SHUTTLE ENDEAVOUR DOCKS TO SPACE STATION PLAY


VIDEO: ENDEAVOUR PERFORMS THE 360-DEGREE BACKFLIP PLAY


VIDEO: VIEWS OF THE SHUTTLE APPROACHING FROM BELOW PLAY


VIDEO: NARRATED ANIMATION OF PREVIEWING THE DOCKING PLAY


VIDEO: UPDATE FROM MISSION MANAGEMENT TEAM PLAY



VIDEO: THE FLIGHT DAY 2 HIGHLIGHTS MOVIE PLAY


VIDEO: WEDNESDAY'S MISSION STATUS BRIEFING PLAY


VIDEO: ANIMATION OF THE HEAT SHIELD INSPECTIONS PLAY


VIDEO: NARRATED TOUR OF ENDEAVOUR'S PAYLOAD BAY PLAY



VIDEO: THE FLIGHT DAY 1 HIGHLIGHTS MOVIE PLAY


VIDEO: INSIDE MISSION CONTROL DURING LAUNCH PLAY


VIDEO: THE FULL LAUNCH EXPERIENCE PLAY


VIDEO: SHUTTLE ENDEAVOUR BLASTS OFF! PLAY


VIDEO: THE POST-LAUNCH NEWS CONFERENCE PLAY


VIDEO: HIGHLIGHTS FROM ENDEAVOUR'S LAUNCH CAMPAIGN PLAY


VIDEO: HIGHLIGHTS OF THE PAYLOADS' LAUNCH CAMPAIGN PLAY



VIDEO: LAUNCH REPLAY: VAB ROOF PLAY


VIDEO: LAUNCH REPLAY: PAD FRONT PLAY


VIDEO: LAUNCH REPLAY: PRESS SITE PLAY


VIDEO: LAUNCH REPLAY: WEST TOWER PLAY


VIDEO: LAUNCH REPLAY: PAD PERIMETER PLAY


VIDEO: LAUNCH REPLAY: UCS-23 WIDESCREEN PLAY


VIDEO: LAUNCH REPLAY: CAMERA 009 PLAY


VIDEO: LAUNCH REPLAY: CAMERA 049 PLAY


VIDEO: LAUNCH REPLAY: CAMERA 050 PLAY


VIDEO: LAUNCH REPLAY: CAMERA 051 PLAY


VIDEO: LAUNCH REPLAY: CAMERA 054 PLAY


VIDEO: LAUNCH REPLAY: CAMERA 061 PLAY


VIDEO: LAUNCH REPLAY: CAMERA 063 PLAY


VIDEO: LAUNCH REPLAY: CAMERA 070 PLAY


VIDEO: LAUNCH REPLAY: CAMERA 071 PLAY


VIDEO: LAUNCH REPLAY: CAMERA CS-1 PLAY


VIDEO: LAUNCH REPLAY: CAMERA CS-2 PLAY


VIDEO: LAUNCH REPLAY: CAMERA CS-6 PLAY



VIDEO: FINAL PRE-LAUNCH POLLS GIVE "GO" FOR LIFTOFF PLAY


VIDEO: ENDEAVOUR'S CREW MODULE CLOSED FOR FLIGHT PLAY


VIDEO: ASTRONAUT DOI CLIMBS INTO HIS SEAT PLAY


VIDEO: PILOT JOHNSON CLIMBS INTO HIS SEAT PLAY


VIDEO: ASTRONAUT REISMAN CLIMBS INTO HIS SEAT PLAY


VIDEO: COMMANDER GORIE CLIMBS INTO HIS SEAT PLAY


VIDEO: ASTRONAUTS ARRIVE AT LAUNCH PAD 39A PLAY


VIDEO: CREW DEPARTS QUARTERS FOR LAUNCH PAD PLAY


VIDEO: ASTRONAUTS DON SPACESUITS FOR LAUNCH PLAY


VIDEO: TIME-LAPSE MOVIE OF SUNSET OVER PAD 39A PLAY


VIDEO: MORNING PREPARATIONS AT LAUNCH PAD 39A PLAY


VIDEO: PAD GANTRY RETRACTED FOR LAUNCH PLAY



VIDEO: OVERVIEW BRIEFING ON CANADA'S DEXTRE ROBOT PLAY


VIDEO: OVERVIEW BRIEFING ON JAPAN'S KIBO FACILITIES PLAY


VIDEO: SUNDAY'S COUNTDOWN STATUS BRIEFING PLAY


VIDEO: SATURDAY'S COUNTDOWN STATUS BRIEFING PLAY


VIDEO: CREW ARRIVES AT KENNEDY SPACE CENTER FOR LAUNCH PLAY


VIDEO: FRIDAY'S COUNTDOWN STATUS AND WEATHER BRIEFING PLAY



VIDEO: STS-123 ASTRONAUT BIOGRAPHY MOVIE PLAY


VIDEO: NARRATED SHORT FILM PREVIEW ENDEAVOUR'S FLIGHT PLAY



VIDEO: STS-123 MISSION OVERVIEW BRIEFING PLAY


VIDEO: BRIEFING ON THE SPACEWALKS PLAY


VIDEO: CREW'S PRE-FLIGHT BRIEFING PLAY


VIDEO: SHUTTLE AND ISS PROGRAM UPDATE PLAY



VIDEO: CREW INTERVIEW: COMMANDER DOM GORIE PLAY


VIDEO: CREW INTERVIEW: PILOT GREG JOHNSON PLAY


VIDEO: CREW INTERVIEW: MS1 BOB BEHNKEN PLAY


VIDEO: CREW INTERVIEW: MS2 MIKE FOREMAN PLAY


VIDEO: CREW INTERVIEW: MS3 TAKAO DOI PLAY


VIDEO: CREW INTERVIEW: MS4 RICK LINNEHAN PLAY



VIDEO: FLIGHT READINESS REVIEW NEWS BRIEFING PLAY


VIDEO: TCDT TRAINING HIGHLIGHTS PLAY


VIDEO: PRESS CHAT WITH CREW AT LAUNCH PAD PLAY


VIDEO: CREW ARRIVES AT KSC FOR PRACTICE COUNT PLAY


VIDEO: ENDEAVOUR ARRIVES AT PAD 39A PLAY | XL SIZE


VIDEO: SHUTTLE ROLLS TO THE VAB PLAY | XL SIZE


MORE: STS-123 VIDEO COVERAGE


SUBSCRIBE NOW