Spaceflight Now +





Subscribe to Spaceflight Now Plus for access to our extensive video collections!
How do I sign up?
Video archive

Launching on the shuttle

Video cameras on the boosters and tank, plus a cockpit camera show what the shuttle and its astronauts experience during the trek to space.

Full coverage

STS-120: In review

The STS-120 crew narrates highlights from its mission that delivered the station's Harmony module and moved the P6 power truss.

Full presentation
Mission film

STS-123: TCDT

The STS-123 astronauts complete their countdown dress rehearsal at Kennedy Space Center.

Full coverage

STS-123: To the pad

Endeavour travels to pad 39A in the overnight hours of Feb. 18 in preparation for liftoff on STS-123.

Play | X-Large

Progress docking

The 28th Progress resupply ship launched to the International Space Station successfully docks.

Play

NASA '09 budget

NASA officials present President Bush's proposed Fiscal Year 2009 budget for the agency.

Play

Introduction to ATV

Preview the maiden voyage of European's first Automated Transfer Vehicle, named Jules Verne. The craft will deliver cargo to the International Space Station.

Full coverage

Station repair job

Station commander Peggy Whitson and flight engineer Dan Tani replace a broken solar array drive motor during a 7-hour spacewalk.

Full coverage

Mercury science

Scientists present imagery and instrument data collected by NASA's MESSENGER spacecraft during its flyby of Mercury.

Play

Expedition 17 crew

Pre-flight news briefing with the crew members to serve aboard the space station during various stages of Expedition 17.

Play

Become a subscriber
More video







Soggy arrival for crew as shuttle countdown begins
BY WILLIAM HARWOOD
STORY WRITTEN FOR CBS NEWS "SPACE PLACE" & USED WITH PERMISSION
Posted: March 8, 2008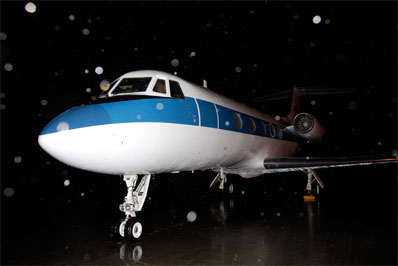 The plane carrying the astronauts arrives at the Cape in heavy rain. Credit: NASA



Delayed by heavy rain, the shuttle Endeavour's crew arrived at the Kennedy Space Center early Saturday for the start of the countdown to launch Tuesday on a 16-day space station assembly mission. Commander Dom Gorie, standing with his crewmates on the rain-soaked shuttle runway, spoke briefly to waiting reporters.

"Good evening. Thank you all for coming out and welcoming us here in this wonderful weather we've got," Gorie said around 1:30 a.m., a few minutes after touching down in a NASA jet. "I think when we get the weather done with today we're going to have a nice shot at launching here this week.

"We all just wanted to convey how excited we are to be here for launch week. We've got a great training team, they've got us ready. We've got multiple shifts of folks at mission control waiting to run this 16-day mission with us. And we've got a very, very ambitious flight schedule. But with a great orbiter waiting for us and this great crew, we're going to have a great mission. Thank you very much. You all have a nice evening."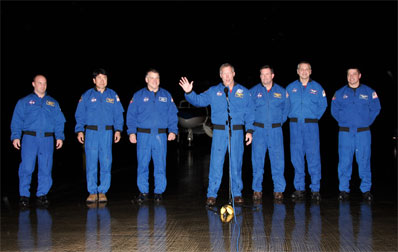 Credit: NASA



Gorie and his crewmates - pilot Greg Johnson, flight engineer Mike Foreman, Richard Linnehan, Robert Behnken, Japanese astronaut Takao Doi and space station flight engineer Garrett Reisman - then left the runway as rain from a passing frontal system continued to fall.

An hour-and-a-half later, at 3 a.m., engineers at the nearby launch control center started Endeavour's carefully choreographed countdown at the T-minus 43-hour mark (launch minus 70 hours and 23 minutes, including hold time). Liftoff is targeted for 2:28:12 a.m. Tuesday, roughly the moment Earth's rotation carries launch pad 39A into the plane of the space station's orbit. The forecast calls for a 90 percent chance of good weather.

The primary goals of the year's second shuttle mission are to deliver a Japanese module to the international space station; to assemble and install a sophisticated Canadian robot capable of performing maintenance that otherwise might require a spacewalk; to deliver Reisman to the station and to return outgoing flight engineer Leopold Eyharts to Earth after six weeks in orbit.

The astronauts also plan to test a new heat shield repair technique, one of the final steps in NASA's recovery from the 2003 Columbia disaster.


Additional coverage for subscribers:


VIDEO: SATURDAY'S COUNTDOWN STATUS BRIEFING PLAY


VIDEO: CREW ARRIVES AT KENNEDY SPACE CENTER FOR LAUNCH PLAY


VIDEO: FRIDAY'S COUNTDOWN STATUS AND WEATHER BRIEFING PLAY



VIDEO: STS-123 ASTRONAUT BIOGRAPHY MOVIE PLAY


VIDEO: NARRATED SHORT FILM PREVIEW ENDEAVOUR'S FLIGHT PLAY



VIDEO: STS-123 MISSION OVERVIEW BRIEFING PLAY


VIDEO: BRIEFING ON THE SPACEWALKS PLAY


VIDEO: CREW'S PRE-FLIGHT BRIEFING PLAY


VIDEO: SHUTTLE AND ISS PROGRAM UPDATE PLAY



VIDEO: CREW INTERVIEW: COMMANDER DOM GORIE PLAY


VIDEO: CREW INTERVIEW: PILOT GREG JOHNSON PLAY


VIDEO: CREW INTERVIEW: MS1 BOB BEHNKEN PLAY


VIDEO: CREW INTERVIEW: MS2 MIKE FOREMAN PLAY


VIDEO: CREW INTERVIEW: MS3 TAKAO DOI PLAY


VIDEO: CREW INTERVIEW: MS4 RICK LINNEHAN PLAY



VIDEO: FLIGHT READINESS REVIEW NEWS BRIEFING PLAY


VIDEO: TCDT TRAINING HIGHLIGHTS PLAY


VIDEO: PRESS CHAT WITH CREW AT LAUNCH PAD PLAY


VIDEO: CREW ARRIVES AT KSC FOR PRACTICE COUNT PLAY


VIDEO: ENDEAVOUR ARRIVES AT PAD 39A PLAY | XL SIZE


VIDEO: SHUTTLE ROLLS TO THE VAB PLAY | XL SIZE


MORE: STS-123 VIDEO COVERAGE


SUBSCRIBE NOW