Atlantis sails into orbit with Columbus
BY WILLIAM HARWOOD
STORY WRITTEN FOR CBS NEWS "SPACE PLACE" & USED WITH PERMISSION
Posted: February 7, 2008; Updated with news conference; initial debris report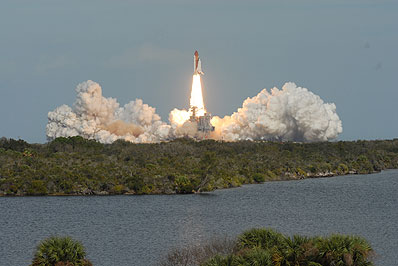 Credit: Ben Cooper/Spaceflight Now



Running two months late, the repaired shuttle Atlantis thundered safely into orbit today after expected storms from a weakening cold front failed to materialize. The low-level hydrogen fuel sensor circuits that derailed two launch tries in December worked normally today, clearing the way for launch of Atlantis and a European Space Agency research module bound for the international space station.

"I think for Europe, it's the start of manned space flight," Hans Schlegel, a German astronaut making his second flight aboard a space shuttle, said late last year. "Because all of the sudden, we have what we are strong in - developing experiments, building experiments to be conducted in space, either in cooperation with NASA or cooperation with the Russian space agency - all of the sudden we have a module of our own which is available to us, to the scientists in Europe, 24 hours (a day), 365 days a year. This will really be the beginning."

With its three main engines at full power, Atlantis' twin solid-fuel boosters ignited with a ground-shaking roar at 2:45:30 p.m., instantly pushing the spacecraft away from pad 39A atop churning pillars of brilliant flame and exhaust. As with all flights to the space station, launch was timed to roughly coincide with the moment Earth's rotation carried the pad into the plane of the space station's orbit.

Initially climbing straight up through a partly cloudy sky, Atlantis wheeled about its long axis 10 seconds after liftoff, putting the crew into a heads-down orientation, and arced out over the Atlantic Ocean on a northeasterly course paralleling the east coast of the United States.

At the controls were commander Steve Frick, pilot Alan Poindexter, son of Reagan administration National Security Advisor John Poindexter, and flight engineer Rex Walheim. Their crewmates are Leland Melvin, Stan Love and European Space Agency astronauts Schlegel and Leopold Eyharts.

Eight-and-a-half minutes after liftoff, Atlantis slipped into its preliminary orbit. There were no obvious signs of any major losses of foam insulation from the ship's external tank, but analysis of imagery from the shuttle and from ground cameras will take several days to complete.

"It was a pretty clean launch," astronaut Jim Dutton radioed from mission control. "We did see, at about MET 2:13 (two minutes 13 seconds after launch) a few piece of debris, they think at least three, that came off inboard of the LO2 (liquid oxygen) feedline just aft of the starboard bipod leg. The debris assessment team indicated they didn't identify an impact at the time and it's obviously under evaluation."

"OK, thanks for that report," Frick replied. "We really appreciate it."

Bill Gerstenmaier, chief of space operations at NASA headquarters in Washington, said the debris was "fairly small foam loss compared to what we've seen in the past."

The astronauts plan to carry out an inspection of the shuttle's nose cap and wing leading edge panels Friday, a now-routine post-Columbia check to look for signs of ascent debris damage. Atlantis' heat-shield tiles will be inspected Saturday during final approach to the space station.

If all goes well, Atlantis will dock with the outpost around 12:25 p.m. Saturday, marking the station crew's second docking in as many days. Earlier today, an unmanned Russian Progress supply ship, launched from the Baikonur Cosmodrome in Kazakhstan on Tuesday, successfully docked with the lab complex at 9:30:13 a.m. Launch originally was planned for today, but the flight was moved up two days to accommodate Atlantis.

Eyharts, veteran of a stay aboard the Russian Mir space station in the 1990s, will remain behind aboard the international lab complex when Atlantis departs, replacing astronaut Dan Tani as a member of the Expedition 16 crew and joining station commander Peggy Whitson and Yuri Malenchenko as a full-time station crew member.

Along with delivering the Columbus research module to the lab complex, Atlantis also is carrying presents for Whitson, who will celebrate her 48th birthday Saturday. But the clear stars of the show today were Atlantis and Columbus.

"Obviously, a real thrill to be here again on one of the more significant shuttle launches we'll ever have," NASA Administrator Mike Griffin said during a post-launch news conference. "I often am asked with regard to space station assembly, what is the most significant launch, or what is the most crucial launch or something like that. ... The answer we always give is there is no one launch that's more significant than the others because the space station, to function, requires every single launch to go well.

"But certainly, no launch can be any more momentous than the launch of Columbus, which brings to the space station truly international capability and participation. It shows visibly and in actuality that this is a real partnership among nations and among societies to bring together a capability greater than any one nation could bring by itself."

Jean-Jacques Dordain, director general of the European Space Agency thanked Griffin for the ride to orbit.

"It's a great day for ESA," he said. "I think that from now on, ESA is a visible and complete partner of the international space station. That's not to say we were absent so far, but we were more around tables for discussions than in orbit. Now we have a big piece, we have our laboratory in orbit. I would like first to thank NASA, because they have made the job today. We at ESA today, we were more observers than actors and they have done the job, including influencing the weather!"

Atlantis originally was scheduled for launch Dec. 6, but the flight was delayed because of intermittent electrical continuity in wiring leading to low-level hydrogen fuel sensors in the base of the shuttle's external tank. A second launch try Dec. 9 also ended in failure and the mission was put on hold pending a fueling test Dec. 18 and work to pin down the cause of the engine-cutoff - ECO - sensor problems.

The four ECO sensors are part of a backup system intended to make sure the shuttle's main engines don't suck a tank dry after some other problem - a leak, for example, or an improper hydrogen-oxygen mixture ratio - used up propellant at faster than normal rates. An engine running out of hydrogen during normal operation likely would suffer a catastrophic failure.

Data collected during the Dec. 18 fueling test indicated the problem was the result of temperature-induced circuit-breaking gaps in the pins and sockets on the external side of a feed-through connector that carries signals to and from the sensors through the wall of the tank.

The solution was to solder the external pins and sockets together, eliminating any gaps that could lead to a loss of connectivity. Testing at cryogenic temperatures indicated the fix was successful and during fueling today, all four circuits performed normally, operating as required during a series of tests to confirm their health.

But it took two months to resolve the problem and Tani, who originally planned to return to Earth aboard Atlantis in December, was forced to extend his stay in space. Sadly, he was off the planet when his mother was killed in a Chicago-area car-train crash Dec. 19.

The ECO sensor problem and two-month launch delay came at a critical moment in space station assembly. Going into Atlantis' December launch campaign, Whitson, Malenchenko and Tani had just wrapped up a grueling few weeks of work to ready the station for arrival of Columbus and two Japanese modules originally scheduled for launch in February and April.

The delay for Atlantis pushed the next flight - shuttle Endeavour and the first of the two Japanese modules - from Feb. 14 to mid March. Launch of the shuttle Discovery with the second Japanese research lab remains on track for April 24, but Atlantis' next flight, a final mission to service the Hubble Space Telescope, is expected to slip from Aug. 7 to around the end of the month.

The final two flights of the year, a space station logistics and resupply mission by Endeavour and delivery of a final set of solar arrays, are expected to slip about a month, to mid October and early December respectively. Griffin said today he is optimistic the agency has enough margin to complete the station and retire the shuttle in 2010 as planned.

"I don't think we can have too many more stand-down problems," Griffin told CBS News in an interview. "But where we are today, our schedule shows finishing up in April of 2010. We've still got five months margin. ... So I think we're in good shape. If we fly four-and-a-half flights a year from now until the next, you know, two-and-a-half years, we're done and we're done on time."

The Atlantis astronauts plan to attach the Columbus module to the newly installed Harmony module's right-side port on Feb. 10, the day after docking.

The 22.5-foot-long module weighs some 28,200 pounds and adds 2,600 cubic feet of volume to the station. Built by EADS Space Transportation, Columbus will be launched with four European science racks and one European storage rack in place. NASA later will install five racks of its own. The European Space Agency has spent about $2 billion building Columbus, the experiments that will fly in it and the ground control infrastructure necessary to operate them.

"The laboratory modules are why we're doing it," Griffin said. "On the space station, it's really two things. It's a place to learn how to live and work in space, which we need to do, and for a long period of time before we go to Mars. It's also a place to do the research we would like to do in a better way than we've been able to do it in the more confined places we've flown in before.

"So now, more than a fourth of our laboratory capacity on the station as a whole is going up on this flight. It puts the Europeans into human spaceflight in a visible and permanent way. As you say, it makes the station a truly international collaboration, just every thing about it is good."

Three spacewalks are planned for the Atlantis mission, two by Walheim and Schlegel and one by Walheim and Love.

During the first excursion Feb. 10, the day after docking, Walheim and Schlegel will attach a robot arm attachment fitting to Columbus, disconnect power cables from the new module, remove docking port covers and make preparations for a second spacewalk two days later. Melvin, meanwhile, will use the station's robot arm to move Columbus from its perch in the shuttle's cargo bay to its mounting point on the right side of Harmony. It will be locked in place by 16 motorized bolts.

If all goes well, Eyharts will float into Columbus for the first time the next day, on Feb. 11, and begin initial outfitting. The day after that, Walheim and Schlegel will venture back outside to replace a spent nitrogen tank in the main solar power truss that was used to push ammonia coolant through the supply and return lines leading to and from Harmony. The old nitrogen tank assembly will be moved to the shuttle's cargo bay for return to Earth.

A third spacewalk by Walheim and Love is planned two days later, on Feb. 14, to mount two European experiment facilities on the outboard bulkhead of the Columbus module and to move a failed control moment gyroscope from a storage platform on the station to Atlantis for return to Earth.

As it currently stands, Atlantis will land back at the Kennedy Space Center around 10 a.m. on Feb. 18. But NASA managers are holding open the option of extending the flight by one day to give Eyharts more time to complete initial commissioning of the new research lab.


Additional coverage for subscribers:


VIDEO: FULL LENGTH LAUNCH MOVIE! PLAY


VIDEO: ATLANTIS BLASTS OFF WITH COLUMBUS PLAY


VIDEO: POLLS GIVE THE FINAL "GO" TO LAUNCH PLAY


VIDEO: ASTRONAUTS ARRIVE AT LAUNCH PAD 39A PLAY


VIDEO: CREW DEPARTS QUARTERS FOR LAUNCH PAD PLAY


VIDEO: ASTRONAUTS DON THEIR SPACESUITS FOR LAUNCH PLAY


VIDEO: RUSSIAN CARGO SHIP DOCKS TO STATION THIS MORNING PLAY


VIDEO: PAD GANTRY ROLLED BACK THE NIGHT BEFORE LAUNCH PLAY


VIDEO: COLUMBUS AND ATV OVERVIEW BRIEFING PLAY


VIDEO: PRE-LAUNCH NEWS CONFERENCE PLAY


VIDEO: TUESDAY MORNING'S COUNTDOWN STATUS BRIEFING PLAY


VIDEO: MONDAY'S CARGO SHIP UNDOCKING FROM STATION PLAY


VIDEO: ATLANTIS' PAYLOAD BAY DOORS CLOSED FOR FLIGHT PLAY


VIDEO: CREW RETURNS TO KENNEDY SPACE CENTER FOR LAUNCH PLAY


VIDEO: MONDAY MORNING'S COUNTDOWN STATUS BRIEFING PLAY


VIDEO: POST-FLIGHT READINESS REVIEW BRIEFING PLAY


VIDEO: STS-122 ASTRONAUT BIOGRAPHIES PLAY


VIDEO: NARRATED OVERVIEW OF ATLANTIS' MISSION PLAY


VIDEO: INSIGHTS INTO COLUMBUS SCIENCE LABORATORY PLAY


VIDEO: STS-122 MISSION OVERVIEW BRIEFING PLAY


VIDEO: BRIEFING ON THE SPACEWALKS PLAY


VIDEO: CREW'S PRE-FLIGHT BRIEFING PLAY


VIDEO: CREW INTERVIEW WITH STEVE FRICK PLAY


VIDEO: CREW INTERVIEW WITH ALAN POINDEXTER PLAY


VIDEO: CREW INTERVIEW WITH LELAND MELVIN PLAY


VIDEO: CREW INTERVIEW WITH REX WALHEIM PLAY


VIDEO: CREW INTERVIEW WITH HANS SCHLEGEL PLAY


VIDEO: CREW INTERVIEW WITH STANLEY LOVE PLAY


VIDEO: CREW INTERVIEW WITH LEOPOLD EYHARTS PLAY


MORE: STS-122 VIDEO COVERAGE


SUBSCRIBE NOW