Upgraded connector ready for shuttle fuel tank
BY WILLIAM HARWOOD
STORY WRITTEN FOR CBS NEWS "SPACE PLACE" & USED WITH PERMISSION
Posted: January 8, 2008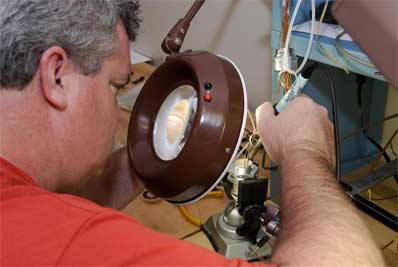 At a lab at NASA's Kennedy Space Center, Bob Arp, an aerospace technician with the United Launch Alliance, solders a pin to the socket of the replacement feed-through connector that will be installed in the external fuel tank for space shuttle Atlantis' STS-122 mission. Credit: NASA/KSC



An upgraded wiring connector will be ready for installation on the shuttle Atlantis' external tank this week in a bid to eliminate the vexing open circuits that grounded the orbiter twice in December. The upgrade is based on a design change implemented by tank-builder Lockheed Martin in the company's Centaur upper stages in the 1990s, a fix that eliminated similar problems with unmanned Atlas- and Titan-Centaur rockets.

The Centaur veterans called in to modify the shuttle's engine cutoff - ECO - sensor pass-through connector said Monday they were optimistic parallel testing at the Marshall Space Flight Center in Huntsville, Ala., will show the shuttle upgrade will resolve NASA's problem once and for all.

"From my point of view, I certainly appreciated the opportunity to come over and help," said James Whelan, electrical and avionics manager for United Launch Alliance's Atlas operations at the Cape Canaveral Air Force Station. "We are hopeful this is going to help solve this mystery.

"It's pretty cool we get to work across a different group of individuals, across a different group of companies. We came together in a fairly short period of time across a holiday and came up with a design solution and implemented something we're hopeful will solve this problem. For me, it's been a good experience."

Asked how many hours he put in modifying the shuttle connectors with soldered pins and sockets, Kenny Reaume, a senior electrical systems engineer with Lockheed Martin, joked that "I can't tell you. My boss would fire me."

NASA attempted to launch Atlantis on a long-awaited mission to deliver Europe's Columbus research module to the international space station on Dec. 6. But the countdown was called off during fueling when tests indicated intermittent open circuits in the ECO sensor circuitry. Similar problems cropped up during a second launch attempt Dec. 9.

Launch then was retargeted for no earlier than Jan. 10, a buffer intended primarily to ensure holiday time off for the shuttle launch team and to give engineers more time to assess the problem. Program managers later moved the target date to no earlier than Jan. 24, saying actual work to fix the connector, install it and re-apply foam insulation likely would push the flight into early February.

As of this writing, that remains the expectation, with insiders saying the flight could slip to after launch of a Russian Progress supply ship. That flight currently is scheduled for takeoff Feb. 7, but the Russians may be able to move launch up a few days depending on how the repair work plays out.

In the meantime, space station flight controllers are making plans for a spacewalk by Expedition 16 commander Peggy Whitson and Dan Tani toward the end of the month to replace a suspect solar array positioning motor. That work is unrelated to on-going analysis of problems with a massive rotary joint on the right side of the station's main power truss that is needed to turn outboard arrays to track the sun.

Engineers do not yet understand what caused unusual erosion inside the starboard solar alpha rotary joint and there are no immediate plans to attempt any sort of repairs. The spacewalk later this month will be devoted to installing a new motor used to change the pitch of one set of right-side arrays.

The four ECO sensors at the base of the Atlantis' hydrogen tank are part of a backup system intended to make sure the shuttle's main engines don't suck a tank dry after some other problem - a leak, for example, or an improper hydrogen-oxygen mixture ratio - used up propellant at faster than normal rates. An engine running out of hydrogen during normal operation likely would suffer a catastrophic failure.

The 10 wires that carry signals from all four ECO sensors and a 5 percent sensor pass through the same connector in the wall of the external tank. The three-part 37-pin connector (27 pins are not used) features a pass-through fitting with gold-plated male pins on both sides.

Wires from the sensors inside the tank terminate in a female connector inside the tank that is plugged into the male pins of the pass-through. Those pins are imbedded in a glass matrix. A similar female socket plugs into the pass-through on the outside of the tank where the pins are mounted in a Teflon insert.

Based on data collected during a fueling test Dec. 18, engineers believe the problem involves circuit-breaking gaps in pins and sockets on the external side of the feed-through connector when the system is chilled to ultra-low temperatures. They believe the sensors themselves are healthy.

"In my experience, very, very cold (temperature) does weird things to metal," Whelan said. "In some cases it shrinks, then it grows and then it changes. It's always interesting working with cryogenics, that's for sure."

The feed-through plate with the external connector still attached was removed and shipped to the Marshall Space Flight Center for additional testing at cryogenic temperatures. Engineers are hopeful they will see the same sort of continuity problems that cropped up during last month's launch attempts. If so, managers will have higher confidence the issue is, in fact, understood.

Back at the Kennedy Space Center, meanwhile, NASA assembled a team of Lockheed Martin and United Launch Alliance engineers to modify replacement connectors, soldering the external wires to the pins in the feed-through connector. The team modified one set of hardware for eventual installation on Atlantis' external tank (ET-125) and two more sets were sent to Marshall for qualification testing at liquid hydrogen temperatures.

Whelan said in the 1990s, Lockheed Martin ran into problems with its Centaur second stage propellant utilization system. The hydrogen-fueled Centaur stage was designed for use with unmanned Atlas and Titan rocket systems.

"We had a data signature on both a Titan-Centaur and an Atlas-Centaur vehicle that led us to believe that we were seeing some intermittent contact or some loss of continuity in our circuitry in our propellant utilization system," Whelan said. "We found a solution which essentially soldered the sockets to the pins of our interface connector on our tank.

Lockheed Martin engineers decided not to modify the connectors inside the tank. Only the external side of the connector was soldered, the same modification approved for the shuttle hardware.

"We've got all new hardware," Reaume said. "We're actually building these sub assemblies right here at KSC in a lab. We have a crew of folks from New Orleans, Lockheed Martin/Michoud, and we have James Whelan and two of his technicians that did the same repair on Atlas. We're working side by side building these sub assemblies up. We have connector experts and harness-build experts here, technicians that have done this probably close to 30 years combined with all these folks. They're all senior-most people, working side by side with Mr. Whelan and his folks, building up the wires and preparing them.

"We actually have four pieces in work at one time," he said. "We just completed two. Actually, the first flight unit that's going to go up to ET-125 is about 99 percent complete, we're just doing some touch ups on it right now, some final electrical re-test. We have two qualification units that are going to go up to Marshall Space Flight Center for some qualification testing. And we had one other test unit that went up to Marshall Space Flight Center as well."

Flight units will be leak tested under flight pressures and subjected to a 50-power microscopic examination before installation. For Atlantis, the flight hardware will be installed before testing at Marshall is complete. That testing will subject the two qualification units to a minimum of five cryogenic cycles each, according to Steve Swichkow, branch chief of NASA's external tank/solid rocket booster electrical engineering group at KSC.

The new connector hardware is built up by passing the incoming wires "all the way through the connector," Reaume said. "After we slide the wire through, we actually crimp the little sockets on. From there, they're actually soldered to the bulkhead connector. When we reassemble this connector and actually put it into a mated position, it's a lot like ... an air hose. It has the coupling ring that you pull back and you engage and it's got the little ball locks that actually lock, you slide the little coupling ring forward and it locks the hose into place. If you can picture that, it's exactly the same concept. You slide it in, you engage it, the coupling ring slides forward and it locks it into place."

Engineers plan to begin installing the upgraded connector on Atlantis' tank Thursday. Once it is in place, foam insulation will be reapplied. The shuttle's eventual launch date will depend, in part, on how long it takes the insulation to "cure," a process that can be affected by humidity, temperature and other weather issues. One internal estimate shows Atlantis being ready for launch 25 days after the connector hardware installation begins. But given the many variables involved, engineers say it's too soon to say when the shuttle might be ready to fly.


Additional coverage for subscribers:


VIDEO: POST-TANKING TEST NEWS CONFERENCE PLAY



VIDEO: DEC. 18 STATION EVA RECAP BRIEFING PLAY


VIDEO: SPACEWALK PREVIEW NEWS CONFERENCE PLAY



VIDEO: NEWS CONFERENCE AFTER DEC. 9 SCRUB PLAY


VIDEO: POST-SCRUB INTERVIEW WITH LAUNCH DIRECTOR PLAY


VIDEO: LAUNCH OF ATLANTIS SCRUBBED DEC. 9 PLAY


VIDEO: HYDROGEN SENSOR NO. 3 FAILS PLAY


VIDEO: DEC. 6 POST-SCRUB NEWS CONFERENCE PLAY


VIDEO: LAUNCH DIRECTOR GIVES UPDATE ON DEC. 6 SCRUB PLAY


VIDEO: PAD 39A ROTATING SERVICE STRUCTURE RETRACTED PLAY


VIDEO: TIME-LAPSE MOVIE OF PAD GANTRY ROLLBACK PLAY


VIDEO: STS-122 ASTRONAUT BIOGRAPHIES PLAY


VIDEO: NARRATED OVERVIEW OF ATLANTIS' MISSION PLAY


VIDEO: INSIGHTS INTO COLUMBUS SCIENCE LABORATORY PLAY


SUBSCRIBE NOW