Shuttle target launch date moved to Jan. 10
BY WILLIAM HARWOOD
STORY WRITTEN FOR CBS NEWS "SPACE PLACE" & USED WITH PERMISSION
Posted: December 13, 2007


Launch of shuttle Atlantis on a critical space station assembly mission, delayed twice because of problems with troublesome low-level fuel sensors, will slip an additional week, from Jan. 2 to no earlier than Jan. 10, to give support personnel time off over the Christmas and New Year holidays, NASA managers said today.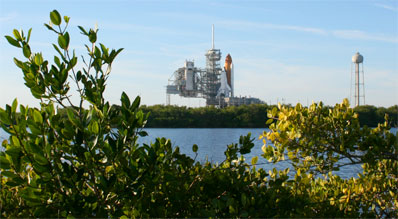 Credit: Justin Ray/Spaceflight Now



"Moving the next launch attempt of Atlantis to Jan. 10 will allow as many people as possible to have time with family and friends at the time of year when it means the most," shuttle Program Manager Wayne Hale said in a statement late today. "A lot has been asked of them this year and a lot will be asked of them in 2008."

With test instrumentation spliced into the engine cutoff - ECO - sensor circuitry in the shuttle's aft engine compartment, engineers plan to pump supercold liquid hydrogen rocket fuel back into Atlantis' external tank Tuesday.

The goal of the test is to collect data that should help pinpoint the location of whatever problem caused multiple ECO sensors to malfunction during launch attempts Dec. 6 and 9 that grounded Atlantis and the European Space Agency's Columbus research module.

The Jan. 10 target date assumes whatever is wrong can be fixed at the launch pad without any major impact to normal processing.

The ECO sensors are part of a backup system intended to make sure the shuttle's main engines don't inadvertently suck a tank dry after some other problem - a leak, for example, or an improper hydrogen-oxygen mixture ratio - used up propellant at faster than normal rates. An engine running out of hydrogen during normal operation would have catastrophic consequences.

During fueling Dec. 6, ECO sensors Nos. 3 and 4 "failed wet" about 35 minutes after they were submerged in liquid hydrogen at minus 423 degrees Fahrenheit. After the launch was called off, another sensor that shows when the tank is 5 percent full failed wet. After the tank was drained, ECO sensor No. 1 failed wet.

During fueling Dec. 9, ECO sensor No. 3 failed wet 24 minutes after the others were submerged. In both cases, the sensors returned to normal operation after the tank was drained and temperatures rose.

Because of the timing of the malfunctions, engineers are hopeful the sensors themselves, located inside the huge external tank and not easily accessible at the launch pad, are healthy.

The problems could be due to broken or damaged wires, bent or recessed pins in critical connectors or even debris in a connector. Data collected during the tanking test Tuesday should help narrow down the location of the problem and help determine what might be needed to fix it.

If the Jan. 10 target holds up, liftoff would be scheduled for 2:26:10 a.m., setting up docking with the space station around 11:13 p.m. on Jan. 11. Three spacewalks are planned with the first two beginning around 9:15 p.m. on Jan. 12 and 14 and the third starting an hour earlier on Jan. 16. Landing back at the Kennedy Space Center would be expected around 10:24 p.m. on Jan. 20.

Depending on when Atlantis' actually flies, mission managers may extend the flight two days and add a fourth spacewalk to the mission.

While the tanking test is going on at the Kennedy Space Center in Florida on Tuesday, the crew of the international space station plans to carry out a 6.5-hour spacewalk to inspect a contaminated solar array rotary joint and another more recent power system glitch that could be the result of a micrometeoroid or debris impact.

The spacewalk, by Expedition 16 commander Peggy Whitson and flight engineer Dan Tani, is scheduled to begin at 6 a.m.

The station is equipped with two massive solar alpha rotary joints, one on each side of the lab's main power truss, designed to slowly turn outboard arrays like giant paddle wheels to keep them face on to the sun.

Each solar blanket also is equipped with a so-called beta gimbal joint to turn the arrays from side to side, like changing the pitch of a propeller, to maximize electrical output.

The port-side SARJ is operating normally as are the four beta gimbal assemblies on the four left-side solar wings. But the starboard SARJ is locked in place because of excessive vibration and recently discovered internal metallic contamination and bearing race ring damage.

In addition, one of the two beta gimbal joints on the right side is now locked in place because of circuit breaker trips last week that may have been caused by a space debris impact.

As for the starboard SARJ, engineers suspect one or more of the 12 trundle bearings that press against the 10-foot-wide race ring with 1,000 pounds of force could be causing the observed damage. Data from instrumentation shows vibrations are highest near bearing assembly No. 5.

During the spacewalk Tuesday, Whitson and Tani plan to remove up to 22 thermal covers around the race ring for a detailed inspection of all the bearings. They also plan to remove trundle bearing No. 5 for return to Earth aboard Atlantis.

"After we've inspected under as many panels as possible, we will bring in trundle bearing No. 5, unless we find one that we think was more of a problem," Whitson told reporters earlier today. "The ground has data that suggests that maybe that's where the problem is. But if we can visibly tell it's a different one, we'll bring in the one that we think is the troublemaker."

Whatever the problem might be, NASA needs to fix it and restore the right-side SARJ to normal operation as soon as possible to generate the electricity needed to support the Columbus module and two Japanese modules scheduled for launch in February and April.

The SARJ features two identical drive gears and two redundant drive motors. In a worst-case scenario, spacewalking astronauts could install fresh bearings on the undamaged race ring and reposition the drive lock assembly motors. The other option is to clean up the contamination that's present on the damaged race ring, fix whatever is causing the problem and resume normal operation.

"Once they have more data, they can make a better assessment of which of those approaches we should do, whether we should clean up the current race ring or just shift over," Whitson said. "Obviously, shifting over (to the other race ring) involves a lot more software changes and limits us on the timing. So the guys on the ground will have to make that decision. What we're providing (Tuesday) is additional data.

"I think either one's doable," she said. "To me, in my mind, I think it would be probably, from an astronaut's perspective, easier to just shift to the other race ring rather than trying to clean it up. But we don't know yet how easy that's going to be to clean up."

Kirk Shireman, deputy manager of the space station program at the Johnson Space Center, said no such decisions will be made until engineers have a better idea of what might be wrong.

"All options are still open," he said. "The big key question for us is what caused the issue, because we're hesitant to go to the only remaining ring we have on that side without understanding why this occurred. If you moved to the other ring and had the same problem, that's a really big issue for us. So we need to understand what's the root cause, what caused it to start and then propagate. We're working really hard to get that answer.

"There are some ideas, all kinds of ideas about how we could continue to use this ring for a while and then transition to the other ring," he said. "I don't think we've taken anything off the table at this point. I will tell you that most folks are thinking that we will go to the outboard ring at some point in time, it's just a matter of exactly when it makes sense to go and do that. It's not a very easy thing to do. It's a very EVA-intensive task and we do give up some redundancy."

A more immediate problem is fixing the S4-1A array's beta gimbal assembly, which is currently locked in place in an orientation that limits the panel's ability to generate electricity.

During routine operations Dec. 8, two circuit breakers tripped, possibly the result of a space debris impact that might have damaged the mechanism that allows power and data to flow through the rotary joint used to turn the array about its long axis. The trips also could be due to damage in critical cables.

Whitson and Tani plan to inspect the beta gimbal assembly and associated cables to look for signs of damage before moving onto the SARJ inspection.

"The idea is, we'll conduct the EVA right now, the SARJ inspection and the BGA inspection, and we'll learn what we need to learn," Shireman said. "Then we'll find the most opportune time to go fix it, not only the BGA but hopefully the SARJ. It really depends on how our analysis comes out. We'll be (working) to figure out exactly how long we can go with the BGA locked and the SARJ restrictions we have in place."


Additional coverage for subscribers:


VIDEO: POST-SCRUB INTERVIEW WITH LAUNCH DIRECTOR PLAY


VIDEO: LAUNCH OF ATLANTIS SCRUBBED AGAIN PLAY


VIDEO: HYDROGEN SENSOR NO. 3 FAILS PLAY


SUBSCRIBE NOW