Discovery is home
BY WILLIAM HARWOOD
STORY WRITTEN FOR CBS NEWS "SPACE PLACE" & USED WITH PERMISSION
Posted: July 17, 2006;
Updated at 3:40 p.m. with additional quotes and details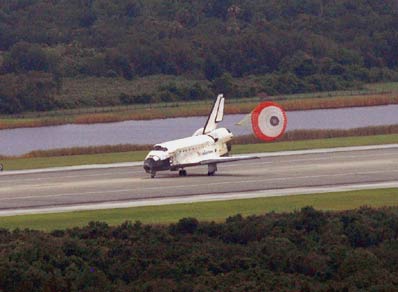 Discovery returns to Earth. Credit: Ben Cooper/Spaceflight Now



Under an overcast sky, the shuttle Discovery glided to a smooth touchdown on runway 15 at the Kennedy Space Center today, closing out a successful space station repair and resupply mission that appears to clear the way for resumption of station assembly in September.

With commander Steve Lindsey at the controls, Discovery settled to a tire-smoking, high-speed touchdown at 9:14:43 a.m. A few moments later, pilot Mark Kelly deployed the shuttle's braking parachute, the ship's nose gear dropped to the runway and Discovery rolled to a stop to close out a voyage spanning 5.3 million miles and 202 complete orbits since blastoff July 4.

"Wheels stopped, Houston," Lindsey radioed mission control.

"Roger wheels stopped. Welcome back, Discovery," astronaut Steve Frick replied from Houston. "Congratulations on a great mission expanding our knowledge and experience with orbiter repair and bringing the space station back to a full crew complement."

"Thanks. It was a great mission, a really great mission," Lindsey said. "Enjoyed the entry and the landing."

Mission duration was 12 days 18 hours 36 minutes and 48 seconds.




Additional coverage for subscribers:


VIDEO: DISCOVERY LANDS AT THE CAPE PLAY


VIDEO: VIEW FROM RUNWAY MID-POINT PLAY


VIDEO: INFRARED TRACKING CAMERA PLAY


VIDEO: SHUTTLE LANDING FACILTY TOWER 2 PLAY


VIDEO: SHUTTLE LANDING FACILTY TOWER 1 PLAY


VIDEO: CAMERA ON NORTH END OF RUNWAY PLAY


VIDEO: CAMERA ON SOUTH END OF RUNWAY PLAY


VIDEO: VIEW FROM VEHICLE ASSEMBLY BUILDING ROOF PLAY


VIDEO: COMMANDER SIGNS OFF BEFORE LEAVING SHUTTLE PLAY



VIDEO: PRE-LANDING NEWS BRIEFING DIAL-UP | BROADBAND


VIDEO: SUNDAY TV INTERVIEWS CNN | CBS | FOX | ABC | NBC


MORE: STS-121 VIDEO COVERAGE


SUBSCRIBE NOW




Lindsey, Kelly flight engineer Lisa Nowak, Piers Sellers, Mike Fossum and Stephanie Wilson plan to spend the night in Florida before flying back to Houston on Tuesday.
"It's a thrill and a pleasure to be here again, especially under these circumstances," NASA Administrator Mike Griffin told reporters after landing. "In fact, it's such a great day I don't think even a press conference can spoil it."
Griffin expressed optimism that Discovery's flight will pave the way to launch of the shuttle Atlantis late next month on the first in a series of daunting space station assembly missions. But he said NASA would not launch Atlantis before completing a detailed analysis of Discovery's mission.
"This is as good a mission as we've ever flown," he said. "But we're not going to get over confident, we're going to keep looking at the data and we're going to make our decisions based on the data just as we did on this flight. We have to take it flight by flight. We've got 16 flights to go to assemble the station and hopefully do a Hubble (Space Telescope) repair. And that's what we want to do, but we've got to take it one flight at a time."
Still, Discovery's mission was a clear step in that direction. NASA Launch Director Mike Leinbach said an initial inspection of the shuttle turned up no surprises.
"We had to search for dings to the tile and the couple that we saw were very, very minor," he said. "Just a great looking vehicle."
Discovery's descent began over the eastern Indian Ocean when Lindsey and Kelly fired the shuttle's twin braking rockets at 8:07 a.m. to drop the ship out of orbit. Five minutes before the "burn," Kelly started auxiliary power unit No. 1, a hydraulic powerplant with a small leak in its hydrazine fuel system.
Engineers concluded Sunday the leak was most likely nitrogen gas used to pressurize APU 1's hydrazine fuel tank and not an actual fuel leak. APU 1 appeared to run normally throughout Discovery's descent today as did the shuttle's other two redundant hydraulic power units.
The only technical issue occurred late in the descent when one of two air data probes failed to deploy. But it eventually slipped into place and in any case, the other probe deployed on time and worked properly.
The major concern all morning was the weather, with rain clouds popping up near the runway well after Discovery's braking rockets were fired. Flight director Steve Stich told Lindsey to switch from runway 33 to 15 to avoid possible showers toward the south end of the runway.
"I would give Steve a perfect 10 today," Stich said later. "He did a superb job. ... It was a perfect landing."
There were no obvious problems during final approach and landing and infrared views of the shuttle on the runway showed normal looking APU exhaust puffing from ports by the shuttle's tail fin. Technicians did not detect any hydrazine vapors near the shuttle's aft compartment.
"Houston, Discovery, looks like everybody's off and I'm about to go off comm," Lindsey radioed a few minutes past 10 a.m. "I just wanted to tell Steve (Stich) and Steve (Frick) and the entire entry team it was a pleasure working with you today. Really enjoyed it. It was a fun entry, it was beautiful!
"At the high mach numbers at night going towards dawn - I just wanted to describe the picture for you - we could see the bright orange glow above and I could see the Earth moving below and it was just spectacular. We actually also saw the moon through the plasma. So it was a great entry and a great landing. Appreciate working with you and training with you."
"Thanks very much for those words, Steve," Frick replied. "We appreciate it. It was an exciting entry for us, too, and we envy you the view. We look forward to seeing you when you get back to Houston."
"All right, I can't wait," Lindsey said. "Talk to you later."
The astronauts, wearing blue jump suits, were greeted on the runway by Griffin, Leinbach, Bill Gerstenmaier, director of spaceflight, space center Director Jim Kennedy and other senior managers.
Smiling and looking none the worse for two weeks in weightlessness, Lindsey and his crewmates took a moment to inspect the shuttle's heat shield, walking about under the orbiter, pointing up at Discovery's belly from time to time and discussing the flight with Griffin. There were no obvious signs of damage in wide-angle television views.
"I'd like to just thank the folks at Kennedy Space Center for a really, really clean vehicle," Lindsey said, standing with his crew mates in front of Discovery. "This is my fourth flight and I've done four walkarounds and I've never seen a vehicle as clean as this one is.
"We had two major objectives on this flight. The first one was to complete the return-to-flight test objectives and the second one was to get us ... back for space station assembly. And I think we accomplished both of those objectives and we're ready to go assemble station and we're ready to start flying shuttles on a more regular basis.
"And finally, I'd like to thank this crew standing here," Lindsey said. "They were absolutely superb the entire flight, I couldn't have asked more out of them, they were nearly perfect. They got everything done that we needed to get done. I actually had to throttle them back to give them a little bit of time off. They were all focused, they did a great job and it was a privilege for me to serve with them. Thanks a lot. We're going to go see our families now. Have a good day."
The 115th shuttle mission was a make or break flight for NASA, coming nearly a full year after Discovery's launch on the first post-Columbia mission. The unexpected loss of foam insulation from the ship's external fuel tank showed the space agency still had work to do.
After months of redesigns, computer modeling and exhaustive testing, Discovery was cleared for blastoff July 4 on a flight to pave the way for the resumption of space station assembly.
During their two weeks in space, Lindsey and company delivered fresh water and more than 3.2 tons of supplies and equipment to the international space station and carried out a successful spacewalk to fix a stalled robot arm transporter on the complex that had to be restored to normal operation before station assembly can proceed.
Discovery also ferried European Space Agency astronaut Thomas Reiter to the outpost, boosting crew size back the three for the first time since downsizing after the Columbia disaster. Reiter was launched aboard Discovery as part of a commercial contract between ESA and the Russian space agency, Roscosmos.
Spacewalkers Fossum and Sellers rode on the end of a long boom attached to the shuttle's robot arm, demonstrating its possible use as a shuttle repair platform. Thanks to a one-day mission extension, Sellers and Fossum also staged a third spacewalk to test wing leading edge repair techniques. The exercises may help pave the way for an eventual flight to service the Hubble Space Telescope.
In the near term, Discovery's flight was a critical milestone for NASA. Facing a Bush administration 2010 deadline for completing the space station and retiring the shuttle, NASA needs to ramp up station assembly as soon as possible to finish the lab complex before time runs out.
Discovery's flight doesn't guarantee success, but it at least clears the way for assembly flights to resume.
"I think we were all hoping for two things to come out of STS-121," Sellers said during an orbital interview. "The first thing is that the shuttle would fly with no problems, no big dings on ascent and we'd have a clean vehicle. We seem to have achieved that.
"The second thing is, that we would leave station in good shape and ready to pick up the assembly sequence and the line would be drawn where it was rubbed out before Columbia, we would start again with the next mission and continue the assembly. I think we're there now. We repaired the external equipment that will allow the assembly to continue. So, two for two!"
Said space station flight director Rick LaBrode: "All in all, it was just a great mission. This is just a roaring success for the station team and we're ready to proceed with assembly ops."
Throughout the mission - the day after launch, during docked operations at the station and even after their departure - the astronauts carried out time-consuming, inch-by-inch inspections of Discovery's fragile heat shield to make absolutely sure nothing was damaged during the climb to space or after reaching orbit.
As it turned out, Discovery's foam-covered external fuel tank performed well and the shuttle's heat shield tiles suffered only a few cases of very minor damage. NASA managers were elated at the performance of the tank after a frustrating year of redesigns and exhaustive testing.
"All the work that all the folks have done on the ET ... and how clean the 121 tank is kind of gives everybody a really good feeling that we're getting there, we're going in the right direction," said lead flight director Tony Ceccacci. "You've seen how clean the vehicle is and that's just a testament to all the work that everyone has done."
In an orbital interview, Nowak agreed, saying "we feel like we've done all the tests and met the objectives and we feel like the whole program is back on track to assemble the space station and move on back to the moon and to Mars. And we're looking forward to all of that."
With Discovery back on the ground in Florida, NASA engineers will now turn their attention to the shuttle Atlantis, scheduled to blast off around Aug. 27 or 28 on a mission to deliver a set of huge solar arrays to the space station.
Atlantis is expected to be hauled out to launch pad 39B around Aug. 1. A practice countdown is on tap Aug. 10 and NASA managers will meet Aug. 15 and 16 for a formal flight readiness review to assess Atlantis' processing and to set an official launch date. The launch window opens Aug. 27 or 28 - a final decision hasn't been made - and closes Sept. 7.
"Someone asked the other day if the space shuttle was back," shuttle program manager Wayne Hale said today. "When we lqunched and looked at the external tank, we saw exactly what we predicted. We delivered about 4,000 pounds of scientific equipment to the international space station versus about 300 pounds of scientific equipment that had been delivered in the last four years by our international partners.
"And in addition to that, we brought the third crew member up to the international space station and made vital repairs on it. We made a number of repair related activities that proved that our repair capability is getting more and more robust. And of course, the orbiter worked in an almost flawless manner.
"So yes, I think the conclusion is the shuttle is back," Hale said. "We are launching in just about six weeks from today on probably the most complicated assembly mission that's every been scheduled in human space flight before and we have the team that is now practiced and battle hardened and ready to go do that."
If all goes well, NASA will close out 2006 by launching Discovery in mid December on another station assembly flight.


Additional coverage for subscribers:


VIDEO: DISCOVERY'S UNDOCKING FROM STATION EXPLAINED PLAY


VIDEO: BRIEFING ON APU LEAK DIAL-UP | BROADBAND PART 1 & PART 2



VIDEO: DAY 11 MISSION STATUS BRIEFING DIAL-UP | BROADBAND


VIDEO: FLIGHT DIRECTOR EXPLAINS LATE INSPECTIONS PLAY


VIDEO: FLIGHT DIRECTOR EXPLAINS LEONARDO BERTHING PLAY


VIDEO: TV MORNING SHOW INTERVIEWS CNN | ABC | NBC | CBS



VIDEO: DAY 9 MISSION STATUS BRIEFING DIAL-UP | BROADBAND


VIDEO: BEHIND THE SCENES IN MISSION CONTROL FOR EVA 3 PLAY


VIDEO: HELMET-CAM FOOTAGE DURING THE HEAT SHIELD REPAIR PLAY


VIDEO: SPACEWALKERS TRAVEL TO REPAIR TEST SITE PLAY


VIDEO: PIERS SELLERS TESTS INFRARED INSPECTION CAMERA PLAY


VIDEO: SELLERS HITCHES RIDE ON SPACE STATION ARM PLAY


VIDEO: PREVIEW OF SPACEWALK NO. 3 PLAY



VIDEO: DAY 8 MISSION STATUS BRIEFING DIAL-UP | BROADBAND


VIDEO: DAY 7 MISSION STATUS BRIEFING DIAL-UP | BROADBAND


VIDEO: BEHIND THE SCENES IN MISSION CONTROL FOR EVA 2 PLAY


VIDEO: SPACEWALKERS BOLT THE NEW REEL TO THE STATION PLAY


VIDEO: INSTALLATION OF NEW REEL NOT EASY PLAY


VIDEO: FOSSUM CARRIES REPLACEMENT REEL TOWARD ISS PLAY


VIDEO: SPACEWALKERS BRING FAILED REEL TO THE SHUTTLE PLAY


VIDEO: FAILED RAILCAR CABLE REEL REMOVED FROM ISS PLAY


VIDEO: SELLERS REPLACES FAILED CABLE CUTTER DEVICE PLAY


VIDEO: STATION ARM HOISTS PUMP MODULE FROM SHUTTLE PLAY


VIDEO: ASTRONAUTS PREP PUMP MODULE FOR TRANSFER PLAY


VIDEO: PREVIEW OF SPACEWALK NO. 2 PLAY


VIDEO: SRB CAMERA LIFTOFF TO SPLASHDOWN PLAY


VIDEO: JOINT CREW NEWS CONFERENCE DIAL-UP | BROADBAND


VIDEO: DAY 6 MISSION STATUS BRIEFING DIAL-UP | BROADBAND



VIDEO: DAY 5 MISSION STATUS BRIEFING DIAL-UP | BROADBAND


VIDEO: SPACEWALK NO. 1 CONCLUDES PLAY


VIDEO: FOSSUM PRACTICES REPAIR ACTIONS PLAY


VIDEO: BOTH SPACEWALKERS GET ON THE BOOM PLAY


VIDEO: SELLERS CONDUCTS STABILITY TESTS PLAY


VIDEO: SPACEWALKERS GATHER TOOLS FOR TESTS PLAY


VIDEO: SELLERS AND FOSSUM BEGIN EVA 1 PLAY


VIDEO: PREVIEW OF SPACEWALK NO. 1 PLAY



VIDEO: ROBOT ARM MOUNTS CARGO MODULE TO THE STATION PLAY


VIDEO: LEONARDO CARGO MODULE LIFTED OUT OF PAYLOAD BAY PLAY


VIDEO: FLIGHT DIRECTOR EXPLAINS MODULE INSTALLATION PLAY


VIDEO: OVERVIEW OF CARGO CARRIED IN LEONARDO PLAY


VIDEO: LIVE RADIO INTERVIEWS WITH CREW CBS | FOX | ABC | NPR



VIDEO: DAY 3 MANAGEMENT TEAM BRIEFING DIAL-UP | BROADBAND


VIDEO: POST-DOCKING MISSION STATUS DIAL-UP | BROADBAND


VIDEO: SHUTTLE CREW FLOATS INTO THE STATION PLAY


VIDEO: DISCOVERY DOCKS TO THE SPACE STATION PLAY


VIDEO: WATCH THE ENTIRE PIROUETTE BACKFLIP MANEUVER PLAY


VIDEO: FLIGHT DIRECTOR EXPLAINS RENDEZVOUS AND DOCKING PLAY



VIDEO: INITIAL TANK ASSESSMENT DIAL-UP | BROADBAND


VIDEO: DAY 2 MISSION STATUS BRIEFING DIAL-UP | BROADBAND


VIDEO: FLIGHT DIRECTOR EXPLAINS INSPECTIONS WITH BOOM PLAY


VIDEO: FLIGHT DIRECTOR EXPLAINS ROBOT ARM INSPECTIONS PLAY



VIDEO: THE FULL LAUNCH EXPERIENCE PLAY


VIDEO: RIDE ALONG DURING LAUNCH VIA CREW MODULE CAMERA PLAY


VIDEO: AMAZING FOOTAGE FROM WB-57 HIGH-ALTITUDE AIRCRAFT PLAY



VIDEO: SHUTTLE LANDING FACILITY TOWER PLAY


VIDEO: PLAYALINDA BEACH TRACKER PLAY


VIDEO: BEACH MOUND TRACKER PLAY


VIDEO: PATRICK AFB TRACKER PLAY


VIDEO: UCS 23 TRACKER PLAY


VIDEO: UCS 11 TRACKER PLAY


VIDEO: CS 6 TRACKER PLAY


VIDEO: CS 2 TRACKER PLAY


VIDEO: CS 1 TRACKER PLAY


VIDEO: VEHICLE ASSEMBLY BUILDING ROOF PLAY


VIDEO: LAUNCH PAD FRONT CAMERA PLAY


VIDEO: COMPLEX 39 PRESS SITE PLAY


VIDEO: LAUNCH PAD SIDE VIEW PLAY


MORE: STS-121 VIDEO COVERAGE


SUBSCRIBE NOW